Street Safety
'What Do You Stand For': Brooklynites Call on Council Member to Defend Endangered Street Safety Projects
Just hearing from all sides is not enough.
12:00 AM EDT on October 17, 2023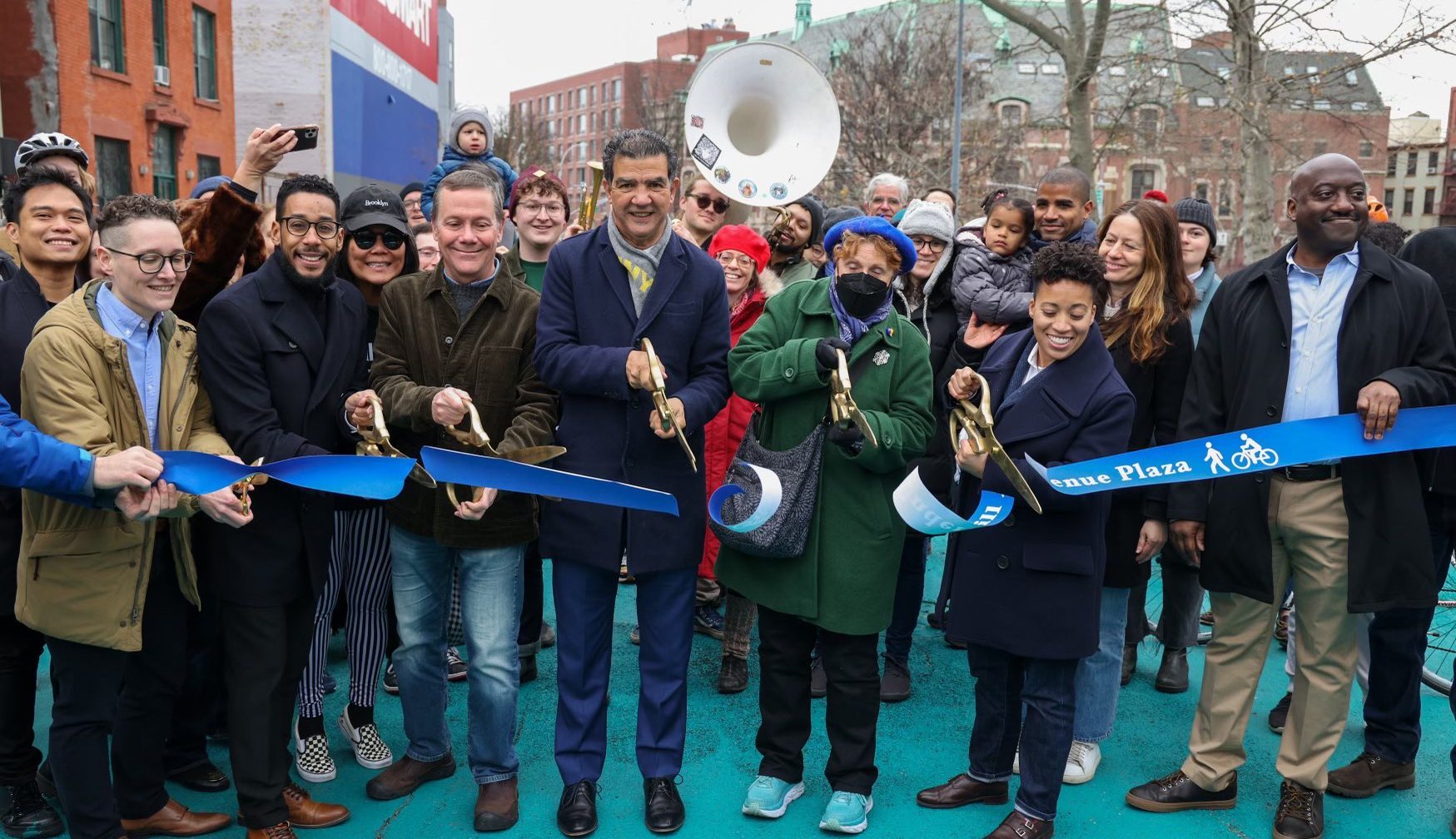 Brooklyn Council Member Crystal Hudson must stand up for street redesign projects in her Fort Greene/Clinton Hill district, as opponents inside City Hall threaten to undermine or eliminate the vital redesigns, the lawmaker's constituents said.
The Adams administration cut short a protected bike lane on Ashland Place, is reconsidering a bike boulevard on Underhill Avenue, and locals fear that car-centric neighbors will use their influence with the Adams administration to get rid of other more popular initiatives like the Department of Transportation's Vanderbilt Avenue Open Street.
Speaking at the "Downside of Vision Zero" town hall meeting last month packed with critics of DOT safety redesigns, Hudson cast herself as a neutral arbiter, wanting to hear from "all sides" of the livable streets debate and accusing the city of not doing so, despite years-long community outreach efforts.
"I am committed to ensuring that your voices are heard," the lawmaker said. "I've been advocating for many of the things that you all want to see happen. DOT has not been a great partner — that's like the best way I can say it."
Advocates say Hudson's mediator stance runs counter to her campaign commitments to expand bike and bus infrastructure in underserved Black areas. As the district's representative to city government, she is uniquely positioned to push street redesign projects to completion.
"I like her very much, but she needs to stand for something at this point. What do you stand for, what is your vision for the future of your district," said Brian Blessinger, a volunteer with the Fort Greene Open Streets Coalition, which manages the Willoughby Avenue open street.
That popular car-free corridor was briefly eliminated by the Adams administration early in the mayor's tenure, and the other two pandemic-era open streets in the neighborhood on S. Portland Avenue and Hall Street have fizzled in recent years as the city has pulled support.
City Hall has developed a pattern of waffling on street safety projects, but reps in other affected areas have been more vocal in opposition to Adams's backpedaling on redesigns in their districts.
When the Adams administration bowed to bigwig business Broadway Stages to scale back a road died for McGuinness Boulevard in Greenpoint, Council Member Lincoln Restler slammed the move as "messed up," and as the mayor publicly mocked him, the lawmaker urged the mayor to get serious about street safety.
Bedford-Stuyvesant pol Chi Ossé has been a vocal proponent of a protected bike lane on Bedford Avenue, despite longstanding resistance among makers and shakers in his central Brooklyn district to bike and street safety infrastructure.
Over in Queens, Council Member Julie Won has taken DOT to task over its long delays to give cyclists more space on the Queensborough Bridge, promised by former Mayor Bill de Blasio for the end of 2022, but now delayed until mid-next year. The pol brought Commissioner Ydanis Rodriguez and officials to stand with her in the dangerously-narrow shared path, and chastised the agency's excuses for the set backs as "garbage."
Hudson did celebrate the opening of a pedestrian plaza at the northern end of Underhill Avenue at a January ribbon cutting, saying the changes could be a model across the borough and beyond.
"We oftentimes don't know what is possible when we don't see it, and so this is an opportunity for us to show people across Brooklyn and across New York City what's actually possible when people come together and when we work in collaboration with the city," she said at the time. 
She also co-published a report last month with the Department of City Planning on fixing the Atlantic Avenue car sewer and areas around it, where community feedback specifically called for bike boulevards on Bergen and Dean streets, but any upgrades as part of that study are likely still years out.
However, when the rubber hit the road on a specific redesign and the city cut a block of protected bike lanes on Ashland at the behest of a powerful local developer, Hudson's response was more muted.
"It's too bad an existing project like that has been cut short, and doesn't provide a fully completed safe corridor for cyclists," Hudson told Streetsblog last Thursday. 
Local push
In light of the threats to popular revamps in Prospect Heights, organizers in the neighborhood launched a petition last month in support of the Vanderbilt Avenue open street, the plaza at the northern end of Underhill Avenue, and that road's bike boulevard redesign, fearing that anti-redesign residents were gaining momentum and urging their elected officials to take a clear stand. 
"We hope Council Member Hudson and our other elected officials now hear the voices of supporters from every block in Prospect Heights, and we look forward to their response," said Prospect Heights Neighborhood Development Council chairperson Gib Veconi in a statement last week.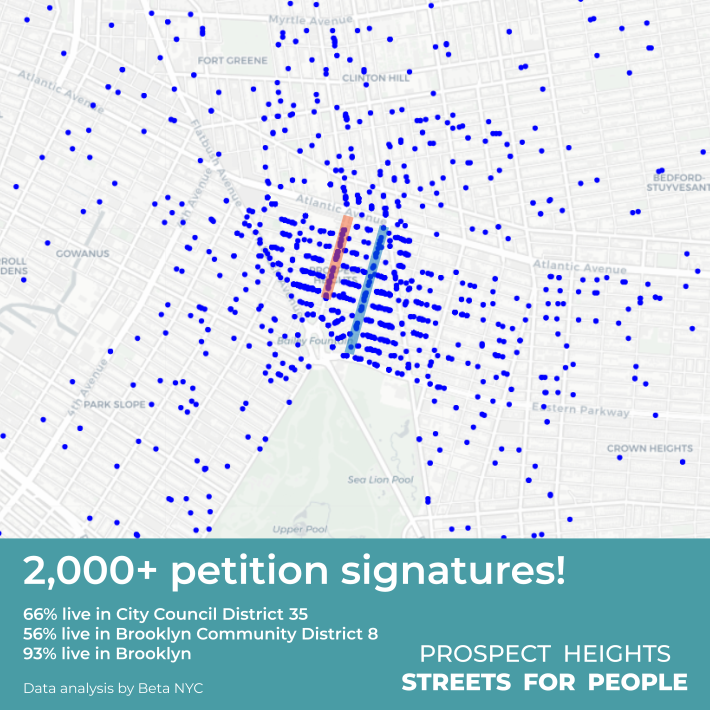 Two-thirds of the first 2,000 signatures came from District 35, and 93 percent were from Brooklyn residents, according to an analysis of the petition by BetaNYC. Nonetheless, Hudson has yet to take a position on those projects or responded to the survey, according to the local group. (Her full statement is below.)
Underhill street blues
City Hall recently paused the partially done bike boulevard redesign of Underhill Avenue to "review" the project, Veconi previously told Streetsblog, and he worried that local opponents would push further to roll back the adjacent plaza and the open street on Vanderbilt. 
At last month's town hall, Hudson added to those fears when she revealed that she called off a meeting about the Underhill Avenue bike boulevard because she heard that pro-bike lane people were planning to show up in support.
The lawmaker justified the move then saying mixing opposing sides on the debate would end up being "unproductive," adding that issues around street safety "have become contentious and racially charged."
Hudson afterward contextualized those statements as being in response to the event's organizer claiming she was only listening to the street safety advocacy group Transportation Alternatives, but she also avoided taking a position on Underhill when asked by Streetsblog for clarification at the time, saying, "My personal perspective doesn't matter."
Some residents had gone unheard by DOT, Hudson claimed, despite the agency having done several workshops and outreach sessions dating back more than two years, and the its own surveys have shown 86 percent of residents support permanent changes in favor of pedestrians and cycling on local streets — and just 10 percent want to drive.
A cafe owner on Vanderbilt Avenue worried that their elected representative has been listening too much to the complaints of a few car-owning property owners, who have long dominated the discourse in the area. 
"Probably she got only the voice of the people that are unhappy … because people that are happy don't need to reach her," said Stefano De Martini, who owns Caffè De Martini. "I know parking in New York is a pain in the ass, but if you remove the open street, you will not find parking anyway."
Troubled district
Troubles for local street projects started at the beginning Hudson's tenure in early 2022, when the mayor's controversial second-in-command adviser Ingrid Lewis-Martin — who happens to also live in the district — reportedly ordered DOT to dismantle the Willoughby Avenue open street. Hudson said she supported the open street, but also told opponents that the popular program's vehicle restrictions were "flawed" and needed a "reassessment."
Later that year, when DOT scaled back its plans to turn a street where a 3-month-old baby had been killed by a driver into a pedestrian plaza, with the agency citing "community feedback," Hudson declined to offer an opinion at the time, saying she didn't "know the details." 
The 35th Council District has a history of politicians saying the right things about better road designs and then caving to longtime homeowners.
More than two-thirds of area households don't have access to a car and more than three-quarters of people commute by foot, public transit, or bike, according to Census data mapped out by the Massachusetts Institute of Technology. 
A mere 1.28 percent of street miles in the district have protected bike lanes, according to that data, much of which accounted for by the Eastern Parkway malls, which are off street and date back to the 1870s.
Between Jan. 1 and Oct. 10 this year, there were a whopping 1,573 reported crashes in the district, killing one person and injuring another 799 people, according to city data — nearly three injuries per day.
Hudson's predecessors in the Council have sided with anti-street redesign groups in the district in the past as well, despite trying to position themselves as supporters of better street designs. 
Laurie Cumbo, now the the city's Cultural Affairs Commissioner, railed against DOT plans for commercial loading zones in Clinton Hill while she was in the Council in 2019, and two years before that she sided with opponents who were against extending bus lanes on Fulton Street. 
In 2016, Cumbo and her predecessor Tish James — now the state's Attorney General — yielded to local opponents against a protected bike lane on Clinton Avenue, with one attendee at a community board meeting back then blaming "settlers" trying to "tell the neighborhood what to do."
Dismissing bike lanes as pushing gentrification and pet projects of white newcomers to a neighborhood is a common argument against street safety upgrades, although one extensive 2021 study of U.S. cities found no correlation between new bicycle infrastructure displacement of poor people and people of color.
Besides, promoting divisive narratives misses the mark, according to another local elected official. 
"I have literally gotten the same calls saying, 'This race of people bikes and now we have bike lanes, and we don't have any parking,'" said Fort Greene District Leader Shaquana Boykin, adding that many residents of public housing, like herself, don't rely on cars, but instead use bicycles, including Citi Bike.
"People have brought in their own bike, 'Look Shaquana, I bike to work,'" she added. "Some people like to say bikers are taking over the street — no, it's mobility."
In Hudson's run for office in 2021 and her bid for re-election this year, she received backing from StreetsPAC, the city's sole political action committee focusing on street safety, thanks in part to her professed support of the Willoughby and Vanderbilt open streets, the organization noted. 
The group's executive director still has confidence in Hudson.
"She's always said that she wants to make sure that long-time residents feel that they're heard, so her approach can maybe appear measured, and unfortunately she has a couple projects in her district that seem to be under fire from City Hall, so there's probably pressure there, as well," said Eric McClure. "But we expect that she'll continue to work to advance important projects like Ashland and Underhill."
Hudson responds
In a response to Streetsblog, Hudson provided a detailed statement on her record on street safety issues that, notably, did not say whether she would fight to maintain current improvements or finish the projects in question. Here is her statement in full:
My record of supporting and delivering tangible results that make our streets safer and more accessible to cyclists, pedestrians, and all New Yorkers speaks for itself.

I've advocated for DOT and the city to expedite the construction of protected bike lanes across the City (co-sponsor, Int. 965), increase protections for Deliveristas (co-sponsor, Int. 950), reduce commercial vehicle traffic in residential areas (co-sponsor, Int. 924 [the bill would only required the DOT to study the issue]), set civil penalties for the use of fraudulent license plates (co-sponsor, Int. 987 [the bill would create penalties for something that is already illegal]), establish a civil penalty for the obstruction of bike lanes, bus lanes, sidewalks, crosswalks, and fire hydrants (co-sponsor, Int. 501), and called on the state legislature to allow the city to set its own speed limits and operate its own traffic cameras.

Not to mention, I've also gladly and proudly provided material support for street safety initiatives, including a quarter of a million dollars to make Flatbush Avenue safer for pedestrians and thousands of dollars in funding for Vanderbilt Avenue Open Streets programming.

I haven't yet mentioned my proactive advocacy, penning dozens of letters to city agencies and signing onto countless support letters, advocating for everything from allowing e-bikes in Prospect Park to improving cyclists' access to the city's East River bridges.

It isn't lost on me that out of all the Council Members that have open streets in their districts, these particular individuals have chosen to go after the only Black, queer woman, despite my clear, strong record, of which I've only begun to touch on.

My personal commitment to street safety shouldn't be inaccurately muddled with the Mayor's executive power to rescind or approve such projects.

Crystal Hudson

Kevin Duggan joined Streetsblog in October, 2022, after covering transportation for amNY. Duggan has been covering New York since about 2017 after getting his masters in journalism from Dublin City University in Ireland. After some freelancing, he landed a job with Vince DiMiceli's Brooklyn Paper, where he covered southern Brooklyn neighborhoods and, later, Brownstone Brooklyn. He's on Twitter at @kduggan16. And his email address is kevin@streetsblog.org.
Read More:
Stay in touch
Sign up for our free newsletter