DOT
Streetsies 2022: New York's Biggest Failures and Disappointments
12:01 AM EST on December 29, 2022
Now that we've celebrated the city's biggest wins and best projects of this year, we need to reveal its biggest failures and worst projects, just in time for everyone to make New Year's resolutions.
This category started off strong on Tuesday with breaking news that the Department of Transportation finally confirmed that it will not build the 30 miles of new protected bike lane and 20 miles of dedicated bus lanes as required by law this year. By the end of 2022, the DOT says it expects to complete over 25 miles of new protected bike lanes. And instead of building out the mandated 20 miles of protected bus lanes, the agency calculated that it will install just 11.95 miles.
Not looking like a great start to 2023! And that's only the beginning of our list, which even includes some projects so bad and slow-walked that they're on it again since last year.
Without further ado, here are the nominees (and don't forget to vote at the bottom — and remember that polls remain open until 5 p.m. today on our "best projects" balloting):
Reducing busways
It was great news when the Adams administration made permanent the pair of long-delayed car-free busways on Jamaica and Archer avenues after a one-year pilot, but it was overshadowed by the fact that the city cut the hours of one of them.
After some Queens pols and business owners along the strip complained, officials scaled back the operating hours of the Jamaica Avenue busway from 24 hours a day, seven days a week, to 6 a.m. to 8 p.m. daily, despite insufferably slow bus speeds of 4.7 to 4.9 miles per hour. Archer Avenue remained in operation 24/7.
The Jamaica Avenue reduction, which advocates recognized didn't go as far as some opponents had wanted, set a precedent of caving to local interests at the expense of struggling straphangers. And it followed a similar capitulation the mayor made in Washington Heights. Over the summer, the DOT revealed it would make permanent the 181st Street busway, but that it would trim two hours off of its evening operating hours, shortening it from 6 a.m. to 8 p.m, instead of 10 p.m., after community opposition.
Fordham roadblock
And in the same vain of scaling back previously promised busways and bus priority corridors to help suffering riders, the Department of Transportation has so far done zilch on Fordham Road in the Bronx, despite revealing three possible schemes for improving bus service along the traffic-choked thoroughfare back in March.
Two of the proposals called for a partial or full car-free busway design between Morris and Webster avenues, where bus speeds average less than 4 miles per hour. But thanks to pushback from local businesses and Council Member Oswald Feliz, who claimed that any changes to the road would pose an "existential threat," the city has indefinitely put any of its plans on hold.
The city did add bus lane camera enforcement in November, but a DOT spokesman admitted that the community engagement process remains ongoing. The city promised additional outreach early next year.
Broken promise on the Queensboro Bridge
Despite a long-proven clear and desperate need for more pedestrian and cyclist space on the Queensboro Bridge, one of the Adams administration's first announcements was a delay on the prior administration's promise to give the south shoulder roadway to pedestrians to make the northern path bike-only by the end of 2022.
And the city has held firm on the delay, despite a continuous bike boom, which has inspired a 14-percent jump in daily trips across the East River span compared to last year. Queens Council Member Julie Won famously called the delays "garbage."
"I made the commissioner stand in the pedestrian lane and as a grown man, he can barely stand here without worrying about being hit," Won said back in September. "And there is no room for two cyclists to go head to head. It makes no sense. The agency says, 'Well, that's a standard bike-lane width.' Well, if that's standard, then the standards are garbage. We have complaints on a weekly basis of crashes that can easily be avoided with the promised redesign."
Making Fourth Avenue worse 
The Department of Transportation defended its decision to forgo a city law that requires all construction crews to create a temporary bike lane to protect cyclists amid construction — in this case, on Fourth Avenue, a major corridor that connects Downtown and southern Brooklyn.
The roadway already has a much-loved protected bike lane on both sides, but in October, the city broke ground on a $60-million "Great Streets" project to landscape the subway grates in the median, plus add hardened pedestrian refuge areas and benches between Atlantic Avenue and 64th Street (nothing good ever makes it to Bay Ridge!). But in order to accommodate the work, the city eliminated portions of the parking-protected bike lane on a rolling basis between Eighth and 64th streets, turning it into a lane for drivers, and throwing cyclists into danger.
Activists call it "bullshit."
The Central Park stall
Years after a high-profile crash on the 96th Street transverse killed beloved pediatrician Daniel Cammerman in December 2019, the stewards of Central Park are only now reviving a long-overdue study to make the greensward safer for pedestrians and cyclists.
A spokesperson for the Central Park Conservancy told Streetsblog in November that it was dusting off a study first commissioned in 2018, but it's unclear if the study even includes the transverses — the crosstown routes at 96th, 86th, 79th and 65th streets that are currently dominated by cars, trucks and buses. And it's unclear how long it will take, what exactly it entails, or who is spearheading it.
Banal on Canal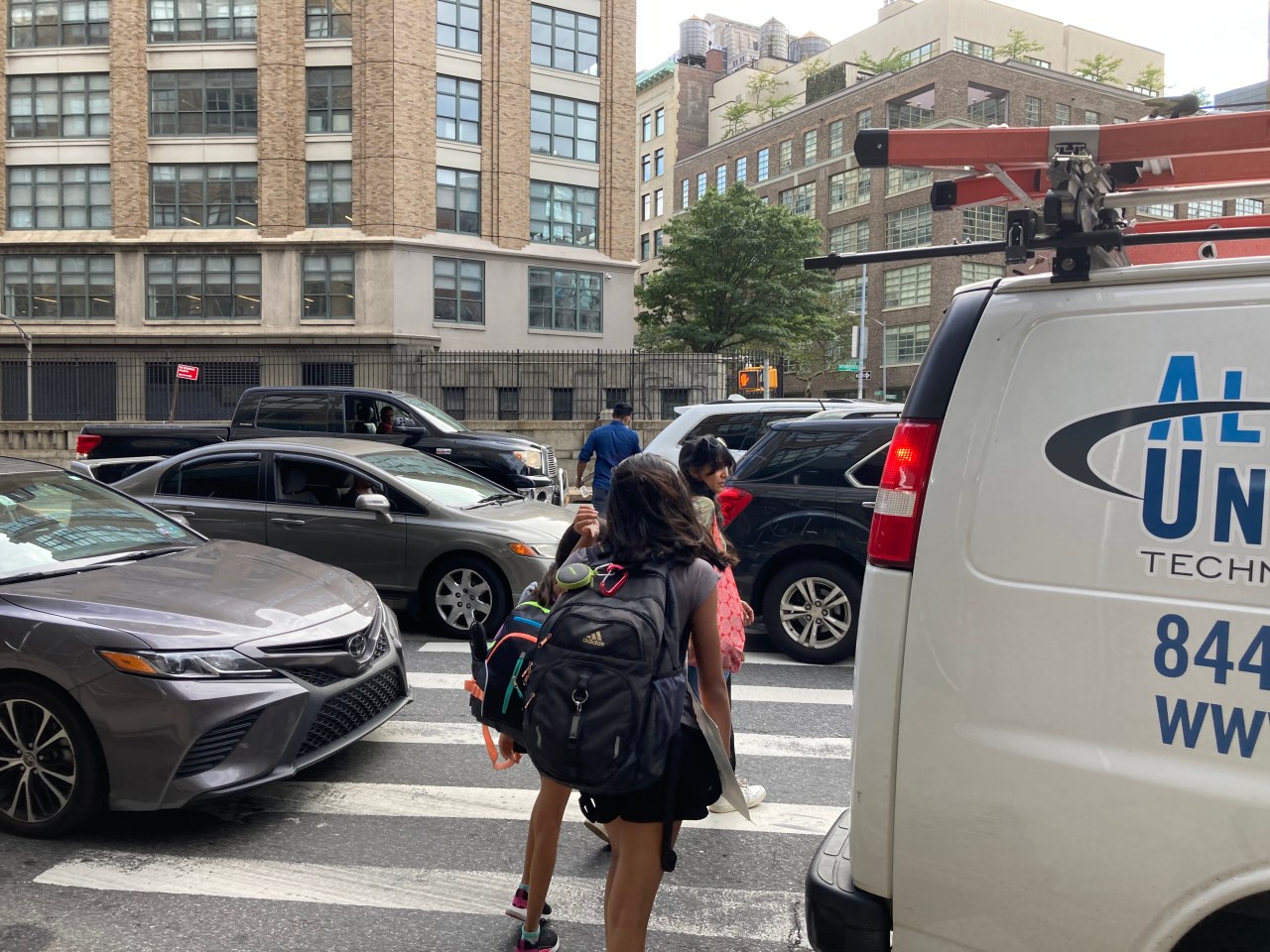 Admitting you have a problem is half the battle. But only half. The other is actually doing something about it. The Adams administration acknowledged the dangers of the traffic sewer that is Canal Street in March — more than four years after the hashtag #FixCanal and a petition to get the city to redesign the roadway for safety ignited the internet. (That's just in the age of social media — people have been complaining about Canal Street since the Holland Tunnel opened almost 100 years ago.)
The DOT held a workshop more than nine months ago to "discuss street safety needs," "gather local knowledge," "brainstorm corridor improvement ideas" and "establish expected project timeline" for Canal Street. But now, just days away from 2023, it's unclear where any of that stands (the DOT's "Current Projects" website still only includes the visioning workshop login instructions). Canal Street remains as dangerous and as intimidating as ever.
Indeed, on just the short stretch between the Manhattan Bridge and the Holland Tunnel mess, there have been 147 reported crashes this year, injuring 12 cyclists, seven pedestrians and 29 motorists. That might be the most dangerous and congested 13-block stretch in town.
Ocean Parkway is still unusable 
And to finish off the list is the city's same do-nothing response towards fixing Ocean Parkway — a vital 5.5-mile bike lane between Prospect Park and Coney Island that's separated from the dangerous speedway through which it cuts. The pathway is essential for cyclists and pedestrians, thanks to how little protected bike infrastructure exists anywhere else in the area, but it's as broken up and crumbling as ever.
Still, the Parks Department recently punted repairs of some of the worst sections of the pathway to 2024, which is five years after the agency got funding for the project. And other sections have experienced a similar fate. The $2.6-million repair project spanning avenues R to X in Gravesend has basically been stuck in reverse. The Parks Department first pushed back the start of reconstruction from 2021 to 2022 due to the year-long Covid-19 pandemic pause of city projects, and then again to 2023 because officials had to go back and check that the lowest-bidding contractor was paying fair wages. The latest completion date is set for March 2024.
And other sections of Ocean Parkway outside of the planned work are also extremely busted, but the city has no plans for fixing them at all.
It's time to vote:
Stay in touch
Sign up for our free newsletter