Congestion Pricing
Dear Gov. Hochul: 'Move Fast on Congestion Pricing'
3:24 PM EDT on August 24, 2021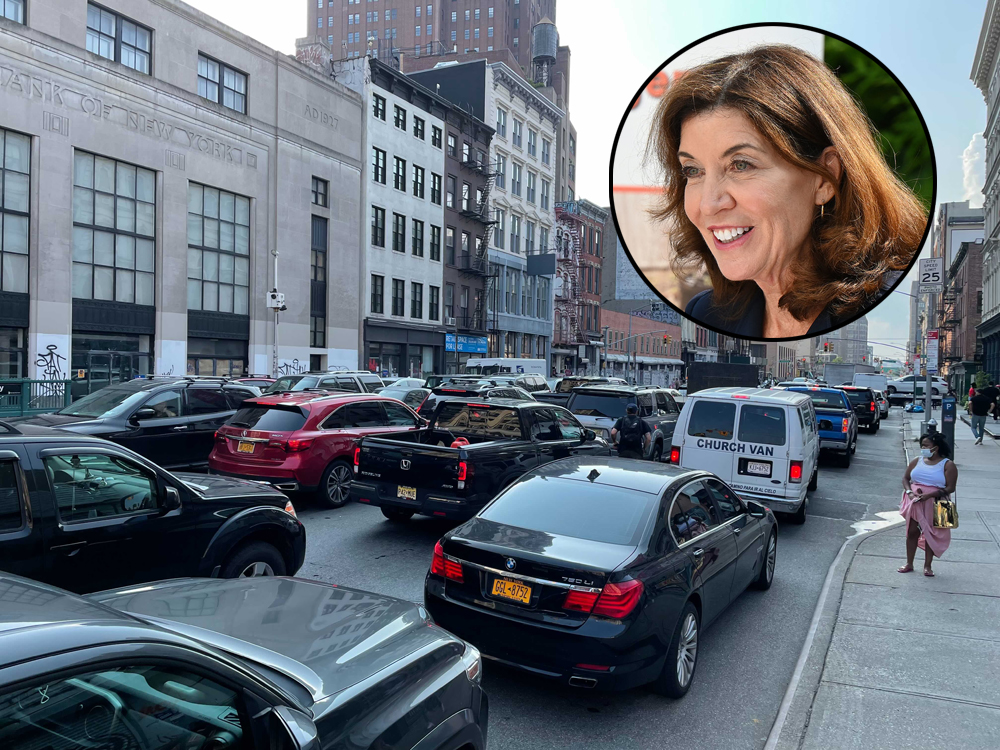 The new governor's inbox is full already.
On the day she moved into the state Capitol's second floor C-suite, Kathy Hochul received plenty of missives reminding her to not throw out everything in Gov. Cuomo's "unfinished" folder — most importantly, congestion pricing.
A coalition of 28 environmental, transit and good government groups, plus Manhattan Borough President Gale Brewer separately, wrote to Hochul on Tuesday to make sure the central business tolling is at the top of her agenda.
"Now, in the lingering stages of a calamitous pandemic, with New York determined to emerge stronger, we need congestion pricing more than ever," the coalition, which includes Riders Alliance, Reinvent Albany, Right of Way, Transportation Alternatives, StreetsPAC, the Environmental Defense Fund, Lyft, the Natural Resources Defense Council, the New York City Environmental Justice Alliance, New York Lawyers for the Public Interest, New York League of Conservation Voters, the all-important Real Estate Board of New York, and Regional Plan Association. "We implore you to use your full authority to implement it as quickly, fully, and fairly as possible."
There's nothing in the letter that is not known to Hochul — transit is in a historic decline due to the pandemic and the city is experiencing a commuting carmageddon that threatens to swamp New York City's recovery — but on one level, that's not the point of the letter. The goal is to get the governor to clearly affirm her support for congestion pricing, which she supported as second-in-command to then-Gov. Cuomo, but has, of late, been less convincing.
Earlier this month, Hochul told the Times through a spokesman that she "has supported congestion pricing in the past, but the pace and timing is something she will need to evaluate further given the constantly changing impact of Covid-19 on commuters."
That language put advocates into overdrive.
"There's a threshold question behind our letter," said Danny Pearlstein, the spokesman for Riders Alliance. "We need immediately determine the extent to which she is interested in doing congestion pricing. We need to know that the governor is fully supportive because we are not out of the woods yet. We are looking to hear, 'Yes we are on board. Congestion pricing will happen.'"
As such, the letter did not dwell on the heaviest elephant in the room: The 16 months of public engagement and environmental review that the MTA says it needs to undertake before it can declare the car-reduction and anti-pollution strategy to be good for the environment and for long-suffering communities that have borne the brunt of 100 years of car exhaust and poor transit options. (Mayor de Blasio himself called that timeline "ridiculous.")
Speeding up the process was the core of Brewer's letter to Hochul, also dated Tuesday. In it, the once and future Council Member called on Hochul to appoint her members of the Traffic Mobility Review Board, the six-member panel that will set the congestion pricing fee and also decide who gets exempted from it. Thus far, only one member has been appointed: New York City Department of Finance Commissioner Sharif Solomon, appointed by Mayor de Blasio.
Brewer also called on at least one member of the panel to be from Manhattan.
"There are a litany of outstanding questions that the TMRB must weigh in on, most of which are of great consequence to Manhattanites," she wrote.
We reached out to Hochul's office and, unlike her predecessor's press office, got a response quite promptly. That said, the information provided was of limited use. For instance, a spokeswoman for the governor sent over a generic comment thanking the advocates for their concern:
"The governor is looking forward to tackling issues facing New Yorkers head on, and the input of impacted groups is appreciated as she evaluates how best to create a stronger future for all," spokeswoman Hazel Crampton-Hays told Streetsblog.
She also directed us to a prior comment from the governor after he face-to-face meeting with de Blasio last week, a comment that did not convey that she is as supportive of implementing congestion pricing as quickly as advocates want.
"The mayor and I spoke about congestion pricing yesterday," then Lt. Gov Hochul said. "We had a very good conversation and there are certain legal requirements in place that have to be followed. ... I have supported congestion pricing. But in terms of the timing, I have to follow what's in place right now, but it's very much on my mind. I'm also meeting with the MTA to find out our financial situation to see how long we can go without the money we anticipate from congestion pricing.?"
Here is the full text of the letter sent by advocates to Hochul on Tuesday:
Dear Governor Hochul:

We congratulate you on becoming New York's first woman governor! We look forward to partnering with you at this pivotal time in our state, as we recover from the covid pandemic, confront a transit crisis and address the climate emergency.

As you know, the Metropolitan Transportation Authority's subways, trains, buses, and paratransit service are the lifeblood of New York City and the entire metropolitan region, the heart of New York's economy. Pre-pandemic, the subways accounted for just shy of 60 percent of trips to the Manhattan central business district. Add buses and commuter trains, and transit's share of trips to the Manhattan core surpasses 80 percent. But now the MTA faces an unprecedented fiscal crisis owing to the pandemic, which arrived just as the agency finally began transformational upgrades to a system that serves as a critical lifeline for families and essential workers, a majority of whom are people of color, many working in low-wage jobs.

Meanwhile, an influx of car traffic onto city streets has brought gridlock to neighborhoods across the five boroughs, even with most offices still closed. Before the pandemic, the Partnership for New York City found that traffic congestion was costing area businesses and families $20 billion each year in wasted time and resources. We cannot bear that burden, or allow it to increase, as we strive to rebuild, grow and equitably accommodate the 630,000 new New Yorkers recently documented in the 2020 US Census.

Four years ago, your predecessor called congestion pricing "an idea whose time has come," to help pay for the capital upgrades that our aging transit system desperately needs and to lessen downstate gridlock. Less than two years later, on March 30, 2019, the legislature adopted a historic budget authorizing the nation's first congestion pricing program. After fifty years of failure – Mayors Lindsay, Koch, and Bloomberg all tried to toll the East River bridges and/or the avenues along 60th Street – New York acted decisively. New Yorkers rightly celebrated.

Now, in the lingering stages of a calamitous pandemic, with New York determined to emerge stronger, we need congestion pricing more than ever. We implore you to use your full authority to implement it as quickly, fully, and fairly as possible.

Public transit has just suffered its worst year. With millions of riders needing to stay at home to combat a global pandemic, the resulting revenue shortfalls nearly destroyed the lifeblood of our city. Meanwhile, the subway is more than a century old and still not nearly as frequent, reliable, or accessible as New Yorkers need it to be. With transit ridership at barely half of pre-COVID levels, the MTA's capital program is taking on more importance than ever. Fulfilling the full capital program, including urgently needed signal upgrades, elevators, and other station and accessibility improvements, is essential to winning riders back to public transit. With a contribution of $15 billion or more, congestion pricing is the foundational source of funds to fix and modernize our subway, bus and commuter rail network.

At the same time, traffic congestion and vehicular pollution are a mortal threat to New York's recovery and our collective future. New driving habits have resulted in traffic volumes at some bridges and tunnels that already exceed pre-pandemic levels. As more workers return to their offices this fall, as anticipated, traffic in many parts of New York will become unbearable. More traffic has already brought more deadly collisions, more air pollution that leads to premature death and missed work and school from respiratory and other illnesses, and more carbon pollution that accelerates climate change and disproportionately impacts environmental justice communities. At the same time, New York's Climate Leadership and Community Protection Act demands that we drastically cut our emissions from transportation. The expansion and reliability of the MTA's network as well as encouraging alternatives to driving are key to achieving the CLCPA's paramount goals.

After an inexcusable delay by its predecessor, the Biden administration has strongly endorsed New York's congestion pricing program. In March, U.S. Secretary of Transportation Pete Buttigieg, acknowledging the indisputable environmental benefits of cutting driving, gave the MTA the green light to proceed with an environmental assessment in order to expedite the program's start date. We are glad to hear that the MTA and the state and city DOTs have come to an agreement with the Federal Highway Administration about the process to complete the assessment and we urge that it be completed and submitted without delay.

While the Trump administration's inaction unfortunately pushed off the anticipated start date, New York cannot let it drift further or saddle the program with special-interest exemptions. The longer we wait for a fair, broad-based program, the longer it will take to fix the subways and also relieve the chronic road congestion that drags down our economy, health and safety.

Economic recovery itself demands robust implementation of congestion pricing. Already, traffic congestion is interfering with commerce and new business growth and development. It is simply physically impossible for cars to lead the return to Manhattan offices and retail. As the city grapples with the restoration of its public education, housing, health, sanitation, and other essential services, devastating gridlock will delay and potentially reverse New York's recovery. Emergency response times and bus service are particularly imperilled. In short, starting up congestion pricing is crucial to bouncing back; delay is the harder choice.

We are eager to support you and your administration to implement North America's first congestion pricing program. We look forward to showcasing it to other cities as the type of bold policymaking that will bring about a much more accessible, equitable, and resilient future. We will do everything possible to ensure its success. We look forward to your leadership on this vital matter.

Sincerely,

Betsy Plum, Riders AllianceMaritza Silva-Farrell, ALIGNCarlyn Cowen, Chinese-American Planning Council (CPC)Rosemary Rivera, Citizen Action of New YorkKathy Park Price, Citizen SquirrelJean Ryan, Disabled In Action of Metropolitan NYBrandon Heinrich, Downstate New York ADAPTPeter Iwanowicz, Environmental Advocates NYMary Barber, Environmental Defense FundCatherine Gray, League of Women VotersPhil Jones LimeRuth Fasoldt, LyftRichard Schrader, Natural Resources Defense CouncilEddie Bautista, New York City Environmental Justice AllianceJustin Wood, New York Lawyers for the Public InterestJulie Tighe, New York League of Conservation VotersJaqi Cohen, NYPIRG Straphangers CampaignLisa Daglian, Permanent Citizens Advisory Committee to the MTAJames Whelan, Real Estate Board of New YorkTom Wright, Regional Plan AssociationJohn Kaehny, Reinvent AlbanyCharles Komanoff, Right Of WayArif Ullah. South Bronx UniteEric McClure, StreetsPACDanny Harris, Transportation AlternativesRenae Reynolds, Tri-State Transportation CampaignHayley Prim. UberSonal Jessel. WE ACT for Environmental JusticeYa-Ting Liu, Via Transportation

Gersh Kuntzman is editor in chief of Streetsblog NYC and Streetsblog USA. He also writes the Cycle of Rage column, which is archived here.
Stay in touch
Sign up for our free newsletter