DDC
Four More Street Redesigns That Are Taking Forever to Build
4:33 PM EST on January 6, 2016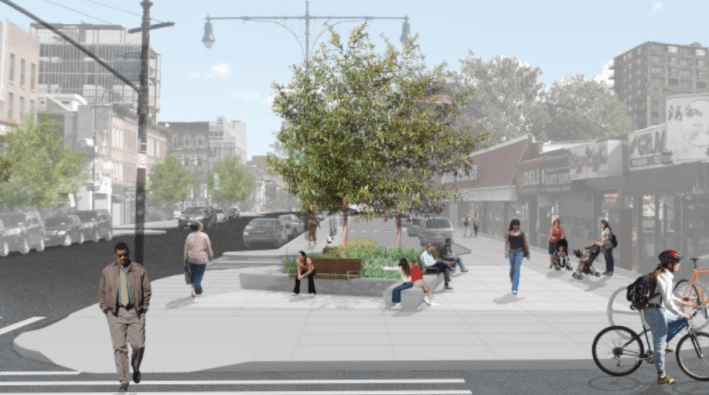 On Monday, we posted a list of seven street redesign projects that remain unfinished years after they went through the city's public planning process, with the Department of Design and Construction far behind schedule.
DDC gave varying reasons for the delays, citing subsurface infrastructure work that precedes above-ground construction, as well as "changes and updates during the design phase of the project," and "additional work by our client agency."
One thing I consistently heard from local businesses and community groups is that DDC leaves them in the dark as it pushes project completion dates further and further into the future. DDC contested that and said it works with client agencies, such as DOT, to provide updates on construction as it advances (or stalls). Every DDC project also has a community liaison who is supposed to work with the project engineer to pass on updates to local businesses and neighbors.
Still, many of the BID directors and residents I spoke to about these projects said their community liaisons often lack information about project timelines.
After we ran the post on Monday, readers asked about other redesign projects that are languishing. Here are updates on four more -- some of which DDC is handling better than others:
1. Myrtle Avenue Plaza and Street Reconstruction
This project will turn two of the four blocks on the Myrtle Avenue service road between Hall Street and Emerson Place in Clinton Hill into a pedestrian plaza along the newly extended sidewalk. It's been over ten years in the making. The Myrtle Avenue Revitalization Partnership (MARP) originally developed the concept for the project from 2005 to 2007, and DOT selected Myrtle Avenue for the first round of the NYC Plaza Program in 2008. The final design emerged in 2011 from a DOT-initiated public planning process.
According to MARP's Meredith Phillips Almeida, the Public Design Commission approval process required design modifications that caused initial delays to the project, which was expected to break ground in fall 2013 but ended up not beginning until a full year later. Then, once the contractors got to work on the project, they found an underground water main that halted construction entirely from November 2014 until August of last year. "I think that it was clear to us why it was delayed, but we weren't given any preliminary timeline for when work would start up again until very near the time when it did," Almeida told Streetsblog.
Construction paused again for the holiday shopping season at the request of the Myrtle Avenue Partnership, but Almeida said her organization has not been given any indication of when work will start back up. The most recent completion date she's been given by DDC's liaison is this April. "For us as the future manager of the public space, it's very difficult to build that programming out when the end-point is a moving target," Almeida said. "It seems incredibly ambitious in my opinion that the plaza will be open in April, but that's still the latest that we've heard."
On the city's map of construction projects, DDC now lists the completion date as June 30.
Initial project timeline: After design delays pushed groundbreaking back a year, construction began in August 2014 with an anticipated 18-month timeline.
Current DDC official projected completion date: 6/30/2016
2. Pershing Square West - Two Years Behind Schedule
The Grand Central Partnership originally proposed this plaza project -- along the west side of the Park Avenue Viaduct south of Grand Central -- when Ed Koch was mayor. It got tabled until the Bloomberg administration brought it back to life. In 2013, the New York Times reported that the project would be completed in 2014 "if all goes according to plan."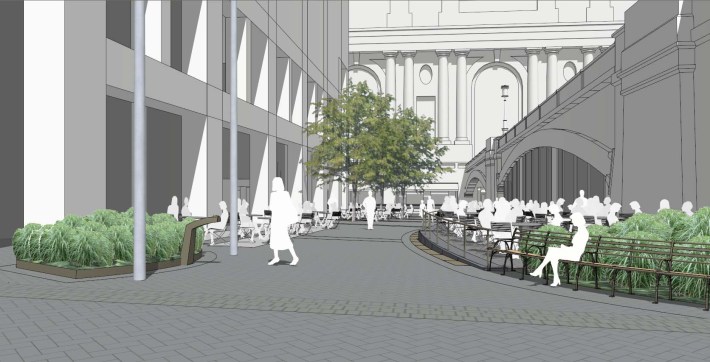 Before construction finally began last spring, a temporary version made the space car-free between May and October from 10 a.m. to 10 p.m. on weekdays and from 10 a.m. to 3 p.m. on weekends. Wurzel said GCP would put up temporary barricades and outdoor seating for the Pershing Square Cafe. The redesign will install permanent seating for the restaurant, as well as trees and other pedestrian amenities.
Wurzel said DDC has kept his organization and relevant property managers updated on the project's development. Above-ground construction has been delayed due to work on a 100-year-old sewer trunk line underneath the project area. Wurzel said he expects the sewer work, which can only happen at night, to finish in the first half of 2016. Once that's complete, above-ground construction will finally begin.
Initial project timeline: In 2013, the New York Times reported that the project would be completed the following year.
Current DDC official projected completion date: 6/11/2016
3. East Houston Street Pedestrian Safety Improvements - Three Years Behind Schedule
City Planning released an extensive report on street safety on East Houston Street in 2006 [PDF]. The report called for a bike lane, wider medians, sidewalk extensions, as well as specific safety improvements at various intersections. In 2009, DOT and DDC moved forward with a plan, modeled on the 2006 report, that would add a buffered (but not protected) bike lane, additional pedestrian space, and other street safety improvements. Construction began in 2010 and was expected to take just three years.
Now, six years and $88 million later, DDC has attributed delays to "unforeseen utility interference" -- a.k.a. underground infrastructure work. In October, Community Board 3's transportation committee called on DDC to get the project done as soon as possible, consolidate staging areas, clean up junk, and provide bi-monthly updates on the status of the project.
Initial project timeline: Construction was scheduled to last from 2010 to 2013.
Current DDC official projected completion date: 6/24/2016
4. Reconstruction of 215th Step-Street in Inwood - A Year (or Ten) Behind Schedule
Inwood residents began calling for the renovation of the 215th Street steps in the late 1990s. They were originally told the project would be completed in 2005. Later timelines anticipated completion in 2009, 2010, and 2013. Construction finally got underway in early 2014 with a 17-month timeline for completion. We posted these photos a year ago. Construction is still underway but visibly near completion.
Initial project timeline: Once construction finally began in early 2014, it was expected to be completed within 17 months.
Marty's #RealEstate update in #Inwood #Manhattan. #Construction of steps on #Broadway & 215th Street pic.twitter.com/2NUXvXQYLX

— Marty Morua (@MartyMorua) October 31, 2015

David was Streetsblog's do-it-all New York City beat reporter from 2015 to 2019. He returned as deputy editor in 2023 after a three-year stint at the New York Post.
Stay in touch
Sign up for our free newsletter