Citi Bike
What We Get — And Don't Get — In The New Citi Bike Deal
There's a new deal to expand the Citi Bike electric vehicle fleet — but how good is it? Let the Explainer fill you in.
12:00 AM EST on November 6, 2023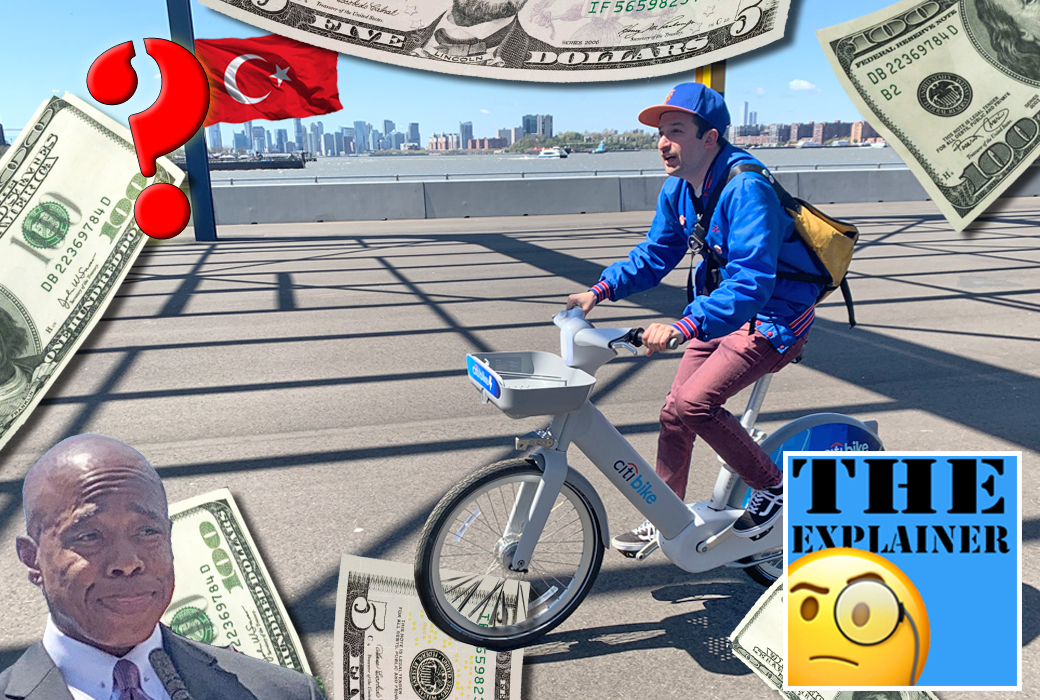 Citi Bike and the Adams Administration announced some tweaks to their operating arrangement on Friday, with the largest tweak being the doubling of the current number of e-bikes in the system by the end of 2024. Going from 10,000 e-bikes to 20,000 e-bikes in a system of 40,000 bikes balances the reality on the ground, where currently almost half of all Citi Bike rides happen on e-bikes even as they comprise about 25 percent of the fleet. But there's more than just some extra zoom in the new contract amendments, some good, some bad, and some the same maddening issues that have dogged the system for years.
No system expansion
Although we're getting twice as many e-bikes, plus another 2,800 new classic bikes (and 2,200 replacement classic bikes), you're not going to be able to ride the bikes anywhere new because system expansion was not part of the amendment agreement. Unlike the ever-expanding Marvel Cinematic Universe, the end of the Phase 3 expansion of Citi Bike, which brings bike share to Elmhurst, Sunset Park and Marble Hill, will be the end of the current growth of the system's borders.
That means for the foreseeable future, there will be no bike share in Staten Island, Bay Ridge or large portions of southeast Brooklyn, eastern Queens or the east Bronx.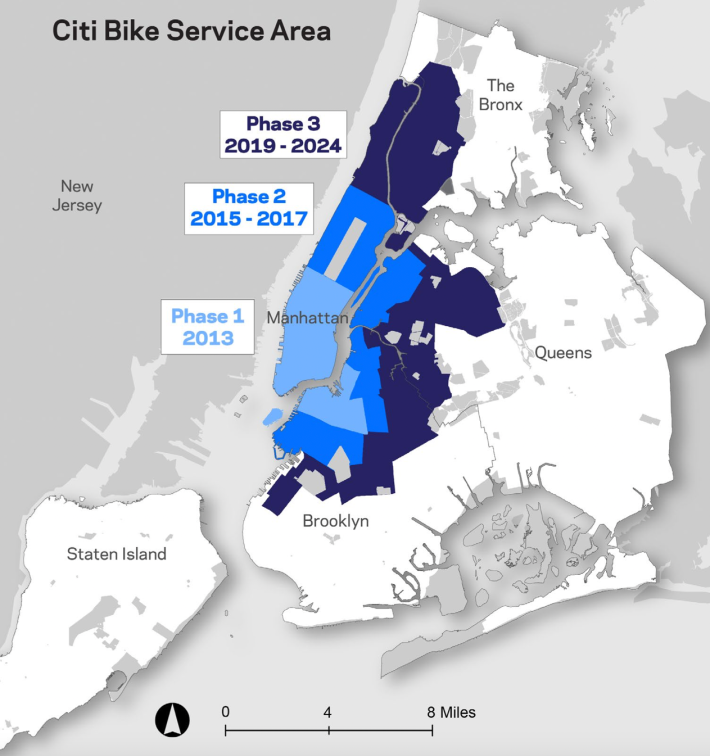 Could that change? Of course. Both the DOT and Lyft are interested in expanding Citi Bike's footprint, but as has been the case since Phase 3 was announced in 2019, the issue comes down to money: the city is not putting any public funds into expansion and Lyft has its own problems and, indeed, has been trying to unload Citi Bike.
But advocates for cyclists in areas still left out in the cold don't sound interested in excuses, just solutions.
"We're disappointed that you still can't ride a Citi Bike in most of New York City and that no one in City Hall or at a Lyft seems interested in changing that," said John Tomac of Bike South Brooklyn.
"Over the years, we've heard a lot of elected officials in Southern Brooklyn complain that their districts are 'transit deserts.' They should be leading the fight for a city-wide Citi Bike expansion because bike share turns a 15-minute walk to the train or a 15-minute wait for the bus into a five-minute bike ride. Citi Bike has been extremely popular everywhere it's expanded during the last decade. There's no good reason why it isn't already in every neighborhood in all five boroughs."
No public money for bike share
The contract amendment, which run through 2029, does plenty of good for the system, but still avoids the most impactful thing the city could do: fork over some public money. New York City is an outlier in terms of bike share and public subsidy, as backwaters like Washington, D.C. use public money to keep the price of yearly memberships for its bike share program at just $95 compared to $205 for a Citi Bike membership. In addition, e-bike rides in D.C. are 10 cents a minute for members, compared to 17 cents a minute here.
The lack of public money is even more glaring with the new agreement because at the same time as New York announced the contract changes on Friday, governments in California's Bay Area announced $16 million in subsidies to the Lyft-managed bike share system out there. The cash infusion will, like in D.C., mean lower annual membership and e-bike rides for Bay Wheels. A one-year membership will drop from $169 per year to $150, and members will pay 15 cents a minute for e-bike rides, down from 20 cents per minute.
Five out of the eight major Democratic candidates running for mayor in 2021 — including now-Mayor Eric Adams — promised to give public money to Citi Bike. But since taking office, Adams hasn't said a word about a Citi Bike subsidy, and been vocal about making cuts to the city budget even before the city's migrant crisis began.
City Hall did not respond to a question on whether Adams would keep his campaign promise.
Electrifying stations
Since late 2021, Lyft began talking about attaching Citi Bike stations directly to the electric grid, which would allow e-bikes to charge while sitting in a dock instead of requiring Lyft employees to speed around in vans to swap out every dead e-bike battery — an inefficient way to handle Citi Bike's most popular vehicles.
Fortunately, the new Citi Bike deal announces that two docking stations will be electrified as a pilot by the end of the year. Eventually, the goal is for Lyft to electrify 20 percent of the stations across the city, which may sound like a small number of stations, but is actually enough to cut down on 80 percent of the manual battery swaps the company currently has to do.
"This is exactly the direction we should be moving in – toward greener, safer, and more accessible micromobility options for New Yorkers," said Brooklyn Borough President Antonio Reynoso, who called for the station electrification in 2021. "I'm happy to see the mayor and DOT working alongside Lyft to prioritize electrification and expansion — and we must make sure that we have the street infrastructure to match."
New York won't be the first place in the country with electrified bike share docks though. That privilege belongs to Chicago, where the company installed five electric stations for the Divvy bike share system last year. Lyft says that the Windy City pilot has been a proof of concept. It's also been getting ready for the idea here in New York, as the company has been testing out completely remade docks in the city that are built in part to best take advantage of being attached to the power grid.
Lyft officials have previously said that the cost of installing electric stations in New York City is around $70,000 and $100,000 per dock, which could make the eventual effort to electrify around 400 stations around the city an expensive undertaking. But the press release does say that Lyft will look at passing on operational savings (such as the money saved by not paying people to drive around swapping batteries) to riders.
A price cap
For the first time in its history, Citi Bike will have a price cap on memberships, and crucially, per-minute rides on e-bikes. For the rest of 2023, e-bikes will not be able to be more expensive than 24 cents per minute for members, 12 cents per minute for reduced fare users and 36 cents for the general public. After that, each year the e-bike price cap will be chained to the consumer price index plus 2 percent.
"It's good the city negotiated some caps — even if they are well above the current rates," tweeted Bike New York.
In 2022, when Reynoso and Manhattan Borough President Mark Levine were kicking up a fuss about getting rid of the rule that capped the Citi Bike e-bike fleet at 20 percent of the fleet, the DOT was reticent to agree to the idea because the contract between Lyft and the city didn't allow the city to set prices for e-bikes. As the bikes are both the most popular, and most expensive, product in the system, the city wasn't keen on allowing runaway prices on the system.

Dave Colon is a reporter from Long Beach, a barrier island off of the coast of Long Island that you can bike to from the city. It's a real nice ride. He's previously been the editor of Brokelyn, a reporter at Gothamist, a freelance reporter and delivered freshly baked bread by bike. Dave is on Twitter as @davecolon. Email Dave Colon at dcolon@streetsblog.org
Read More:
Stay in touch
Sign up for our free newsletter