Eric Adams
Adams Dismisses Bus, Bike Lane Mile Requirements At DOT Meeting
The Adams Doctrine on safe streets has become clear. And, yes, it involves a metaphor of drowning rats.
6:16 PM EDT on November 1, 2023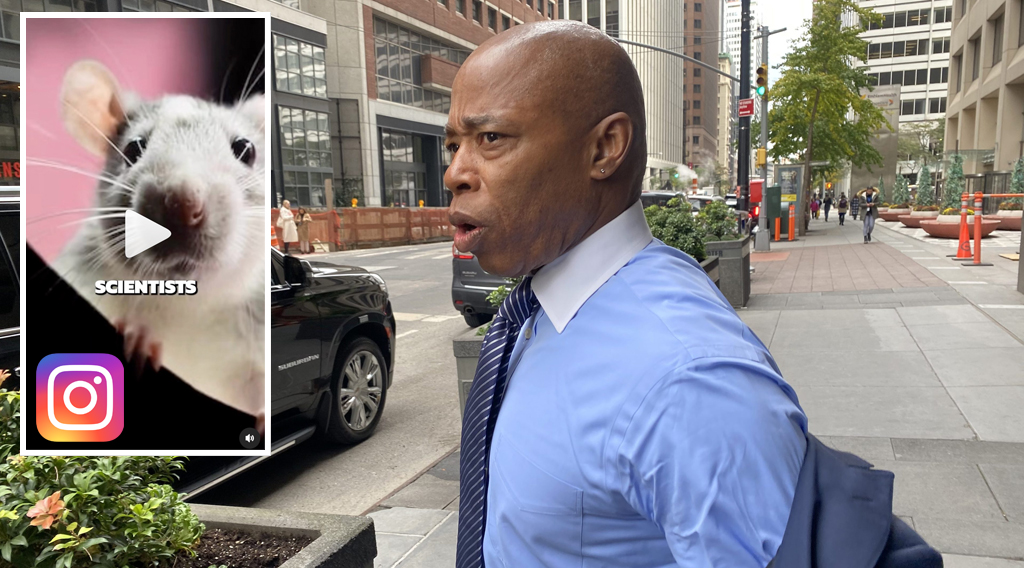 The "Adams Doctrine" on safe streets has become clear. 
In a closed-door meeting with Department of Transportation staffers on Wednesday, the mayor said he was less focused on city requirements — and his own campaign promises — to add hundreds of miles of new bike and bus lanes across the city, but was more concerned about hearing from constituents "on the ground." 
In a rambling 15-minute speech to 200 DOT employees at the agency's 55 Water St. headquarters, the mayor struck a defensive tone about his management style, which some believe came in response to growing criticisms over his administration sabotaging key street safety projects. Nonetheless, the monologue indicated he would keep micromanaging, or even overruling, the DOT staffers' efforts to implement better street designs. 
"My legacy is not how many bike miles I do. My legacy is not how many bus lanes I do," Adams said, according to a recording obtained by Streetsblog. "My legacy I want to be left with is that this was a mayor that heard us on the ground, and communicated with us on the ground, and respected us enough to hear our input, and we can reach both goals at the same time." 
The mayor is required by law to build 50 miles of new protected bike lanes and 30 miles of bus lanes each year until 2026 under the Streets Master Plan. As a candidate for the office he now holds, Adams promised to exceed those requirements by adding 150 miles of bus lanes over four years, but his administration has so far fallen short of even the legal benchmarks.
His Wednesday remarks signal he is less interested in those hard milestones and more focused on "input," a vague metric with little accountability, according to advocates.
"This says to me, 'No project you design is safe' and 'There are no principles to help you understand what I will approve or kill,'" said Jon Orcutt, a former top official at DOT under the Bloomberg administration who now works at Bike New York. "It's a mayor who believes primarily in his own personal rule, and close connections to the mayor have been key in stopping DOT projects in 2023."
During his second year in office, the Adams administration — chiefly his second-in-command chief adviser Ingrid Lewis-Martin — has established a playbook of interfering in marquee projects of his own DOT if moneyed business and political interests oppose them. That's how bike lanes on McGuinness Boulevard, Ashland Place, and Underhill Avenue have been stalled or canceled outright, and why the mayor ended up abandoning a plan to add bus lanes on Fordham Road that would improve the daily commutes of 85,000 working class New Yorkers.
On Wednesday, Adams tried to justify his approach, comparing it to sending his son, Jordan Coleman, off to college and checking on university leaders to make sure they were giving him a good education.
"If I didn't give that school leader the right to do what he wanted with Jordan, I'm not going to give any agency in the city the right to do what they want with my baby called New York City," Adams said.
"I'm not interfering, I'm monitoring to make sure the promise I made to New Yorkers I'm going to live out," he continued. "It's a different style, it's a different approach, and trust me, it can be aggravating. But I make determinations of no, we're not going to do this project [or] we're going to do this project because I see the total picture of this entire city."
A person present for Adams's speech said the mayoral speechifying seemed to be prompted by mounting criticisms of his administration's approach to projects that would improve street safety and benefit public transit users, cyclists and pedestrians.
"It was really odd and self-justifying," the person said of the mayor's remarks.
Another odd moment? The mayor likened DOT employees to rats.
At one point, Hizzoner cited a study of rodent behavior that involved scientists putting rats underwater, but rescuing them just before they drowned. (He may have been referring to this Instagram video that was posted two weeks ago.)
"These scientists place a group of rats — you know I hate rats — inside a pool, and the rats had to tread water, and after 15 minutes, the rats started to drown," he said. "Before they drowned, he pulled them out, dried them off, and he did the experiment again. ... Instead of 15 minutes they lasted for 48 hours, because in their minds, their brains started to believe that they were going to be rescued.
"Hope is everything," concluded the mayor, who, in that metaphor, is the scientist torturing DOT employees.
The visit from City Hall, which wasn't on Adams's public schedule but appears to be the first time a mayor has visited the DOT headquarters, left workers and advocates concerned about the future of the administration's willingness to get stuff done when it comes to designing safer streets. 
"My takeaway is that we are going to be extremely micromanaged," a DOT employee who was at the speech told Streetsblog.
DOT staffers also bristled at Adams's repeated claims that he has done so much, including a boast that he was responsible for the state lowering the city's speed limits to its current 25 miles-per-hour — which happened in 2014, one year after Adams left the state Senate and became Brooklyn borough president.
A former senior DOT official who worked at the agency at the time of the reduction in the speed limit did not remember a role — "if any" — played by Adams at the time
After leaving the building, Adams brushed past a Streetsblog reporter's questions, saying he was there "to thank them [DOT employees] for their work," and that he told them "how much I love them for what they do."
Both the mayor's and DOT's social media accounts posted photos and videos, with Adams holding a street sign with his name on it.
Mayoral spokesman Charles Lutvak disputed that Hizzoner said he would ignore the city law requiring 50 miles of protected bike lanes and 30 miles of protected bus lanes this year, and every year going forward.
"New York City is on track to have the safest year for pedestrians since Vision Zero started and among the fewest overall traffic fatalities in 114 years of recorded data," he said. "As Mayor Adams reiterated today, his administration listens to and works with communities to deliver the safe, efficient streets and vibrant public spaces New Yorkers deserve — and the facts are clear that this approach is working."
He also challenged one possible interpretation of the rat story.
"The mayor did not compare anyone to rats," he said.
– Additional reporting by Dave Colon and Gersh Kuntzman

Kevin Duggan joined Streetsblog in October, 2022, after covering transportation for amNY. Duggan has been covering New York since about 2017 after getting his masters in journalism from Dublin City University in Ireland. After some freelancing, he landed a job with Vince DiMiceli's Brooklyn Paper, where he covered southern Brooklyn neighborhoods and, later, Brownstone Brooklyn. He's on Twitter at @kduggan16. And his email address is kevin@streetsblog.org.

Jesse Coburn is an investigative reporter at Streetsblog. He likes tips: jesse@streetsblog.org / 917 283 2482.
Read More:
Stay in touch
Sign up for our free newsletter