Street Design
Donor Class McGuinness Safety Opponents Reel in Brooklyn Dem Boss, DOT Commish for 'Sham' Town Hall
Opponents of the city's proposed safety redesign of deadly McGuinness Boulevard flexed their political muscle on Thursday, even luring the boss of Brooklyn's Democratic county machine — to whom they've donated tens of thousands of dollars.
12:01 AM EDT on June 16, 2023
Opponents of the city's proposed safety redesign of deadly McGuinness Boulevard flexed their political muscle on Thursday, luring the boss of Brooklyn's Democratic county machine — to whom they've donated tens of thousands of dollars — to their limited-entry "sham" town hall hearing that also featured a stunning attempt at appeasement by the Department of Transportation commissioner himself.
The anti-safety group "Keep McGuinness Moving" billed the early morning session as an "awareness town hall" with locals and area businesses on the now-two-year-old plan. In attendance to lend support was Brooklyn Democratic Party leader Assembly Member Rodneyse Bichotte-Hermelyn — one of the state's most powerful politicos whose district is more than seven miles away, but whose political coffers have been filled locally.
Broadway Stages, an influential film and production company that has led the charge against DOT's redesign, has donated more than $80,000 to Bichotte-Hermelyn's campaign account and to the Brooklyn Democratic Party since 2014, either through the company or its owners, Anthony and Gina Argento, campaign finance records show.
Those donations paid off in the form of support from the party boss, despite her admission that she wasn't really aware of the redesign proposal but was there to support her "friends."
"This is an issue that's new to me, because it's not necessarily my area, but I am friends with many business owners, I'm friends with many residents who live here," told the crowd of roughly 200 people.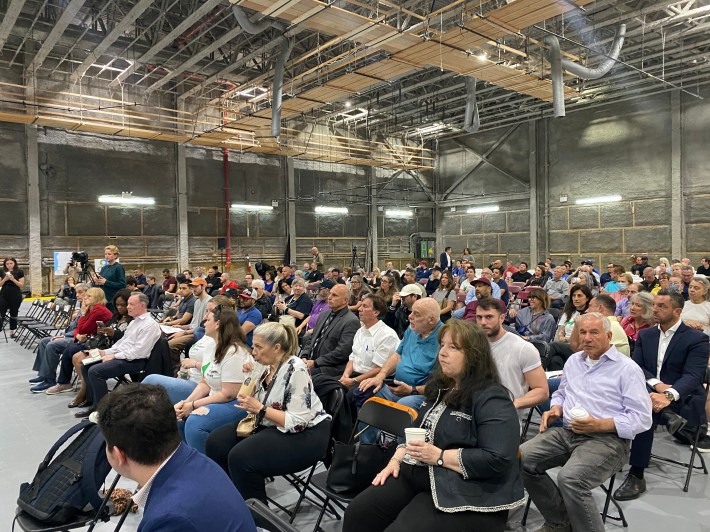 The state lawmaker, who backed Mayor Adams's campaign, said she understood the need for a safer street, having been hit by a driver as a child, but she said the city should also consider impacts on local businesses and traffic, which the Adams administration says it has done.
"I understand the concerns of safety," said Bichotte-Hermelyn, who is not a traffic engineer. "I also understand the concerns of our economy … and I understand how do we keep the traffic flowing, what will it do to the industry, what will it do to the film industry, what will it do to all the union workers, and so forth.
"Whether we continue with the plans or whether we compromise a solution for all of us," added Bichotte-Hermelyn. (She declined further comment.)
Tony Argento started off the session saying he wanted safety first and foremost, before panning the DOT's plan to do just that on McGuinness.
"The first thing is safety, we really gotta think of safety, safety of the bicyclists, and safety of the motorists also," he told the audience. "Second thing is I think we should reanalyze the plan and try to get more business input and more community input, before we make a roadway diet, as they call it."
Keep McGuinness Moving also garnered support from the Brooklyn Chamber of Commerce — and the chamber and the Argentos even asked the Queens Chamber of Commerce to back their efforts, the Queens group's president, Thomas Grech, told Streetsblog at a separate event on Thursday. Gina Argento also sits on the Brooklyn Chamber's board of directors, which The City first reported.
City government insiders were stunned by the politicization of a local transportation project.
"Safety should be first, the decisions should be fact based and on the merits — these aren't political decisions," said a source familiar with city government. "The notion that you gather together the powerful business interests and the politicians they support to bulldoze those decisions, that's bad government."
Jon Orcutt, who was a top official with DOT during the Bloomberg era and now an advocate with Bike New York, said he had never seen such a political intervention, and compared it to the Brooklyn Dem Machine lobbying the Adams administration against narrowing the Brooklyn-Queens Expressway. 
Keep McGuinness Moving previously boasted a lengthy list of businesses opposing the safe street redesign, including at least three trucking companies whose drivers killed people in crashes in recent years, Streetsblog reported — before the group removed its slate of backers.
Tensions boiled over on the eve of the town hall when an advocate for the redesign was harassed by a man and chased down the street after asking a bodega owner to remove an anti-redesign banner.
The Thursday morning meeting in the middle of the Greenpoint industrial zone was supposed to start at 9 a.m., but began about a half hour earlier as Rodriguez took the stage, saying he and his team were there to hear from locals, an astounding promise after the completion of the city's mandated outreach effort. Organizers and bouncers at the door denied access to the supposedly public meeting to bike lane supporters, who instead protested outside holding signs with the names of people killed on McGuinness between the BQE and the Pulaski Bridge — a stretch of just about one mile where there are nonetheless roughly 150 reported crashes per year. 
"It's a sham, this is meant to be public," Bronwyn Breitner, an activist with Make McGuinness Safe, said outside. "The DOT should be leaving that meeting right now and coming out here and not proceed if they don't let us into this public meeting, this is completely bogus. … This is a public meeting with a New York City agency."
A representative of Broadway Stages claimed that the advocates came "charging at" her, prompting her to close the doors to them, something Breitner disputed. 
"When the protesters came out, I was standing at the door and I had two people come charging at me, posters behind, I felt like that was a very aggressive move, I was scared, we closed the door. But Keep McGuinness Moving is all about keeping the communication open and the community outreach," the company's community relations director, Monica Holowacz, told the crowd during the town hall.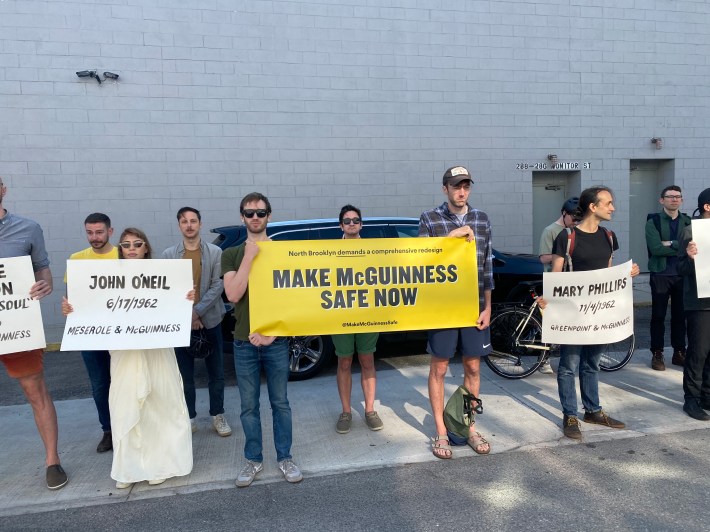 The gathering lasted two hours as residents and business owners aired their grievances with the McGuinness Boulevard road diet, which would cut the street's lanes from four to two and install parking-protected bike lanes along the curb.
The session's moderator was Eric Radezky, a former staffer of longtime ex-Assembly Member Joe Lentol, who was unseated by Emily Gallagher, a fervent supporter of the plan, in 2020. Radezky prefaced that he was a frequent cyclist, but questioned DOT's plan and claimed that it had not been fully aired, despite two years of public engagement and meetings at the community board — on which Gina Argento sits.
Gallagher, the present-day incumbent assembly rep, was not invited to the meeting. (Afterwards, she penned a heartfelt op-ed for Streetsblog. Gallagher is also not a traffic engineer, but she cited the findings of some in her piece. She has also received donations from Argento in the past, but told Streetsblog she won't accept his money for future races.)
None of the public speakers chosen from a list by Radezky were in favor of the proposal; they either dismissed it out of hand or called for further study or outreach. 
DOT spokesman Vin Barone said the agency takes meetings with all stakeholders and appreciates earnest feedback on the project over the past months and years.
Here are other takeaways from the meeting and a rally by supporters later that evening:
Business death? 
Brooklyn Chamber of Commerce CEO Randy Peers claimed that the proposal would drive away local businesses, opening the door for luxury real estate to move into the area.
"If you drive out businesses, we know what the land will look like. it'll look like high-end, high-rise residential. That's the future if we push out businesses," Peers said. 
A former DOT official in charge of traffic calming called complaints about road diets hurting businesses "specious," noting that DOT's proposal provides a loading zone on each block and that such designs tend to lead to better and safer traffic movement.
"They're providing more loading zones, they're trying to even out the flow, they're trying to get rid of cut-through traffic — how does this harm businesses?" said Michael King, who now runs the transportation planning and design firm Traffic Calmer.
What about the process!
Multiple opponents believe that the city's process was flawed, saying DOT hadn't reached out to enough businesses, and that many didn't realize the changes were happening until a few weeks ago.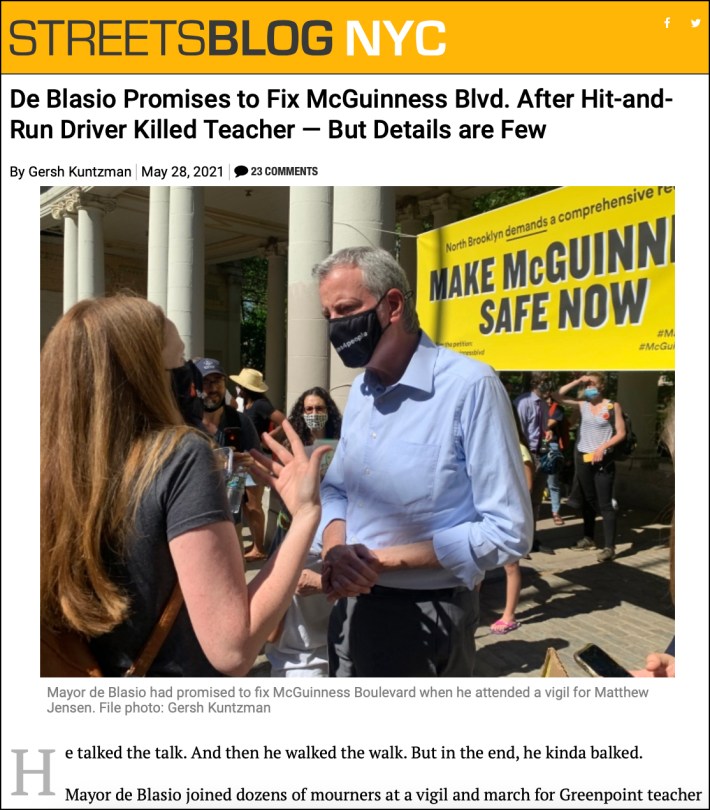 In fact, the agency began talking about redesigning McGuinness mere days after the hit-and-run killing of Matthew Jensen in May 2021, including a rare visit and march by then-Mayor Bill de Blasio that month.
From that point on, the city went beyond the law regarding public outreach for basic safety infrastructure like bike lanes, which require DOT give 90 days of notice and then wait until 45 days after a community board hearing.
That outreach led the agency to present three options for a redesign of McGuinness in June 2022. 
Last month, the agency announced that it was going with the second of the three options, with curbside bike lanes that preserve a lot of parking (in an area where two-thirds of households don't have a car), while shortening crosswalks and creating a much-needed protected north-south bike route connecting to the Pulaski Bridge. 
Pushback to the pushback
For all the talk of listening to feedback from the opponents, senior DOT officials did set the record straight on the benefits bike lanes and road diets actually bring to neighborhoods.
"A road diet [has] been done on many corridors citywide [and] it has not had the traffic impacts that were talked about today," DOT's Brooklyn Borough Commissioner Keith Bray said, referring to business-fanned fears of congestion. "It has worked and it has made things safer."We do want to work … with everybody who has a primary concern about safety, and that's what our primary concern is about."
In addition, there is ample evidence that the installation of bike lanes actually increases sales for businesses and helps create new businesses — not to mention the dropping death or injury rates from crashes road diets have led to across the five boroughs, according to a DOT report.  
Protesters take to the Streets
After a bruising morning, activists rallied for the safety overhaul on McGuinness Thursday evening, starting at the intersection of Bayard Street where Jensen was killed two years ago and marching down the boulevard.
"Yes, folks are pushing back, and we're listening for smart suggestions and ways to make this plan better, but we will not compromise on safety," said Council Member Lincoln Restler ahead of the march.
Breitner, whose kids lost their teacher when Jensen was killed, addressed Mayor Adams directly, urging hizzoner to hold firm against the well-funded backlash.
"I believe in you. I believe that you will see the evidence tonight of our community coming together, that we have your back to make a hard choice and follow through with this plan," she said.
For all the fear-mongering about local businesses hours earlier, the owner of an area grocer marching with the evening rally said any possible inconvenience to other entrepreneurs was well worth less death and injury.
"I'm not worried for all our deliveries," said Larasati Vitoux as she pushed her 3-month-old boy Mathis in a stroller. "I think that they don't realize that it's not gonna change so much their life."
Additional reporting by David Meyer, Gersh Kuntzman and Dave Colon
Kevin Duggan joined Streetsblog in October, 2022, after covering transportation for amNY. Duggan has been covering New York since about 2017 after getting his masters in journalism from Dublin City University in Ireland. After some freelancing, he landed a job with Vince DiMiceli's Brooklyn Paper, where he covered southern Brooklyn neighborhoods and, later, Brownstone Brooklyn. He's on Twitter at @kduggan16. And his email address is kevin@streetsblog.org.
Stay in touch
Sign up for our free newsletter