Bike Lane Opponents Want McGuinness to 'Keep Moving' … for Killer Truckers
Trucking companies whose drivers have killed New Yorkers in crashes are among the signatories of a petition to halt the city's plan to redesign Greenpoint's deadly McGuinness Boulevard.
9:07 PM EDT on June 13, 2023
Trucking companies whose drivers have killed New Yorkers in crashes are among the signatories of a petition to halt the city's plan to redesign Greenpoint's deadly McGuinness Boulevard — and even the Brooklyn Chamber of Commerce is threatening to sue to stop a project to improve safety on a short corridor with 150 crashes per year.
The group is called, unironically, "Keep McGuinness Moving" — and it revved up its efforts in recent weeks to derail the city proposal, which seeks to narrow the deadly stretch from four lanes to two while adding protected bike lanes and pedestrian islands to shorten crossing distances. Similar "road diets" elsewhere in the city have led to a 30-percent reduction in traffic fatalities and injuries, according to DOT figures.
The coalition of businesses led by influential film and TV production company Broadway Stages listed at least three companies involved in fatal crashes among its members: Avid Waste Systems, United Transit Mix, and Boro-Wide Recycling. But the list was taken down late on Tuesday after reporters started asking questions about the companies' motivations for joining a campaign to keep the roadway unsafe.
A driver for Avid Waste Systems crashed into a car in the Bronx, killing a three-year-old girl and injuring her mother and grandmother, while a hauler for United Transit Mix fatally struck cyclist Devra Freelander on Bushwick Avenue in East Williamsburg in 2019.
Boro-Wide Recycling, meanwhile, has a lengthy history of reckless driving among the firm's employees — including a 2019 crash in which one of its drivers killed one motorcyclist and injured another in Queens.
Avid's president declined to get into details about the crash and its relation to the company's push to keep McGuinness "moving," claiming the crash is still the subject of ongoing litigation.
"​​I can't speak to that, that still hasn't been resolved, but I can just say that that necessarily wouldn't have impacted this in any way," Anthony DelBroccolo told Streetsblog.
A manager for United Transit Mix hung up on Streetsblog, and when a reporter called back, responded with crass profanity before hanging up.
"I don't really understand why you're calling this company out of the 50 companies that are signed on to that," said a representative who didn't give his name. "Get the fuck outta here, jerk off." 
Boro-Wide did not respond.
Dozens of real estate organizations tied to the politically connected Broadway Stages were also buried in the long list of opponents, The City reported earlier Tuesday, as well as some smaller neighborhood mom-and-pop shops like Peter Pan Donuts.
The film company held a meeting with opponents and the Department of Transportation at its warehouses last month and is hosting a "town hall" on Thursday morning. Advocates in favor of the city's plans and local politicians have planned a rally of support for Thursday evening.
Broadway Stages' facilities dot the industrial portion of the neighborhood east of McGuinness and across the Newtown Creek in Long Island City. Members of the family that owns the company have donated tens of thousands of dollars to Mayor Eric Adams and his predecessor Bill de Blasio, according to The City's report. Broadway Stages' President Gina Argento also sits on the transportation committee of Brooklyn Community Board 1, which serves Greenpoint and Williamsburg.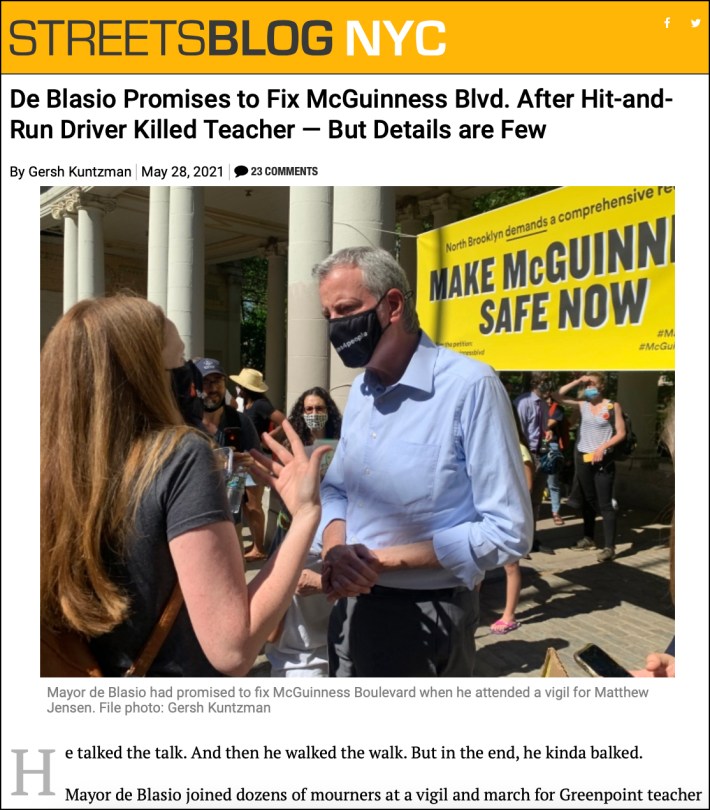 All those connections likely won over the support of the Brooklyn Chamber of Commerce, whose CEO Randy Peers threatened to sue DOT on the specious grounds that the agency did not do enough outreach about the redesign (in fact, the agency has been discussing the redesign with locals since May 2021). Peers did not respond to requests for further comment.
Broadway Stages, in an unsigned statement, declined to address a list of questions by Streetsblog, but said the company is "part of a group of businesses that support safe streets, bike lines and pedestrian walkways and also supports practical access for local businesses that help New York City provide assistance and access for all people and their needs and interests."
The city's plans to make McGuinness safer launched after a hit-and-run driver killed beloved P.S. 110 teacher Matthew Jensen as he crossed the highway-like road in May 2021. Parents at the school organized under the banner "Make McGuinness Safe" — and then-Mayor de Blasio pledged $40 million for the effort, which also garnered support from all of the area's local elected officials.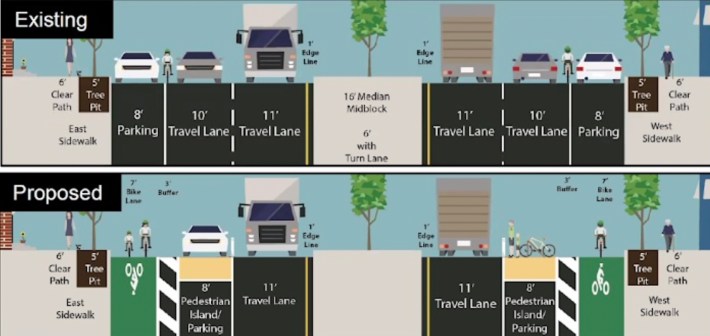 McGuinness used to be a quiet residential road called Oakland Street until the 1950s when officials widened it following the opening of the Pulaski Bridge. It was renamed in 1963, and the artery has brought pollution, death, injuries and a wide divider to the northern Brooklyn neighborhood ever since.
Meanwhile, more than two-thirds of households in the area don't have access to a car, and three out of four commuters walk, bike, or take public transit to work, according to Census data. 
Three people have died on the corridor over the past decade, and 230 have been injured between 2016 and 2020, according to city stats. The fatalities include 32-year-old Nicole Detweiler, who in late 2013 was hit by two motorists, first by the driver of a car and then by a truck driver. Her horrible killing prompted local pols to call on the city to calm traffic, but it wouldn't come for another decade — and only after Jensen and a 58-year-old cyclist were killed in separate crashes.
An activist with Make McGuinness Safe slammed the businesses for allying themselves with companies with a history of traffic violence. 
"'Keep McGuinness Moving' is for a very small subset of the community that doesn't seem to care about street safety, doesn't seem to care about what works for everybody," said Kevin LaCherra. "It's what works for them and their own individual priorities. The rest of the community can go hang."
DOT's plan shortens crossings for pedestrians by adding pedestrian islands, adds a loading zone on each block to reduce double-parking, and daylights corners to improve visibility for drivers making turns.
Removing a travel lane could lead 30 to 40 percent of traffic to divert to adjacent roads such as Manhattan Avenue, DOT said last year. But a similar share of drivers, 30-50 percent, use McGuinness as a short cut between the Brooklyn-Queens Expressway and the Long Island Expressway, according to officials — making it likely that those drivers would simply bypass the area.
Opponents have also claimed that emergency services would be blocked as a result of the project — but DOT reiterated that ambulances and cops responding to emergencies are able to drive in bike lanes.
Facts aside, "Keep McGuinness Moving" has come out in force across the neighborhood — hanging up banners, detailing a van with anti-redesign messages, and setting up a stand at the corner of McGuinness and Nassau Avenue to talk to passersby.
Two women and a man at the table on Tuesday claimed to be volunteers, but declined to share their names, have their pictures taken, or say whether Broadway Stages was behind the opposition effort.
The detailed van with Pennsylvania plates and anti-bike lane messages sat nearby. The vehicle devoted to keeping McGuinness "moving" has a whopping 62 traffic violations on its record dating back to 2016 — including 13 speeding tickets and twice blowing through a red light.
The owner of a children's clothing store a block away from McGuinness said two people who identified themselves as being with Broadway Stages asked her to sign a petition against the redesign, but left after she told them she favored the revamp.
"They introduced themselves as being from Broadway Stages, younger guy and girl, and they showed the redesign plan, they had a printout of it," said Carly Boonparn, owner of Parachute Brooklyn.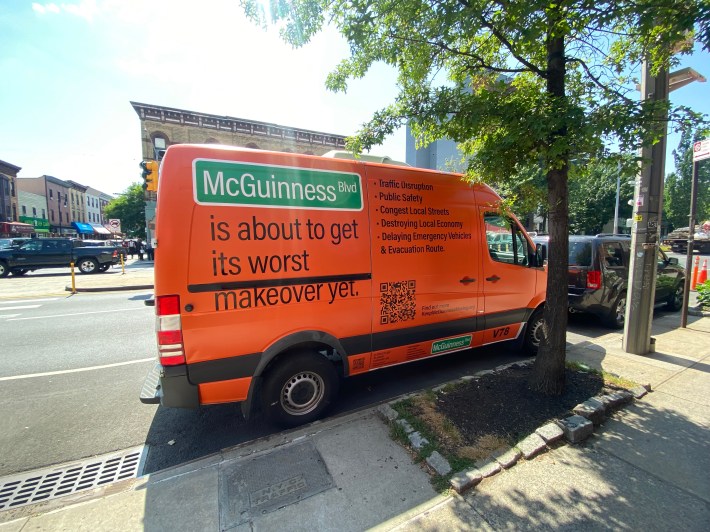 Boonparn and other locals said the road desperately needs to be redesigned for safety and to reduce the area's notorious air pollution.
"I hate it, I really hate this boulevard," said Sol Gille as he pushed his 17-month-old son Siah in a stroller after crossing McGuinness. He said he didn't mind if drivers are inconvenienced — though road diets are not synonymous with increased traffic, despite what non-traffic engineers believe.
"It is time people got annoyed when they drive," he said.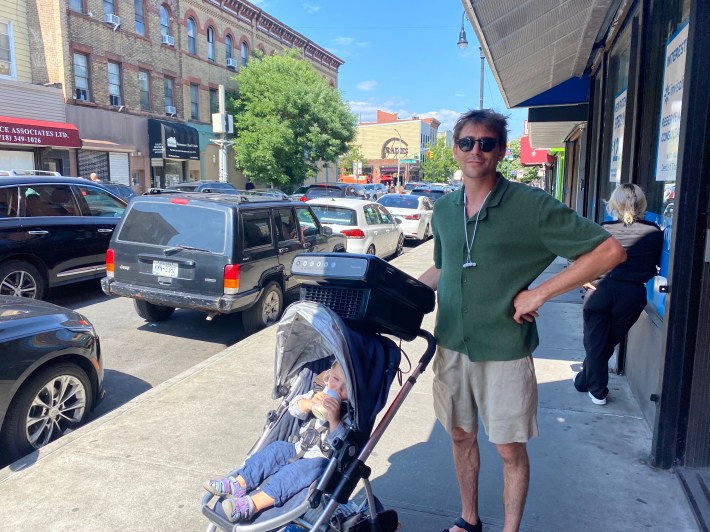 Another neighborhood dad said the thoroughfare, with its six lanes for the movement and storage of cars and trucks was not fit for the area. 
"It's just an unpleasant place to be and there is no need for it in a neighborhood that is so walkable," said Daniel Doggan. "I walk here all the time, I hate walking down the street."
A DOT spokesman said the agency plans to forge ahead with the redesign this year. 
"We're taking safety one step forward with a redesign proposal that installs protected bike lanes along both curbs, creates neighborhood loading zones on each block, shortens crossing distances, and discourages cut-through turns," said Vin Barone in a statement.
"We've conducted extensive outreach through dozens of meetings over multiple years on this project, and we continue to review community stakeholder feedback as we finalize the design."
The opposition group Keep McGuinness Moving will host a town hall on Thursday, June 15 at 9 a.m. at 279 Monitor St., Stage 27. Check-in starts at 8:20 a.m. All are welcome. Register in advance here.
Make McGuinness Safe will hold a rally in support of the redesign later that day at 6 p.m., starting at McGuinness Boulevard and Bayard Street.
Kevin Duggan joined Streetsblog in October, 2022, after covering transportation for amNY. Duggan has been covering New York since about 2017 after getting his masters in journalism from Dublin City University in Ireland. After some freelancing, he landed a job with Vince DiMiceli's Brooklyn Paper, where he covered southern Brooklyn neighborhoods and, later, Brownstone Brooklyn. He's on Twitter at @kduggan16. And his email address is kevin@streetsblog.org.
Stay in touch
Sign up for our free newsletter