Brooklyn-Queens Expressway
THE POWER BROKERS: Brooklyn Machine Fights Smaller BQE at Closed-Door City Hall Meeting 
12:01 AM EST on March 4, 2023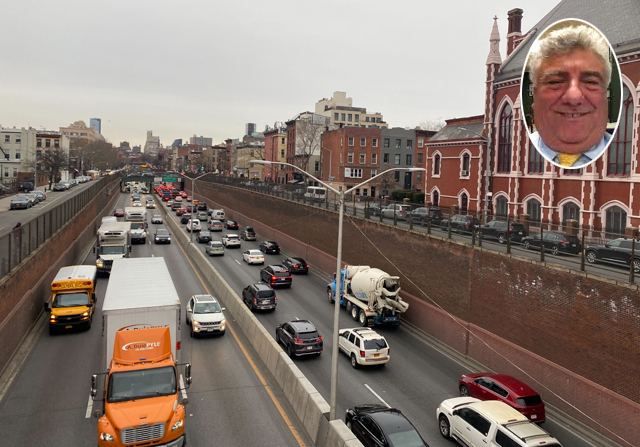 It's a Brooklyn machine backlash!
A group of borough politicos led by former Brooklyn Democratic boss Frank Seddio is already fighting to keep three lanes on the Brooklyn-Queens Expressway after most of the officials who represent communities along the highway demanded it be reduced to two travel lanes.
Seddio, a southern Brooklyn power broker who ran the party machine from 2012 to 2020, told Streetsblog he encouraged his allies to attend a closed-door meeting at City Hall on Friday after hearing about calls from elected officials and advocates to shrink or eliminate the highway — a plan to reduce car traffic and pollution that he "absolutely" does not support.
"I don't understand what anybody sees as doing good of having a two-lane roadway. Is there some magical thing I'm not aware of that's gonna make the cars suddenly disappear? ... That really pisses me off," Seddio said of a smaller footprint for the highway, which 17 elected officials called for in a letter to U.S. DOT Secretary Pete Buttigieg last month.
"They were planning to set up a meeting and I asked when they are going to do it, and they told me, and then I [invited] everybody I knew that I thought should participate," Seddio said.
He also pushed back on the notion of a "secret" meeting.
"Why can't it be acceptable that we have a right to fucking complain about the fact that theyre killing us with traffic?" he said.
The longtime city power broker's fears are unsubstantiated. Cities in the US and abroad have been able to get rid of destructive highway infrastructure without a traffic meltdown, including San Francisco, Seattle (where traffic "just disappeared"), Seoul, and even the Big Apple when the West Side Highway collapsed in 1973.
The BQE, meanwhile, rips through many Brooklyn communities — funneling smog into their lungs and dangerous vehicles onto their streets. Elected officials pushing for the highway's reduction or removal said their constituents suffer "daily harms" from the highway's current form.
City Hall denied that the Friday meeting had been set up to "line up opposition" to a two-lane highway, as the Brooklyn Eagle reported — but an invite from Deputy Mayor Meera Joshi obtained by Streetsblog only included politicos who had not signed onto the push to shrink or eliminate the highway.
Invitees to the "BQE Briefing for South Brooklyn Electeds" included Council Member Kalman Yeger, whose district doesn't touch the highway, and Assembly Members Maritza Davila and Erik Dilan — who, in fact, represent the northern part of the borough.
Joshi hinted at the potential opposition in comments on Thursday in which she claimed some elected officials and locals had been telling City Hall that they wanted to keep three travel lanes in each direction.
"We have heard lots of feedback, both from people in the Brooklyn Heights community that would like a permanent structure to have two [travel] lanes, as well as from electeds and people that live north and south that would like to see three lanes," Joshi said.
Seddio urged the borough's elected district leaders to attend the meeting and not let pols who want to shrink the highway to two lanes "be the only voice heard," according to a letter he said he dashed off after Joshi sent out her invite.
"Although you do not represent this area directly, the reason for my contacting you is that there is a proposed plan being offered by our Northern Brooklyn colleagues to shrink the size of the BQE to a permanent two lane roadway instead of the current three lanes which now exist," Seddio wrote. "Don't let our northern colleagues be the only voice heard."
Elected officials who hadn't gotten an invite expressed outrage as news of the meeting spread on Thursday, though at least two — Assembly Member Jo Anne Simon (D-Brooklyn Heights) and state Sen. Andrew Gounardes (D-Bay Ridge) — wound up attending.
Speaking to Streetsblog after the meeting, Simon expressed concern about whose voices the city will prioritize as it fixes the Robert Moses-era highway.
"Whose opinion has greater weight, the people through whose communities this roadway runs, or the people who are out on the east end of the belt parkway?," she said. "The affected communities are the communities whose voices need to be heard and listened to the most carefully because they are the ones living with it."
Yet even as Simon managed to get in the room, other officials whose communities will be affected were excluded, including Council Member Lincoln Restler (D-Brooklyn Heights) and Sunset Park District Leader Julio Peña, whose district is spliced in half by the aging highway.
Restler accused the city of already favoring three wide travel lanes, and said Friday's invitees were stacked to oppose a narrower configuration.
"It's been clear to me, meeting after meeting, how resistant they are to a two lane solution, but they're now putting their cards on the table," said Lincoln Restler of city officials.
"They're only bringing in these folks who they believe are going to fight hard to expand our truck and car superhighway in perpetuity."
A Streetsblog reporter attempted to attend the briefing, but was asked by the mayor's press team to leave the room before it began. Several people who attended said city officials did not push for any specific proposal. DOT Commissioner Ydanis Rodriguez told Streetsblog afterwards that it was a "great, positive meeting" and insisted his agency is "meeting with electeds from the north and the south."
One attendee, Assembly Member Charles Fall (D-Staten Island/Manhattan), told Streetsblog that he favored a wider higher for his Staten Island constituents.
Seddio made "a very energetic appeal for three lanes," according to another source.
A City Hall spokesperson denied that the Adams administration was trying to take a side on the lane debate, but declined to comment on why certain Brooklyn politicians such as Peña were left off the invite list.
"The city holds regular briefings with elected officials and community members about a range of infrastructure projects, including the BQE," Kate Smart said in a statement. "The goal of today's meeting was to hear from the community and covered a number of issues like ensuring increased MWBE participation in the reconstruction process, and lack of transit in many neighborhoods that results in use of the BQE, as well as environmental justice issues and construction safety."
On Thursday Joshi insisted the ultimate decision would come not from the loudest voices in the room, but from a DOT traffic study.
"The statistic from the actual traffic analysis will be the decision making point and I think that is the publicly transparent way to move forward," she said.
Julianne Cuba joined Streetsblog in February, 2019, after three years covering local news and politics at The Brooklyn Paper. There, she also covered the notoriously reckless private carting industry and hit-and-runs. A 2015 graduate of Stony Brook University's School of Journalism Master's Program, she lives in Brooklyn. Julianne is on Twitter at @julcuba. Email Julianne at julianne@streetsblog.org
Stay in touch
Sign up for our free newsletter