Keechant Sewell
AND THE <s>WINNER</s> LOSER IS: The 75th Precinct is the Most Disrespectful of All!
12:15 PM EDT on April 12, 2023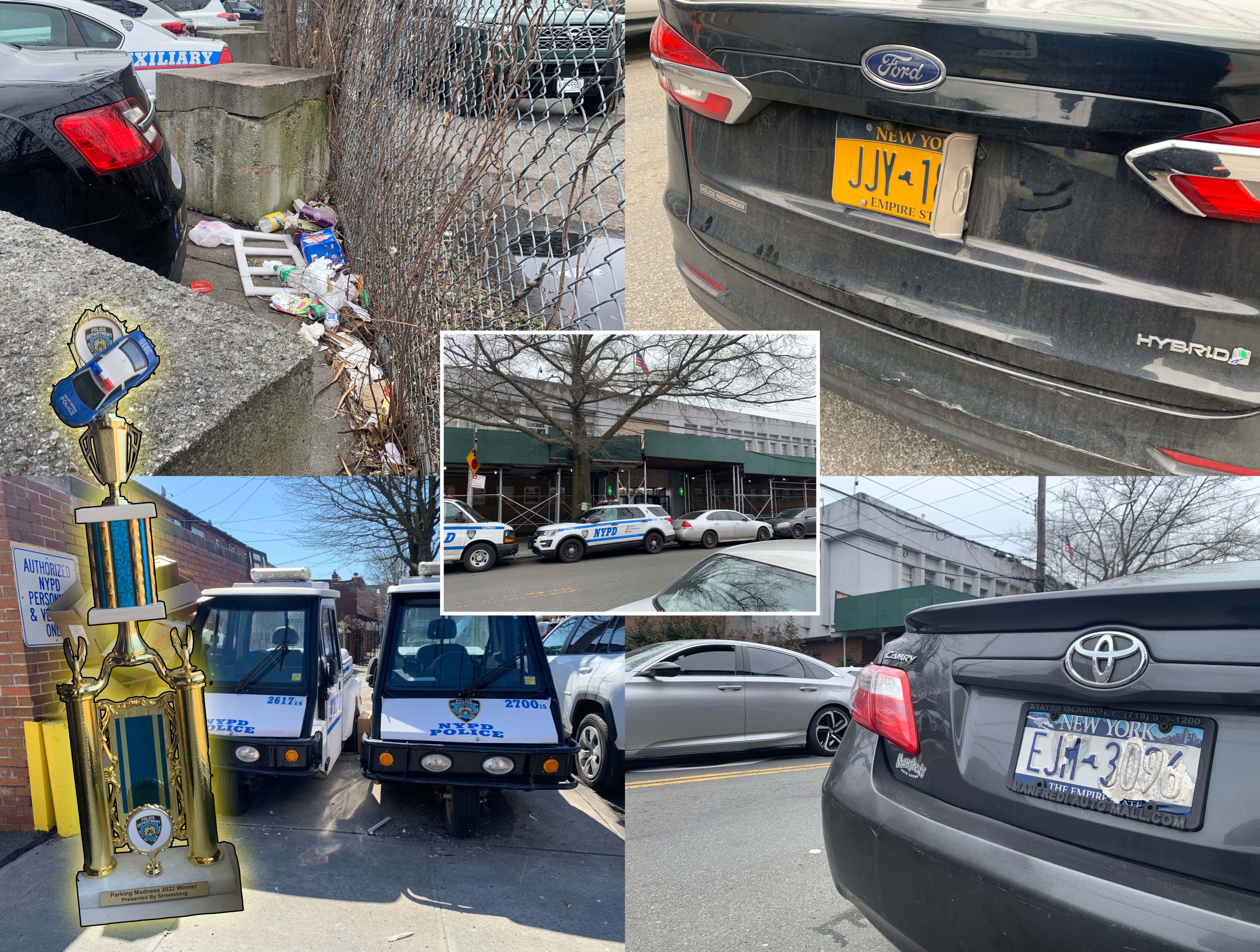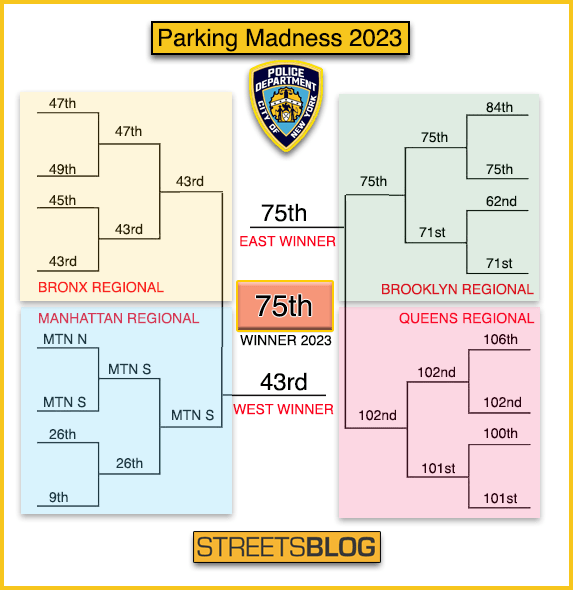 The people have spoken: The 75th Precinct in East New York is the worst of a very bad bunch.
The precinct, under the command of Inspector Rohan Griffith, has won Streetsblog's March (Parking) Madness tournament, our annual contest to determine which precinct disrespects its neighbors most willfully with illegal parking, garbage, and theft of public space.
The 75th is a model for everything a station house should not do.
Despite having access to five parking lots, officers at the Sutter Avenue precinct house park all of the place: on sidewalks, in the middle of the street, in front of curb ramps for the handicapped, in bus stops. No wonder peak speeds on the B14 route are less than 6 mph on average and waits are longer than average, according to the MTA's bus dashboard.
And the cops here leave their trash all over the place, too: junked cars line both sides of Sutter Avenue. And piles of garbage are evidence that the Department of Sanitation can't properly sweep the area because the cops never vacate their spaces long enough for a good sweeping.
The officers drive haphazardly, too. During one of our visits, we saw an officer pilot his personal vehicle the wrong way on a side street to access a parking lot, nearly hitting a UPS delivery worker who wasn't looking (because, really, who looks the wrong way up a one-way street for a speeding police officer?).
Because parking lots have big signs forbidding trespassing, we generally left the cops' cars alone in there … except when they were visible from the street. During our first two visits, we saw three covered plates, one defaced plate, two out-of-state plates (reminder: cops must live in New York State), and some stickers that violate departmental rules:
And of the 40 cars we spotted parked in NYPD zones or with placards around the station house, 18 cops had multiple reckless driving tickets. Even worse? Two of the 75th Precinct's unmarked cars had bent plates — one of the most over displays of lawlessness possible (you do know the neighbors see that, right?).
But you don't have to only take our word for it. The precinct's low respect for its neighbors was featured in an academic study published this week in the respected journal, Transportation Research Interdisciplinary Perspectives. The paper specifically said that sidewalk parking at the 75th "often occurs beyond the footprint of the building itself."
We realize that sort of thing is all-too-common among NYPD precincts. In the three years that Streetsblog has been overseeing this tournament, we've seen dozens of precincts completely disregarding the needs and basic humanity of their neighbors. By winning losing the March (Parking) Madness contest, the 75th joins an illustrious notorious honor roll rogues gallery of police precincts that have triumphed disgraced themselves in this annual contest.
In 2021, the 114th Precinct in Astoria — which has recently been targeted by activists who are fed up with Deputy Inspector Kenneth Gorman's troops — won the contest thanks to streets that its officers made "chaotic, crowded, blocked, constricted [and] filthy," as we reported. (Sadly, the precinct staff declined to accept our nifty trophy).
And last year, of course, the 84th Precinct in Downtown Brooklyn defeated 15 challengers thanks to horrendous parking, plenty of reckless drivers, and a commanding officer famous for his own pattern of psychotic, reckless driving.
University of California professor Marcel Moran's journal study followed up on so many of our previous findings, reporting, for instance, that 91 percent of the NYPD's station houses citywide have "sidewalk parking often extending along the entire block (and not simply in front of station houses), on adjacent blocks, and on both sides of the street."
Moran also found that police parking "has had negative effects surrounding NYPD station houses, including double parking, obstruction of bus and bike lanes, and blocking of fire hydrants ... and that parking behavior surrounding public-sector offices significantly degrades walkability.
"This renders many sidewalks impassable – forcing pedestrians into traffic – and in many cases directly abuts residences and businesses, curtailing access to such destinations," Moran continued. "The most obvious policy implication is the enforcement of existing parking regulations, and/or clarification of those regulations for police personnel."
The NYPD declined to comment on the specifics of Moran's report or his recommendation, but sent over a statement from an unidentified "spokesperson":
We listen to our communities and we know that parking around our precincts is a persistent concern. It is difficult due to the number of persons who work in a precinct and the amount of parking available. In terms of vehicles that are seized and stored at the precinct, if we are able to operate the vehicle, we will drive the vehicle to an appropriate storage location. We recognize that this is a challenge and remain committed to addressing these community concerns.
We also asked to interview Inspector Griffith to discuss the specifics of our findings at his precinct, and we asked about whether officers are ever disciplined for such egregious behavior, but that request was ignored.
Thankfully, a local organization, the East New York Community Land Trust, has also been urging the city to rein in the officers at the 75th, most recently in a detailed report of its malfeasance in the neighborhood.
"The 75th Precinct has employed a total of 471 full-time or salaried employees for the last eight years, an amount greater than the whole NYC Parks operating staff in Brooklyn," said the report, "Black Paper #1: Redistributing the Land Resources of the NYPD in East New York and Across NYC." "Beyond its large human resources, the 75th Precinct enjoys access to an exorbitant amount of public land."
The report details how several of the parking lots that are being used by the NYPD are actually zoned as residential, yet are being used to house cars rather than people ... in a neighborhood that is severely in need of housing.
According to the report:
"The lot between Elton Street and Linwood Street is ... under the jurisdiction of the NYC Dept. of Housing. Public documents reveal that this lot was targeted to be developed as part of the East New York | Urban Renewal Plan to create 1,300 single-family Nehemiah Homes."

"The lot on the northeast corner of Essex Street usually holds two parked NYPD emergency service vehicles and was supposed to be part of the Nehemiah Homes, too."

"The lot next to it at 516 Shepherd Ave. was targeted to be part of an Urban Development Action Area (UDAAP), an urban renewal program that in this case was part of a plan to create 37 two-family homes."

"The lot between Shepherd Avenue and Berriman Street is a storage site for junk, dilapidated vehicles that have either been abandoned or have been in traffic accidents."
What does it all add up to? An individual precinct and an entire NYPD that simply doesn't care about how its officers behave in public. It is simply amazing that Police Commissioner Keechant Sewell does not address this.
But maybe she will. Since this is the finale of our annual March (Parking) Madness tournament, we'll leave you (and her) with a fond disgusted look back at how Griffith's officers triumphed over all adversaries (and their neighbors!):

Gersh Kuntzman is editor in chief of Streetsblog NYC and Streetsblog USA. He also writes the Cycle of Rage column, which is archived here.
Stay in touch
Sign up for our free newsletter