311
Dept. of Investigation Says Cops <I>Did</I> Harass 311 Callers, Confirming Streetsblog Account
12:01 AM EDT on March 30, 2023
City investigators have concluded that members of the NYPD harassed two men who filed 311 complaints about illegal parking and other unsafe road conditions, harassment that Streetsblog revealed in multiple exclusive stories last year.
The conclusion by the Department of Investigation — reached in February 2022, but only provided last month to Streetsblog via a freedom of information request — stems from extensive reporting in Streetsblog about four people who came forward to describe a pattern of bizarre and intimidating phone calls they received from blocked numbers that appeared to have been placed by police officers.
The first victim, Paul Vogel, came forward for in Streetsblog's deep, award-winning investigation into the NYPD's general failure to follow up on 311 service requests. In that story, Vogel, of Brooklyn, detailed the strange voicemails he received from blocked phone numbers after he filed 311 complaints. In one, a man says Vogel's name repeatedly without identifying himself. In another, the caller breathes heavily into the phone and hangs up.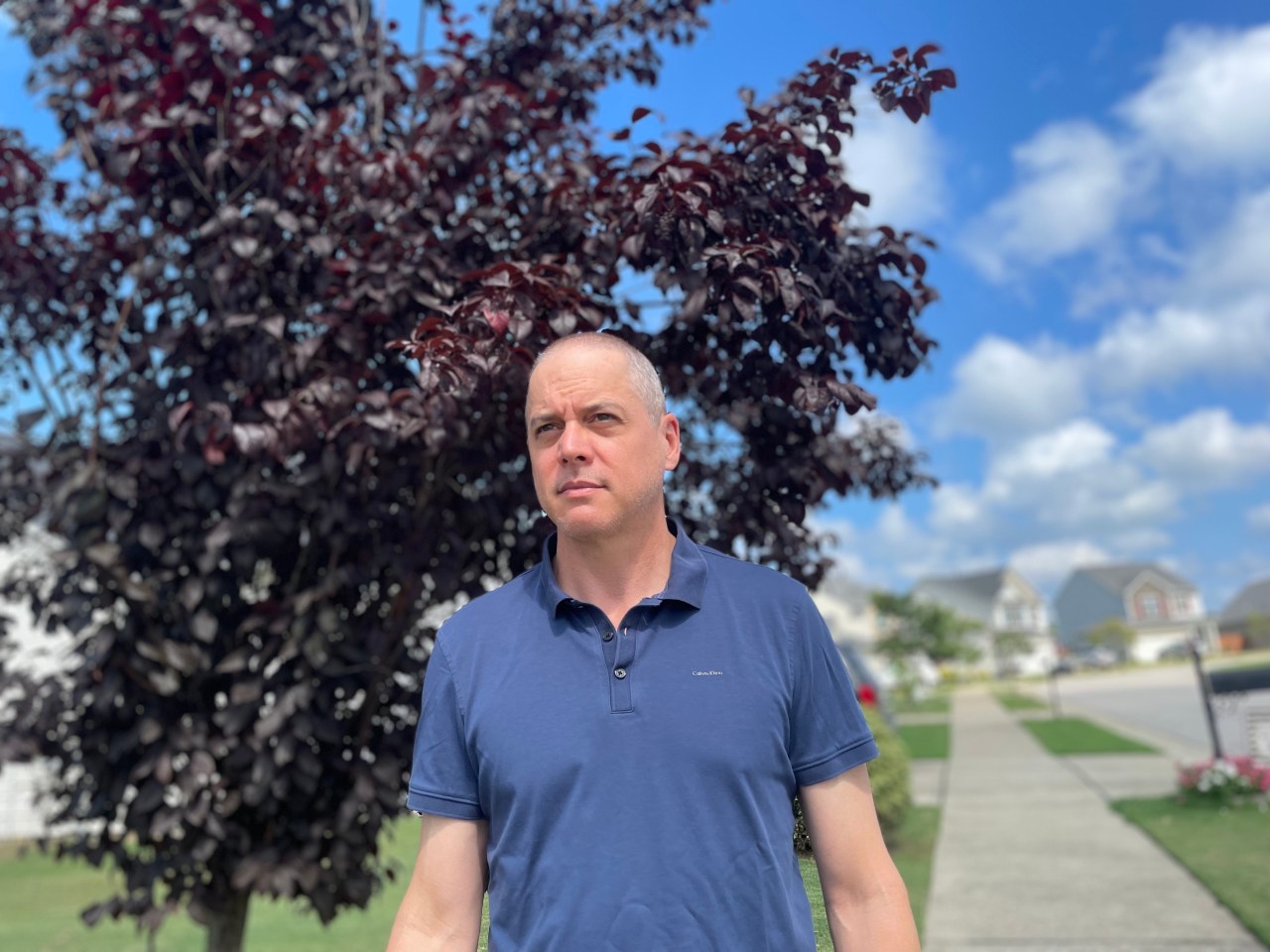 And in a third, the caller is creepy: "Hi Paul," begins the call from March 2, 2021. "Just calling to see how you're doing. I thought I saw you on Vanderbilt, but I guess not. I tried to wave you down. Just want to let you know that I miss you, and I hope you pick up my call next time. You're still the best I ever had. I hope you still dream about me. Love you, baby boo. Bye Paulie V." (You can listen to that call here.)
The DOI report concluded that "the caller who left the [harassing] message called from a phone number registered with the NYPD: [redacted]. The caller used the *67 function before dialing [Sherwood's] phone number, which had the effect of concealing the caller's name."
The Civilian Complaint Review Board had previously substantiated Vogel's account and blamed 15-year NYPD vet Brendan Sullivan for placing the calls, as Streetsblog reported last year. The CCRB recommended discipline against Sullivan, but an internal hearing is pending. NYPD records show Sullivan was reassigned in 2022 to the "Quartermaster Section," where the department keeps office supplies. An NYPD source told Streetsblog the transfer was likely a punishment, but Sullivan made $131,717 in 2022, according to city records. (Sullivan did not respond to a request for comment.)
The second victim, Justin Sherwood, also of Brooklyn, had been anonymous in Streetsblog's coverage until he sued the city over the NYPD's behavior, which included harassing phone calls and even a text message reading, "Keep fucking around," that he received mere hours after Streetsblog's first story went up.
The DOI investigation confirmed Sherwood's allegation that a Det. Sturman had sent the text by tracing the IP address of a computer that, indeed, was "registered" to the home address of Samantha Sturman, a detective who made $141,055 last year, according to city records. Sherwood also said that Det. Sturman had called him a "dickhead;" the DOI report only says she had Sherwood exchanged "obscenities."
Sherwood told Streetsblog that he is "satisfied" with the DOI findings, but added, "I'm disappointed that neither the NYPD nor Brooklyn DA have taken any disciplinary action."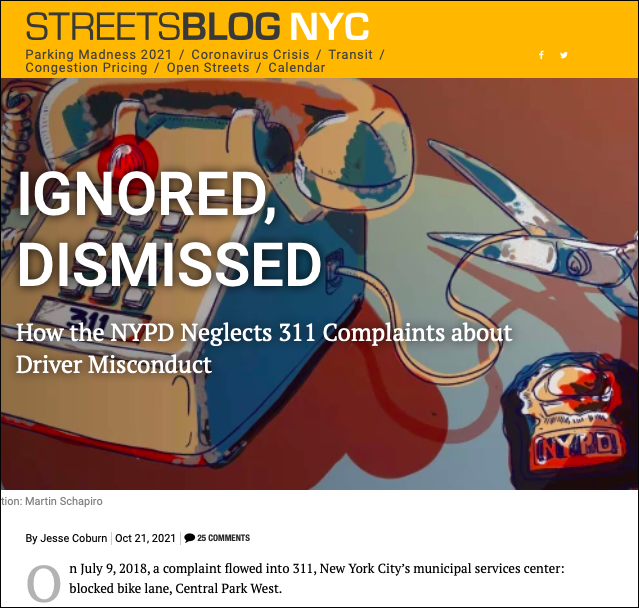 The police department, at least, claims it has not closed that door: "The NYPD does not tolerate misconduct of any kind," the agency said in a statement issued by an unidentified "spokesperson." "The disciplinary process in regard to this incident remains ongoing." (Caveat: Streetsblog had asked about both incidents.)
Two other New Yorkers have come forward to complain that NYPD officers harassed them after they made 311 service complaints about illegal and dangerous parking. Park Slope resident Tony Melone told Streetsblog last year that after he placed a 311 complaint, an unidentified man called him an hour later and said, "I'm gonna kill you, Melone." He received four more calls from the same man, including one threat: "I'm gonna fuck you and your wife."
Melone said he was most disturbed by the fact that the calls were even placed, given that the city claims that callers' information is confidential. But cops can see the phone numbers of complainants.
"The 311 system is supposed to be a way for people to report problems," Melone told Streetsblog about the ordeal. "If it's getting used to harass the people that are reporting the problems, that's really disturbing."
Department of Investigation spokesperson Diane Struzzi said that its investigation into the Melone harassment is pending. It is likely the agency became aware of it later than the other two incidents.
A fourth victim, Chong Bretillon of Queens, said she received a barrage of harassing calls on six occasions from concealed phone numbers in the middle of the night after filing 311 complaints about illegal parking hours earlier. Occasionally, the callers would leave messages, one of which contained only the sound of heavy breathing.
She told Streetsblog that she believes it was officers seeking to intimidate her into no longer filing complaints.
"Nobody calls someone at 3 a.m. There's just no reason to do it," she said. "Unless you're trying to harass somebody."
In its recommendations to both City Hall and the NYPD, the Department of Investigations "requested" that the NYPD inform DOI of the "final disposition of these matters when its investigative and disciplinary process is complete."
Struzzi, the DOI spokesperson, said the agency has followed up with the NYPD, adding, "We understand this matter to be pending."
City Hall did not respond to a request for comment by our deadline, but afterwards sent over this statement, attributed an unidentified spokesperson:
As Mayor Adams has repeatedly said, there is a sacred covenant that officers be given the tools and support they deserve to do their job, but that they must also follow the law and be held accountable for their actions, otherwise, there is no law. The NYPD does not tolerate misconduct, and while this specific disciplinary process remains ongoing, longstanding policy in the NYPD's administrative guide dictates the protocols NYPD officers are expected to follow as they interact with the public. We expect all officers to follow those guidelines whenever on duty. The NYPD has taken multiple actions to improve community relations in recent years and they will continue to work every day to ensure justice and safety go hand in hand for all New Yorkers.
The statement referred to a specific line in the NYPD's patrol guide that requires cops to "access only those information systems to which authorization has been granted, and under circumstances required in the execution of lawful duty."
Read the DOI report:
Gersh Kuntzman is editor in chief of Streetsblog NYC and Streetsblog USA. He also writes the Cycle of Rage column, which is archived here.
Stay in touch
Sign up for our free newsletter