DOT
Pols and Advocates Demand City Crack Down on Last-Mile Facilities 
4:15 PM EST on February 16, 2023
Really, this is the last straw.
Pols and advocates seeking to rein in the "last-mile" distribution facilities that are proliferating in low-income communities of color demanded — again — on Thursday that the city crack down on the gas-guzzling trucks ruining their neighborhoods.
Council Member Alexa Avilés, who represents portions of Sunset Park and Red Hook, introduced three bills aimed at requiring the city to explore new street design approaches, the impact of increased truck traffic on those neighborhoods, and maritime shipping alternatives in order to put and an end to the environmental racism burdening communities, which are already forced to bear the brunt of emissions and dangerous streets thanks to overwhelming traffic from the Brooklyn-Queens Expressway.
"We are here to say, 'It is enough.' We cannot and will not continue to let these age-old patterns of discrimination and destruction be unfettered within our communities. We have solutions. We are standing here today to express our outrage that the city continues to fail to take action," said Avilés.
Aviles is part of the coalition that includes Environmental Justice Alliance, UPROSE, El Puente in Williamsburg, Red Hook Initiative and The Point in Hunts Point, and Assembly Member Marcela Mitaynes, who also represents Sunset Park and Red Hook. They warn that the dangers will only get worse thanks to the cluster of last-mile facilities like Amazon, FedEx, and UPS — where large trucks drop off goods for sorting and loading onto other trucks or cars for distribution.
The new bills are co-sponsored by Council Members Jennifer Gutiérrez (D-Williamsburg), Sandy Nurse (D-Bushwick), Selvena Brooks-Powers (D-Far Rockaway), Julie Won (D-Astoria, Shahana Hanif (D-Gowanus/Park Slope); and Lincoln Restler (D-Downtown Brooklyn), Public Advocate Jumaane Williams, and Brooklyn Borough President Antonio Reynoso. They include:
Intro 923, which requires the city to study the impact that truck and delivery traffic generated by last mile facilities have on local communities and infrastructure.
Intro 924, which requires the Department of Transportation to study street design as a way to limit or reduce the use by commercial vehicles in residential neighborhoods.
Resolution 501, which calls on top maritime importers to city ports to commit to reducing traffic and using marine vessels for last-mile deliveries.
Aviles blasted the city for failing to take action. The city is still sitting on two traffic studies the community has been asking for for years — one on Third Avenue in Sunset Park, and another in Red Hook. Since the start of the pandemic, as the number of e-commerce orders skyrocketed, there have been 14 fatalities in Aviles's district, including four pedestrians and four cyclists, according to city stats via Crash Mapper. In that time, there have been a whopping 5,326 crashes, causing 2,416 injuries, according to the data. But the demands for something to be done — especially on deadly Third Avenue — started long before.
"Two studies that the community has been asking DOT to do for decades. Those truck traffic studies, we are waiting and have yet to get our fingers on them and we have to get DOT to do them now," Aviles said.
And the communities are literally falling apart by the weight of the massive big rigs that roll through to get to the eight facilities clustered in certain areas of Brooklyn and the Bronx. Now, the trucking industry delivers nearly 90 percent of the city's goods on 120,000-plus trucks daily. And without any mitigation measures, experts estimate that number could increase again by 67 percent by 2045, bringing a whopping 75,000 more trucks everyday to city streets.
A recent study shows the deleterious effects of air pollution on people's health, causing cardiovascular and respiratory diseases, and even death. And mot of the city is exhausted, according to the study.
"Our community infrastructure cannot sustain what is happening. Any Red Hook resident will tell you that lives on the two streets in and out of the community that their houses are falling, they're cracking, it is a cluster — you know the word — anytime one of those trucks can't turn on this very narrow street where there are buses," said Aviles.
Tevina Willis, a Red Hook Houses resident and Community Organizing Manager at Red Hook Initiative focused mostly on the environmental impact.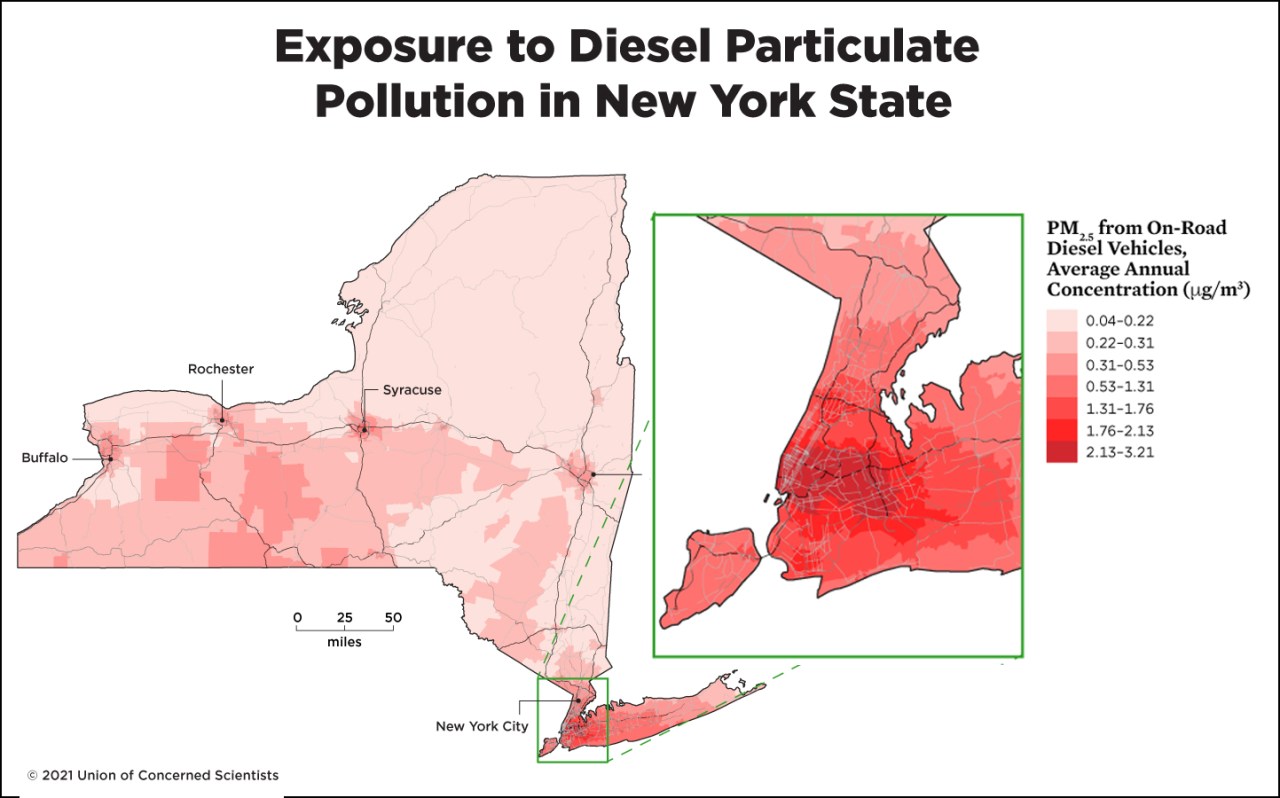 "The constant stream of delivery trucks that will travel in and out of the neighborhood to the facilities will have significant impacts on the local environment, public and health and safety," said Willis during a rally outside City Hall. "Red Hook has high rates of asthma and layers of environmental burdens and the city must act now to regulate these facilities."
The new bills build upon others that were introduced in September, including requiring the city to study things like adding an interactive mapping application that integrates with the city's truck route, redesigning the truck route to improve safety and reduce congestion, and requiring air quality monitoring at busy thoroughfares. And they follow a proposed zoning change that was also introduced in September to regulate where the last-mile facilities are popping up.
Thanks to current zoning dating back to 1961, the city has no say over where or how many warehouses are built — beyond a requirement that the facility is built in a manufacturing district or C8 commercial district, which are typically in low-income communities of color where land is cheaper. As a result, such warehouses are clustered in few neighborhoods, like Sunset Park, Red Hook, and in the Bronx.
But a new special permit, which the Department of City Planning previously called "complex," would set forth the following conditions:
Any last-mile warehouse must be at least 1,000 feet from any school, park, nursing home, or public housing development.
Last-mile warehouses must be at least 1,000 feet from another such facility.
Last-mile warehouse located in what's called a Significant Maritime Industrial Area, which ardesignated waterfront areas, must conduct 80 percent of deliveries by marine transportation (see map)
"[We need] a special permit process for these last-mile facilities that would basically allow the city to address the emissions and other environmental disparities that are occurring because of the increase in truck traffic and emissions in these neighborhoods," Kevin Garcia, a transportation planner at NYC Environmental Justice Alliance, told Streetsblog back in September.
The Department of City Planning said in a statement to Streetsblog that it is meeting with advocates about the issue and is committed to "replacing a 20th-century, truck-based delivery model with a 21st-century, resilient transportation network that reduces emissions and traffic while protecting and creating good jobs."
"Too often, communities of color are forced to bear the burden of poor air quality and public health consequences simply because of where they live. We are working on creative solutions to deliver a greener, healthier city and look forward to reviewing these proposals," said a spokesperson for the city agency.
Julianne Cuba joined Streetsblog in February, 2019, after three years covering local news and politics at The Brooklyn Paper. There, she also covered the notoriously reckless private carting industry and hit-and-runs. A 2015 graduate of Stony Brook University's School of Journalism Master's Program, she lives in Brooklyn. Julianne is on Twitter at @julcuba. Email Julianne at julianne@streetsblog.org
Stay in touch
Sign up for our free newsletter