Brooklyn
DOT's Linden Boulevard Plan Improves the Basics and Not Much Else
4:19 PM EDT on June 10, 2015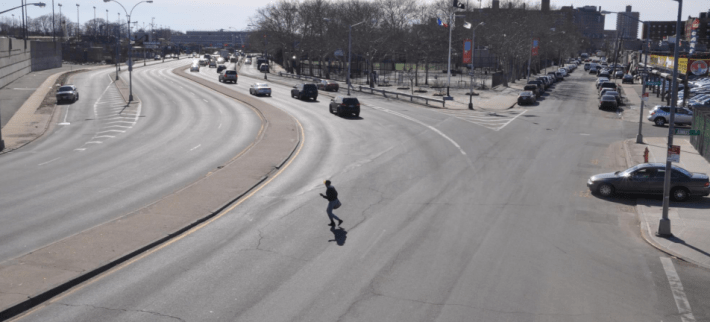 DOT unveiled its plan to reduce traffic injuries and deaths on Linden Boulevard last night to the Brooklyn Community Board 17 transportation committee. The project will introduce basic elements of pedestrian safety infrastructure, but it won't significantly alter the design of one of the most dangerous speedways in Brooklyn [PDF].
Five people, including three pedestrians, have been killed on the 1.25-mile section of Linden Boulevard between Kings Highway and Avenue D since 2009, according to DOT. There were 1,178 injuries from 2009 to 2013, mostly among people in cars, including 54 severe injuries, putting Linden Boulevard in the most dangerous 10 percent of Brooklyn streets. This spring DOT has been collecting feedback on how to improve the street through public workshops and an online portal.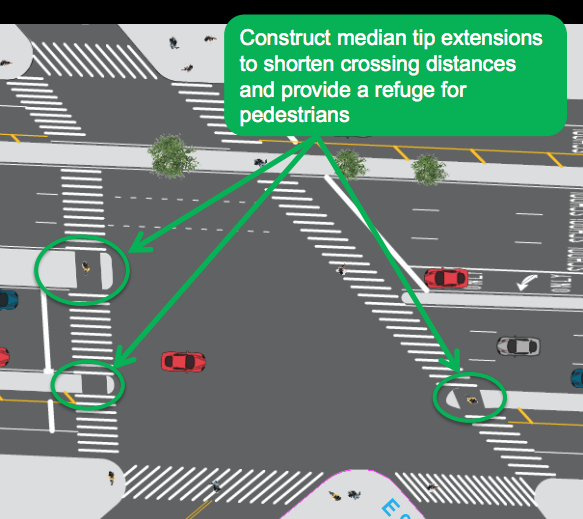 To stop the carnage, DOT's proposal calls for increased signal time for people crossing the street, extending pedestrian medians through crosswalks, adding curb extensions, narrowing lanes on the service road with paint, installing left turn signals, and widening median bus stops so passengers have a safer place to stand. The speed limit will also be lowered, from 35 mph to 30, but not to the citywide default of 25 mph.
Because Linden Boulevard is such an unmitigated disaster in its current state, these changes could make a significant impact on injury and fatality rates. However, the proposal falls short of a wholesale redesign for a dangerous arterial that's up to 200 feet wide at some points.
Last night committee member Jessica Welch asked DOT if the plan includes wider medians and trees. "A lot of these don't have space for trees," DOT project manager Chris Brunson said of the medians.
"Oh, so you're not really going to make it bigger?" Welch replied. "Okay, so no green. Okay."
The plan does, however, add striping and signage to slip lanes between the main line and the service road. That way, drivers know which of the lanes are entrances and which are exits. Brunson compared it to what currently exists on Queens Boulevard.
As dangerous as Queens Boulevard is today, it used to be much worse, with an average of nine people losing their lives every year. In the early 2000s, DOT lowered the speed limit and made adjustments to crossing times, street lighting, and pedestrian medians, bringing the death toll down significantly.
Queens Boulevard, of course, still sees significant numbers of injuries and fatalities -- which is why it's now getting an upgrade that includes protected bike lanes and slip lanes that require drivers to stop before crossing the bike path and entering the service road. When Streetsblog asked why DOT isn't proposing anything like that for Linden Boulevard, Brunson said the wider service roads on Queens Boulevard provide more design flexibility.
There's also another factor: money.
"It would require a capital project, basically," said DOT project manager Alicia Posner. "Queens Boulevard's temporary improvements are being constructed with the expectation that there's a capital project. There's no capital project planned for Linden at this time."
That could change if the de Blasio administration increased its commitment to the Vision Zero Great Streets program, which is providing $250 million to rebuild and redesign dangerous arterial streets. Otherwise, it seems Linden Boulevard in 2015 is in line to get the type of safety improvements DOT was doling out on Queens Boulevard a dozen years ago. This is not cutting edge stuff.
The Linden Boulevard plan is split into three sections. Up first: the stretch between Kings Highway and Avenue D, where DOT is aiming to make changes later this summer after visiting community boards 16 and 18 next week. The majority of the project, from Avenue D to 78th Street, is within CB 5 and will be implemented next year. DOT is also studying the complicated intersection of Kings Highway, Remsen Avenue, and Linden Boulevard separately, and plans to return to CB 17 with a plan for that location later this year or next year.
Linden Boulevard is a local truck route, not a through truck route, but many drivers use it to cross Brooklyn and access Queens or Long Island. Welch pressed DOT about the high volume of trucks that use the street, and said NYPD's enforcement has been lackluster. While the redesign won't change how many trucks use Linden, DOT staff said they would provide truck route enforcement information to local precincts.
Also last night, the committee backed a plan to add neckdowns to five intersections near PS 361, the East Flatbush Early Childhood School, with construction beginning in spring 2017.
In spring 2017, Stephen wrote for Streetsblog USA, covering the livable streets movement and transportation policy developments around the nation. From August 2012 to October 2015, he was a reporter for Streetsblog NYC, covering livable streets and transportation issues in the city and the region. After joining Streetsblog, he covered the tail end of the Bloomberg administration and the launch of Citi Bike. Since then, he covered mayoral elections, the de Blasio administration's ongoing Vision Zero campaign, and New York City's ever-evolving street safety and livable streets movements.
Stay in touch
Sign up for our free newsletter