MTA
Public-Private Partnerships Won't Solve New York's Transpo Funding Crisis
3:42 PM EST on December 5, 2011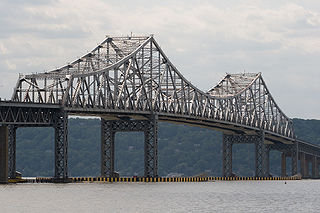 Governor Andrew Cuomo sent out an "editorial" this weekend putting infrastructure investment at the center of his job creation agenda. In a rough outline, the governor touted public-private partnerships (or PPPs, as they're known) as a key mechanism to pay for "the repair and development of highways, bridges and major construction projects."
It also happens that major players in the state's construction industry were discussing the very question of how to fund infrastructure at a conference last Friday. Since Cuomo revealed the week before that he wants union pension funds to finance the new Tappan Zee Bridge, PPPs were the hot topic. Most speakers agreed that PPPs won't solve the state's transportation funding crisis.
New York's transportation system is essentially broke, with both transit and road networks in precarious condition. PPPs can be politically appealing as a way to pay for transportation projects without directly tapping public budgets. But while certain kinds of PPPs might help speed projects along or reduce costs, the private sector doesn't provide something for nothing. The public will eventually pay for these projects somehow.
"We need to guarantee those private investors, especially if they're a pension fund, a rate of return," explained Denise Richardson, the managing director of the General Contractors Association. "Without a discussion of where the revenue stream to fund those loans is coming from," she said, "we mislead the public."
The New York Times, for example, reported that Cuomo plans to fund the new Tappan Zee Bridge with $3 billion in bonds backed by toll revenue and $2.2 billion with loans from union pension funds and the federal government. It is not clear, however, how pension funds would be repaid.
"We try to pretend that the bill will never come due," said Richardson. "We need to find a way to fund, not finance, these incredibly important projects."
With the state's gas tax frozen for years, officials unwilling to implement tolls or other forms of road pricing, and Cuomo shunting the cost of the MTA's capital plan onto straphangers' credit cards, both New York's transit and highway systems are increasingly bankrupt. Revenue of some kind is necessary, whether it pays back traditional bondholders or direct investors.
Though not a panacea, new ways of involving the private sector can benefit transportation projects.
One form of PPP, the "design-build" contract, had the support of every panelist, nearly all of whom work in the private sector. Design-build allows the same company to develop the plans for a project and construct it, hopefully providing more accountability and allowing for a faster and more integrated process. New York is one of only five states that does not allow design-build. According to Gannett's Albany Bureau, the state's recently-issued request for qualifications for the Tappan Zee called for a design-build contract, suggesting that the Cuomo administration will push the legislature to change that law shortly.
Some panelists touted private financing highly. Christophe Petit, president of infrastructure investing firm Star America Infrastructure Partners, claimed that in Canada, PPPs of all kinds proved to be on average 30 percent cheaper than traditionally managed projects. The big savings, he argued, come from ensuring that the risk of cost overruns falls on those most able to prevent them and from speeding up the construction timeline, not from private capital per se. "The private sector cost of financing will always be more expensive than the public sector cost of financing," said Petit. "PPPs are about getting the project done."
Tawan Davis, the VP for real estate transaction services at the New York City Economic Development Corporation, had a similar assessment. He estimated that private equity costs around five percentage points more than public financing but that it was often worth it, especially for more complicated and risky projects. "If you put in cheap money, you haven't made the risk go away," he argued. "It's more expensive to pay for [cost overruns] than to pay for more expensive debt up front."
In addition, private financing might make fiscal sense if cheaper bonding isn't an option. In rebuilding the Goethals Bridge, for example, the Port Authority opted for a partnership in which the private sector will design, build, maintain and finance the new span. The price tag for the bridge actually went up between $30 and $100 million as a result of the partnership, but the Port Authority believes it will save money in the long-term. The PPP allowed the Port to build the bridge sooner -- the authority doesn't have the capacity right now for more bonding -- saving money on upkeep in the interim. "The Port Authority can finance it cheaper, that's always the case, but the Port Authority is constrained," said Tony Cracchiolo, a senior VP at engineering firm STV.
When successfully applied -- not always the case -- those benefits are real. As Richardson argued, however, they aren't a substitute for public funding. "At the end of the day, these monies need to be paid back," said Ira Levy, an executive with engineering company AECOM. "This is not funding, this is financing."
Taking a step back, Baruch College professor Jack Nyman urged the state to think as much about long-term goals as about financial mechanisms. "The obvious things are we want to increase mass transit funding," he said.
Moreover, private financing is primarily of use for projects like toll roads or airport terminals that produce revenue streams. "We don't have tolls on any of our state highways, so we don't have revenue generating mechanisms for many of the projects," said Robert Zerrillo, the acting director of policy and planning for the state Department of Transportation. "PPPs will not be a panacea for the types of projects we are doing at NYS DOT."
There's definitely room for new ways to finance infrastructure or contract out projects. But as Cuomo prepares for a major infrastructure push, New Yorkers need to ask, "Where's the money?"
Friday's conference also indirectly touched on major questions surrounding the financing of the Tappan Zee Bridge, which Streetsblog will explore in a follow-up post.
Noah joined Streetsblog as a New York City reporter at the start of 2010. When he was a kid, he collected subway paraphernalia in a Vignelli-map shoebox. Before coming to Streetsblog, he blogged at TheCityFix DC and worked as a field organizer for the Obama campaign in Toledo, Ohio. Noah graduated from Yale University, where he wrote his senior thesis on the class politics of transportation reform in New York City. He lives in Morningside Heights.
Stay in touch
Sign up for our free newsletter