Protected Bike Lanes
EYES ON THE STREET: East NY's New Bike Lanes Are Great, But Need Some Connections
Checking in on new protected bike lanes in East New York.
12:01 AM EDT on October 31, 2023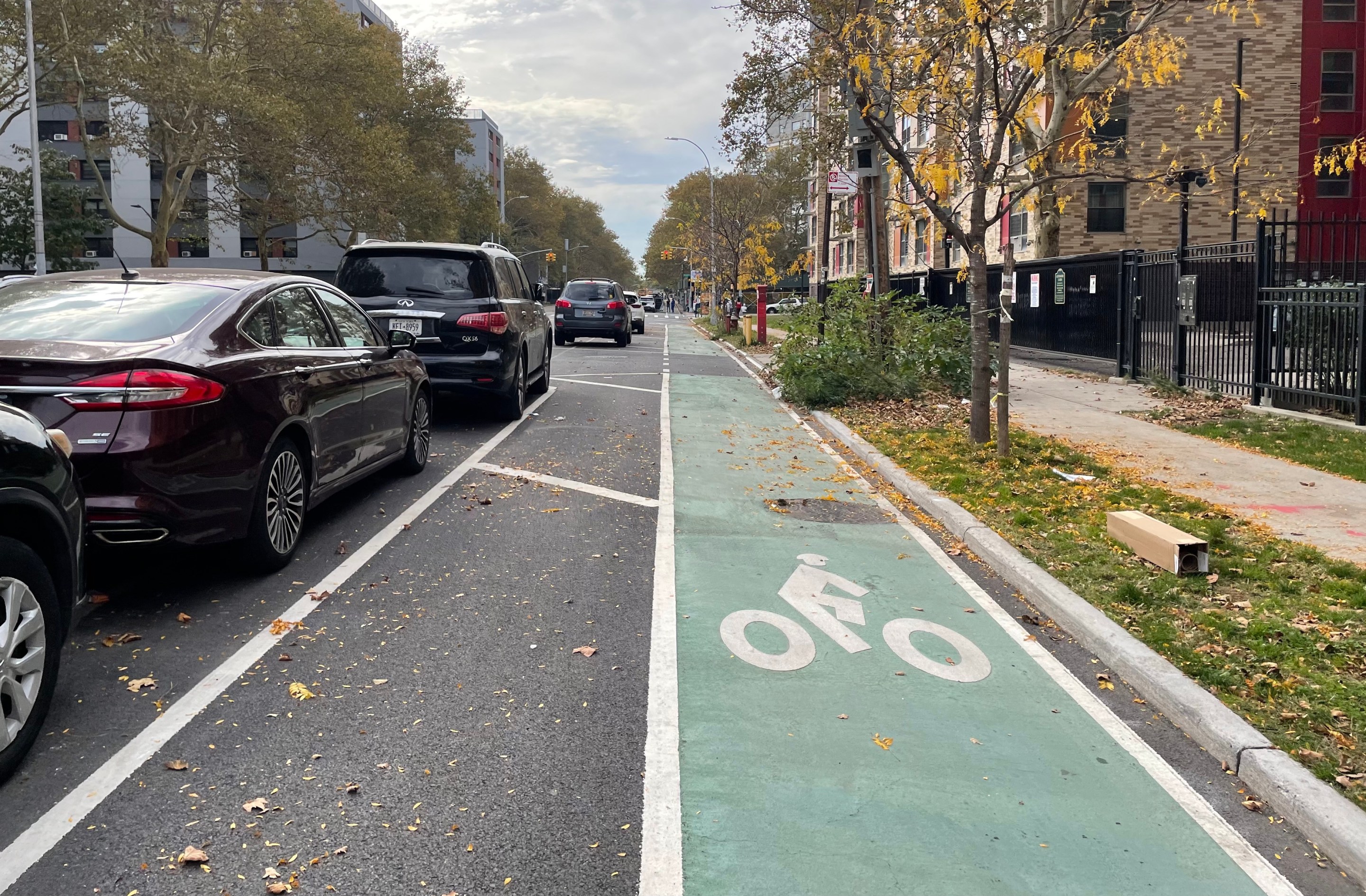 As Mayor Adams racks up one canceled or curtailed street project after another, new bike lanes in Brooklyn show what his Department of Transportation can accomplish when allowed to do its job.
In East New York, Cozine Avenue and Wortman Avenue, a pair of mile-plus streets that average almost 80 crashes a year despite their short lengths recently got a safety-first upgrade with the installation of protected bike lanes — as seen below on Cozine and Schenk Avenue — in a neighborhood that lacked (and still lacks) safe bike infrastructure.
The project went through despite some local opposition and even a bit of negative TV coverage.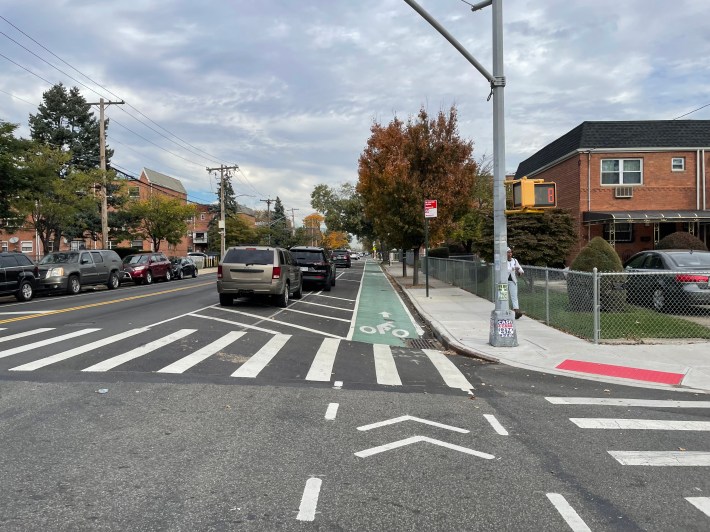 The bike lanes run between Louisiana Avenue and Fountain Avenue on each street for 2.7 total miles of protected bike lanes, and are joined by a 0.2-mile two-way protected bike lane nearby on Louisiana Avenue between Stanley and Cozine avenues, next to the Breukelen Ballfields.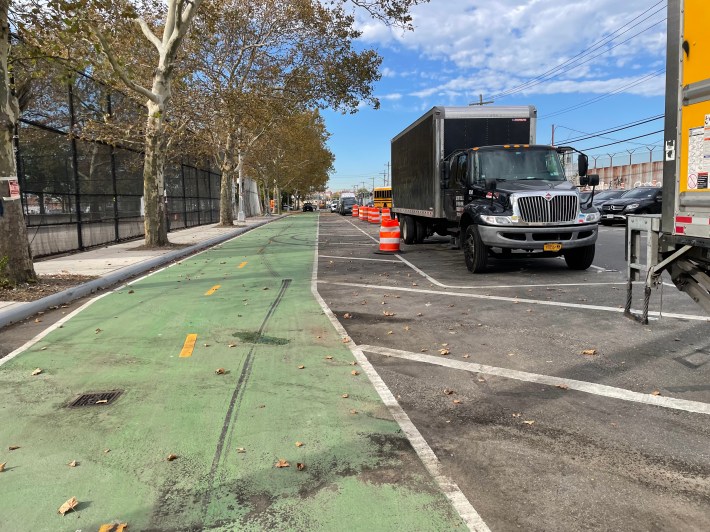 DOT's project doesn't reinvent the quick release wheel when it comes to its usual design toolbox, but it doesn't need to do to bring some sorely needed safety elements to the streets. Bike lanes and pedestrian zones means narrower, safer streets through both residential and industrial stretches of the neighborhood.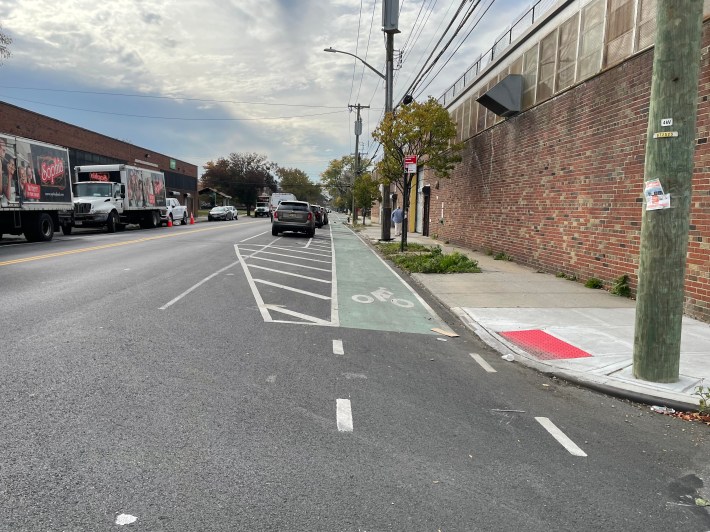 Cozine and Wortman are each two-way streets going east and west. Before the redesign both streets offered drivers extra space to create carnage. In fact, the street once devoted 50 feet each direction to moving cars and trucks, which encouraged speeding and double parking in the residential and industrial stretches of the streets: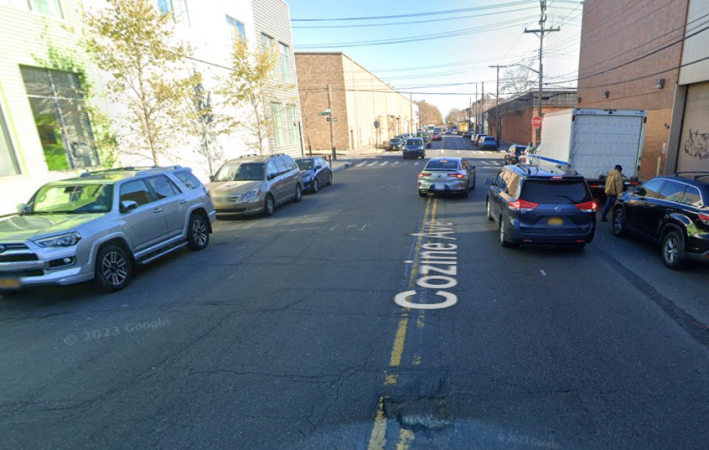 As a result of that design built for injuries, on Cozine from Fountain and Louisiana between 2015 and 2022 there were 618 reported crashes that killed two pedestrians and two motorists, and injured seven cyclists, 41 pedestrians and 295 motorists. In the same stretch and timeframe on Wortman, there were 643 reported crashes that killed one cyclist and injured 14 cyclists, 54 pedestrians and 228 motorists. Children suffered 21 percent of the pedestrian and cyclist injuries in that time, according to DOT.
Beyond the bike lane, Wortman and Cozine also got painted pedestrian bump-outs throughout as part of the redesign, which narrowed the roadway further for people just looking to cross the street.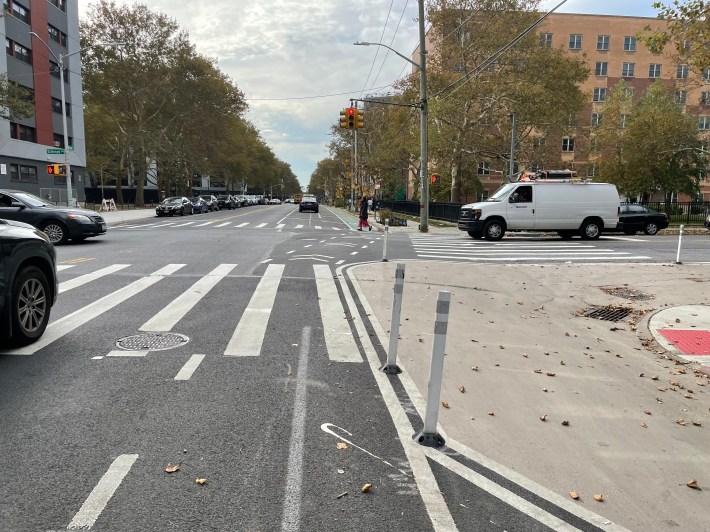 There were also a handful of more forceful daylighting efforts in the project — specifically the installation of curved rows of plastic bollards jutting out at some intersections to force drivers to make wider turns and not cut across the bike lane quickly.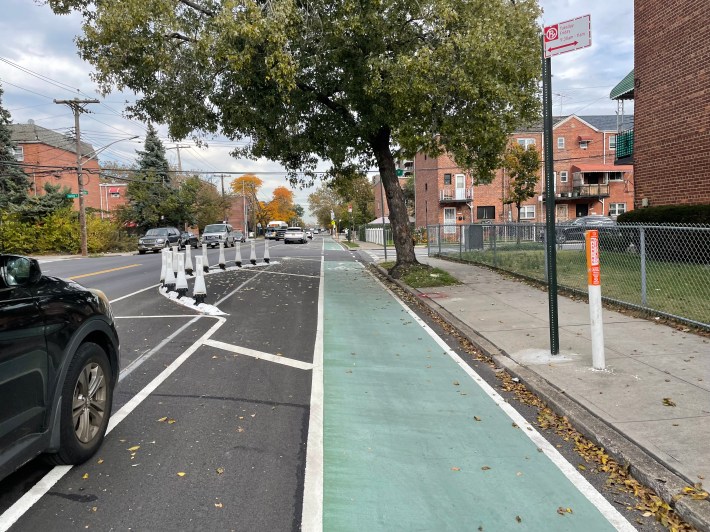 The project was installed quietly without pomp or circumstance or even a press conference — just an email announcement with no local elected officials hailing the new installation. That may be explained by a lack of local support, though the DOT did two years of outreach.
"By the time that [the bike lanes] were presented to the community board, it was a done deal," Wilfredo Florentino, the co-chair of the Community Board 5 Transportation Committee, told Streetsblog.
"There was no opportunity for input. The Department of Transportation has already made up its mind as to where they want and believe that these bike lanes would work best for their strategic plans. And their strategic plans don't usually comport with community needs."
Florentino ran for City Council as someone who would prioritize street safety via community-led planning in East New York. He told Streetsblog he still wants something like a community visioning session in the neighborhood to determine where bike lanes should go.
If anything, the new bike lanes show the Adams administration picking and choosing which "local opposition" to listen to, and which to ignore. That means politically connected opponents can slow or cancel progress if they get the ear of the right city official or the mayor himself.
Adams's actions — derailing bike lanes in Fort Greene and Greenpoint and delaying and killing bus lane projects in Queens and the Bronx — suggest that he's fine with a status quo where his DOT has to expect the possibility of the mayor stepping in at any point to call off their work.
In the era of going door to door to see what people think of a bike boulevard on Underhill Avenue, how many more times will Adams let his DOT push through local opposition to projects when it's the right thing to do?
More daylighting would certainly help around 200 Cozine Ave., where residents of an apartment complex said that the new layout on the street made it too dangerous for them to pull out of their building's parking lot.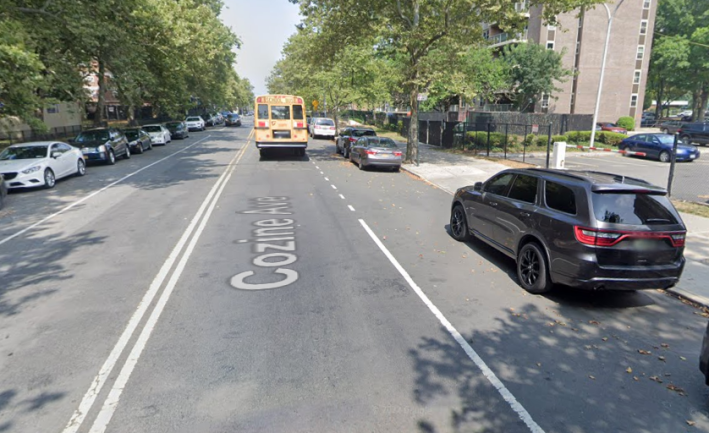 On the other hand, the area in front of the parking lot was its own little slice of chaos before the bike lane went in, as there were 16 reported crashes in the area surrounding it that injured two pedestrians and two motorists from 2015 to 2022.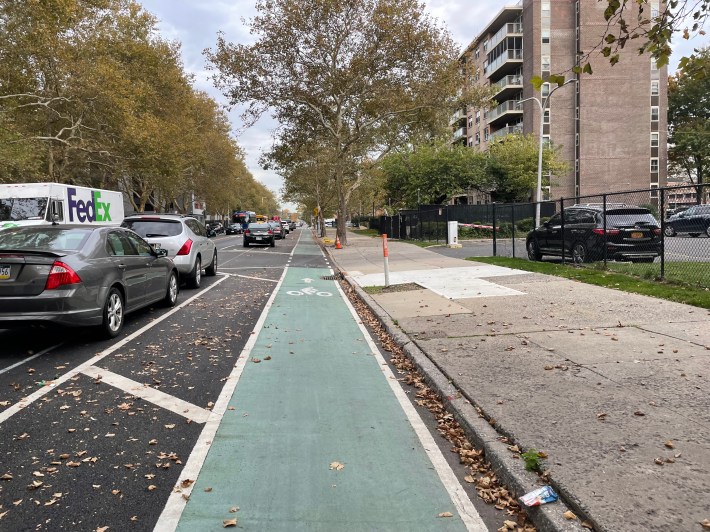 The bike lane also suffers from the typical issues that plague protected bike lanes in industrial areas — specifically, cars and trucks that block the path...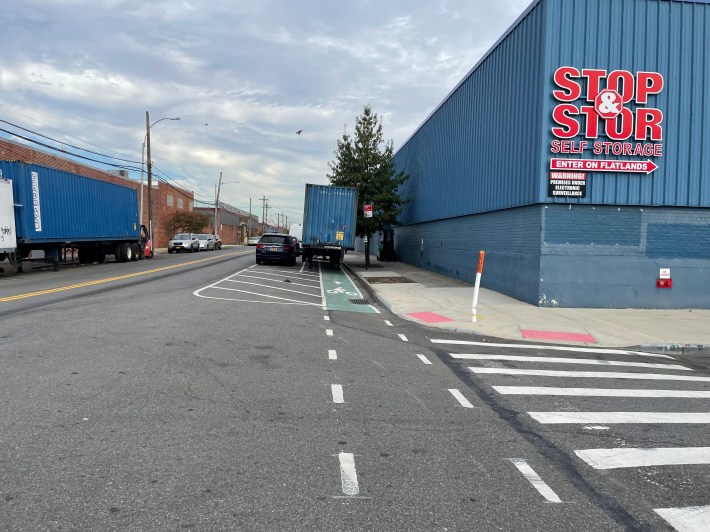 ...or leave a very tight space to pass due to bad parking jobs.
And on Louisiana Avenue, trucks parked directly in the bike lane, forcing cyclists into regular traffic...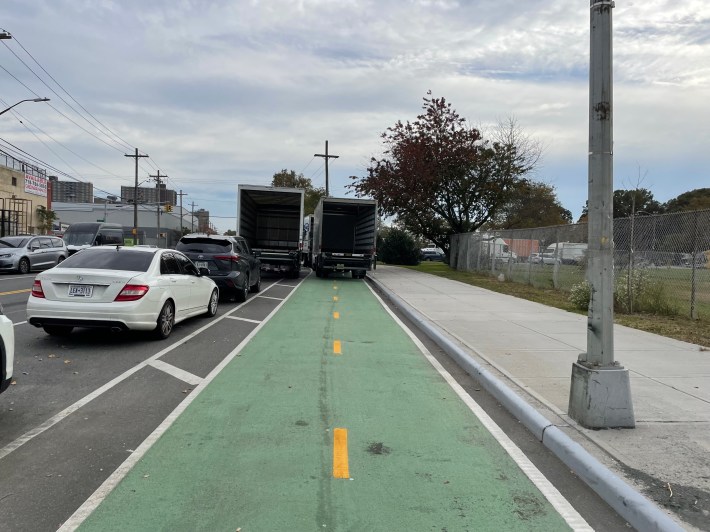 ...and also on top of the painted pedestrian space.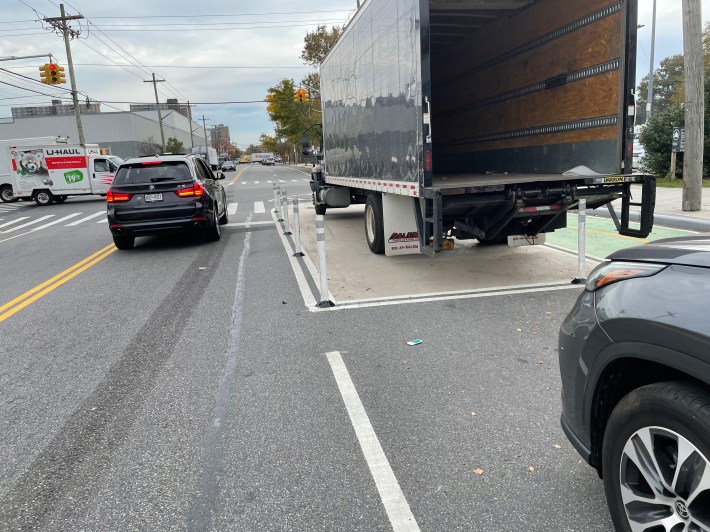 Whatever small drawbacks the bike lanes have, they provide undeniably calmer ride than other east-west corridors in the neighborhood like Sutter Avenue, Blake Avenue or (god forbid) Pitkin Avenue. They also provide another link to Fountain Avenue, a solid project that provides a safe connection to Shirley Chisholm State Park and the Belt Parkway greenway.
But that calm ride and one good link also highlights the need for more connections to the new project: Cyclists who leave the protected environments of Cozine, Wortman, Lousiana or Fountain face a bike network that's paint at best for miles around if you want to go north or west (you do have a nice ride to the beach now though).
It's hard to imagine the Adams administration making a big play to connect the new project to Eastern Parkway, or tame the surrounding beasts that are Pennsylvania Avenue or Linden Boulevard.

Dave Colon is a reporter from Long Beach, a barrier island off of the coast of Long Island that you can bike to from the city. It's a real nice ride. He's previously been the editor of Brokelyn, a reporter at Gothamist, a freelance reporter and delivered freshly baked bread by bike. Dave is on Twitter as @davecolon. Email Dave Colon at dcolon@streetsblog.org
Stay in touch
Sign up for our free newsletter