Fordham Road
Rep. Adriano Espaillat Rallying Bronx Pols Against Fordham Road Bus Lane Fixes: Sources
While he's said nothing about the issue publicly, the congressman has been quietly assembling opposition to proposed bus lane upgrades in recent weeks, four officials told Streetsblog.
1:33 PM EDT on August 3, 2023
An effort to improve bus service for 85,000 daily riders on Fordham Road in the Bronx has a powerful opponent: U.S. Rep. Adriano Espaillat.
While he's said nothing about the issue publicly, the congressman has been quietly assembling opposition to proposed bus lane upgrades in recent weeks, leaning on younger elected officials to fall in line behind city Council Member Oswald Feliz, a vocal critic of the project, according to four officials familiar with the issue.
The pressure campaign has had an impact, the officials said: Lawmakers who once privately expressed support for the proposed upgrade have fallen silent on the project or come out against it. Espaillat has even reached out to Mayor Adams to discuss the project, officials said.
Espaillat's intervention has further delayed the project, prolonging misery for residents of the Bronx and Upper Manhattan who rely on the Fordham Road buses, which crawl along as slow as four miles per hour in some places because private cars and trucks block the existing bus lanes with seeming impunity.
In a statement, Danny Pearlstein, a spokesman for the transit advocacy group Riders Alliance and a constituent of Espaillat's, noted that the congressman "represents more transit riders than anyone else in Congress," and that his support for the project could "help save precious time and aggravation for 85,000 daily riders, including tens of thousands of his own constituents."
Espaillat representatives denied to Streetsblog that he had encouraged other lawmakers to oppose the bus upgrades. Instead, lawmakers "have reached out to him" to discuss the project, said Aneiry Batista, Espaillat's chief of staff. She declined to describe what Espaillat said about the project in those conversations or whether the congressman supports it, saying it is a local, not federal, issue.
"He defers to the local elected officials, and all of them seem to be in agreement," Batista said. "They have a vision and he agrees with their vision."
Yet Espaillat's influence campaign became enough of a concern that the city Department of Transportation, the Metropolitan Transportation Authority and the governor's office held a call with the congressman last week to discuss the project, officials said. The call was unusual – it's uncommon for such agencies to brief a federal official about a local bus lane project, said the officials, who spoke on the condition of anonymity because they were not authorized to discuss the matter publicly.
On the call, Espaillat said he had no problem with the project himself, and echoed his staffers' comments to Streetsblog, saying the Fordham Road project is a local, not federal, issue, according to officials on the call. But Espaillat also warned that the agencies had lost the support of the Bronx lawmakers, officials said.
It is unclear whether Espaillat actually opposes the project or simply is backing up Feliz, his one-time Bronx campaign director, officials said. But the distinction matters little. Feliz opposes the project, meaning building support for Feliz's position will have the same outcome as drumming up resistance to the project.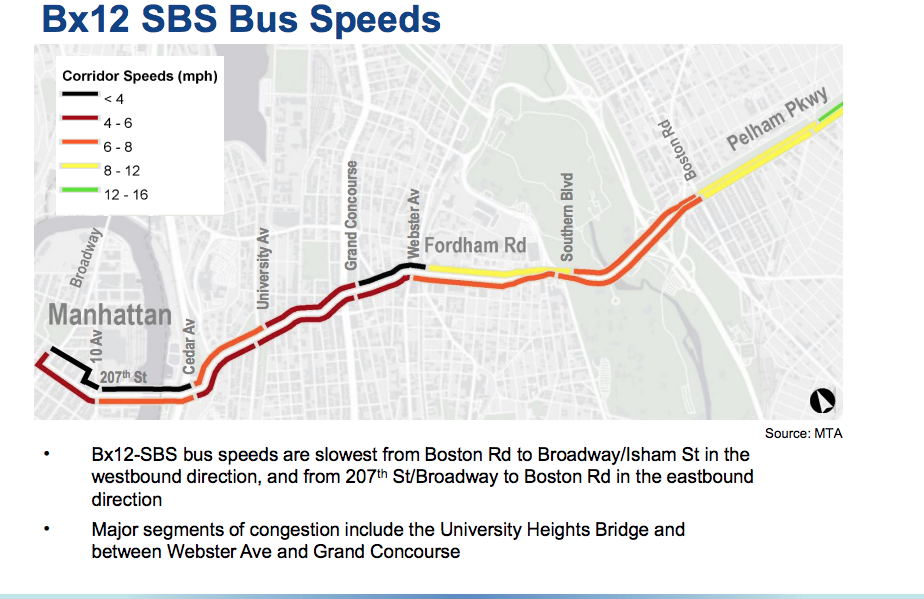 Plans have long been in the works to improve bus service on Fordham Road – a crucial east-west corridor that provides access to Upper Manhattan, multiple subway and rail lines, Fordham University, and other major institutions. In 2008, the city introduced the first Select Bus Service route along the roughly 2.5-mile street, a theoretically valuable asset in the area, where most households do not have access to cars. But the curbside bus lanes are typically blocked by illegal parking, leaving the buses mired in traffic.
Average speeds on the Bx12 route dropped from nine miles per hour in 2014 to 6.3 miles per hour by April 2023. On one stretch of Fordham Road between Webster Avenue and Grand Concourse, westbound buses average about the speed of a brisk walk.
Last year, DOT presented three options for improving bus service on the street. Two options included installing one- or two-way "busways," on which only buses and trucks could travel. Planners estimated the busways would speed up service by 30 to 40 percent.
But the proposals faced strong headwinds. Feliz, a first-term Bronx Council member, and the Fordham Road Business Improvement District announced their opposition in June 2022. Then other Bronx power players voiced disapproval, including the Belmont Business Improvement District, Fordham University, the New York Botanical Garden, Monroe College and St. Barnabas Hospital.
In a letter in May, opponents asserted that the planned redesigns posed "economical, safety, health, and environmental concerns for our organizations."
Citing such "community concerns," DOT announced in May 2023 that it had scrapped the busway ideas and would instead move forward with the least impactful redesign option. That plan involved moving the busses one lane away from the curb, into so-called "offset" bus lanes.
This design – which is common throughout the city – was modest enough to win pledges of support from some Bronx lawmakers. State Assembly members Yudelka Tapia and George Alvarez told agency officials that that they supported it, officials told Streetsblog. And Council Member Pierina Sanchez told Streetsblog in June that she would have preferred one of the even more transit-friendly busway options.
"My concern with the offset bus lane is that we're not going to see significant improvements," she said.
But then Espaillat started making calls, officials said, and lawmakers who once supported the project suddenly seemed to get cold feet.
Espaillat has accrued significant political power in upper Manhattan and the Bronx, especially among the so-called "Squadriano," a group of Dominican-American elected officials whom Espaillat has cultivated. According to City & State, members include Feliz, Tapia, Alvarez and Sanchez — precisely the legislators with a stake in the Fordham project. (The congressman has also previously endorsed DOT Commissioner Ydanis Rodriguez in various campaigns. Rodriguez previously represented Upper Manhattan neighborhoods in the Council.)
In July, Feliz, Tapia, Alvarez and state Sen. Luis Sepulveda (whose district does not include Fordham Road), sent a letter to Mayor Adams in which they argued that even DOT's pared-down plan would "negatively impact our thriving economic, social, and health ecosystem." They called on DOT to instead simply repaint the existing curbside lanes and install traffic cameras along the route (which, per DOT, the route has had since 2011).
Streetsblog reached out to Feliz, Tapia, Alvarez and Sanchez to ask if Espaillat had urged them to oppose the project. Only Alvarez responded, saying he had not heard from the congressman about the issue.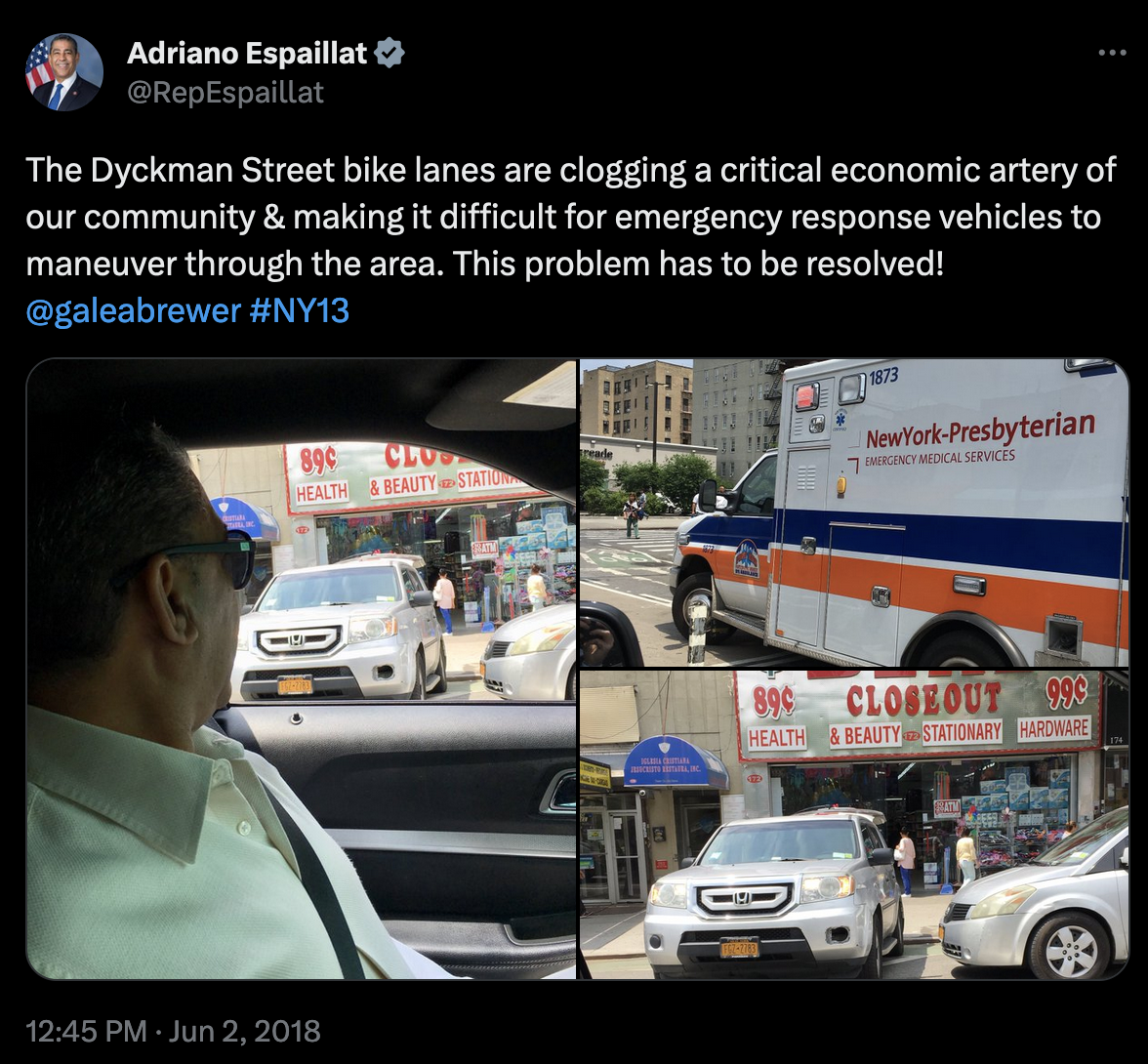 Streetsblog reached out to four other Bronx legislators who represent Fordham Road to ask whether they support the revised DOT plan or have heard from Espaillat about it: state Senators Robert Jackson and Gustavo Rivera, U.S. Rep. Ritchie Torres and Bronx Borough President Vanessa Gibson.
Neither Torres nor Gibson responded to the inquiry. A spokeswoman for Rivera did not answer Streetsblog's questions, saying only that the senator would reveal his position on the project after upcoming meetings with "key stakeholders."
Only Jackson, an open opponent of Espaillat, offered full-throated support for DOT's plan.
People should be able to "get in the busses and get where they gotta go, and not be crawling like a caterpillar because of congestion and because of cars that are parked illegally," Jackson said.
Jackson said he had not heard from the congressman, and that, given their contentious history, "I would be the last one in my opinion that he would turn to."
Spokespeople for DOT did not respond to a request for comment.
In a statement, MTA New York City Transit President Richard Davey said: "In conversations with community leaders and elected officials, it is clear that faster, more reliable bus service to the over 85,000 customers who rely on Fordham Road to get around is not just the right thing to do, it is essential to delivering better transit for the Bronx. We look forward to working with local elected officials and community organizations who have raised concerns so that this vital bus project can advance in 2023."
Jesse Coburn is Streetsblog's investigative reporter. His reporting has received awards from the Hillman Foundation, the Silurians Press Club and other organizations. Previously he was a reporter at Newsday and an editor at ARCH+. He has also written for the New York Times, the Baltimore Sun, Harper's, Cabinet and other publications. Jesse is on Twitter at @jesse_coburn. You can email him at jesse@streetsblog.org.
Dave Colon is a reporter from Long Beach, a barrier island off of the coast of Long Island that you can bike to from the city. It's a real nice ride. He's previously been the editor of Brokelyn, a reporter at Gothamist, a freelance reporter and delivered freshly baked bread by bike. Dave is on Twitter as @davecolon. Email Dave Colon at dcolon@streetsblog.org
Stay in touch
Sign up for our free newsletter