Pedestrian safety
Paris Mayor Enters Fray Between E-Bikes and Pedestrians — By Fighting Drivers
Anne Hidalgo will help pedestrians feel safer not with a harsh crackdown on electric micromobility, but with a common-sense plan that includes taking more away space from drivers.
12:00 AM EDT on June 30, 2023
Anne Hidalgo for the win.
The Paris mayor — confronting one of the trickiest issues of sustainable transport in dense urban areas — will help pedestrians feel safer not with a harsh crackdown on electric micromobility, but with a common-sense plan that includes taking more away space from drivers.
"We must protect pedestrians first," Hidalgo said on Wednesday as she laid out a new "Street Code" that, she said, was built on "absolute priority for pedestrians."
Paris will "make a sidewalk a sanctuary for pedestrians," she added. "That's rule number 1."
But Rule 1a is to not demonize micromobility, which is a far better way for urbanites to get around than a car, Hidalgo's "code" suggests. The goal is to make car driving far harder and less appealing than the more sustainable modes.
"Faced with the climate emergency, we are adapting Paris and radically changing the way we get around," her office said in a statement. "Parisiens have understood this well! They massively adopted the cycle paths. The results are there: in 10 years, car traffic has decreased by 40 percent, and pollution by 45 percent. Paris now has more than 695 miles of cycle paths, compared to 125 miles in 2001."
But change is hard, Hildago acknowledged. The result of "rapid" micromobility adoptions has been "legitimate" concerns of pedestrians. Her response to that concern has been to make more space for walkers, not a bikelash.
"We are creating more space for pedestrians. including streets at schools," the statement said. "Our goal: 300 streets to schools by 2026." (By comparison, New York City currently has just 61 school streets that are fully closed to car traffic, albeit not always all day every day. Also, New York City has almost four times the population of Paris and New York City is about eight times the physical size.)
New York advocates can only look on in awe.
"It's so refreshing to see a city lead like this. Paris has made incredible progress in a short amount of time, and that's bound to come with some growing pains," said Sara Lind, co-executive director Open Plans (which shares a parent organization with Streetsblog). "But Mayor Hidalgo has a clear, people-centered vision for her city and she sticks to that."
Eric McClure of StreetsPAC added that even in French, Hidalgo's initiative is clear.
"New York City should pay close attention to what's happening in Paris — smart design innovations need no translation," he said.
Hidalgo's "Street Code" has six principles, she said, but two are directly aimed at drivers: Paris will continue to "remove parking spaces around pedestrian crossings" and "further widen sidewalks, transforming parking spaces and sidewalks."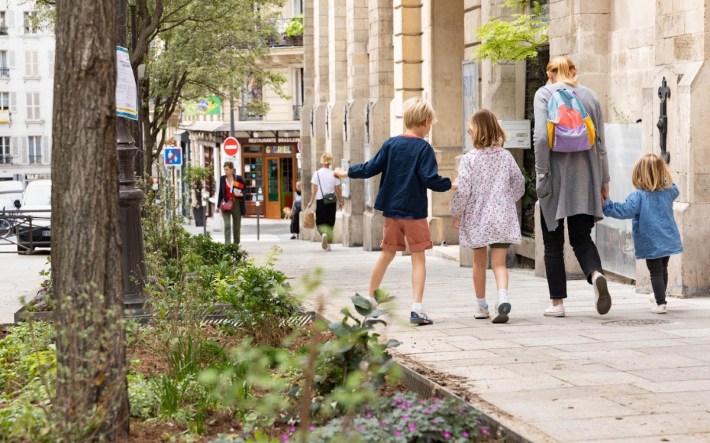 In addition, there will be more bike safety education, specifically for kids to encourage good cycling rather than discourage all cycling. And there will be more enforcement of existing laws against, for example, riding on the sidewalk.
But nowhere in the full document (read it here) does the mayor's office call for a harsh crackdown on cyclists. In fact, the document specifically says that it is responding to public outcry for "better sharing of public space between the different modes of travel."
One way to better share? Remove parking: "By 2026," the mayor promised, "70,000 surface parking spaces will be eliminated" and all intersections — all — will be daylighted (reminder: New York City exempts itself from state law requiring daylighting).
One caveat, of course, is that Paris voters already overwhelmingly approved a ban on shared stand-up e-scooters, which will take effect on Sept. 1. The ban seemed only partly motivated by pedestrian fear of whizzing scooters (which were capped at just 6 miles per hour), but mostly about clutter on the sidewalks. (Privately owned scooters will remain legal.)
Other highlights include:
Paris "also aims to reduce the number of SUVs circulating on the streets, responsible for many conflicts of use by the place they occupy on the road. This requires a surcharge policy by introducing progressive parking pricing according to the engine, size and weight of the cars."

Paris will "continue the development of streets reserved for bicycles."

The city will "better regulate professional deliveries," a vague promise that includes more enforcement against reckless disregard of existing rules.
The Paris approach comes as some New York City residents have been mobilizing against electric bikes, e-scooters and illegal mopeds that travel far faster than Paris's soon-to-be-defunct scooters and compete for space in narrow bike lanes with acoustic bikes and pedal-assist electric bikes that top out at 18 miles per hour.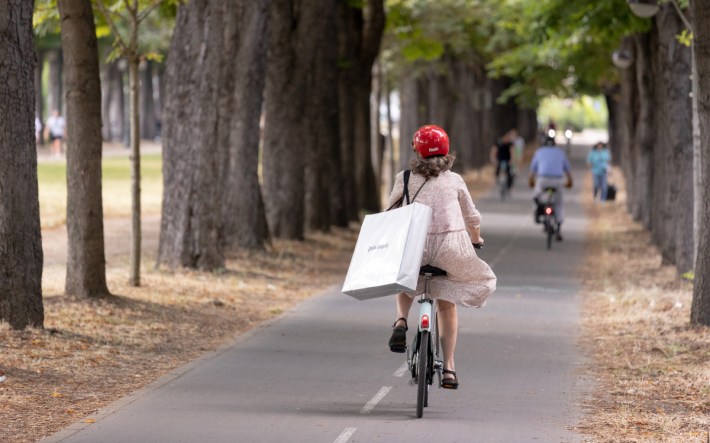 At a recent meeting on the Upper West Side, a group calling itself E-Vehicle Safety Alliance was able to get even longtime cycling advocate state Sen. Brad Hoylman-Sigal to "express his support" for their anti-e-bike message, the West Side Rag reported.
"The issue of e-bikes is the number one constituent complaint that we get in my Senate office," he said, addressing the group. "Your voices are being heard and I share your concern. ... It's going to require a campaign from all of us. Council Member [Gale] Brewer told me, 'You guys have to do something about this in Albany. This is out of control.' We agree."
Hoylman-Sigal did say that banning privately owned e-bikes was "going too far," the paper reported, but he also did not focus the safety concerns on drivers and on the city's failure to widen sidewalks, create new micromobility lanes or daylight intersections.
The latest backlash against bikes comes against the backdrop of a failure by the state Assembly to pass a widely popular bill to allow New York City to set its own speed limit. In an interview with Gothamist published on Thursday, Assembly Speaker Carl Heastie said that before New York should reduce its speed limit, it needs to focus its attention on e-bikes, claiming that Assembly members from the city want "to see more enforcement ... of the e-bikes" before anything else.
But street safety that focuses on promoting cycling and restricting driving is actually good politics, said one advocate and former government official.
"For years, Mayor Hidalgo was criticized for her success in increasing space for people and sustainable transportation," said Jon Orcutt of Bike New York and a former Department of Transportation official under then-Mayor Mike Bloomberg. "But in 2020, she was re-elected after promising to do even more to pedestrianize Paris, and to make its streets safe for everyone to bike on. People respect decisive leadership a lot more than hollow rhetoric, weak execution and a transactional approach to policy making."
Lind agreed.
"In New York, narrow bike lanes and sidewalks do create conflict between pedestrians and micromobility, but the reason why is that the city is too scared to take space away from cars to give to other users," she said. "In Paris, they double down, creating even more pedestrian space. No placating, no trying to please everyone. And they do it quickly! Cars are the real threat — to safety, health, business, climate, everything. Mayor Hidalgo is brave enough to say it."
Of course, the fear that pedestrians feel is very real — but it's also statistically unfounded.
According to the NYPD's crash statistics, there were 44,754 reported crashes between Jan. 1 and June 23. Of those, 43,188 — or 96 percent — were caused by drivers of cars, SUVs, trucks, ambulances, vans and other heavy motorized vehicles. Just 826 crashes — or 1.8 percent — were caused by the operators of e-bikes, e-scooters, mopeds or motorbikes, according to the police. Another 740 crashes — or 1.6 percent — were caused by regular bike riders, the cops said.
Drilling down further, there have been 3,952 crashes that caused injuries to at least one pedestrian. Of those crashes, 3,784 — or 96 percent again — were caused by car and truck drivers. Only 168 of those crashes — or 4.2 percent — were caused by the operators of e-bikes, e-scooters, mopeds or motorbikes, according to the police.
"The numbers are clear: the number one danger to pedestrians is cars and trucks. Last year alone, 114 pedestrians in New York City were killed by car drivers," said Elizabeth Adams, the deputy executive director for Public Affairs at Transportation Alternatives. "Our elected leaders must do more to protect pedestrians on our streets, and they should focus on what's killing us — cars and trucks, not bikes."
In the face of those numbers, New York City has done little beyond removing a minuscule percentage of curbside for outdoor dining and creating some open streets to reduce the use of the private automobile as car ownership has surged since the pandemic. New York City does not even charge higher fees to the owners of extremely large cars, as other cities are doing or considering.
Meanwhile, Paris has widened existing bike lanes and created far more (including the famed Rue de Rivoli), expanded pedestrian plazas, expanded car-free school streets, eliminated an urban highway. The result has been far less car use and fewer injuries.
"The mayor of Paris isn't just bragging about getting stuff done, she's actually getting stuff done," said activist Doug Gordon, mocking Mayor Adams's signature phrase. "Anne Hidalgo understands that cities must respond to the urgent crises of climate change and pedestrian and cyclist safety. ... That takes leadership that prioritizes people's lives and the health of our planet over parking spaces, but it also takes funding. Instead of relying on volunteers to move barricades for open streets, she's providing the money to properly build out hundreds of school streets and other space for people. Mayor Hidalgo is serving as an example of what happens when you have a mayor who simply gets it."
Gersh Kuntzman is editor in chief of Streetsblog NYC and Streetsblog USA. He also writes the Cycle of Rage column, which is archived here.
Read More:
Stay in touch
Sign up for our free newsletter