Department of Sanitation
Eyes on the Street: Trash Containerization Keeps Sidewalk Clear, But More Boxes Needed
12:01 AM EST on February 3, 2023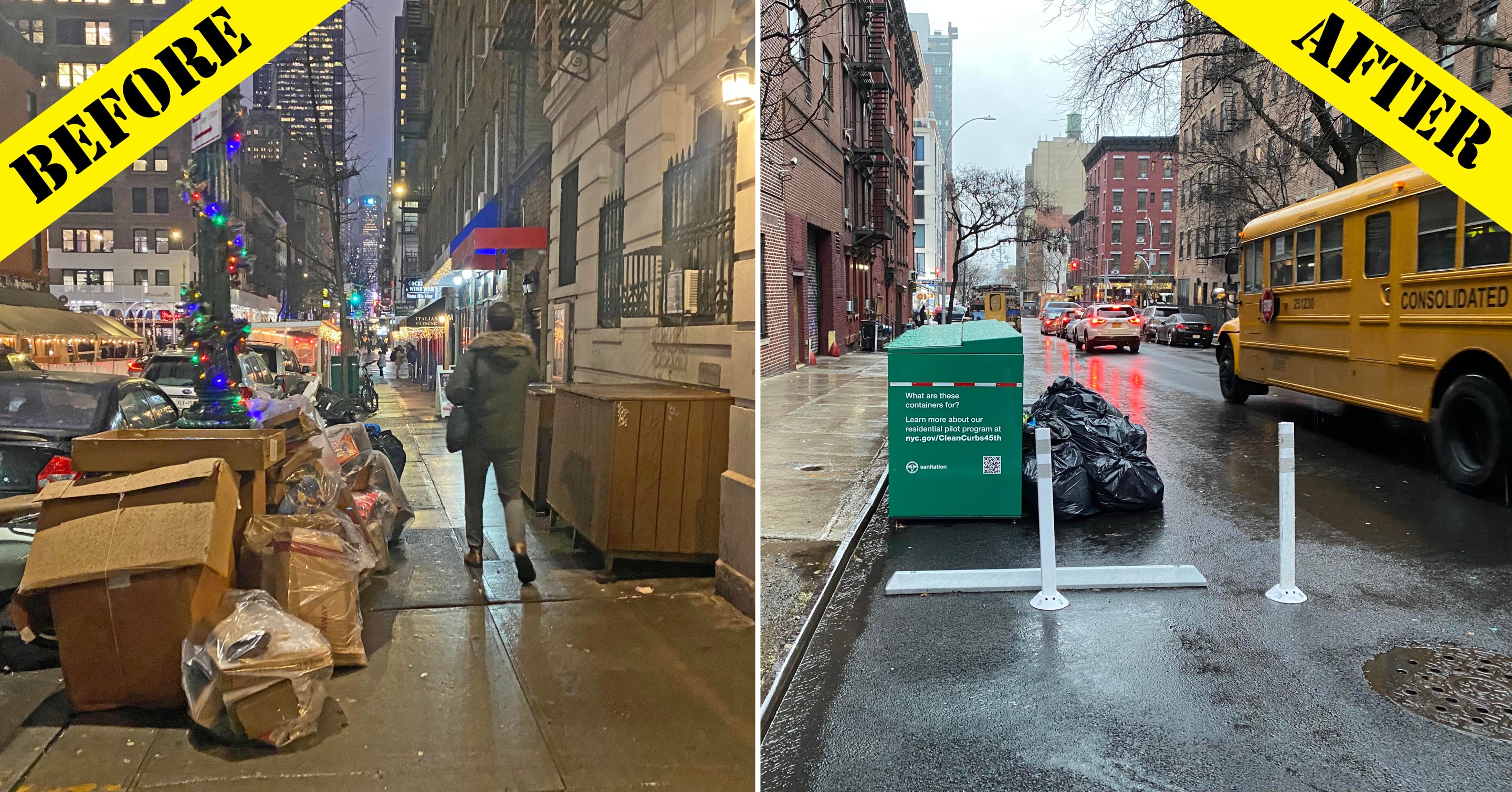 The Sanitation Department's pilot project to collect residential garbage from containers on one city block has successfully kept the sidewalk clear of the usual mountains of garbage bags, but the city must add more boxes to fit all the trash.
The roughly four dozen green containers on W. 45th Street, between Ninth and 10th avenues, regularly have bags outside of them and in the roadway on collection days, but DSNY officials said they plan to add more roadside storage.
The Hells Kitchen block is the city's first where New York's Strongest collects residential waste from containers as part of their Clean Curbs program, which also includes testing containerized garbage pickup from businesses on several other streets.
It takes the city's waste haulers about twice as long to cover the containerized block — due to workers having to open and close the boxes — compared to other streets where they can just take the bags from the curb, collectors told Streetsblog during a recent run, but locals cheered a sidewalk free from the Big Apple's notorious five o'clock shadow.
"We're pioneers!" said Andy, a resident who declined to give his last name, as he watched collection from his stoop early Tuesday morning. "[Before the container pilot] you had lots of trash piling up on the streets, and on the sidewalks especially When there are cars parked and you got trash, it's a double whammy."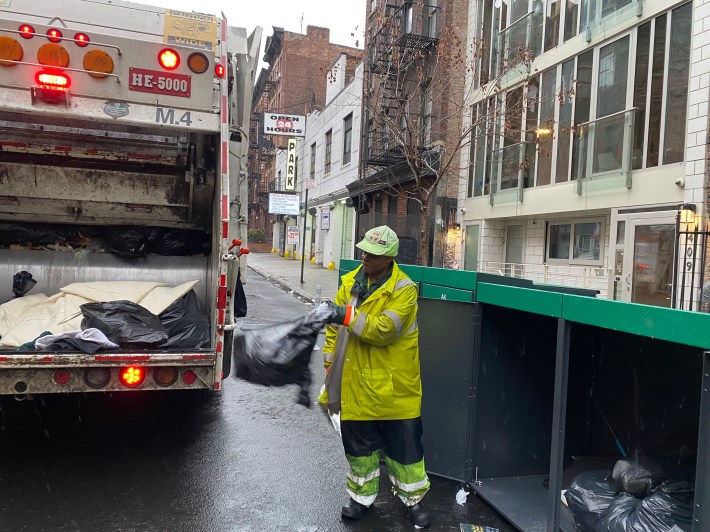 "I don't have to like dodge garbage in the morning," added his neighbor, Damian Narine last week. "I think it's a good idea."
DSNY set up 42 of the bins across six former parking spots, or seven containers each which multiple buildings share, and the historic first collection rolled through on Dec. 13.
Only the building supers and garbage collectors are supposed to have access to the boxes, which either have a key or combination lock, but this reporter found some of the bins unlocked and open on recent visits.
Most sets of containers had between two and more than a dozen bags stacked outside along with some other unpackaged trash.
One super said there wasn't enough room in the bins to accommodate all the rubbish residents produce.
"We overflow a lot," said George Valentin. "[They should] probably just add ... another one or two."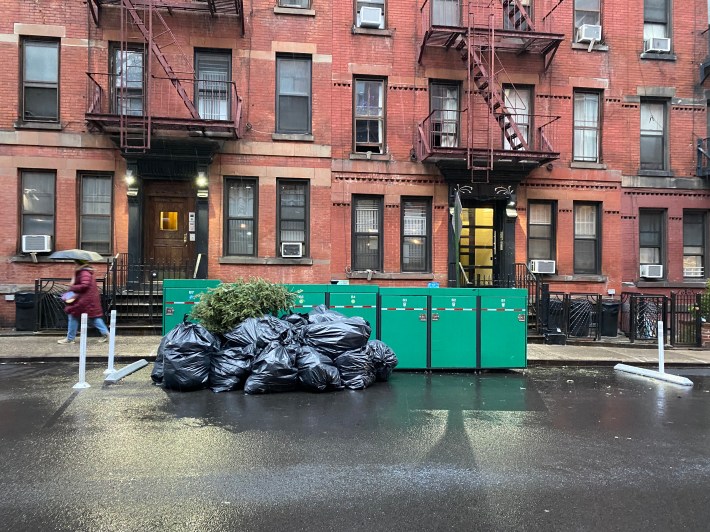 Each row bins has some marked for recycling, but a garbage collector said paper and other recyclable materials end up spilling over into the general trash section too — even though recyclables are only picked up on one of the three collection days a week.
"They overfill them, and put them on the garbage side. They're only supposed to put recycling on Thursdays over here," said the worker, who declined to give his name.
That's still preferable to what happens on every other block — heaps of garbage bags that pedestrians have to navigate around — said Christine Berthet, whose pedestrian safety advocacy group CHEKPEDS organized to get all the buildings on board with the program.
"We had 100 bags on the sidewalk, and right now we find ourselves with maybe 10 bags on the street. To me, that's a big success," Berthet said.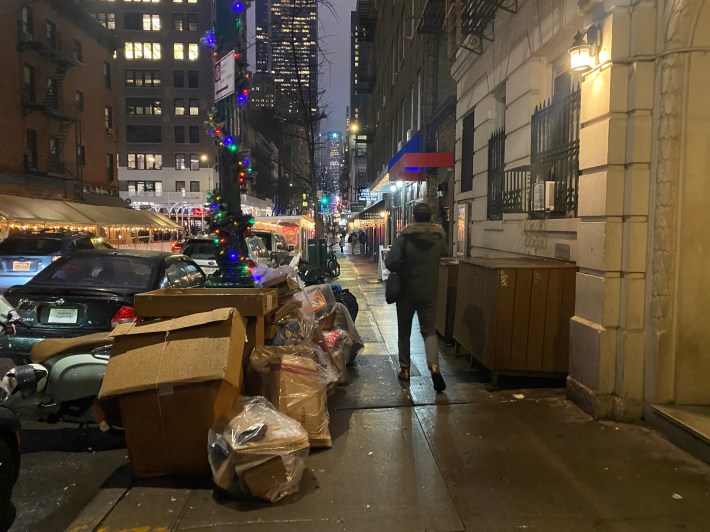 Another Sanitation worker said it takes a crew about 30 minutes to do the block compared to about 15-20 it takes on a regular street (on Tuesday workers were done after 28 minutes), but he added they had gotten the hang of it.
"We got used to them," said Trevor Evelyn as he emptied a row of boxes. "We haven't seen no rats yet, so it's good, and the streets are clean."
The city's vendor for the containers, Brooklyn-based firm CITIBIN, plans to add another 12 units for a total of 54 on the block, according to its founder and CEO Liz Picarazzi.
Her company and the city agency have been closely eyeing details like how full the bins get, which locks work best, and even what color to wrap the containers in.
"Things that come our way as a vendor that we need to tweak, we've been able to do that, that's all part of the learning," Picarazzi told Streetsblog.
About two weeks into the pilot, someone stole several of the bins's fancy ABUS combination locks, according to Picarazzi.
"There seem to have been a theft of a large number of locks that we had to replace," she said.
But she also cited locals responding well, such as one dog walker who now chooses to go down W. 45th because of the extra space.
"It's just safer and cleaner and more lovely, it just makes her experience so much better," the woman says in a video CHEKPEDS posted on Twitter.
Other social media users have taken note of the change too, such as one Tik Toker, who praised Mayor Adams for cleaning the street clear and tackling rats — a pet peeve of Hizzoner's.
"Eric Adams, our patron saint of New York is not playing with y'all. He's giving belt to ass to all the rats and everybody who litters, cause y'all dirty," said user slottypippen in the Jan. 18 video.
When asked for some early data or stats, DSNY spokesperson Vincent Gragnani said the agency was still collecting information about program, but confirmed the plan to add more bins.

Kevin Duggan joined Streetsblog in October, 2022, after covering transportation for amNY. Duggan has been covering New York since about 2017 after getting his masters in journalism from Dublin City University in Ireland. After some freelancing, he landed a job with Vince DiMiceli's Brooklyn Paper, where he covered southern Brooklyn neighborhoods and, later, Brownstone Brooklyn. He's on Twitter at @kduggan16. And his email address is kevin@streetsblog.org.
Stay in touch
Sign up for our free newsletter