DOT
Monday's Headlines: The Zero Vision of Vision Zero Edition
12:04 AM EST on November 15, 2021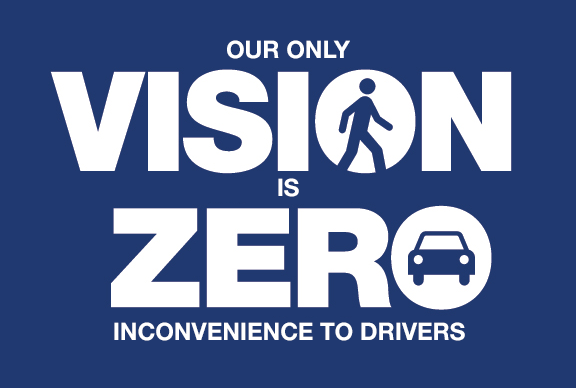 We didn't post anything about last week's Manhattan Community Board 7 Transportation Committee meeting because it ended up being yet another gathering of entitled Upper West Siders demanding that e-bike riders be mandated to wear helmets (which won't make the public safer) and register their legal bikes (which are not required to be registered under state law). This debate was pointless because we all know what will keep all road users safe: city policies that discourage cars, better road designs that make it harder to drive excessively fast, bike lanes that are wide enough to accommodate micro-mobility modes of various speeds, and a vast expansion of pedestrian space. Right now, the city is doing none of that.
But why not? Another little tidbit from the meeting might provide a clue. As part of a broad-ranging back-and-forth with committee members, DOT official Julia Kite-Laidlaw was asked about the death of cyclist Jeffrey Williamson earlier this year at the intersection of Central Park West and 86th Street — killed even though he was in a protected bike lane because the truck driver made a right turn in front of him and crushed him under his back wheels.
Kite-Laidlaw said the DOT had explored alternative designs, but none was going to be 100 percent safe. Then she said something odd, so we'll quote it in full from the transcript:
We could do separate signal phases for southbound left turns, but that when we modeled it resulted in multiple block queuing and like backups and spillbacks [for cars], and we know that would in turn create even more dangers to say, pedestrians. If we now had more extensive backups and blocking of the box also for buses, the two-way design created some difficult head-on collision for the proposed southbound lanes.

Please rest assured that we did look at alternative designs very seriously and ultimately, the one that we chose was the one we believed would be most safe and our engineers were very disturbed by the fatality and again, we are very sorry that this happens, but as much as we try, we have to go with what our best engineering skills tell us, and unfortunately, I mean we can not play god, and we can only continue to look at what are the best case scenarios we can create with engineering.
This is not to knock Kite-Laidlaw, but her comments remind us anew that the slogan over at DOT really is "Safety third" or "Safety fourth," rather than where it should be: first. The agency's engineers certainly know plenty of ways to make two-way Central Park West safer: step one would be to reduce car lanes. Step two would be to eliminate left turns. Step three would be to reduce free parking (which is a leading cause of double-parking and was once a priority for this since remade board). All of that would take real vision, which is what Vision Zero is supposed to be about.
In other news:
There was an enormous amount of carnage caused by car drivers over the weekend:

A woman who pulled over on the Belt Parkway was struck and killed by another driver, who fled. (NYDN, NY Post)
A man was fatally struck on Ocean Parkway in Sheepshead Bay by a 26-year-old BMW driver who was not charged. (NYDN)

MTA officials say the federal infrastructure bill that passed a week and a half ago will help them complete the Second Avenue Subway ... in our lifetimes. (NYDN)
We heard about it last week when the MTA passed around its briefing materials for this week's board meetings, but hat-tip to double-duty Kevin Duggan at amNY for getting it into print: Bus speeds continue to be terrible under Mayor de Blasio.
Make that triple-duty Duggan also followed up on last week's expensive talk of capping the Cross Bronx Expressway.
The unmanageably large New York Times again showed that it can't get itself on the same page when it comes to e-bikes. After Winnie Hu last month blamed e-bikes for the dangers (caused almost entirely by drivers) on our streets, John Surico praised the electric mobility as the future of transportation over the weekend. "An inaugural ride on an e-bike [is] often said to spark a childlike joy, thrilling and freeing," Surico writes.
Speaking of e-bikes, Brooklyn Magazine looked at micro mobility, but really should have quoted our field guide (available — free — by clicking the cover image to the right).
Subway crime is down (and it must really be, because you know how badly the Post wishes it was up).
Remember that outrageous fatal motorcycle crash in 2018 that the Daily News's Noah Goldberg later showed was caused by cops who were chasing the motorcyclist and his girlfriend? Well, the cops are finally getting internal trials — and all they're facing is the loss of a few days of vacation. For violating the patrol guide? They should be fired. (NYDN)
It really is long past time to rename General Lee Avenue in Brooklyn. Wait, wut?? (Gotham Gazette)
What's it going to be, Chuck: Support for the Green New Deal, tearing down the BQE, boosting transit, making drivers pay a congestion toll, subsidizing electric vehicle purchases or ... complaining about the price of gasoline like all the other people who foolishly bought increasingly large cars? At a Sunday Schumerfest, the Senior Senator called on the Biden Administration to tap into the nation's reserves now — and deal with climate change, you know, later! "Get the prices down. And then we have to embark on a full-time campaign to get us away from carbon fuels all together," Schumer said, like Wimpy offering to gladly pay us tomorrow for a hamburger today. (amNY)
Cuozzo reviewed the subway documentary "The End of the Line," which features the clash between Gov. Cuomo's monstrous ego and good guy Andy Byford. (NY Post)
This can only end badly: In some parts of this gun-crazed country, bike riders are so angry at how they are treated by car drivers that they are taking up arms against them. (Mel Magazine)
Remember that Evergreen ship that clogged the Suez Canal for six days earlier this year? Well, Ninth Street in Brooklyn had its own version on Friday (oh, just go under!):
And finally, our colleague Clarence Eckerson Jr. was featured on the 100th episode of the Active Towns podcast with John Simmerman. They cover a lot of ground — including Eckerson's 1,000-film trove — so you probably should just watch below:
Speaking of Eckerson, he also covered the Queens Boulevard bike ride yesterday:
Stay in touch
Sign up for our free newsletter