Andrew Cuomo
Do Not Collaborate With Hatred
8:35 AM EST on November 14, 2016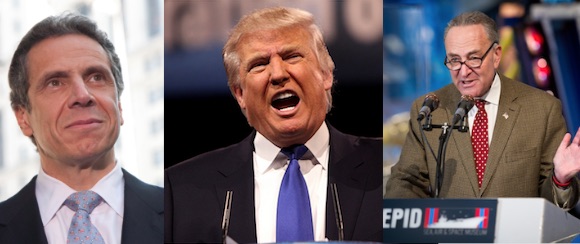 Last week, on the day after the election, I watched as Chuck Schumer and Andrew Cuomo, Democrats who represent my state, said they could find common ground with Donald Trump, with Cuomo specifically mentioning "infrastructure" as a potential area of collaboration. We responded with a post explaining why this was a strategic mistake in terms of transportation policy.
Today I'm writing about far more urgent and important reasons to oppose Trump and his agenda.
Trump began his campaign by calling Mexican immigrants "rapists," and from there he only ratcheted up the racism, sexism, and xenophobia. His vision of America -- where religious minorities are persecuted, immigrants live in fear, and racial profiling by police is actively promoted at the highest levels of government -- threatens the physical safety of hundreds of millions of people and is diametrically opposed to the core values of a democratic, pluralistic society where everyone is entitled to equal rights under the constitution.
Since he was elected, Trump has bullied the press for reporting on the massive demonstrations against his rise to power. He has named the overt white supremacist Steve Bannon, the CEO of his campaign, to a senior position in the inner circle of his White House. There is zero daylight between the Trump campaign, premised on hatred, and the nascent Trump administration.
We must prevent the bigoted, undemocratic nature of Trump's faction from becoming further embedded in our government, laws, and institutions. We must neutralize Trump and his ilk to the greatest extent possible until they are removed from power via the democratic process.
I can sympathize with people who, in the disorienting hours after Trump was elected, felt the reflex to get something constructive done. But if that was your impulse, I urge you with all the conviction in my being to reject it immediately.
There is no moral basis for collaboration on Trump's infrastructure agenda -- because enabling any aspect of the Trump policy platform will grease the skids for enacting the entire Trump worldview. No piece of infrastructure is worth that risk.
Schumer, Cuomo, and to a lesser extent Mayor de Blasio will be tempted. Cuomo and Schumer are especially enamored with big-ticket infrastructure projects like overhauling Penn Station, revamping La Guardia airport, and building a new rail tunnel under the Hudson River, which New York cannot afford without federal funding. They may soon face a stark choice between accepting that money and protecting hundreds of thousands of people from Trump's deportation force.
Trump has pledged to revoke federal funding from America's 300-plus "sanctuary cities," which shield undocumented immigrants from the threat of deportation. New York is a sanctuary city, and stands to lose billions of dollars annually for infrastructure and other essential municipal functions. If that is the price, so be it. New York can draw on internal resources. Streets and railroads can be rebuilt. But once we lose our humanity, it is gone for good.
The Democratic Party now finds itself in the minority in both the House and Senate. There are few levers of legislative power available to them, other than whatever Republican resistance to Trump remains in Congress, and the filibuster, for however long that lasts. But the opposition to Trump retains significant power in other forms.
Trump will assume office as the most widely disliked president-elect in modern history. He will have lost the popular vote by a margin that's expected to number in the millions, once all the ballots are counted. Our elected leaders should draw courage from these facts. They must resist the Trump agenda at every step, in the strongest possible terms, and they must do their utmost to communicate to Americans that Trump's vision for the future of the country is repulsive and at odds with the essence of our republic.
Andrew Cuomo and Chuck Schumer are now two of the most senior Democrats in the nation, and they represent a state where resisting Trump will augment, not diminish, their political strength. I don't think it is an exaggeration to say they are major figures in the free world's first line of defense against Trumpism. They must not fold.
Over the weekend, Cuomo came out with another statement about the Trump presidency, less conciliatory than his first. Writing in the Daily News the same day, however, he still did not stake out a sufficiently strong position.
The headline to Cuomo's piece in the Daily News read: "If Trump governs unjustly, we'll fight at every turn." But Trump has already said and done too many hateful things to treat this as a conditional fight. We have to resist immediately.
The weakest passage in Cuomo's op-ed says:
The night he became commander-in-chief, Donald Trump said he wanted to be President of all Americans. Despite the divisiveness of the campaign, he has an opportunity to live up to that promise by acting first on issues where there is common ground with his opponents. He said he wants to govern on behalf of forgotten Americans, and any time he does that, he can count on both Democrats and Republicans to help him achieve success.

Trump also said that he wants to rebuild America's infrastructure. In that effort, he will find New York a willing partner as the Tappan Zee Bridge, a new La Guardia Airport, a new cross-Hudson Tunnel, and a revitalized Penn Station continue to rise.
Now is not the time to extend a hand to Trump and talk about potential partnerships. Cuomo and Schumer must refrain from making any overtures unless and until Trump conclusively renounces, with complete and utter finality, the racist, anti-democratic platform that he campaigned on. Trump recently told 60 Minutes that the people around the country committing acts of violence in his name should "stop it." That is not enough. He must prove, in word and deed, that he is not a threat to the rights and freedoms we hold dear.
Meeting that threshold is not possible as long as Trump surrounds himself with the same coterie of white supremacists, authoritarians, and sycophants who staffed his campaign operation and served as his media surrogates. After everything Trump has said, it may well be impossible, full stop.
It is imperative to mobilize all the influence at our disposal to resist and defy Trumpism. This is a theme we will hone and develop in the weeks and months ahead, but for today, this is my advice...
Call your governor, call your senators, call your U.S. representative, and tell them: Do not collaborate with hatred. Do not yield an inch to bigotry. Tell them: Bend to Trump's will, and we will come at you furiously to stiffen your spine. Stay resolute, and we will have your back. We are going to fix this.
Stay in touch
Sign up for our free newsletter