Enjoy the meaty middle installment of Streetsblog NYC's annual-awards-slash-year-in-review. Here's where to catch up on the first part if you missed it yesterday, and here's where you can enter to win a fantastic PUBLIC R16 road bike by making a tax-deductible year-end gift to support our work.
Elected Official of the Year
Streetsblog bestowed this distinction to Richard Brodsky in 2008 for wrecking congestion pricing's chances in Albany, and to Melissa Mark-Viverito in 2012 for fighting through the bikelash to bring high-quality protected bike lanes to her East Harlem district. It's all about who put a stamp on the past 12 months, and 2014 was the year Bill de Blasio set the agenda for NYC streets and transportation policy. There's a big asterisk next to this Streetsie though: The mayor coasted to it on the momentum of his incredibly strong start.
Two weeks after taking office, de Blasio and Police Commissioner Bill Bratton stood by the families of traffic violence victims and made a big public commitment to "protect all New Yorkers" from reckless driving and dangerous streets. The release of the administration's Vision Zero Action Plan the following month propelled an impressive set of street safety bills through Albany and the City Council. These laws, including the city's new 25 mph default speed limit, are a credit to de Blasio's leadership.
"We have to act right now to protect lives," de Blasio said at the February press conference for the action plan. That urgency needs to be sustained -- we also have to act next year, and many years after that. New laws are worthless if they aren't enforced, and plans to re-orient city agencies around traffic safety don't mean much if the commitment flags after a few months. The mayor hasn't abandoned Vision Zero by any means, but neither has City Hall followed through in convincing fashion in the second half of the year.
NYPD appeared to be caught flat-footed after the passage of Intro 19-190 gave police a new legal tool to hold drivers accountable for injuring people with the right-of-way (a situation that has started to improve). DOT has yet to release the borough safety plans that were supposed to emerge from the Vision Zero workshops the agency wrapped up in July. And the TLC hasn't shown how it will measure the effectiveness of its new driver training policies and in-vehicle safety tech. If City Hall has a system in place to track agencies' progress and hold them accountable for the performance of Vision Zero programs, it's not visible to the public. (Ticking boxes doesn't count.)
To give New York a legacy of exceptionally safe streets, de Blasio has to recapture the bold urgency that animated the Vision Zero breakthroughs of his first few months in office.
Best Disappearing Act
Police Commissioner Bill Bratton hasn't shown his face at a Vision Zero event in ages. It's hard to see how NYPD can pull off the shift in priorities and resources necessary to drastically reduce traffic deaths without a leader at the top who's fully engaged in the effort.
Best Constituent Services
There have never been more sitting members of the City Council who get the value of reallocating street space to walking and biking than there are right now. At the same time, NYC DOT under Polly Trottenberg has so far taken a more timid approach to street redesigns than the agency did under Janette Sadik-Khan. If you're a council member who wants to bring safer streets to your district, you have to speak up.
The representative who showed how it's done in 2014 was Julissa Ferreras of Queens. In a September letter to Trottenberg [PDF], Ferreras laid out everything she wants for the streets her Corona constituents use every day -- where bike infrastructure should go, where pedestrian safety improvements are needed, and where to implement new 20 mph zones. Expect to see exciting changes in Ferreras' district soon.
Rookies of the Year
City Council members Mark Levine and Donovan Richards, each serving his first full year in office, made outstanding contributions to effective surface transit in 2014.
As a candidate, Levine campaigned on completing river-to-river bus lanes for the imperiled M60 Select Bus Service project on 125th Street, and he raised the issue with City Hall immediately after taking office in January. With State Senator Adriano Espaillat also making the case for dedicated bus lanes to extend west of Lenox Avenue, it seems the idea has enough political momentum to carry the day.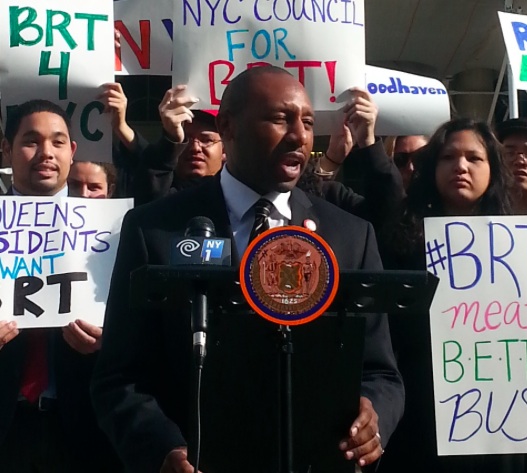 Richards, who represents parts of southeast Queens, led the City Council contingent calling for "full-fledged BRT" on Woodhaven Boulevard. "We stand with those families who have had a hard time just connecting to the other side of Queens," he said at an October rally on the steps of City Hall. "This is an economic justice issue. This is an environmental justice issue." The Woodhaven project is big and ambitious and will take a few years to complete. If DOT and the MTA pursue the best of their early concepts for Woodhaven, steady leadership from Richards can ensure the completion of a precedent-setting new standard for BRT corridors in NYC.
Biggest Surprise
Three years ago, when Eric Ulrich was getting into Twitter fights with his bicycling constituents and chewing out DOT for building public plazas, who would have guessed that he would emerge as a leading voice for great BRT on Woodhaven? And yet, here we are.
Best Development Proposal
Council Member Margaret Chin made the brilliant but politically fraught suggestion that the city should redevelop its municipal parking lots as affordable housing.
The "Resistance Is Futile" Award
New mayor, new parking policies? Nope. This year, City Planning Chair Carl Weisbrod and EDC President Kyle Kimball defended the continuation of Bloomberg-era parking subsidies. Like the Borg, bad New York City parking policy assimilates every civil servant in its orbit, no matter who's in charge at City Hall.
The Andrew Cuomo Muscle Car Award
New York's motorhead governor outdid himself in 2014 by trying to spend half a billion dollars in clean water funds on the replacement Tappan Zee Bridge. Building humongous double-span highways over our rivers -- that's what federal environmental loans are all about, right?
Federal Bureaucrats of the Year
Imagine if Cuomo had gotten away with it and governors in all 50 states could raid environmental funds to build pet highway projects. EPA Region 2 Administrator Judith Enck and Regional Clean Water Division Director Joan Matthews are the heroes who blocked that awful national precedent -- a move that was all the more gutsy since President Obama used the Tappan Zee as the backdrop for a big infrastructure announcement a few months earlier.
You Give "Vision Zero" a Bad Name
If you're inclined to cynicism -- and even if you're not -- NYPD's "Operation Safe Cycle" might make you wonder if Vision Zero is more of a slick PR campaign than an earnest street safety initiative. Watching police spend two weeks handing out $278 tickets for the bike equivalent of jaywalking will do that.
NIMBYs of the Year
There are only two serious contenders for the eagerly anticipated NIMBY of the Year Streetsie. (Side note: The relative absence of white-hot not-in-my-backyard anger in 2014 is a pretty good indication that NYC DOT is leaving street redesign opportunities on the table.)
The runner-up is the board of the Horizon condominiums on East 37th Street, which took the extreme step of suing the city over the narrow strip of painted pavement that now provides safe space for cycling on the block in front of their building. But they sat out the critical community board vote and failed to meaningfully detract from the finished project.
The winners are the merchants who single-mindedly pursued the annihilation of a small pedestrian plaza in Ozone Park. These guys have already achieved part of their goal, but even though the city has shrunk the plaza to squeeze in some parking spaces, the NIMBY contingent still isn't satisfied. It looks like Bangladeshi American Community Development and Youth Services, the local non-profit that has supported and maintained the plaza, will have its hands full in 2015 preserving this amenity for a neighborhood where public space is incredibly scarce.
The Bikeway Robbery Award
New York State DMV was systematically bilking cyclists on traffic tickets for years. Exposed by attorney and Streetsblog contributor Steve Vaccaro, DMV admitted to erroneously assessing fines and driver's license points on cyclists, but wouldn't promise to stop doing it.
Worst Judges
The New York State Court of Appeals rejected the murder conviction of Jose Maldonado, who in 2009 led police on a high-speed chase in a stolen minivan, running red lights and driving against traffic on Greenpoint streets. He didn't even stop after fatally striking 37-year-old Violetta Krzyzak at speed, sending her body 160 feet through the air. In a 5-2 decision, the state's top court ruled that Maldonado did not exhibit depraved indifference to human life because, in the course of killing another person and leaving a trail of vehicular destruction, he also swerved to avoid some cars and pedestrians.
Best Judge
Manhattan judge Cynthia Kern penned not one but two decisions rejecting NIMBY lawsuits against bike-share stations. Her ruling this April against the Plaza Hotel's attempt to remove the bike-share station at Grand Army Plaza brought an emphatic end to the litigation that followed the launch of Citi Bike.
Social Media Faux Pas of the Year
Does DA Cy Vance routinely subpoena the cell phone records of drivers who maim or kill other people on Manhattan streets? Unknown. But we do know that Vance subpoenaed Twitter in an attempt to unmask the @BicycleLobby parody account, the day after multiple press outlets were completely humiliated for taking this Tweet at face value:
Earlier today we hoisted two white flags to signal our complete surrender of the Brooklyn Bridge bicycle path to pedestrians.

— Bicycle Lobby (@BicycleLobby) July 22, 2014
Stay in touch
Sign up for our free newsletter