Bike Sharing
Citi Bike 2.0: New Owners Hire Jay Walder and Promise Major Expansion
5:59 PM EDT on October 28, 2014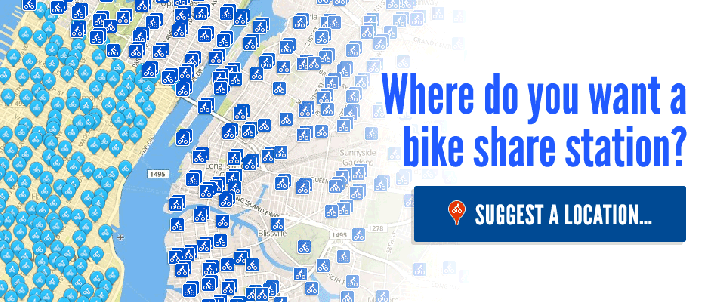 It's official: Alta Bicycle Share, the company that runs Citi Bike, has a new owner, an infusion of cash, and a fresh face at the top -- longtime transit executive Jay Walder. At a press conference this afternoon, the new team promised to correct Citi Bike's blunders and double the system's size by the end of 2017.
The same ownership group will also be running Alta bike-share systems in Chicago, San Francisco, Washington, and Boston, among other cities. While today's news signals potential changes in those cities as well, the most immediate changes -- along with Alta Bicycle Share's headquarters -- are coming to New York.
Citi Bike's reboot has been months in the making. Top executives from Equinox Fitness, itself a division of real estate giant The Related Companies, burst onto the bike-share scene in April with an unsuccessful last-minute bid for Bixi, the bankrupt Canadian supplier of Alta's bike-share components. Related execs resurfaced in July, when word came that they were on the verge of buying out Alta. After months of negotiations, the deal is now official, with a company backed by Related executives and other investors, called Bikeshare Holdings LLC, acquiring all of Alta Bicycle Share.
Alta is getting a major cash infusion -- $30 million from Bikeshare Holdings LLC, which is led by Equinox CEO Harvey Spevak, Related CEO Jeff Blau, and investor Jonathan Schulhof. Citi has extended its initial $41 million, five-year sponsorship of NYC bike-share by promising an additional $70.5 million through 2024, contingent on system expansion. Goldman Sachs Urban Investment Group, which has already helped finance Citi Bike, is increasing its credit line to Alta by $15 million. The deal includes $5 million from the Partnership Fund for New York City, an investment fund backed by the city's big business coalition, to expand Citi Bike to more neighborhoods.
That expansion is set to roll out in stages over the next three years. Today, the system has 330 stations and 6,000 bikes. Alta and DOT promised today that by the end of 2017, it will double to over 700 stations and 12,000 bikes. The first round will bring the system to neighborhoods that have long been promised bike-share, such as Long Island City and Greenpoint, as well as additional parts of Williamsburg and Bedford Stuyvesant. The second phase will expand the system to just north of 125th Street in Harlem, south to Red Hook, Park Slope, and Prospect Heights, and to a large section of Astoria. It does not include Roosevelt, Randalls, and Ward Islands.
In some of those neighborhoods, DOT has already hosted workshops to identify bike-share station locations. Transportation Commissioner Polly Trottenberg said today that the agency will revisit those locations to ensure they still make sense. DOT will host public meetings in areas that have not already had bike-share planning workshops to map out potential station locations with community boards. The city has also restarted its bike-share suggestion map, allowing people to propose locations online. (The map was developed by OpenPlans, Streetsblog's parent organization.)
In addition, Alta hopes to increase revenue by raising membership fees, which will go from $95 to $149 for an annual pass. A discount $60 annual fee for NYCHA residents and members of participating credit unions will remain. No word yet on how the fee structure might change for daily and weekly users.
Council Member Jimmy Van Bramer, who represents the area where today's announcement was held and has been pressing for Citi Bike expansion since the system launched last year, was elated with today's news. "We want these blue bikes as soon as possible," he said.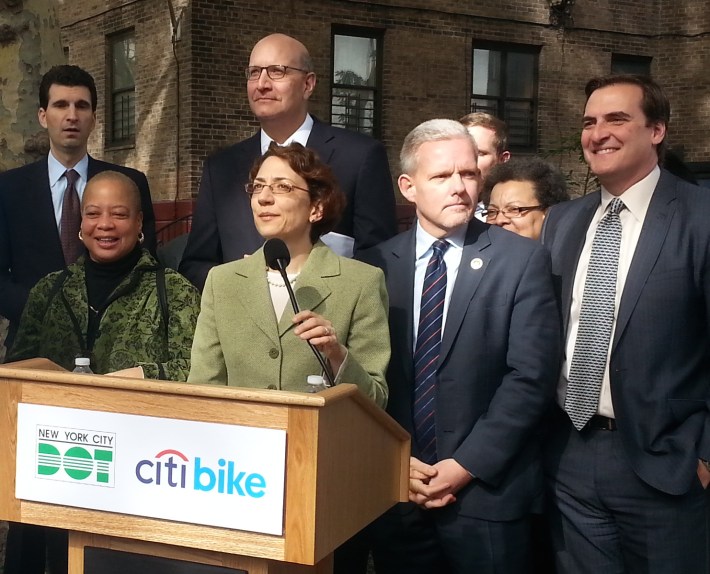 Today's deal may also align with the bike-share aspirations of Jersey City Mayor Steven Fulop, who hopes to add up to 600 Citi Bikes to his city's streets by next year, according to the New York Times.
The big surprise from today's announcement is that transit heavyweight Jay Walder is taking over as Alta CEO. Walder, a Queens native, is best known in New York for his brief but eventful two-year stint as MTA chair. Walder quit the MTA in 2011 to take the top spot at Hong Kong transit company MTR Corporation, before resigning from that position in July over a delayed high-speed rail link. Walder also served as planning and finance director at Transport for London from 2001 to 2007, when the agency implemented congestion charging and dramatically expanded its bus operations.
Walder made clear this afternoon that his first job is to right the ship at Alta, which has struggled with supply chain problems, a poor user interface at kiosk screens, broken docks, overwhelming bike maintenance demands, and subpar software and other technology. The company will be hiring its first vice president for technology this week, and Walder promised a massive repair program for bikes and stations over the coming winter.
What about the other Alta bike-share cities? "Look, it's the first day for me. We don't have all the answers," Walder said. "Arrangements in each city are a little bit different." Walder said he will be traveling to each of the cities where Alta does business to work out a plan for each system with local transportation officials.
While fixing Alta's existing problems tops Walder's agenda, he has an eye on global expansion. "I think we could have operations in a lot more places," he said. "Bike-share systems are the fastest growing aspect of urban transportation all around the world. It's great. I'm finally in a business that's growing."
Today's press conference overflowed with a mix of confidence and relief. Citi Bike will finally have significant financial resources and an experienced executive at the top, after 18 months of sputtering from one crisis to the next. The exact path toward system expansion and a better customer experience has yet to be determined, however.
Citi Bike runs on an inferior software platform compared to older Alta systems, and Alta no longer has a working relationship with Bixi, the quasi-public Canadian company that supplied bikes in New York and several other cities before going bankrupt earlier this year. A Montreal furniture mogul scooped up Bixi's assets in April, gaining control of critical patents, even though the team of Related executives and other investors outbid him. It remains unclear how the new Alta leadership will address these problems.
Alta recently launched a bike-share system in Seattle using new, non-Bixi components. Walder wouldn't say if New York would be getting a version of what's been deployed in Seattle or if the company has come to an agreement with Bixi's new owner.
During the press conference, Walder took stock of the moment. "What we are here talking about today was unimaginable only a few years ago," he said. He was reflecting on Citi Bike's popularity among New Yorkers, but he just as easily could have been talking about someone with the transit management pedigree of Jay Walder leading a global bike-share company headquartered in New York.
In spring 2017, Stephen wrote for Streetsblog USA, covering the livable streets movement and transportation policy developments around the nation. From August 2012 to October 2015, he was a reporter for Streetsblog NYC, covering livable streets and transportation issues in the city and the region. After joining Streetsblog, he covered the tail end of the Bloomberg administration and the launch of Citi Bike. Since then, he covered mayoral elections, the de Blasio administration's ongoing Vision Zero campaign, and New York City's ever-evolving street safety and livable streets movements.
Stay in touch
Sign up for our free newsletter