Jeff Klein
All Eyes on Senate as Families for Safe Streets Push for Lower Speed Limit
1:59 PM EDT on May 29, 2014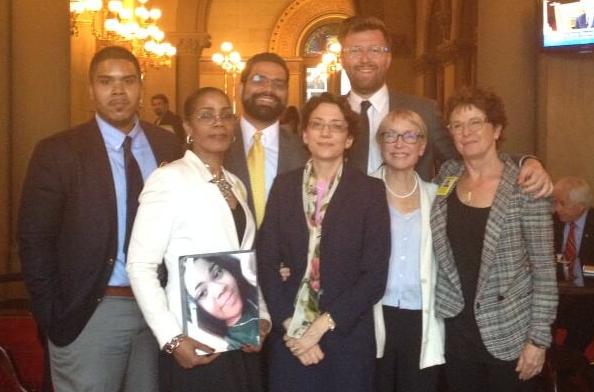 Yesterday, five members of Families for Safe Streets were joined by Transportation Commissioner Polly Trottenberg in Albany to build support for a bill to lower the city's default speed limit to 25 mph. Advocates say Assembly Speaker Sheldon Silver is set to sign on as a sponsor, while City Hall and advocates continue to aim for support in the State Senate, potentially from Senate Co-Leader Jeff Klein.
A source tells Streetsblog that Trottenberg met with Klein this morning, asking him to add his name to the legislation. As leader of the Independent Democratic Conference, which shares power with Senate Republicans, Klein could put the bill over the top in the chamber. DOT and Klein's office have not responded to questions about the meeting.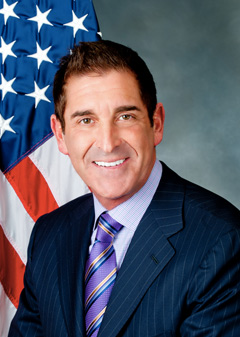 "I think he's receptive to the change. He was a big, big supporter of speed cameras," said Aaron Charlop-Powers, whose mother was was killed while riding her bike to work in the Bronx in 2010. "I'm hopeful that he'll also emerge as a sponsor in this session."
The bill seems to have a clear path to passage in the Assembly. Caroline Samponaro of Transportation Alternatives said Silver supports the 25 mph bill. "We really heard there was commitment from him to move the bill forward with the speaker as the lead co-sponsor," she said.
While Silver's office has yet to return a request for comment, other members of the Assembly leadership are on the record signaling they will support the 25 mph bill. Ways and Means Committee Chair Herman "Denny" Farrell told Streetsblog yesterday that while he needed more information and assurances that it would not lead to unfair speed traps on major streets, he's receptive to the bill. "That one I've got to hear more about," he said. "I will probably vote for the 25 mph [bill]."
The bill already has the support of 38 Assembly members, including Codes Committee Chair Joe Lentol, Bronx Democratic Party leader Carl Heastie, and Harlem representative Keith Wright, who until recently was chair of the state Democratic Party.
On the Senate side, no Republicans and no IDC members are currently listed as sponsors of the bill, although Nassau Republican Carl Marcellino reportedly signed on after meeting with advocates earlier this month.
There are two New York City IDC members in addition to Klein, Diane Savino and Tony Avella. Faith Marie Famularo, legislative director for Savino, says her boss is "very aware of Vision Zero" but "still contemplating" the 25 mph bill. Avella vehemently opposed a previous version of the bill, which would have lowered speed limits to 20 mph. He has not responded to multiple requests from Streetsblog about his position on the amended legislation.
After yesterday's meetings with advocates, the bill may have more momentum in the Senate. Samponaro, who was in Albany yesterday, said that Savino backed the bill after meeting with Trottenberg, and Avella seemed interested but wanted to ensure there was more local input before the city set speed limits.
Lizi Rahman's 22-year-old son Asif was killed by a driver on the Queens Boulevard service road while riding his bike in 2008. At the time, Avella was a City Council member. "He was very supportive," Rahman said. "He even wrote a letter for me to the DOT commissioner and we got a response."
On a Families for Safe Streets trip to Albany earlier this month to rally for a 20 mph speed limit, she met with Avella. "He wasn't in favor of lowering the speed limit, and I was kind of shocked. I thought he would be supportive, but he wasn't," she said, adding that she hopes Avella would be more receptive to the new bill.
Another vote to keep an eye on is State Senator Marty Golden, a Brooklyn Republican who was a thorn in the side of the Silver-Klein speed camera bill that ultimately passed both chambers last month. Golden's office has not responded to multiple requests for comment from Streetsblog, but Stefania Vasquenz, co-founder of street safety group Bay Ridge Advocates for Keeping Everyone Safe, said Golden aide John Quaglione contacted her group yesterday to set up a meeting about the 25 mph bill.
"I remain optimistic about Marty Golden, but I'm never sure," Vasquenz said. "Something needs to happen drastically because these pedestrian deaths are becoming epidemic."
The clock is ticking: The legislative session ends on June 19.
In spring 2017, Stephen wrote for Streetsblog USA, covering the livable streets movement and transportation policy developments around the nation. From August 2012 to October 2015, he was a reporter for Streetsblog NYC, covering livable streets and transportation issues in the city and the region. After joining Streetsblog, he covered the tail end of the Bloomberg administration and the launch of Citi Bike. Since then, he covered mayoral elections, the de Blasio administration's ongoing Vision Zero campaign, and New York City's ever-evolving street safety and livable streets movements.
Read More:
Stay in touch
Sign up for our free newsletter