Bicycle Infrastructure
Safer, Saner Brooklyn Bridge Entrance on Track for Next Year
3:21 PM EST on February 12, 2014

After years of planning and advocacy, an effort to improve the dangerous, ugly asphalt expanse on the Brooklyn side of the Brooklyn Bridge is set to take a big step forward tonight. Community Board 2 is meeting to vote on a resolution in support of a plan to expand space for walking and biking, realign car lanes, and add trees [PDF] that cleared its transportation committee with a unanimous 7-0 vote last month. Construction on the first phase is on track to begin as soon as the end of this year.
The Brooklyn side of the Brooklyn Bridge walking and biking path consists of a long, narrow concrete chute, sandwiched between the exhaust-choked car lanes of the Adams Street bridge approach. At the intersection of Adams and Tillary Street -- both very wide streets dominated by motor vehicle traffic heading to and from free bridges -- pedestrians and cyclists have to navigate a chaotic mess of traffic lanes, poorly coordinated signals, and narrow curb cuts to get to or from the bridge path.
The current design isn't just unappealing, it's dangerous for bike riders, walkers, and drivers alike: From 2008 to 2010, according to DOT, 339 people -- including 24 cyclists and 32 pedestrians -- were injured at nine intersections along the stretches of Tillary and Adams near the bridge.
The heart of the redesign is the intersection of these two streets, where the widened, tree-lined Brooklyn Bridge path entrance will have much more generous proportions for pedestrians and cyclists. South of Tillary Street, a center-running two-way bike lane would continue along Adams briefly before directing cyclists to striped bike lanes next to the parking lane on the next block, as Adams approaches Fulton Street. To make room for this wider median between Tillary and Johnson Streets, the service lanes on either side of this block of Adams will be eliminated.
To make the whole area feel less like a highway, the city proposes reducing the amount of overhead signage and the presence of concrete barriers. Instead of the cattle chute, for example, pedestrians and cyclists on the bridge approach north of Tillary will be separated from car traffic by vegetation and a low chain barrier.
The existing two-way protected bike lane on Tillary Street will be upgraded and extended one block east to Jay Street. Tillary will also have a wider, tree-lined median from Cadman Plaza West to the Brooklyn-Queens Expressway ramps past Flatbush Avenue. A two-way protected bike lane is also proposed for Cadman Plaza East from Tillary Street to Red Cross Place, an area that is currently a security-restricted zone.
While supporting the plan unanimously, CB 2's transportation committee -- whose meeting last month was primarily attended by residents of Concord Village, a 1,023-unit co-op on the northeast corner of Adams and Tillary, according to district manager Robert Perris -- suggested some car-oriented tweaks that would make the plan feel less welcoming for people walking and biking.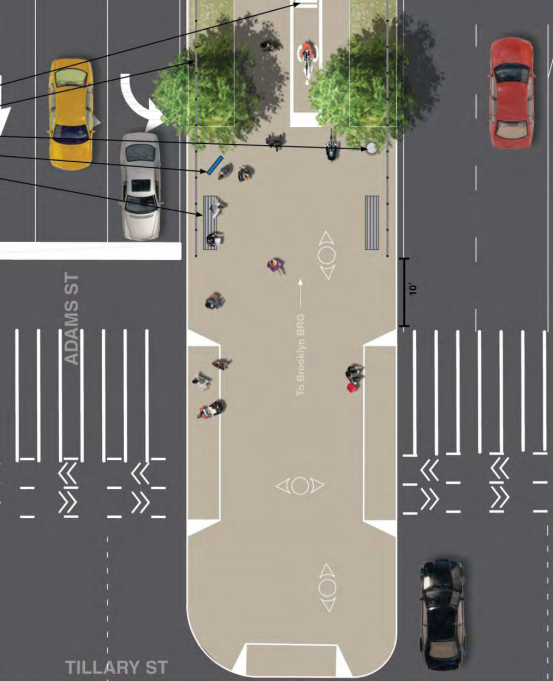 The resolution includes a request that the city install a concrete barrier between the service road and bridge-bound car lanes on Adams north of Tillary Street, since many meeting attendees were worried about pedestrians taking diagonal routes across bridge entrance lanes to access the path.
The committee's resolution also asks the city to prioritize car parking over one of the proposal's central components. To widen the cattle chute, the plan would remove about 40 parking spaces north of Tillary Street. About half that amount will be added on Tillary Street west of Adams in the form of new spaces. The resolution asks planners to reduce the length of the widened bridge path in order to preserve parking spaces closest to Concord Village.
A wider entrance to the Brooklyn Bridge path would help relieve some of its notorious crowding, at least at the base of the bridge. The rest of the span still needs more space for walking and biking. A group of council members proposed widening the path in 2012, but although the bridge is undergoing a massive renovation project, there are no plans to expand the cramped pedestrian and cyclist route. 
It's been a long road to get to this point. The city passed up a chance to design a safer bridge approach back in 1998. Public workshops for the current proposal led to a conceptual design in 2009, followed by tweaks in 2011. Multiple applications to the federal TIGER grant program (spearheaded by NYC DOT Commissioner Polly Trottenberg when she was at US DOT) were unsuccessful in securing funding. Without it, final design and construction remained on hold -- until now.
Construction on the first phase, which focuses on Adams Street, is being funded with a mix of federal bike-ped and road safety funds, plus a contribution from the city. The project has now entered final design, with construction expected to begin late this year or early next year, lasting approximately 18 months. Funding for the next phase, which includes Tillary Street and other streets in the area, has not yet been identified. This second phase is also expected to take about 18 months to complete.
Community Board 2 meets tonight to vote on the resolution at St. Francis College, 180 Remsen Street. The meeting begins at 6:00 p.m.
In spring 2017, Stephen wrote for Streetsblog USA, covering the livable streets movement and transportation policy developments around the nation. From August 2012 to October 2015, he was a reporter for Streetsblog NYC, covering livable streets and transportation issues in the city and the region. After joining Streetsblog, he covered the tail end of the Bloomberg administration and the launch of Citi Bike. Since then, he covered mayoral elections, the de Blasio administration's ongoing Vision Zero campaign, and New York City's ever-evolving street safety and livable streets movements.
Stay in touch
Sign up for our free newsletter