Bicycling
Driver Cleared By NYPD Found Negligent in Death of Cyclist Rasha Shamoon
1:05 PM EST on February 14, 2012
A civil jury has found that a driver cleared of wrongdoing by NYPD was primarily responsible for the collision that killed a Manhattan cyclist in 2008.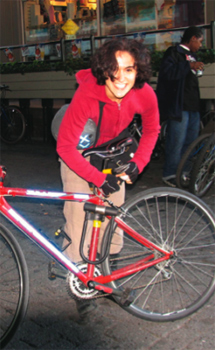 In the early morning hours of August 5, Rasha Shamoon was riding her bike east on Kenmare Street, en route to the Williamsburg Bridge and home to Greenpoint. At approximately 1:30 a.m., as she cycled across the intersection at Bowery, where Kenmare becomes Delancey Street, she was hit by a northbound Land Rover SUV driven by Abraham Soldaner, also of Brooklyn.
Friends were told after the crash that Shamoon, who worked as a biology professor at LaGuardia Community College, was not breathing when paramedics arrived at the scene. She was revived and taken to New York Downtown Hospital in critical condition, and was later transferred to New York Presbyterian, where she was declared brain dead. Shamoon was removed from life support on August 11. She was 31.
Shamoon was known as a seasoned cyclist, her attentiveness evidenced by a bike and helmet adorned prodigiously with reflective tape. Soldaner, then 21, had already amassed a lifetime of marks on his driving record: two speeding tickets (resulting in 19 license points), one charge for using a cell phone while driving, three seat belt violations and one personal injury case.
At least seven people called 911 after the crash, and passersby stopped to render aid, but NYPD reported that the only witnesses to interview were Soldaner and his two passengers. Soldaner was administered a breath test, which police said came back negative. A blood test performed on Shamoon revealed no foreign substances. Based largely on what investigators were told by Soldaner and his friends, NYPD concluded that Shamoon ran a red light.
Determined to clear Rasha's name, the Shamoon family pursued the case in Kings County Supreme Court. Last week a jury of six agreed unanimously that the crash was almost entirely the fault of Soldaner. Though he was not criminally charged or summonsed by NYPD, Soldaner was found 95 percent responsible for the collision that killed Shamoon.
"It really validated what we knew all along, that she was an experienced, responsible cyclist," says Saba Michaud, Rasha's sister.
Details that emerged in court exposed the shortcomings of the NYPD investigation. Jurors saw video of the aftermath of the crash, captured by a man who testified to hearing a "very loud boom" from his apartment on Bowery. One of Soldaner's passengers, who was sitting in the back seat, testified that the Land Rover was traveling between 40 and 45 miles per hour, and that the impact was such that she was jolted to the right. The front seat passenger testified that he saw Shamoon and yelled to alert Soldaner the instant before the collision. None of these details appear in the NYPD crash report.
"The police either did not properly interrogate the driver or they did not report the driver's answers," says Adam White, the Manhattan-based attorney representing the Shamoon family. "Instead the report contained very scant information from the driver and passengers as to what they witnessed."
The crash report does state that Shamoon was not wearing her helmet. This conflicts with testimony from one of Soldaner's passengers, who said he saw Shamoon's helmet that night. Friends also said they saw Shamoon put it on before heading home. The helmet was never released to Shamoon's family, however, and it has not been seen since the crash.
The court heard from Officer Charles Pitagno, a veteran of the NYPD Highway Patrol division and one of two investigators dispatched to the scene. Pitagno testified that he had no recollection of the crash or the investigation, and on the stand seemed to have trouble parsing the meaning of vehicle damage codes indicated in the crash report.
Pictures of the SUV, which was not registered in Soldaner's name, showed damage to the left front fender, deep scratches down the driver's side, and a cracked windshield. The rear view mirror was torn from the driver's side door. Jurors learned that the car traveled 77 feet after the point of impact. In court, White said it was unknown whether Soldaner was using headlights.
Soldaner himself testified that he was unsure of many details of the crash. He said he did not see Shamoon, a point hammered by White during summation. In failing to "see what was there to be seen," White said, Soldaner did not meet the required standard of care, even if jurors believed he had the light.
Soldaner's driving record was inadmissible in court, and the jury was not allowed to hear anything about Rasha other than her name. Nor was there mention of how the Shamoon family was treated by NYPD. Police did not contact the family, or Josue Cedeño, Rasha's partner of nine years, in any way after initially notifying them of the crash. The Shamoons did not see a crash report until it was obtained by a hospital social worker, who had trouble getting Soldaner's insurance information from police. At first, NYPD would not release the report, and when it was released, no such information was included. Ultimately the family learned that NYPD did not report the crash to Soldaner's insurer.
Police told the Shamoons there were no witnesses other than Soldaner and his passengers, a claim that appears implausible based on the 911 log as well as subsequent trips by Rasha's relatives to the intersection, on Tuesdays after 1:00 a.m., when they found the area bustling with activity.
"It is unclear whether the police made any attempts to get statements from other witnesses who were clearly present at the scene and offered assistance to Rasha and called 911," says White. This question seems answered in the NYPD report, which reads, "No witnesses to this accident were present at the scene."
More upsetting than the poor investigative work, says Michaud, was the story of Rasha as told by police, which featured a woman she did not recognize as her sister.
"Her portrayal by the NYPD was that she was irresponsible, she ran the red light, she wasn't wearing the helmet, that she was 100 percent at fault. For my parents this was huge. Having her name and her personality slandered in that way was really painful for them."
Rasha was born in Baghdad. When she was two, her parents fled religious persecution suffered under Saddam Hussein. The family had a particularly difficult time emigrating because Rasha's father, a doctor, would not ordinarily have been allowed to leave Iraq. After arriving in the United States, the Shamoons fared well. At the time of her death, in addition to music and martial arts, among other interests, Rasha was pursuing her second master's degree, while Saba and their sister Suhair Shamoon have gone on to become a pediatrician and a dentist, respectively. The family's experience since the crash has come as a shock.
"We came here because we believe in what America stands for," says Michaud. "My parents gave up their whole life to come here. For Rasha to be treated in that manner... It's maybe the only place in the United States justice system where you're guilty until proven innocent."
Michaud says she didn't want the family to file a civil suit, that it hurt too much. Still, she says, "This is the only court we could get [Soldaner] into. We needed this to be public somehow." The award will go into a trust, and will be used for charity.
The only known evidence that Rasha Shamoon caused the crash that took her life was the word of those in the vehicle that struck her, including the car's habitually reckless driver. Yet that was enough for NYPD to consider its investigation complete. The prevalence of cases like Rasha's will be taken up at Wednesday's City Council hearing on NYPD crash investigations and traffic enforcement, where the Shamoons will tell their story.
"It's really unclear to me how there could be such discrepancy between a jury and the police investigation," says Michaud. "What it tells me is that there is no police investigation.
"I think they just want to keep traffic moving in as quick a manner as possible. I hate to say it that way, but I believe it's what happened."
Brad Aaron began writing for Streetsblog in 2007, after years as a reporter, editor, and publisher in the alternative weekly business. Brad adopted New York''s dysfunctional traffic justice system as his primary beat for Streetsblog. He lives in Manhattan.
Stay in touch
Sign up for our free newsletter