Astoria
Astoria Organizers Lead the Way on Street Safety with a Reddit Strategy
The western Queens neighborhood has become a hub for a new kind of safe street advocacy.
12:01 AM EDT on October 3, 2023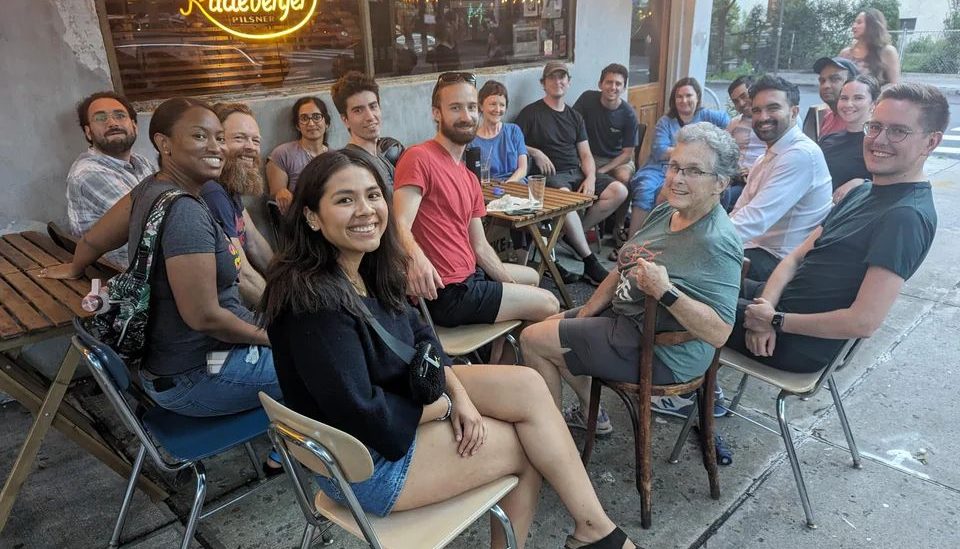 At a recent public workshop about an Astoria bike lane, more than 150 people crowded into a standing-room-only auditorium in support of safer streets. The seeds for the local activism go back years, as locals have organized online to reclaim their roads from traffic violence and the status quo in neighborhoods of the dominating driver class.
The loose-knit movement emerged on platforms like Reddit, parent Facebook groups, and among open street volunteers, not relying on long-established transportation advocacy groups to rally people to pack into obscure meetings and show officials that the neighborhood wants safer streets.
"We can put dozens of people in some boring-ass community meeting," said Alex Duncan, an Astoria resident who founded the popular Reddit forum — or subreddit — called r/MicromobilityNYC, and who goes by "Miser" online.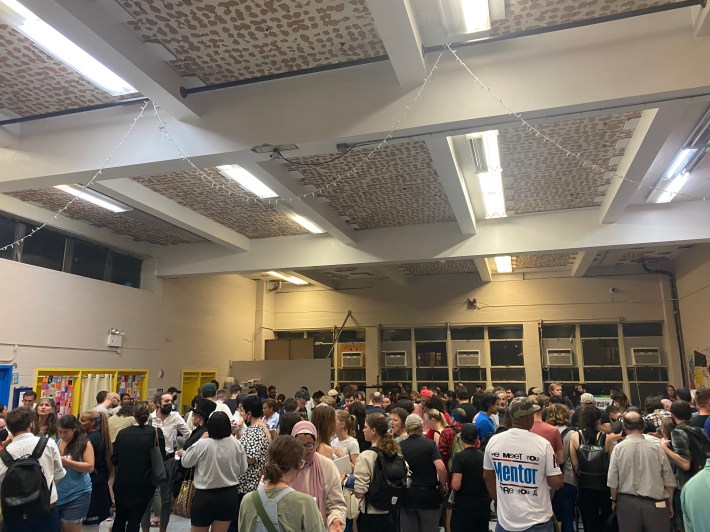 The killing of a 7-year-old girl in a crash early this year spurred the northwestern Queens residents to mobilize their elected officials and show up en masse to public meetings usually sparsely attended and dominated by car-friendly residents, such as local NYPD precinct's community councils.
In the lead up to the Department of Transportation feedback session about a redesign of 31st Avenue held on Sept. 14, Duncan and his fellow online organizers likewise rallied people on Reddit to pack the gathering in favor of a street redesign — unlike so many other community meetings in the city that are taken over by driver grievances about any perceived inconvenience.
The subreddit's influence was evident with some attendees displaying their online usernames on their name tags, according to one local pol. 
"I've had people introduce themselves to me as, 'This is my name, but you might know me as this,'" said Assembly Member Zohran Mamdani. 
He added that the crowd isn't "looking to just fix their specific block," but comprise people "looking to fix their entire neighborhood and to have that fix be the model to how we fix our city."
Some old timers at community meetings have been uneasy about the surge of online-activated neighbors joining in, but using online forums to bring "power in numbers" is key to getting results, Duncan said.
"We need to involve normal people for whom this isn't the main point of their lives," he said. 
Micromobilizing
The MicromobilityNYC subreddit counts nearly 13,000 members and highlights mobility issues and news from around the city, but there's a large following from Astoria in particular, which has its own dedicated subreddit with more than 60,000 members — a sizable share of the roughly 197,000 residents that live in the area.
"I really feel like the sub is reaching orders of magnitude more people than any other efforts to reach the hearts and minds of people at this point," Duncan said. 
The Queens resident launched MicromobilityNYC in 2020 after he began riding an electric scooter to get around the city during the pandemic. He found that there were no online networks about such burgeoning modes of transportation and the civic infrastructure around them beyond communities focused on bikes only. 
Duncan's online group started hosting informal in-person gatherings earlier this summer dubbed "streetsmoots," to strategize about safer streets for Astoria ahead of DOT's recent workshop.
But it had already become a virtual staple before that, cross-pollinating with other groups on Reddit, parents on Facebook concerned about the safety for their kids, and open streets volunteers, especially against a backdrop of shocking traffic violence in the neighborhood. 
"A lot of people have had concerns for a long time but didn't know where to go with them," said Christine Serdjenian Yearwood, a two-decade Astoria resident who founded the parent and family accessibility organization UP-STAND.
The Queens mom said she doesn't really use Reddit but that several of her fellow parents in local Facebook groups have become more tuned in with the neighborhood's street safety news and events via the forum.
The online groups broke through the pale of the kinds of people usually involved in the advocacy world, to other New Yorkers upset by the spate of traffic violence in the area, according to John Surico, who chairs the 31st Avenue Open Street Collective and is also a contributor to Streetsblog.
"There's kind of this bubbling anger, whether it's towards drivers, or towards cops for not enforcing the traffic laws," said Surico. "Miser and those folks have done a great job at organizing that kind of latent anger."
One high school math teacher and longtime local cyclist said she had been a member of Transportation Alternatives for 15 years and never made it to a meeting, but became more engaged when she started following the Micromobility subreddit last year.
"I am interested in meeting more people who are interested in making cycling safer, but especially in Astoria, because that's where I live and we have a kid," said Jennifer Forgash. "Rather than just sitting at home alone, I really like the idea of building a community and talking to each other."
The early traces of the movement followed the installation of the Crescent Street protected bike lanes in 2020, according to Surico, which raised awareness of what was possible, but also the dire lack of other safe biking infrastructure in the area. 
Besides Crescent Street, the protected bike lanes in Astoria go around the edges of the neighborhood and they account for a mere 3 percent of the streetscape in CB1 as a whole, according to MIT.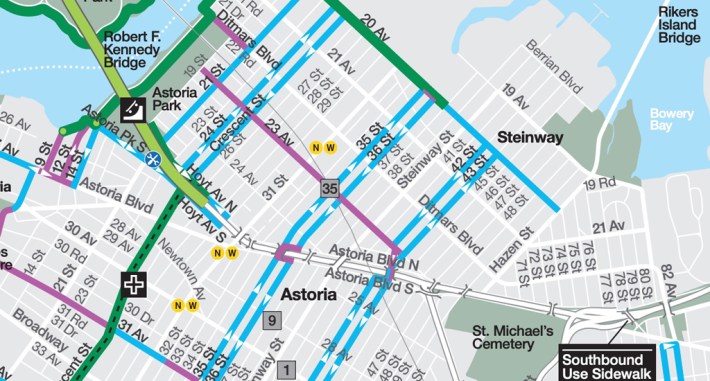 Meanwhile, 60 percent of households don't have access to a car and three-in-four get to work either on foot, by bike, or riding public transit, according to that data.
A deadly year
Within the first week of this year, a cement trucker fatally struck 62-year-old Tamara Cuchi Kao as she rode a Citi Bike. The following month, a driver killed 7-year-old Dolma Naadhum as she crossed the street, and in April, 16-year-old cyclist Jayden McLaurin was killed in a hit-and-run.  
There have been 1,373 reported crashes in CB1 from Jan. 1 through Friday injuring 711 people — nearly three a day — including 97 cyclists and 128 pedestrians, according to city statistics. 
The area's 114th Precinct has repeatedly ranked the highest in the borough for bike injuries with 96 so far this year — 14 ahead of the next-closest precinct, according to the latest NYPD stats through Sept. 17.
Dolma died at an intersection that was frequently blocked by cars parked right up — or in — the crosswalks. State law requires all intersections be clear of cars within 20 feet, also known as daylighting, but the city exempts itself from that rule.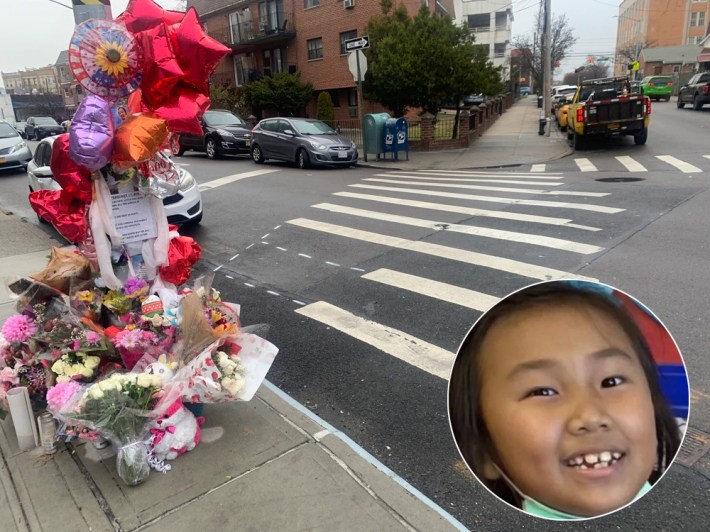 Duncan posted videos on Reddit simply explaining the benefits of clearing those crossings, also known as daylighting intersections, saying "We know how to prevent children's deaths in Astoria, our leaders just choose not to," with a video showing the visual obstruction parked cars create from a child's perspective.
"If things are improved for pedestrians... it's also safer for children, which is a harder message for people to argue against when they're confronted with it," Duncan said. "We all want fewer children in Astoria to be killed, nobody's against that."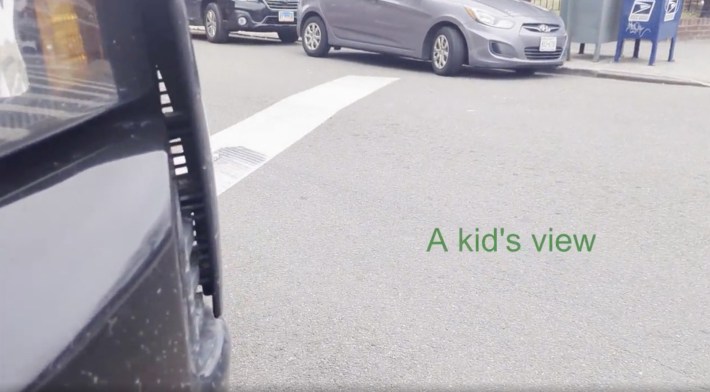 Civic pressure
The issue surfaced at CB1's Transportation Committee in June, when members of the civic group drafted a resolution calling on DOT to daylight all intersections as "standard practice," something the full board signed off on later that month. 
That board used to be far more conservative on street safety issues. In 2012, it shot down a DOT proposal to install a pedestrian plaza at Newtown Avenue and 30th Avenue, less than a mile away from where Dolma was killed.
A decade since then, the new momentum could help revive those kinds of proposals, Surico said.
"Now there's kind of all this new energy, I wouldn't be surprised if you see people push for a lot more things," he said. "You're just seeing these natural alliances form that existed in different communities, but they're often siloed."
Following Dolma's death in February, the subreddit also began encouraging its members to go to community council meetings of the 114 Precinct, a monthly gathering to talk directly to the NYPD outpost's commanding officer about local issues.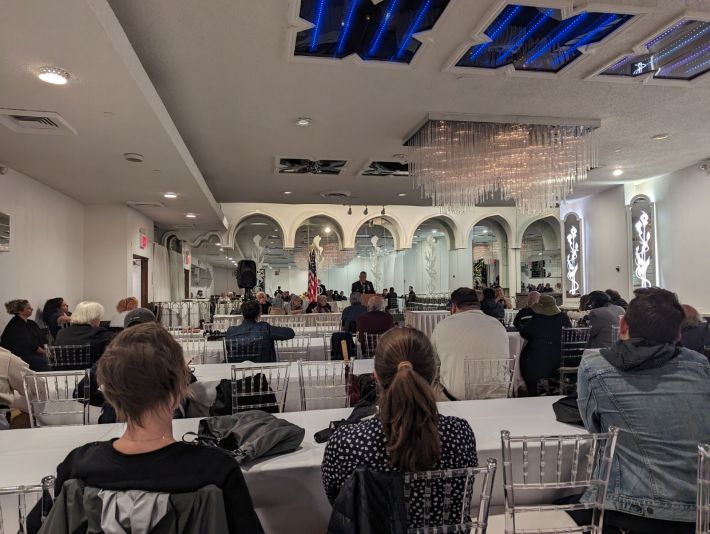 The council meetings typically drew around 20 people, who mostly talked about petty crime. Some of the old timers that regularly attended the meeting were not always so welcoming, according to one newer attendee.
"I've heard people say, 'Here comes the People's Republic of Astoria,'" said Kian Betancourt, a consultant and member of the subreddit. "We once had a person bring an unloaded gun to the meeting, who was there to intimidate us."
Fellow subreddit members began showing up in larger numbers swelling the gatherings to nearly 100 people, according to Betancourt, and the online-savvy residents filed reports of meeting highlights online afterward for those who couldn't make it to the weeknight sessions.
Their presence pushed the cops to take traffic enforcement more seriously, with the precinct's chief, Deputy Inspector Kenneth Gorman, starting to bring in his head of the traffic division to better field concerns. 
"For the first time in maybe a long time they've been challenged on street safety and not just other crime," said Betancourt. "[Previously], it was frankly an echo chamber."
Local leaders said the wave of activism can't be reduced to political affiliation or just white guys on bikes, adding that the mobilized constituency has set their sights beyond one or two street safety projects.
"People try to caricature the fight for safe streets," Assembly Member Mamdani said. "What you'll in fact find is people who scramble all of those assumptions and who are united by one thing, and that's street safety."

Kevin Duggan joined Streetsblog in October, 2022, after covering transportation for amNY. Duggan has been covering New York since about 2017 after getting his masters in journalism from Dublin City University in Ireland. After some freelancing, he landed a job with Vince DiMiceli's Brooklyn Paper, where he covered southern Brooklyn neighborhoods and, later, Brownstone Brooklyn. He's on Twitter at @kduggan16. And his email address is kevin@streetsblog.org.
Stay in touch
Sign up for our free newsletter