MTA
Gov. Hochul Fills Cash-Strapped MTA's Fiscal Hole … With Casino Money
12:01 AM EST on February 2, 2023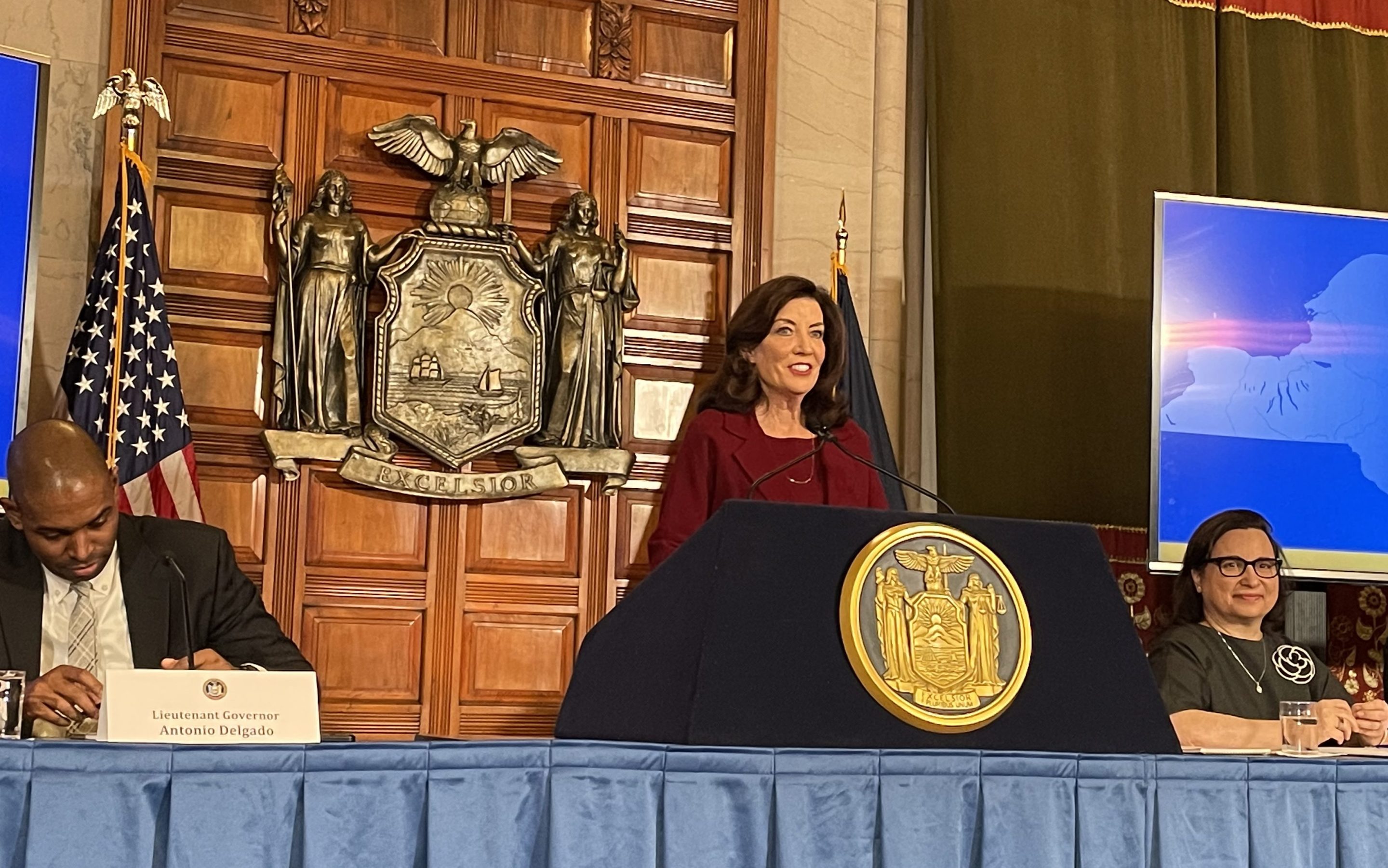 ALBANY — Gov. Hochul's Fiscal Year 2024 budget would keep the MTA from falling over the fiscal cliff, but the search for more transit service and a way to head off a pair of upcoming fare hikes is now up to the state legislature. But the bottom line? It's all a gamble.
Hochul's plan calls for a one-shot $300-million check from the state this year and an expected $800 million per year that would come a hike in the payroll mobility tax — a regional 0.34-percent tax on employers in the MTA service area. Hochul's proposal would increase the tax to 0.5 percent.
The state is also kicking in $150 million per year for "additional MTA safety personnel," which Hochul's budget officials said would cover the increased costs for NYPD overtime on the subway and security technology on transit.
Additionally (and somewhat controversially), Hochul is counting on New York City to kick in $500 million per year, covering the costs of paratransit, student MetroCards and entities that are exempt from paying the payroll mobility tax.
Beyond that, Hochul proposes to cut in the MTA on upcoming gambling-related revenue. First, Hochul would give the MTA some of the $1.5 billion the state will raise when it awards three downstate casino licenses. And once the downstate casinos are up and running (and turning desperate and dashed dreams into casino profits and then casino profits into tax money), the MTA will get some of that cash, too. The state estimates the "Let it ride" money will be between $462 million and $826 million per year.
"We're going to continue to expand our public transit access, affordability, safety," Hochul said during her budget address. "And for many, many New Yorkers, the MTA is the lifeblood. And if we don't invest in that, then we will not be looked upon favorably by future generations. So, we must continue to invest in the MTA, invests in transit, invest in railroads."
MTA Chair and CEO Janno Lieber, who's spent the last year asking for public transit to be funded like other essential services such as sanitation or fire response, suggested the governor had done just that.
"Gov. Hochul has stepped up for millions of riders using the MTA's subways, buses, and commuter railroads, preserving the frequent and reliable service that New Yorkers depend on," he said in a statement. "This is a balanced plan — the MTA has got to be more efficient without service cuts, the city and state are contributing, and the business community would be stepping up to support essential, top tier transit services every day of the week, even though their employees may be commuting less frequently."
Hochul's budget proposal keeps buses and trains out of the scrap yard and fills in the fiscal Sarlacc Pit in such a way that the MTA is able to spread its remaining COVID-era federal aid until 2026, which is what the agency has been asking for help with since July of last year.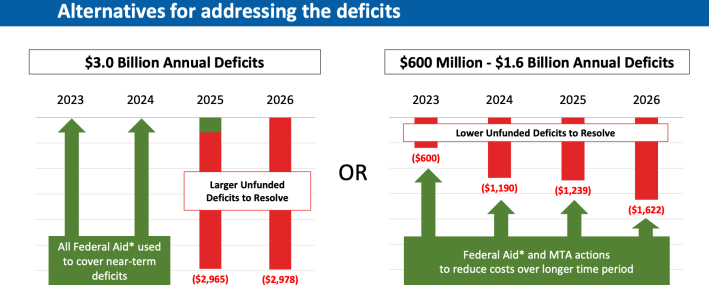 However, the budget doesn't identify new sources of funding beyond the politically fraught casino licenses and revenue that even the budget summary notes "are not anticipated until 2026 or later." The budget also does not expand service or help the MTA avoid a proposed 5.5-percent fare hike. Asked why she didn't use the budget to expand service, which experts have said could increase ridership as much as 15 percent, Hochul seemed to suggest she was constrained in what she could include.
"You have to look at the various parts of funding that are available," the governor said.
Some advocates saw this as an opening gambit and not an end point.
"This is the first offer," said Riders Alliance Director of Policy and Communications Danny Pearlstein. "We hope the legislature will do more, but we know that the governor drives the process. So thank you for the first tranche but let's see what else we can get, because that's where we get the gains to the other things the governor cars about: a safer city, climate resilience, a more equitable future and more riders. This doesn't move the needle on ridership in the way that more frequent service does."
State legislators also expressed some skepticism, with Assembly Member Robert Carroll (D-Park Slope) calling looming fare hikes "disconcerting and unnecessary" and Assembly Member Zohran Mamdani (D-Queens), who's flogging his own MTA funding fix that would expand service and establish free buses, issuing a lengthy brickbat against the budget.
"Gov. Hochul's plan for the MTA does not make New York safer, more affordable or livable: it does the opposite," Mamdani said. "At a time of skyrocketing inflation, the governor's budget proposal increases the fare to $3, rubber-stamps 10-minute waits and ensures that New York fails to support working people left behind by the rising cost of living. For the 24 percent of low-income New Yorkers who already forego essential activities like healthcare due to the cost of the fare, these policies are a travesty."
Hochul's idea to get New York City to kick in more money for the MTA is also facing an initial eyebrow raise from City Hall, though we haven't made it to the level of full-scale war that happened the last two times a governor asked a mayor to kick in more money for MTA.
"The city annually contributes approximately $2 billion to the MTA in direct and in-kind contributions and, while we recognize the significant fiscal challenges the MTA faces, we are concerned that this increased commitment could further strain our already-limited resources," Mayor Adams said in a statement on Hochul's proposal.
City Comptroller Brad Lander also joined Adams in questioning why the city was shouldering a half-a-billion-dollar burden to shore up a regional transit system with tentacles to distant Orange and New Haven counties.
"Just as the shift to remote and hybrid work hit the MTA's farebox revenues, so too it hit the city's commercial property tax revenues and redistributed them to the rest of the region," Lander said in a statement. "Rather than fare hikes, an increased share of payroll taxes, revenue from new casinos, and the implementation of congestion pricing are the right ways to replace farebox revenue and make long-overdue upgrades to ancient signal technology and repairs. The state should not stick the city with the bill to sustain our regional public transit system."

Dave Colon is a reporter from Long Beach, a barrier island off of the coast of Long Island that you can bike to from the city. It's a real nice ride. He's previously been the editor of Brokelyn, a reporter at Gothamist, a freelance reporter and delivered freshly baked bread by bike. Dave is on Twitter as @davecolon. Email Dave Colon at dcolon@streetsblog.org
Read More:
Stay in touch
Sign up for our free newsletter