Bicycle Infrastructure
Happy New Year! Now, Here are Some Resolutions for the Mayor and Governor
12:01 AM EST on January 1, 2023

It's a new year, and for many people, that means it's a whole new day. Are you promising yourself that you're going to hit the gym? Read more books? Spend more time building community ... at the neighborhood bar? Good for you. How are we promising to improve? Buddy, if there's anything that we've learned from Calvin and Hobbes, it's that we are already perfect and that it's other people who need to change.
And in that spirit, Streetsblog asked leading voices in the livable streets movement to give some marching orders to Big Apple and Empire State decision-makers so that we can all have a more-fulfilling year in 2023. Here are the resolutions they have for the mayor, governor and our agencies:
Shabazz Stuart, founder and CEO, Oonee
To the MTA and DOT: A refocusing on speeding up bus trips around the city by adding more BRT/SBS corridors in areas that are underserved by the subway!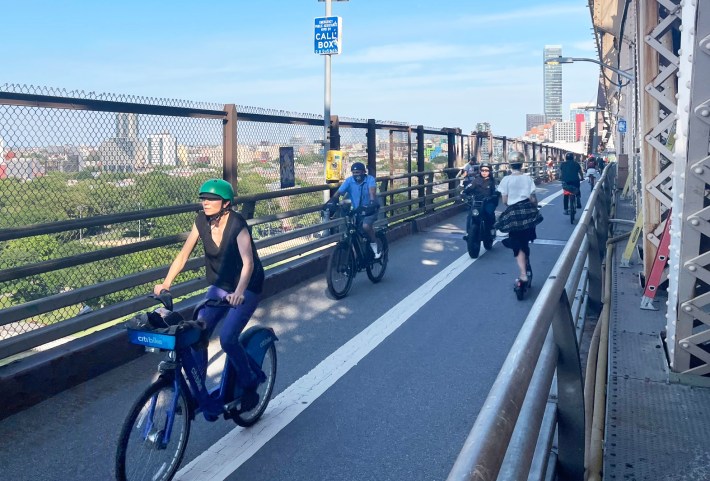 Laura Shepard, Queens Organizer, Transportation Alternatives
For the city Department of Transportation: Resolve to open the Queensboro Bridge south outer roadway as soon as possible to make the bridge safer for bike riders and pedestrians.
Rose Uscianowski, Staten Island and South Brooklyn Organizer, Transportation Alternatives
We want to see the city Economic Development Corporation invest in a fast ferry between Staten Island and South Brooklyn.
Mayor Adams: publicly fund bike share so the system can finally expand to Staten Island, South Brooklyn and uncovered territory in the outer boroughs.
Kevin Garcia, Transportation Planner, New York City Environmental Justice Alliance
To the City Planning Commission: Deliver the gift of regulating e-commerce facilities in the new year and adopt the Last-Mile Warehouse Special Permit zoning text amendment.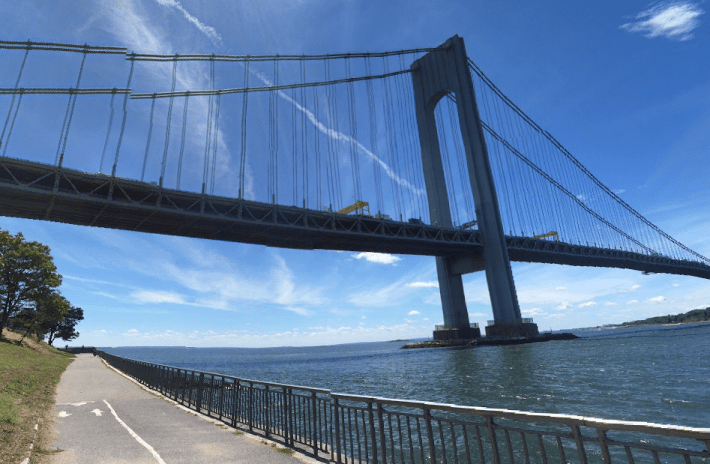 John Tomac and the gang at Bike South Brooklyn
For the MTA:
For NYC DOT:

Maintain the Fourth Avenue bike lane during the ongoing capital reconstruction project, like Local Law 124 says they should.
Recognize that tan paint and plastic posts are poor material to daylight intersections with and try something different.
Work with the Parks Department to develop an alternate route for the duration of the planned closure of the Shore Parkway promenade that's scheduled to start in 2024.

For the Parks Department:

Expand the hours biking is allowed on the Coney Island boardwalk.
Maintain the ancient bike lanes on Ocean Parkway and the Leif Ericsson Greenway

For the Brooklyn Borough President:
For the City Council members vying for re-election in the newly redrawn District 47 that now includes Bay Ridge and Coney Island:

Commit to closing the Greenway Gap on Cropsey and Neptune Avenues, so everyone can get to the boardwalk.
Commit to extending the Fourth Avenue bike lane from 65th St. down to 101st so we can all get to the bike path on the Verrazzano that the MTA is legally obligated to add.

For the City Council as a whole:
Rachael Fauss, Senior Policy Advisor, Reinvent Albany
The nonsensical gas tax "holiday" needs to permanently expire, and the governor and Legislature instead must make good on their promises to MTA riders by no longer raiding dedicated funds, and finding new, dedicated revenues for mass transit.
Doug Gordon, bike and safe streets activist
My wish for 2023 is that Mayor Adams resolve to pursue an aggressive strategy of not just adding bike lanes, bus lanes and pedestrian plazas here and there, but of taking aggressive steps to ban cars. The mayor has announced some potentially excellent projects, including the re-imagining of Fifth Avenue in Manhattan and Grand Army Plaza in Brooklyn, but New York doesn't need more studies or years of public outreach that only lead to marginal tweaks that further entrench car dependency; what we need is an active pursuit of car reduction strategies. With polling regularly showing overwhelming support for bus lanes, bike lanes and open streets, Eric Adams has a once-in-a-generation — or last-in-a-generation, given climate change's existential threat to New York — to rapidly and dramatically change how our city works. Because right now it doesn't, not even for those who absolutely need to drive.
The pursuit of car-reduction policies with teeth won't be easy, but Eric Adams knows a lot about doing difficult things. A key part of the mayor's biography is his inspiring story of how he improved his personal health, so why not resolve to do something similar by improving the public realm? If making the city safer, improving quality of life and preventing climate catastrophe aren't motivation enough, everyone knows Eric Adams loves good headlines. By distinguishing himself as the New York City mayor who finally took on car dominance and won, he'd surely garner a lot of favorable national and international press attention, give or take a few cranky holdouts in the Post and on local TV news. Trust me, no mayor anywhere who prioritized people over cars has ever lived to regret it. In fact, most get re-elected in a landslide.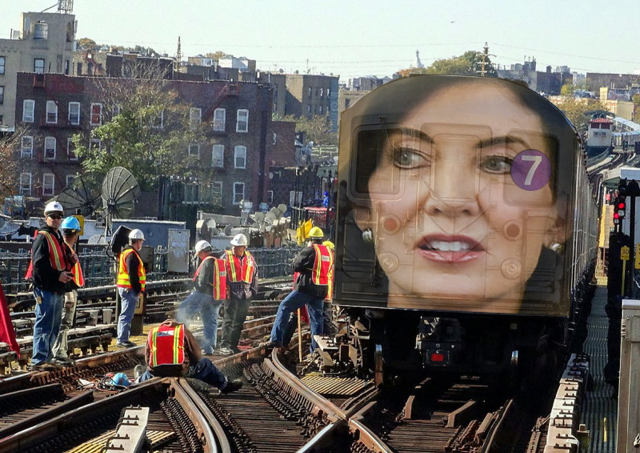 Caitlin Pearce, Deputy Director, Riders Alliance
For Mayor Adams: cut the red tape and paint the red paint for #BetterBuses!
For Gov. Hochul:
Fund the #6MinuteService that riders deserve and keep the MTA from falling off a fiscal cliff (like all good resolutions, this one starts promptly in January but the commitment is forever!)
Launch congestion pricing by the holidays is the "eating more vegetables" of 2023 (not always fun, but you'll be so grateful you did it!)
Lisa Daglian, Executive Director, Permanent Citizens Advisory Committee to the MTA
As the New Year begins to bloom,
Let's all make a resolution to improve.
To the governor, be generous and fund the MTA,
For it's an essential service that we rely on every day.
To the Legislature, do things right!
Fix the MTA with all your might.
Let's make the transit system strong and bright,
For the benefit of all riders, day and night.
To NYC Transit, be kind and give us more
Of the frequent and reliable service that we adore.
Let's make the commute a joy, not a chore,
With kindness and care for all, we can open (not hold) the door.
To MTA railroads, be seamless and let Freedom Ticket ring,
With affordable rides and free transfer options, it should be a simple thing.
Let's make the journey smooth and without burden,
With seamless connections that make the trip certain.
To riders, be patient and understand
That sometimes issues happen, and while it's a drag,
Let's not take our frustrations out on others, but lend a helping hand,
We can work together to advocate for transit that makes us brag.
To the feds, clear the air and grant a FONSI
For the congestion pricing Environmental Assessment
Let's reduce pollution and improve our city's air quality
For the benefit of all, with more transit investment.
To the city, be fair and raise eligibility
For Fair Fares and extend funding to include commuter rails.
Let's make transportation accessible and affordable for all
And build a city that works for everyone, big and small.
As the New Year dawns upon us, let's all make a pledge,
To work together and improve our region's transit edge.
With kindness, fairness, and generosity in our hearts – with no room for hate
We can build a brighter future that never departs (late).

Dave Colon is a reporter from Long Beach, a barrier island off of the coast of Long Island that you can bike to from the city. It's a real nice ride. He's previously been the editor of Brokelyn, a reporter at Gothamist, a freelance reporter and delivered freshly baked bread by bike. Dave is on Twitter as @davecolon. Email Dave Colon at dcolon@streetsblog.org
Stay in touch
Sign up for our free newsletter