DOT
Reimagining Jay Street With Shared Space and Protected Bike Lanes
11:36 AM EST on November 21, 2014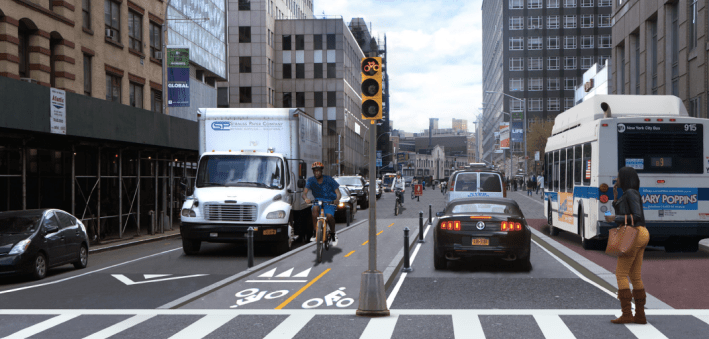 Jay Street is one of the major north-south spines of Downtown Brooklyn. The street is full of pedestrians near MetroTech, cyclists going to and from the Manhattan Bridge, and buses connecting to nearby subways, but it's not designed to serve anyone particularly well -- except, perhaps, people with parking placards. Double-parked cars constantly obstruct bike lanes and buses. Pedestrians deal with dangerous intersections. Everyone is frustrated.
In March, Transportation Alternatives hosted a workshop with Council Member Stephen Levin and Community Board 2 to solicit ideas on how to improve Jay Street. Now, TA is out with the results of the project, including a redesign that features shared space and dedicated lanes for buses and cyclists [PDF].
Some of the changes can be implemented relatively quickly -- like adding lighting beneath the Manhattan Bridge and giving pedestrians a head-start on crossing the street before drivers get a green light. Cracking down on illegal placard parking is a matter of will and could happen overnight if the authorities decide that it matters.
Other ideas would involve more substantial physical changes to the street. The report recommends upgrading the bike lane between York and Prospect Streets to a two-way protected bikeway to allow for better connections to DUMBO. The bikeway could then be extended along the west side of Jay Street between the Manhattan Bridge and Tillary Street. The complex intersection at Tillary would receive wider pedestrian medians, neckdowns, and signal changes that give cyclists time to cross the intersection when it isn't filled with cars.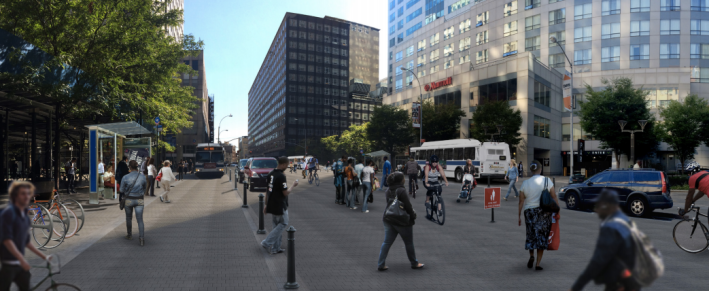 South of Tillary, the bike lane would continue down the middle of Jay Street to Fulton Street, with a curbside bus lane replacing parking to give buses some space as they approach MetroTech.
Today, lots of people cross Jay near MetroTech, but the crosswalks and stop lights don't always match the numerous pedestrian desire lines. The TA report suggests changing the street's design to be more akin to shared space, where pedestrians are given more leeway and drivers no longer rely on markings and stop lights to navigate the street.
A redesign of Jay Street isn't currently on DOT's list of projects, and CB 2 has not yet passed a resolution asking DOT to study it. Jay Street has, however, become a focus of Transportation Alternatives activists in Brooklyn, who hope to get support from the community board and local elected officials before convincing DOT to take on the project.
While shared space on Jay Street might not be part of DOT's agenda yet, the agency is moving forward with a plan to convert a pair of adjacent side streets to shared space, a design that blurs the lines between sidewalks and car lanes.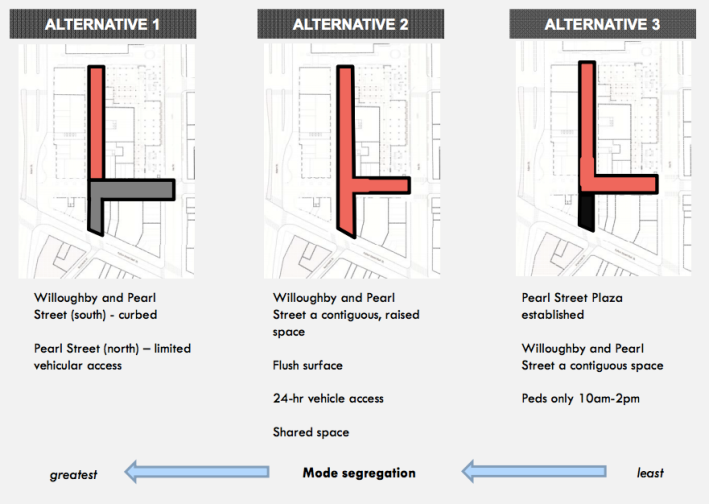 Last month, DOT hosted a public meeting where it presented three design concepts that would convert three blocks of Pearl and Willoughby Streets, in a corner of Downtown Brooklyn bounded by Jay, Adams, and Fulton Streets, to shared space. The three options offer varying levels of shared space. One would turn part of the area into a plaza and close the remaining two blocks to cars during midday hours. Another would retain shallow curbs, while a third would keep the entire street, from building to building, at the same level.
The project, which is partially funded, would entail a complete reconstruction of the street, with new benches, street lights, bollards, and pavement. Next up for DOT: Refining its design based on feedback its received so far, then presenting it to an advisory group before showing it to Community Board 2 early next year.
In spring 2017, Stephen wrote for Streetsblog USA, covering the livable streets movement and transportation policy developments around the nation. From August 2012 to October 2015, he was a reporter for Streetsblog NYC, covering livable streets and transportation issues in the city and the region. After joining Streetsblog, he covered the tail end of the Bloomberg administration and the launch of Citi Bike. Since then, he covered mayoral elections, the de Blasio administration's ongoing Vision Zero campaign, and New York City's ever-evolving street safety and livable streets movements.
Stay in touch
Sign up for our free newsletter