Carnage
Unlicensed Truck Driver Kills Noshat Nahian, 8, in Northern Blvd Crosswalk
2:01 PM EST on December 20, 2013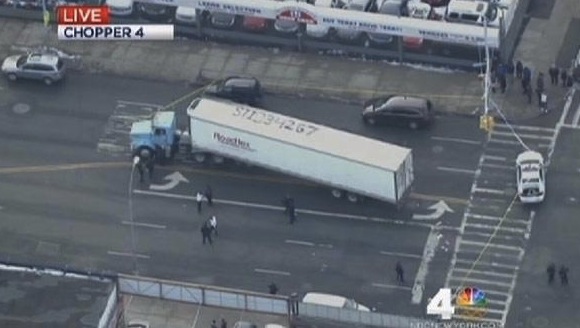 This morning just before 8:00 a.m., Noshat Nahian, age 8, was on his way from his home on 32nd Avenue to school at PS 152 when a tractor-trailer driver turning left onto Northern Boulevard struck Nahian in the crosswalk along 61st Street. He was pronounced dead at Elmhurst Hospital.
The driver of the truck, Mauricio Osorio-Palaminos, 51, of Newark, New Jersey, has been arrested by police and charged with aggravated unlicensed operation of a motor vehicle and operation of a motor vehicle in violation of safety rules. The office of Queens District Attorney Richard A. Brown tells Streetsblog that Osorio-Palaminos has been charged with driving with a suspended license and that representatives from the DA's office were at the crash scene this morning.
Aggravated unlicensed operation in the third degree is, in practice, the default charge against unlicensed drivers who kill pedestrians and cyclists in New York City. It carries a maximum penalty of a $500 fine and 30 days in jail.
According to reports, Nahian was with his 11-year-old sister, who ran home to get his mother. Once she arrived on the scene, a witness told the Post, "She was crying and asking 'what's going on?'" A small red holiday gift bag that Nahian was carrying to school was left in the street where he was killed.
Nahian is the eleventh New York City child under age 13 killed by drivers so far this year, according to data compiled by Streetsblog. Traffic crashes are the leading injury-related killer for New York City children, according to the Department of Health. In a similar crash last February, Amar Diarrassouba, 7, was killed by a turning truck driver while walking to school in East Harlem with his 10-year-old brother.
The truck involved in today's crash is registered in New Jersey and owned by Roadtex Transportation Corporation. Streetsblog's inquiries with Roadtex about the driver have not been returned. Because the truck is not registered in New York, it is exempt from state laws requiring crossover mirrors, which improve visibility near the truck's cab.
The truck appears large enough to require an oversize permit from the city, which are necessary for trucks longer than 55 feet to operate on surface streets. NYPD said its Collision Investigation Squad is looking into whether the driver had the required permits. Video from the crash scene captured by DNAinfo reporter Katie Honan shows NYPD investigators testing the truck's brakes this morning.
Northern Boulevard, where the driver was turning, is a through truck route, but 61st Street, where the driver was coming from, is a primarily residential street and is not a listed truck route.
Today's collision is, in many ways, a textbook example of a common type of crash that results in death for pedestrians. Crashes resulting in death or serious injury to pedestrians were three times more common for left-turning drivers than right-turning drivers, according to a comprehensive 2010 DOT pedestrian safety study. The study also found that more pedestrians are struck crossing with the pedestrian signal, like Nahian, than crossing against the signal, and that crashes involving trucks and buses are three times more likely to kill a pedestrian than crashes with cars.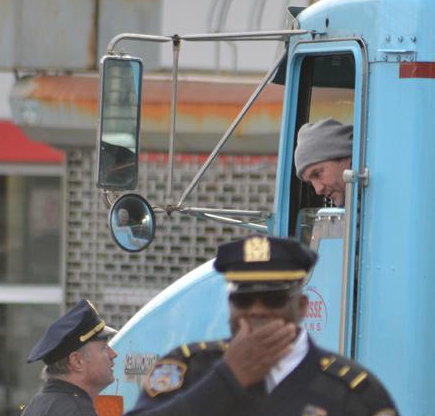 Pedestrians hit by drivers were the leading injury category of emergency patients at Elmhurst Hospital, where Nahian was pronounced dead, from 2000 to 2009. At a pedestrian safety summit last week at Elmhurst, Council Member Daniel Dromm called Northern Boulevard "another boulevard of death." Last month, families and friends of traffic violence victims, including those of people killed on Northern Boulevard, marched in Jackson Heights to demand action from the city.
The area where Nahian was killed is represented by Council Member Jimmy Van Bramer. "I am devastated to learn of the tragic death this morning of a 3rd grader attempting to cross the street on his way to PS 152 in Woodside," Van Bramer said in a statement. "No child should ever die simply trying to cross the street on his way to school. We have much work to do to make certain this never happens again and I am committed to a world where Vision Zero is a reality."
To encourage Van Bramer to keep up efforts to improve street safety in his district and citywide, contact him at 212-788-7370, jvanbramer@council.nyc.gov or @JimmyVanBramer.
The intersection is on the border of NYPD's 108th and 114th Precincts, but is within the jurisdiction of the 114th. As of October, the most recent month for which data is available [PDF], the precinct has issued 161 tickets for truck route violations, 156 tickets for improper turns, and 182 tickets for failure to yield to pedestrians so far this year.
Last month, Deputy Inspector Kevin Maloney was named commanding officer of the 114th Precinct. To voice your concerns about traffic safety, attend the next community council meeting. Meetings are held on the fourth Tuesday of each month, but due to the Christmas holiday, the next meeting is scheduled for January 28, at 7:00 p.m. at Riccardo's by the Bridge, 21-04 24th Avenue. Visit the precinct's website or call the precinct at 718-626-9327 for more information.
In spring 2017, Stephen wrote for Streetsblog USA, covering the livable streets movement and transportation policy developments around the nation. From August 2012 to October 2015, he was a reporter for Streetsblog NYC, covering livable streets and transportation issues in the city and the region. After joining Streetsblog, he covered the tail end of the Bloomberg administration and the launch of Citi Bike. Since then, he covered mayoral elections, the de Blasio administration's ongoing Vision Zero campaign, and New York City's ever-evolving street safety and livable streets movements.
Stay in touch
Sign up for our free newsletter