Bicycle Infrastructure
CB 7 Votes 35-0 for DOT to Study Amsterdam Avenue Protected Bike Lane
5:22 PM EST on December 4, 2013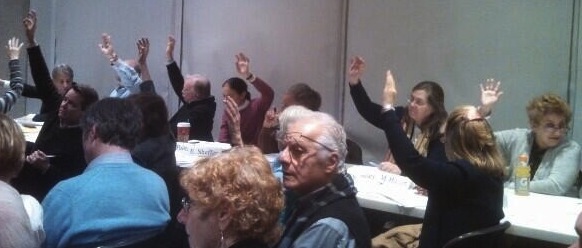 Before an audience of more than 100 people last night, Manhattan Community Board 7 voted 35-0, with five abstentions, for a resolution asking DOT to perform a complete streets study of Amsterdam Avenue, including safer pedestrian crossings and a protected bike lane. The unanimous vote came after a long session of procedural wrangling over the resolution's language, but sets the stage for the agency to move forward with redesigning the street.
Despite the vote, last night's meeting was also a reminder that key members of board, especially transportation committee co-chairs Andrew Albert and Dan Zweig, are set on obstructing proven street safety measures to the extent they can.
The meeting kicked off with a request from CB 7 chair Elizabeth Caputo about disclosure. Although conflict of interest rules are intended for situations where board members may stand to gain financially from the board's actions, Caputo asked members to disclose any affiliations they may have with groups advocating for resolutions to be passed. (She did not require board members to disclose other relevant information, like whether they park on Amsterdam Avenue regularly.)
The request came after bike lane opponents at last month's meeting, led by board member Lillian Moore, began asking members of Transportation Alternatives who are on CB 7 to recuse themselves from voting. Last night, Ken Coughlin, who is a transportation committee member and also serves on TA's board, set the record straight.
"We have our conflict of interest rules to prevent the prospect of somebody putting their own private gain over the community interest," he said. "It's no secret that I'm a [TA] board member. It was on my community board application. [Council Member] Gale Brewer was well aware of it; in fact, it may be the reason she appointed me. We're all appointed to this community board because we're civically engaged, and I imagine Gale saw this as evidence of my civic engagement."
"I did," Brewer shouted from the back, to applause from the audience.
"I just like smart people who are committed who have a constituency," she told Streetsblog after the meeting. "It could be a block association, it could be TA, your PTA -- you can't just be one person with an idea. You've got to have other people you work with over time."
During the meeting, transportation committee co-chairs Dan Zweig and Andrew Albert began offering a series of amendments, many of which would preclude the possibility of a protected bike lane or otherwise delay or distract from the task of making Amsterdam safer.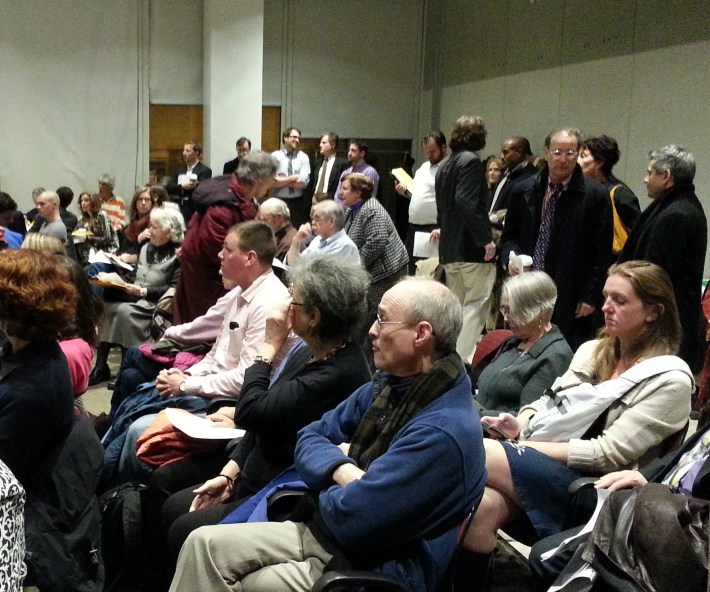 Zweig offered one amendment that would ask DOT to install concrete sidewalk extensions at intersections before studying other changes. "Some things need to be done for pedestrians now," Zweig said, insisting that concrete bulb-outs could be installed more quickly than other interventions. He eventually acknowledged that his amendment would make it more difficult to install a protected bike lane later. Mel Wymore suggested that DOT install temporary bulb-outs built with paint instead of concrete, but it was concerns from other board members about the impact on rush-hour parking restrictions that caused Zweig's amendment to collapse.
In addition to a study of Amsterdam, the resolution that passed asks for a broader study of other avenues on the Upper West Side. An amendment from Albert also encourages DOT to study a protected bike lane on other avenues carrying northbound traffic if the agency finds that it would not be feasible on Amsterdam.
As he had at previous meetings, Zweig challenged data presented by DOT about the impact of the Columbus Avenue redesign. "They claim there are certain things that make Columbus Avenue safer. In fact, if you looked at the stats and look behind the numbers," Zweig said, "You found that it became more dangerous."
In fact, DOT's numbers show that along the initial one-mile segment of the Columbus Avenue bike lane, pedestrian injuries have dropped 41 percent, and total crashes with injuries have dropped by 19 percent.
The final resolution includes an amendment from Zweig that says "prior measurement and observation of the use, effectiveness, safety, and accessibility of the Columbus Avenue redesign has yielded uncertainty regarding its overall success in any of these areas." Initially, this was not accepted as a friendly amendment by Su Robotti and Roberta Semer, who were sponsors of the original resolution, but they later backtracked and allowed it to be added. Zweig and Albert, who have opposed or abstained from similar votes in the past, ended up voting for last night's resolution.
Other board members challenged crash data compiled by Transportation Alternatives showing that Amsterdam has a higher crash rate than other northbound routes on the Upper West Side.
"All of the data that we rely on is provided initially by [police] precincts... Those numbers get reported and standardized by DOT, and that goes to the Department of Motor Vehicles," TA's Tom DeVito told Streetsblog."That's a credible source. If there's any dispute of that, then I think it's incumbent upon people who are disputing it to marshal reliable data of their own."
DOT has said it would consider any requests from the community board. After a long, well-publicized process from CB 7 leading to last night's unanimous vote asking DOT to investigate specific design treatments on Amsterdam, the ball is now in the city's court. "When DOT will start the study, and the solutions they come up with, will determine the path forward," DeVito said.
In spring 2017, Stephen wrote for Streetsblog USA, covering the livable streets movement and transportation policy developments around the nation. From August 2012 to October 2015, he was a reporter for Streetsblog NYC, covering livable streets and transportation issues in the city and the region. After joining Streetsblog, he covered the tail end of the Bloomberg administration and the launch of Citi Bike. Since then, he covered mayoral elections, the de Blasio administration's ongoing Vision Zero campaign, and New York City's ever-evolving street safety and livable streets movements.
Stay in touch
Sign up for our free newsletter