MTA
State Legislators Fill MTA Fiscal Hole, Reject Fare Hike — But Don't Expand Service
6:55 PM EDT on March 14, 2023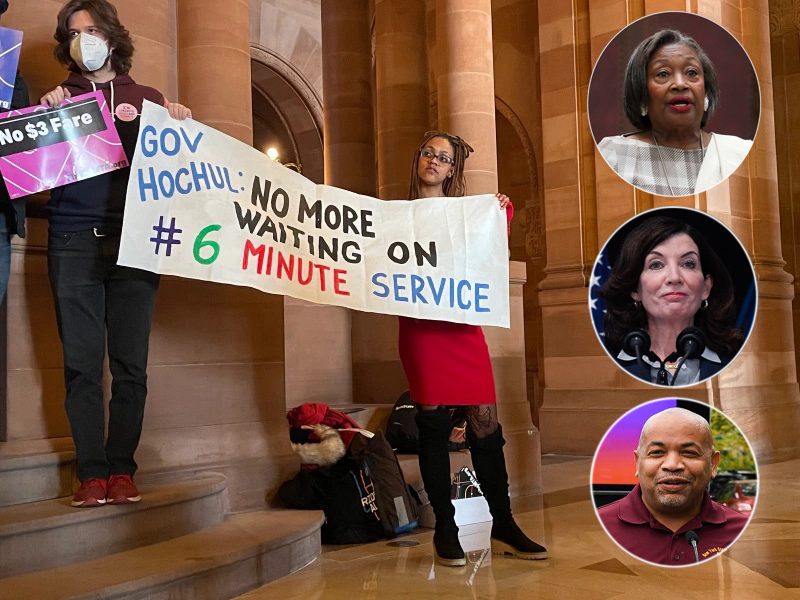 Legislators in Albany on Tuesday trotted out a way to fill the MTA's fiscal hole, avert a fare hike, fund a small pilot of free buses across the city — and even steal a little money from New York City — in their counter-offer to Gov. Hochul's budget proposal.
But left out of the budget was another important ask from transit advocates and even some state lawmakers: $300 million to increase bus and subway service to every six minutes during off-peak hours.
Those advocates, needless to say, are pissed off.
"The legislature's budget ignores millions of riders stranded 12, 15, 20 minutes or more on subway platforms and at bus stops," said Riders Alliance Executive Director Betsy Plum. "We're the ones losing pay, missing school and medical appointments, and arriving late to pick up our kids, all because of infrequent, inequitable transit service. By neglecting the long waits that discourage people from riding transit, the proposal also fails in its attempt to fix the MTA.
"Gov. Hochul, who controls the MTA, must now negotiate a final budget that provides city riders, who delivered her historic election victory, the frequent subway and bus service we deserve," Plum added.
MTA leadership hasn't passionately embraced six-minute service, though transit analysts have suggested it's both possible and would increase ridership. Instead, Authority executives have tolerated the general proposal of "more service" while keeping it at a safe distance. MTA Chairman and CEO Janno Lieber told state legislators in February that he didn't think it was possible to institute six-minute service 24 hours a day for subways and buses, but did say he was open to increasing service up to 10 p.m. on weekdays and weekends overall.
Similarly, New York City Transit President Richard Davey recently stood in front of God and transit advocates and declared, "If they give me more money to run more service, then damn right I will."
But that same day, under oath in front of the City Council, Davey demurred, saying, "To get to 100 percent of our customers for six-minute service would be financially infeasible in some instances."
The legislative budgets don't avoid the need to fill the MTA's multi-billion dollar fiscal hole, but the budget resolutions do propose a completely different path than Hochul's ideas. Where the governor suggested increasing a tax on business payrolls in the 12 county MTA service area (a.k.a. the payroll mobility tax) and by asking New York City to kick in $500 million to cover exemptions to the payroll tax as well as the costs of paratransit and student MetroCards, the legislative budgets totally do away with the payroll tax increase and that specific cost shift on to the city.
Instead, the state Senate proposes filling the MTA's hole with an increase in the corporate franchise tax surcharge, a tax on businesses in the MTA region, and an additional 50-cent surcharge on Uber and Lyft rides. The additional surcharge doesn't mean that original dedicated stream is being diverted, according to Senate leadership.
But like the governor, the Senate budget includes some grabs at local funds that should belong to New York City. One proposal by the upper house is to strip Madison Square Garden of its notorious property tax exemption that's almost as old as the Knicks' last championship and give the money from the restored tax to the MTA. As one critic of MSG's tax break explained, it's time for the owners of the World's Most Famous Arena to stop stealing from the city ... so that the state can do it instead.
"MSG enjoys a sweetheart deal from the 1980s where it pays absolutely nothing in property tax, a boon worth $43 million each year and will soon reach $1 billion in foregone revenue for New York City," said state Sen. Brad Hoylman-Sigal (D-Manhattan). "I hope the Assembly and Governor will join the Senate in repealing MSG's property tax break so we can use that money to fund the MTA."
Another proposal would allow the City Council to establish a residential parking permit system, but all the money from said system would go towards the MTA's operating budget.
The Assembly budget also relies on raising a chunk of cash from a tax hike, this one an increase in the statewide tax on business income, from 7.25 percent to 9.25 percent on income over $5 million. Assembly sources say that could raise $865 million on its own.
The Assembly budget is less clear on any other potential dedicated revenue for the MTA, but it does propose that the state provide $196.9 million to avoid this year's fare hike, and $906 million to cover the Assembly's rejection of the PMT hike and the state's attempt to foist MTA cost sharing onto New York City.
Both legislative houses agreed on the idea of a small pilot program for free buses, a major win for the coalition behind the Fix the MTA package that proposed phasing in free buses citywide over a four-year period. The Assembly proposal specifically directs the MTA to run the pilot on one route that serves "a low-income community" and another "serving a commercial district," but otherwise leaves it up to the agency to figure out how to do it.
The free bus pilot proposal will not doubt kick off another spirited round of debate on Transit Twitter, and also comes at the same time as Boston's free bus pilot on three routes shows that ridership and bus speeds are up and money that used to go towards bus now goes to other non-bus essentials.
MTA leadership gave a dead fish handshake to the one-house proposals, with Lieber specifically highlighting Hochul's proposals as "stable" and "putting riders first."
"We're grateful the Legislature agrees with Gov. Hochul that transit service in this region is essential, and needs to be funded," he said. "The governor led by putting forward a balanced proposal to fund transit with dedicated, stable and recurring revenue — putting riders first — and we look forward to working with her administration, the Senate and the Assembly toward a final budget that accomplishes those goals."
The proposals from the Senate and Assembly represent counter-offers to the governor's budget, and will provide a negotiation roadmap for Majority Leader Andrea Stewart-Cousins and Speaker Carl Heastie before the April 1 budget deadline. As such, supporters of six-minute service in both houses say they will fight on.
"We are very clear to the fact that the missing link here is frequency," said Assembly Member Zohran Mamdani, who cheered the avoidance of a fare hike as well as the free bus service pilot. "And that is something that we will continue to advocate for as being the final piece of the puzzle to truly build the transit system that New Yorkers deserve."
State Senator Andrew Gounardes, who circulated a budget letter asking legislators to fix budget practices that have robbed the MTA of billions of dollars over the past few decades also said he'll keep pushing.
"We are weeks away from a finalized budget, and I'm committed to fighting hard for more funding for our MTA and better service for all our riders," he said.

Dave Colon is a reporter from Long Beach, a barrier island off of the coast of Long Island that you can bike to from the city. It's a real nice ride. He's previously been the editor of Brokelyn, a reporter at Gothamist, a freelance reporter and delivered freshly baked bread by bike. Dave is on Twitter as @davecolon. Email Dave Colon at dcolon@streetsblog.org
Read More:
Stay in touch
Sign up for our free newsletter