NYPD
March (Parking) Madness Begins: A First-Round Bath Beach vs. Crown Heights Battle
12:01 AM EST on March 8, 2023

This is the first First Round battle in our monthlong "March (Parking) Madness" tournament. To understand why we do this contest, click here. And please remember to vote for your winner loser at the bottom of this story and all upcoming contests.
Maybe some cops are finally getting the memo?
After years of doing this contest, it maybe be slowly showing some results. The two precincts in this First Round battle — the 62nd in Bath Beach and the 71st in Crown Heights — certainly showed some of the egregious behavior that we've come to expect from police officers in the City of New York (double-parking, illegal parking, parking on sidewalks, parking at hydrants, combat parking and general chaos), but not in the quantities that we've come to expect.
But one of these two powerhouses needs to advance to the next round, so who will it be?
62nd Precinct (Bath Beach)
The station house on the corner of Bath Avenue and Bay 22nd Street looks, to the untrained eye, like an oasis of calm on a fairly busy commercial corridor. But look beyond the beloved 1905 building and you'll see chaos, disorder and, obviously, recklessness.
Let's start with the obvious. The cops (including one guy with a Punisher sticker) at the 62nd Precinct like to park in the painted bike lane in front of their station house:
The illegal parking by our boys and girls in blue could explain why there are so many more crashes on the three blocks surrounding the station house than the three blocks directly to either side. According to city records, there have been 16 reported crashes since Jan. 1, 2021 on the stretch of Bath Avenue between vs. only seven crashes, injuring three people on the three blocks directly to the east.
Double-parking is dangerous.
You know what else is dangerous? Dangerous driving — and here's where the cops at the 62nd Precinct really excel. We spotted 38 cars with NYPD placards or insignias inside and outside the NYPD-parking zone and more than half — 21 cars — had been nabbed but city cameras for multiple moving violations.
Among the worst offenders in the bike lane:
An officer's personal car with illegally tinted windows and seven speeding tickets and two red-light tickets since 2020.
Another officer whose car had been napped 37 times by speed and red-light cameras, including 29 such tickets since 2018.
One cop with eight speeding tickets since Aug. 4, 2022.
Another officer with tinted windows and three camera-issued speeding tickets in 2022 alone.
Another officer's car that was double-parked in the painted bike lane and had earned two speeding tickets since mid-2021.
A guy haphazardly parked angled to the curb and half inside the bike lane (with tinted windows, natch) with seven speeding tickets and five red-light tickets.
A cop with a "Punisher" sticker — a symbol of police brutality — parked in the bike lane with three speeding tickets and two red-light tickets.
Multiple cops' cars with six, five, four, three and two camera-issued reckless driving tickets.
On top of that, we caught the ultimate s-cop-law: A Jeep with tinted windows and a precinct placard that nonetheless had a fake New Jersey temporary license plate on the back. That's illegal on so many levels, but worse than that — the license plate to which the placard had been assigned had racked up 14 speeding tickets and three red-light tickets between January 2019 and September 2021, when the tickets suddenly stopped.
And on the relatively tame Bay 22nd Street precinct block — beyond the normal aggressive combat parking, of course — we also spotted four cops' cars with multiple moving violations, including one with 15 speeding tickets since 2014, one with 13 speeding tickets and one red-light ticket since 2019, and one with nine speeding tickets since 2017.
So the question you have to ask yourself, Bracketeers, is, "Why do the cops under the command of Captain Eddie Lau want to endanger kids in school zones?" Perhaps Police Commissioner Keechant Sewell can ask for you.
71st Precinct (Crown Heights)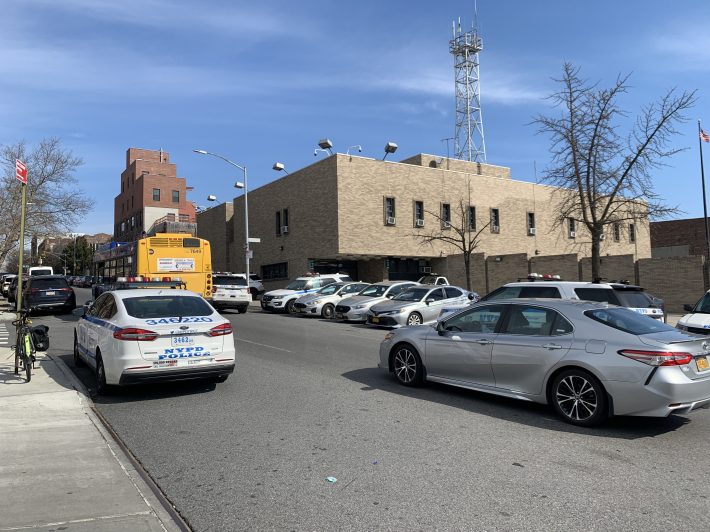 The casual corruption of police officers is displayed with rare boldness at the 71st Precinct station house on Empire Boulevard.
It started upon my arrival with a folded plate:
But what's most noticeable about the entire 71st Precinct, and especially around the station house itself, is the widespread double- and illegal parking tolerated by the cops under the command of Inspector Joseph Hayward. On Empire Boulevard, the painted bike lane is constantly filled with cars, some belonging to officers.
And on New York Avenue — a bus route! — double-parked cops' cars narrow the roadway from two lanes (with a bus lane) to one lane (without a bus lane). All that does is delay commuters and cause easily preventable crashes.
Since January 2021, there have been 23 reported crashes on the single block in front of the station house, injuring seven people, city stats show. Over the same period, there was just one reported crash (injuring no one) on the block of northbound New York Avenue directly to the south of the station house.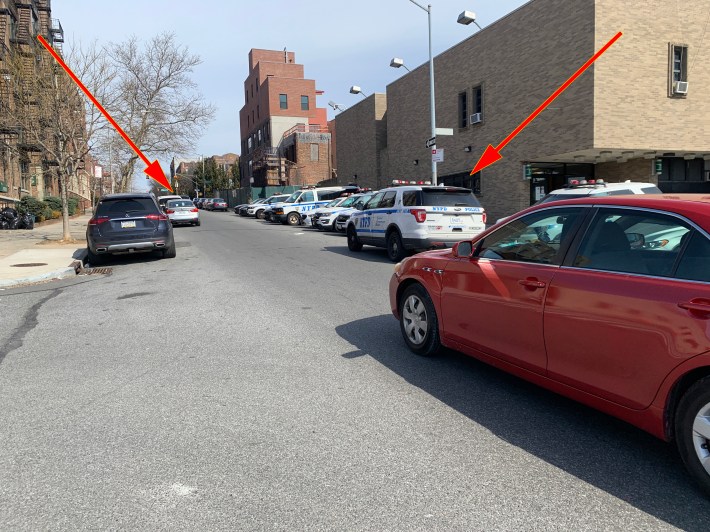 And who are the cops of this precinct? They are the same kinds of child-endangering officers that we see in precincts all over the city. Here are the biggest miscreants:
One cop's car had 11 speeding tickets. A colleague also had 11 speeding tickets, but added in a red-light ticket.
Another had 23 speeding tickets, four red-light tickets and four tickets for blocking a bus lane.
Another had 15 speeding tickets and one red-light ticket.
One cop had 14 speeding tickets, two red-light tickets and a bus lane violation.
One cop in the "Don't block sidewalk" zone has received eight speeding tickets since May. It's the car on the left in the photo below: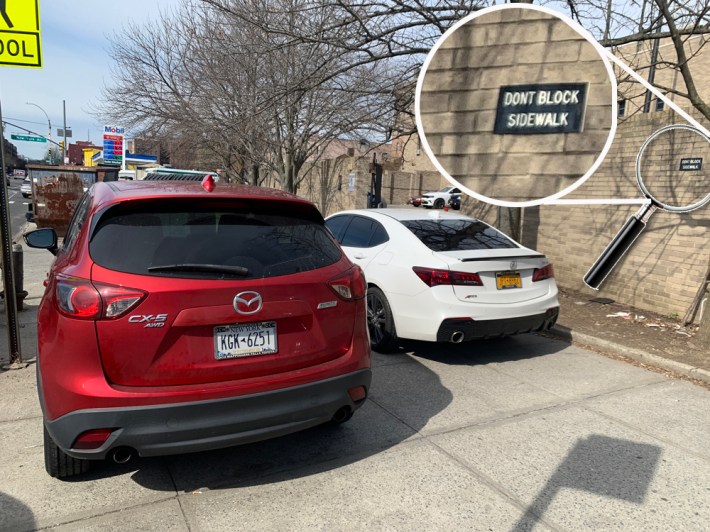 Multiple cops had high single-digit speeding and red-light tickets, too.
The precinct also seems to have a cozy relationship with the local Hasidic community. On the same block as the station house, for example, a car with an expired "Clergy" placard and an NYPD patch was allowed to park illegally.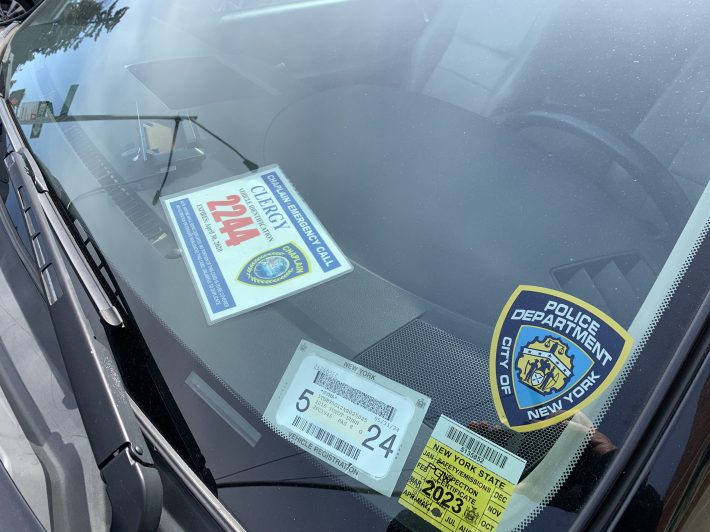 And an area resident told me that the local cops allow residents, mostly Hasidic Jews, to park in the "NYPD-only" parking spaces — the ones that are never cleaned because there are always cops and residents parked there. Here's what that looks like: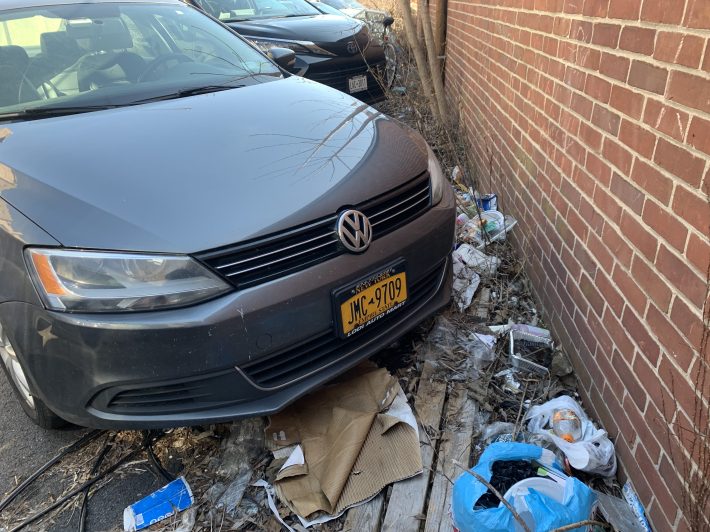 But besides filth, congestion, illegal parking, placard abuse, defaced plates, what else do you want?
The winner of this contest goes to the borough finals, so please vote as if the full weight of this contest depends on it. Polls will remain open through Thursday.

Gersh Kuntzman is editor in chief of Streetsblog NYC and Streetsblog USA. He also writes the Cycle of Rage column, which is archived here.
Stay in touch
Sign up for our free newsletter