Some elected officials and locals are telling City Hall that they want to keep three travel lanes in each direction of the Brooklyn-Queens Expressway, a top city official said on Thursday — despite nearly two dozen area politicians who have called for no more than two lanes.
"We have heard lots of feedback, both from people in the Brooklyn Heights community that would like a permanent structure to have two lanes, as well as from electeds and people that live north and south that would like to see three lanes," Deputy Mayor for Operations Meera Joshi during an online question-and-answer session with the New York Law School.
Joshi did not specify who called for a larger highway, but several lawmakers swiftly rejected widening the existing (and crumbling) highway to three modern lanes from the current two it carries in a desperate attempt to keep it from falling down.
Joshi's comments came only days after the city Department of Transportation announced it had pushed back an environmental review for the crumbling triple-cantilever section around Brooklyn Heights by six months to study the two- or three-lane configurations.
Joshi herself said that City Hall's conversations with "electeds and people" won't play a role in the final two-lane-or-three discussion: "The statistic from the actual traffic analysis will be the decision making point," she said, echoing what city transportation officials have said about the debate: two lanes could inducing fewer drivers to use the roadway, but a narrower highway could encourage drivers to spill over onto adjacent neighborhoods. (The mayor's press office declined to provide more information, saying they were not getting into "private conversations," but the Brooklyn Eagle reported on Thursday that the mayor was going to hold a deeply political meeting with district leaders to hear their concerns. The headline of that story spoke volumes: "Shocker: Mayor's private BQE meeting could divide Brooklyn politicians; City Hall seems to support 3-lane superhighway pushed by southern Brooklyn; electeds who lobbied for 2 lanes not invited.")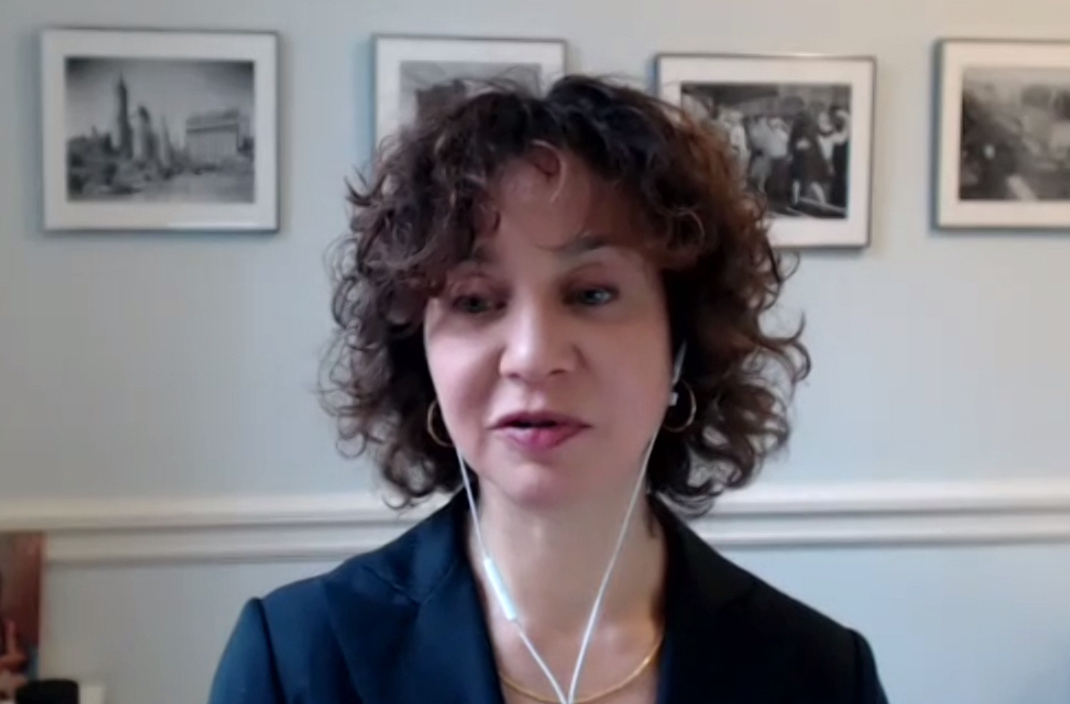 Mayor Adams revived proposals to replace the roadway's deteriorating and city-controlled section of the BQE between Atlantic and Sands Street by building a new roadway that is potentially wider with three lanes instead of the current two, Streetsblog first revealed late last year.
The project includes a possible temporary highway during construction, which is set to start in 2027.
There are no plans by the state to revamp its portion of the neighborhood-splicing behemoth, stretching from the Verrazzano Bridge to Triboro Bridge.
Former Mayor Bill de Blasio cut the lanes from three to two on the cantilever in 2021 to reduce the stress from vehicles, particularly illegally overweight trucks that cause the most strain on the decades-old structure.
State and city legislators along the BQE corridor swiftly rejected the notion that they or their constituents wanted a six-lane highway to keep tearing through their neighborhoods.
"This elected who represents much of the northern part of the BQE says no to three lanes. Two lanes at most," tweeted state Sen. Julia Salazar, who represents Williamsburg and Greenpoint sections of the BQE.
Salazar's colleague, Sen. Andrew Gounardes, who represents much of the highway from Bay Ridge to the Brooklyn Navy Yard, cited a Feb. 14 letter he and 16 other pols representing New Yorkers along the highway sent to the federal government asking for no more than two lanes.
"To be clear, 17 elected officials who represent communities north and south of the central portion of the BQE all support a two-lane highway in each direction," Gounardes wrote on Twitter.
Assemblymember Emily Gallagher (D-Greenpoint) summed it up most succinctly, writing on social media, "2 lanes if any," while Brooklyn Heights Council Member Lincoln Restler called Joshi's statements "plainly inaccurate."
During the morning Zoom interview with the law school, Joshi also questioned the plans by the prior administration to extend the lifespan of the BQE's triple cantilever by two decades and buy time and reimagine the highway entirely.
Her interviewer, law professor and former DOT Commissioner Ross Sandler, was on de Blasio's BQE expert panel in 2019 to study solutions for the highway, and the legal academic said the 20-year proposal could have paved the way for removing the highway entirely.
"It was really a way of providing the transportation and then moving to a time period 20 years from now where we may not want an interstate-size highway," Sandler said.
But Joshi countered that the highway remains a critical artery for the city, carrying some 130,000 vehicles a day, including about 13,000 trucks.
"We do have to be realistic that this is a roadway that is used by many not for a Sunday drive, but to get to work," Joshi said. "I just wouldn't want to bet on a plan that left the problem for our children with what might be an idealistic hope for the future."
Cities in the US and abroad have been able to get rid of destructive highway infrastructure without a traffic meltdown, including San Francisco, Seattle (where traffic "just disappeared"), Seoul, and even the Big Apple when the West Side Highway collapsed in 1973.
One Bay Ridge cycling activist said the city should not repeat Moses's mistakes following the false belief that more car lanes will relieve traffic, adding that the thousands of commuters on the roadway could be absorbed by better mass transit.
"Before the pandemic when there were three lanes, the traffic to the Brooklyn bridge would back up to Bay Ridge every morning. At some point you have to look at this and say, 'this is not working,'" said John Tomac of Bike South Brooklyn. "If you're not spending billions of dollars to rebuild a highway there's an opportunity to expand and invest in the mass transit system as well."
Kevin Duggan joined Streetsblog in October, 2022, after covering transportation for amNY. Duggan has been covering New York since about 2017 after getting his masters in journalism from Dublin City University in Ireland. After some freelancing, he landed a job with Vince DiMiceli's Brooklyn Paper, where he covered southern Brooklyn neighborhoods and, later, Brownstone Brooklyn. He's on Twitter at @kduggan16. And his email address is kevin@streetsblog.org.
Stay in touch
Sign up for our free newsletter