After years of fine-tuning, the Move NY coalition has released the final details of its plan to reduce congestion and fund transit by reforming New York City's dysfunctional toll system [PDF].
We'll have a full report from the launch event later today. In the meantime, here's a breakdown of the proposal in all its detail.
Who Would Pay What?
The plan creates a consistent toll for drivers to and from Manhattan south of 60th Street, while lowering tolls on outlying bridges. The idea is to charge the most where congestion is worst, aligning road prices with demand for road space and dramatically cutting traffic.
Cashless tolls at 60th Street and on the East River crossings would be approximately double what's charged on major outlying bridges. Driving into or out of the Manhattan central business district would cost the same as tolls already on the Queens Midtown and Hugh L. Carey tunnels, which are $5.54 each way for E-ZPass, or $8 without. Instead of cash, the tolls would be collected by license plate readers or mobile applications. (Just 17 percent of existing MTA bridge and tunnel drivers pay with cash.)
Drivers on the MTA's major outlying bridges -- the Triborough, Whitestone, Throgs Neck, and Verrazano Narrows -- would see tolls drop by 45 percent, or $2.50 each way, to $3.04 with E-ZPass or $5.50 without. Tolls on the "minor" outlying bridges -- the Cross Bay, Marine Parkway, and Henry Hudson -- would drop by $1.00 in each direction.
Future toll hikes would adhere to these ratios, with outlying tolls on major bridges set at 55 percent of the cost of CBD tolls.
Tolls for CBD-bound drivers on the Triborough Bridge would be capped under the plan. So if a driver passed over the Triborough and then crossed 60th Street within the hour, the total charges would be the same as crossing only the 60th Street cordon. Going the other direction, drivers exiting the Queensboro Bridge for destinations above 60th Street would pay the same, lower toll as Triborough Bridge drivers.
Trucks and other commercial vehicles crossing the Manhattan CBD would only pay the toll once per day; all other private vehicles would pay it each time they cross either 60th Street or an East River bridge or tunnel.
Taxis, which comprise 40 percent of traffic south of 60th Street, would have a separate pricing system. Yellow cabs would be completely exempt from CBD tolls, while boro taxis that discharge passengers in the CBD would be exempt for a set period -- Move NY suggests one hour -- to discourage them from sticking around Midtown and Lower Manhattan to pick up illegal street hails.
Instead of paying the toll, all yellow and green taxi trips would have an added surcharge with three components: a 15 percent surcharge on miles traveled south of 96th Street, a 20 percent surcharge on "wait time" when the taxi is stopped, and a 50-cent surcharge on each taxi trip. All together, these surcharges would total approximately $1.40 for a three-mile trip.
Livery cars, which do not have GPS-based fare meters, would be required to pay the tolls. Move NY suggests using location data from app-based services like Uber and Lyft to charge for miles traveled or minutes spent within the CBD. Move NY also suggests, but does not specify, increased tolls and surcharges during peak hours and lower fees during off-peak hours.
In another bid to have each borough contribute its fair share, Move NY calls on the city to eliminate Manhattan residents' exemption from the tax on monthly parking fees, which costs $15 million annually.
Where the Money Would Go
While East River bridges could be leased to the MTA or continue to be held by the city, tolls and fees would ultimately be collected by a combination of the MTA, NYC DOT, and the Taxi and Limousine Commission. Move NY proposes creating a new financing authority within the MTA's Bridges and Tunnels division to gather the revenue before disbursing it to city and state agencies according to a set formula.
Keeping the Move NY money tied to the MTA's existing bridge and tunnel revenue can help protect it from being redirected or raided by Albany.
Move NY also strongly opposes reducing existing MTA funding sources like the payroll mobility tax. To avoid that possibility, Move NY recommends that enabling legislation and new bond covenants include provisions that the state maintain or increase existing dedicated MTA revenue sources.
How the Money Would Be Spent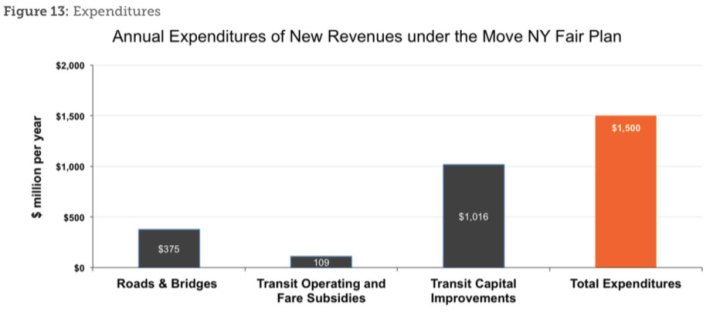 Taking into account the costs of administration, Move NY estimates that its plan would generate $1.5 billion in net annual revenue. Three-quarters of the revenue would go to transit, with one quarter dedicated to roads and bridges.
Other than specifying which agencies get the funding, Move NY does not call for legislating how the money will be spent. The group does have some suggestions, however.
The $1.125 billion in annual revenue for transit could be bonded to supply $15 billion, Move NY says. In addition to funding the MTA capital program generally, Move NY recommends spending the revenue to add bus service, build more Bus Rapid Transit routes, expand ferry service, implement commuter rail and express bus fare discounts, and fund suburban bus systems. It also supports investment in subway signal upgrades, contactless fare payment, station rehabilitations, and countdown clocks on all subway lines.
Move NY estimates that implementing its road pricing system would take two to three years (including environmental review) and suggests using that time to implement transit improvements before the new tolls come online.
A total $375 million would go to roads and bridges each year. Move NY suggests using some of that to fund operations and maintenance of the East River bridges, with most going to unspecified capital projects throughout the region.
The Net Result
According to Move NY, only 2 percent of trips in the 12-county MTA region will see an increase in tolls, while 1 percent would see a drop in tolls. Of the trips that would see no change, about a quarter are transit trips, and the rest are car trips that don't enter the Manhattan CBD. (In the five boroughs, 3 percent of trips will see a toll increase, 1 percent a toll decrease, and the rest -- roughly split between transit and non-CBD car trips -- no change at all.)
Of the 3.7 million people going to the CBD each day, more than 80 percent arrive by transit. Outer-borough households that drive into the business district, and will therefore face higher tolls, have incomes that are 34 percent higher than people who take the train or bus.
Travel to the CBD will shift to transit, with 100,000 fewer CBD-bound daily car trips -- but a net increase of 115,000 total trips to the same area each day, most of them by trains and buses.
There will be less traffic, too. Move NY projects a 15 to 20 percent drop in travel time for car trips south of 60th Street, and a 6 percent drop in travel time for car trips in Upper Manhattan, Western Queens, and northwest Brooklyn. Because of the reduced congestion, Move NY projects that taxi drivers will see a 15 percent increase in passenger turnover, leading to more fares per shift.
In spring 2017, Stephen wrote for Streetsblog USA, covering the livable streets movement and transportation policy developments around the nation. From August 2012 to October 2015, he was a reporter for Streetsblog NYC, covering livable streets and transportation issues in the city and the region. After joining Streetsblog, he covered the tail end of the Bloomberg administration and the launch of Citi Bike. Since then, he covered mayoral elections, the de Blasio administration's ongoing Vision Zero campaign, and New York City's ever-evolving street safety and livable streets movements.
Stay in touch
Sign up for our free newsletter