Carnage
Queens DA Richard Brown on Driver Who Killed Allison Liao: Accidents Happen
2:25 PM EST on November 17, 2014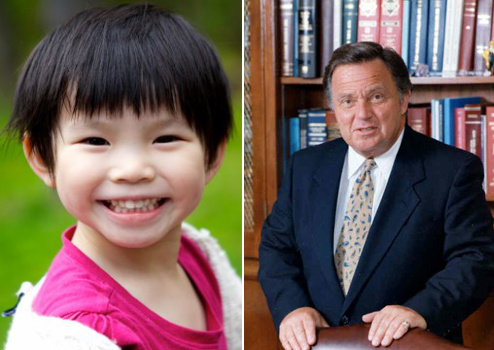 A letter from District Attorney Richard Brown's office explaining why no charges were filed against the driver who killed 3-year-old Allison Liao offers disturbing insight into the mindset of prosecutors charged with holding motorists accountable for serious traffic crashes in Queens.
The crash was captured on video. On the afternoon of October 6, 2013, Allison was walking hand in hand with her grandmother in a crosswalk at Main Street and Cherry Avenue in Flushing when the driver approached from behind and to their right. The motorist turned directly into them, striking both with the front corner of his SUV and pulling Allison under the left wheels. Her grandmother, Chin Hua Liao, was injured.
Police summonsed Ahmad Abu-Zayedeh for failure to yield and careless driving. Neither NYPD nor Brown filed criminal charges against him, despite concluding that Allison and Chin Hua had the right of way.
According to a civil suit filed by Chin Hua and Allison's father, Hsi-Pei Liao, Abu-Zayedeh told police he had consumed two glasses of wine before the crash. Abu-Zayedeh tested positive for alcohol in his bloodstream, the suit says, but his BAC threshold was below the .08 legal limit for driving.
Even with video evidence, unless a driver is drunk, New York City prosecutors rarely charge for injuring and killing pedestrians and cyclists. Brown, for example, filed no charges against a motorist who drove onto a Maspeth sidewalk and hit five children, one of whom died shortly after the crash.
A December 2013 letter to City Council Member Peter Koo from Charles A. Testagrossa [PDF], the assistant district attorney who supervises investigations and prosecutions of fatal crashes in Queens, says the DA didn't prosecute the driver who killed Allison Liao because he had a green light and stayed at the scene.
Wrote Testagrossa:
As you know, the accident occurred as Allison crossed Main Street in a crosswalk with her grandmother. The motorist who struck her had a valid driver's license and a green light to make a left turn. The driver remained on the scene and waited for police to arrive. The driver was administered two breathalyzer tests (PBTs) on the scene and the results of the test did not rise to the level of impairment. In fact, the PBT readings were such that, pursuant to Vehicle and Traffic Law (VTL) Sect. 1195(2)(b), they were "prima facie evidence that the ability of such person to operate a motor vehicle was not impaired by the consumption of alcohol and that such person was not in an intoxicated condition." Additionally, there was no evidence of excessive speed or phone usage at the time of the collision.
Testagrossa notes the two summonses NYPD issued to Abu-Zayedeh, and expresses Brown's "heartfelt condolences" to Allison's family, then concludes:
This Office takes very seriously it's [sic] responsibility to investigate and prosecute drivers whose criminal conduct results in death or serious injury on the roadways of Queens County. There are occasions as in this matter, however, when accidents occur which are not the result of criminality.
Testagrossa points out in his letter that Abu-Zayedeh had a green light, but ignores evidence that Allison and her grandmother were crossing with a walk signal and, therefore, would have had the right of way. This is a shocking interpretation of the law from a prosecutor in charge of pursuing cases against motorists who injure and kill pedestrians.
Attorney Steve Vaccaro, who is representing Allison's family in the civil suit, says Brown could have charged Abu-Zayedeh with misdemeanor reckless driving. Under state law, reckless driving occurs when a person operates a vehicle "in a manner which unreasonably interferes with the free and proper use of the public highway, or unreasonably endangers users of the public highway."
"Richard Brown has betrayed the trust of the families who elected him by acquiescing in an interpretation of VTL 1212 [the reckless driving statute], adopted by some judges, that nullifies the plain meaning of the language," Vaccaro said. "We expect leadership from our elected officials, including prosecutors, and have gotten none from District Attorney Richard Brown on the Liao case."
Rather than pursuing a case against him, Allison's family says prosecutors with Brown's office defended Abu-Zayedeh.
"They are making excuses for the driver, for the 'blind spot,' which they are referencing as the bar inside the car between the front windshield and side window," Hsi-Pei Liao told Streetsblog. "The driver had so much lead time to see my mom before running over Allison… Did he see my mom and didn't give her the right of way and misjudge how close he was?"
Parroting initial accounts from NYPD and the media, Abu-Zayedeh claims Allison ran into traffic, according to Vaccaro, and refuses to watch video of the crash.
Two weeks ago Allison's family learned that, last July, the New York State Department of Motor Vehicles dismissed Abu-Zayedeh's summonses. The DMV, which is known to adjudicate crash-related cases based mainly on driver testimony, hasn't said why the agency voided the tickets. Streetsblog filed a freedom of information request for DMV documents, including transcripts, related to Abu-Zayedeh's July hearing. He is scheduled to have another DMV hearing in January.
"There's a feeling of being victimized multiple times," Hsi-Pei said a press conference earlier this month. "First my child died, then they tell us it's not the driver's fault, then, by the way, the little tickets that were given out? They're going to be dismissed. It's multiple layers of pain every time."
Brad Aaron began writing for Streetsblog in 2007, after years as a reporter, editor, and publisher in the alternative weekly business. Brad adopted New York''s dysfunctional traffic justice system as his primary beat for Streetsblog. He lives in Manhattan.
Stay in touch
Sign up for our free newsletter