Development
Will de Blasio's Affordable Housing Plan Take on NYC's Parking Mandates?
3:31 PM EDT on April 9, 2014
With a plan due by May 1, the clock is ticking for Mayor Bill de Blasio's housing team to come up with a plan to improve housing affordability. Department of Housing Preservation and Development Commissioner Vicki Been, who authored reports on the city's regressive parking mandates before joining the administration, is at the center of the team producing the plan. But it's still not clear that the final product will consider the elimination of parking requirements as a strategy to create more affordable housing.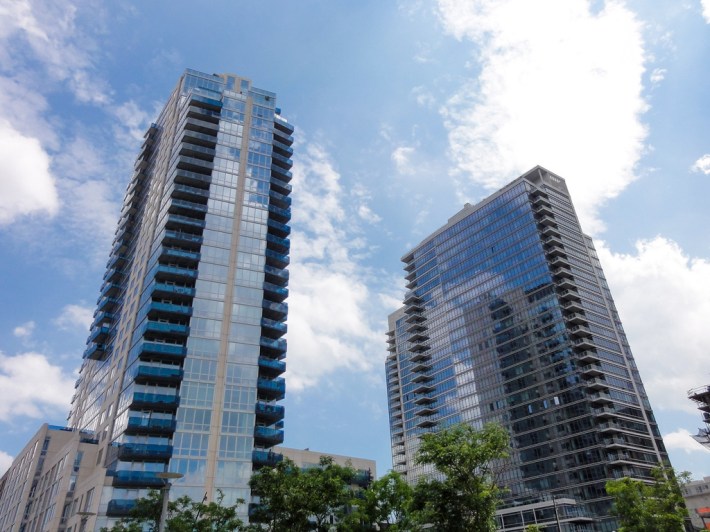 Parking mandates, which apply almost everywhere in NYC outside the Manhattan core, are a key piece of the larger affordability puzzle. The city and housing advocates have long recognized that parking requirements contribute to the high cost of new housing.
The Department of City Planning, acknowledging that low-income households have low car ownership rates, has eliminated parking requirements for affordable housing in zoning reforms for the Manhattan core and downtown Brooklyn. The department has also suggested eliminating affordable housing parking requirements as part of reforms for "inner ring" neighborhoods in Manhattan, the Bronx, Brooklyn, and Queens.
Affordable housing advocates cheered this approach. "We see parking as a major drag on affordable housing projects," said Alexandra Hanson, policy director at the New York State Association for Affordable Housing, the trade association representing developers of affordable housing. "It's a requirement that isn't really serving the residents or the community."
Other advocates want a guarantee that lower parking requirements will lead directly to more below-market housing. Moses Gates, of the Association for Neighborhood Housing and Development, a coalition of non-profit affordable housing advocates and developers, said the city should link any reduction in parking requirements to the creation of more affordable units.
"If we're going to change the parking rules to make it easier to build," he said, "that should be explicitly tied to the creation of affordable housing."
It's an approach that appeals to Council Member Steve Levin, who told Streetsblog he'd like DCP to review parking requirements along the Greenpoint-Williamsburg waterfront. So far, a handful of the area's proposed developments have already been built. "I'd be really interested to see, right now, what the parking utilization is," Levin said. If parking garages contain lots of empty spaces, he said, the city should pare back or eliminate parking requirements for future developments in exchange for community benefits, such as affordable housing.
In 2012, Levin argued for a similar arrangement in downtown Brooklyn. Right now, DCP is setting the stage for parking reforms in "inner ring" neighborhoods. Levin said Greenpoint-Williamsburg could serve as a "test case" for the next round of parking reforms.
During the campaign, de Blasio promised to institute mandatory inclusionary zoning, which would require developers to build affordable units as part of their market-rate developments. Using this stick will likely involve the carrots of increasing allowed density or reducing development costs.
The elimination of parking requirements seems like an ideal carrot. So far, though, the administration has given no outward indication that broad parking reforms will figure into its affordable housing plan. The New York Post reported last month that the city is considering inclusionary zoning, higher taxes on vacant land, and overhauling the approvals process, among other strategies. Parking was not mentioned.
NYSAFAH's Hanson wouldn't discuss inclusionary zoning, but ANHD has been leading a campaign for mandatory IZ. I asked Gates if, with structured parking costing up to $50,000 per space in New York City, eliminating parking requirements should be one of IZ's carrots to create more affordable units. Gates said ANHD was supportive in concept but, since parking isn't the organization's primary focus, the group hadn't given it much consideration. "Adjusting the parking standards is something that hasn't been at the forefront of our minds. It hasn't been an explicit campaign," he said. "We should take a look at it."
Pointing to the cost savings for developers, the environmental benefits, and the potential to create more affordable units, Gates said the benefits are clear, even if the path to implementation is not. "Reforming parking is a win-win-win," he said.
In spring 2017, Stephen wrote for Streetsblog USA, covering the livable streets movement and transportation policy developments around the nation. From August 2012 to October 2015, he was a reporter for Streetsblog NYC, covering livable streets and transportation issues in the city and the region. After joining Streetsblog, he covered the tail end of the Bloomberg administration and the launch of Citi Bike. Since then, he covered mayoral elections, the de Blasio administration's ongoing Vision Zero campaign, and New York City's ever-evolving street safety and livable streets movements.
Stay in touch
Sign up for our free newsletter