Antonio Reynoso
Electeds Want MTA Onboard With Vision Zero After Latest Pedestrian Death
1:59 PM EST on March 3, 2014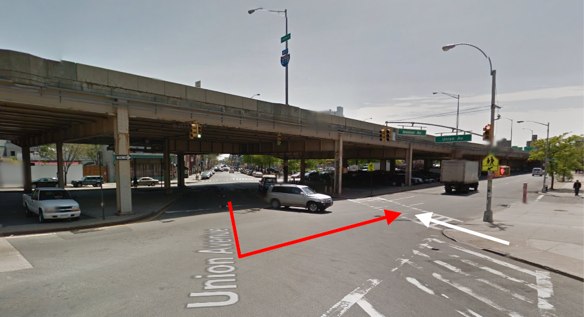 Electeds and advocates called for changes at the MTA and for Mayor de Blasio to focus street safety resources on northern Brooklyn after another pedestrian was killed by a bus driver this weekend.
Marisol Martinez, 21, was crossing Union Avenue at Meeker Street in Williamsburg with two other people at around 1:25 a.m. Saturday when she was hit by a bus driver making a left turn.
"When we were in the middle of the crosswalk, we saw the bus, and we saw it too late," the victim's cousin, Jose Gonzales, said at a press conference on Sunday. "We had the right to cross, so I mean, for the bus not to yield, for it not to stop, I don't know."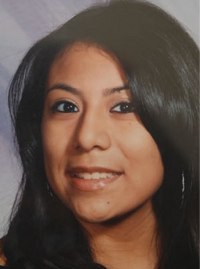 Gonzales, 22, said he and his friend Jonathan Acosta, also 22, ran to get out of the driver's path, and barely avoided being hit themselves. Martinez was behind them. She was first hit by the front of the bus, Gonzales said, and was run over by the right rear tire.
"I made it in time, my friend [Acosta] made it in time, but as I turned around at the same time I saw my cousin go down face first and get ran over. It ran over her body, and I didn't see her anymore on my side. I went around the other side to see her crushed. Her leg was crushed. The flesh was all over the floor. I couldn't bear to see it. I saw her on the floor. I couldn't get near her. I couldn't do anything to help her anymore. My friend screamed for the bus to back up. It never did."
Acosta told the driver, an unidentified 50-year-old woman, to move the bus off of Martinez, Gonzales said. "She said she couldn't do anything about it." The Daily News reported that the bus driver was not charged for turning a bus into a crosswalk where three people were walking. As of this afternoon, a spokesperson told Streetsblog NYPD could not confirm information on charges or summonses, and said the investigation is ongoing.
Martinez was a sophomore at Hunter College and wanted to be a nurse, according to a News 12 report.
Martinez was the third pedestrian or cyclist killed by an MTA bus driver in 2014, and at least the tenth such fatality in the last 12 months, according to crash data compiled by Streetsblog. On Sunday, officials joined loved ones of Martinez, Ella Bandes, and Seth Kahn -- who were fatally struck by bus drivers in 2013 and 2009, respectively -- at Grand Street and Borinquen Place. On hand were City Council members Steve Levin and Antonio Reynoso and Assembly members Joe Lentol and Martiza Davila.
"We chose the intersection of Grand and Borinquen for this event because it took a number of incidents, including fatalities, before the city made changes to the street design that prioritized pedestrian safety," said Reynoso via a press release. "It should not take a tragedy to get the city to pay attention; we should be taking a proactive approach that prevents these incidents from happening at all."
At the press conference, Miller Nuttle of Transportation Alternatives said street improvements such as safer crosswalks and protected bike lanes, along with more traffic enforcement of violations including failure to yield and speeding, would save lives and prevent injuries. "We know that big, wide, fast streets like Meeker Avenue send a signal to drivers to speed and drive recklessly," said Nuttle. "These types of streets and the crashes that typically accompany them are by no means inevitable."
North Brooklyn had one of the highest concentrations of traffic deaths in 2013, according to NYPD data mapped by I Quant NY. In addition to making the area a focus of Vision Zero, Levin and Lentol said the MTA must participate. Levin said MTA drivers should be trained to a much higher standard than other motorists.
"We clearly have too many major injuries, fatalities, broken families as a result of bus drivers failing to yield, bus drivers not driving appropriate for such a massive, multi-ton vehicle," said Levin. "There is no possible reason why a bus driver would fail to yield to a pedestrian."
Levin said MTA buses should be equipped with a guard that pushes pedestrians out of the path of the rear wheels. He said such guards are already in use in DC, Chicago, and Los Angeles. "That's something the MTA can do right away," said Levin. "They could do that tomorrow."
"The first thing we're looking for is the cooperation of the MTA, and if we don't get that cooperation, then they're looking at legislation to force their cooperation," said Lentol. "So we're not going to make it difficult for them in the beginning, but we want to have them as a partner in Vision Zero."
Streetsblog asked the MTA by email about its investigation into the crash, whether the driver faces disciplinary action, and if the agency will have a role in the implementation of Vision Zero. "We will conduct a thorough investigation," a spokesperson replied. "DOT has contacted us about Vision Zero and [we] look forward to further discussion."
Martinez, whose birthday was in January, was the eldest child in her family, Gonzales said. "The last thing we talked, was just about her birthday and how I missed it. Her life just started. She had big plans."
Brad Aaron began writing for Streetsblog in 2007, after years as a reporter, editor, and publisher in the alternative weekly business. Brad adopted New York''s dysfunctional traffic justice system as his primary beat for Streetsblog. He lives in Manhattan.
Stay in touch
Sign up for our free newsletter