NYPD
Bringing "Broken Windows" to Street Safety: Bratton Talks Traffic at Forum
4:57 PM EST on November 19, 2013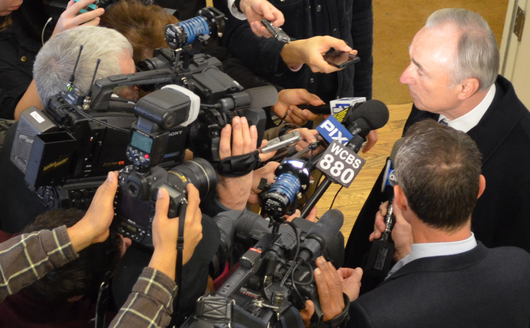 At a Transportation Alternatives forum this morning on reforming the agency's approach to traffic enforcement, former NYPD commissioner (and current contender for his old job) Bill Bratton said street safety deserves more attention from the police. The former chief was followed by a panel discussion featuring one of the creators of the "broken windows" theory of policing Bratton is credited with executing, who argued that the approach should also be applied to traffic violence.
With speculation swirling about Mayor-elect Bill de Blasio's pick for police commissioner, pressure is mounting from street safety advocates who want to see NYPD play a stronger role in reducing crash-related deaths and injuries.
"The Bloomberg administration has spent a significant amount of time and focus on redesigning the streets," Bratton said. Of police traffic enforcement, he said, "More can be done in this critical area. The time for this issue has come."
Bratton's history with traffic enforcement dates to his childhood: He served on his elementary school's walk-to-school safety patrol, and his first assignment in the Boston Police Department was directing traffic. Bratton spoke highly of aggressive "jaywalking" ticketing in Los Angeles, where he served as police chief, but his emphasis shifted when he began to talk about New York. "One of the great things about this city is that it is so much a walking city. Similar to what occurred in the 90s on crime, more can be done to deal with this issue," he said. "I'd like to walk the streets and ride the streets on a bicycle on occasion...I don't feel comfortable riding a bicycle on the city streets."
"We now know precisely which modern street designs work to reduce death and injury," Transportation Alternatives executive director Paul Steely White said, mentioning protected bike lanes, pedestrian islands, increased crossing time, and curb extensions. "Our next DOT commissioner needs to make safely-designed streets the rule, not the exception," he said. "If that is what the DOT is doing differently to achieve Vision Zero, what is the NYPD going to do to achieve Vision Zero?"
White then pointed to infractions like speeding and failure to yield, which are top contributors to fatal crashes. "These violations are not meaningfully enforced today in New York City," he said. "We're not making progress anymore. Traffic injuries and fatalities were going down, but they've plateaued."
After Bratton's remarks, members of the panel spoke about how the "broken windows" theory of policing can be applied to improve traffic safety. "Bad driving is a crime," said Dr. George Kelling, who is credited with developing the broken windows approach in the 1980s. "The focus is not to arrest people after they've committed offenses. We want to stop the next speeding event," he said. "We can identify people who are chronically bad drivers and who are criminal in doing so."
Richard Retting, director of traffic safety at Sam Schwartz Engineering, said there are also demographics that are more likely to drive recklessly: 80 percent of drivers involved in fatal crashes are men, he said, and young males are particularly risky drivers.
An additional benefit of increased traffic enforcement is that it can offer an entrée for police to crack down on other types of crimes. "Not all bad drivers are criminals, but a lot of criminals are bad drivers," Kelling said. Earlier this month, in fact, NYPD discovered a large cache of cocaine during a traffic stop in East Williamsburg. A similar dynamic was at play when police began to crack down on subway farebeaters decades ago, Kelling said: One in 10 turnstile jumpers was either wanted on a warrant or carrying an illegal weapon.
Before the plan to crack down on farebeaters could see results, Kelling said, commitment from police and political leadership was required. "We couldn't get any white shirts down in the subway," he said, referring to NYPD brass. "They all had their cars; they wouldn't ride the subway." Eventually, he said, a commitment from then-chief Bratton helped push the program to success.
"I like it when police are having contact with citizens," said Kelling, who told Streetsblog after the event that he came to see in the past decade how "broken windows" could be applied to traffic safety. "The thing that happened when we put police officers in cars is that they lost contact with the community, and in some respects we became the enemy of the communities, which seems to be a struggle here right now."
"No campaign will succeed unless you have buy-in from the top and across the board," said Dr. Lorna Thorpe, a CUNY epidemiologist who led a multi-agency study of cyclist injuries and fatalities [PDF], adding that transportation, health, and police agency heads and deputies must be committed to Vision Zero if the mayor's office wants it to succeed.
"The primary responsibility rests with the boss of New York City and that is the Mayor-elect, Bill de Blasio," White said. White added that NYPD's TrafficStat meetings used to include advocates and staff from outside the police and transportation departments. "Those meetings are no longer public. They've not been public for many years," he said.
Panelists agreed that data about crashes, investigations, and enforcement must be accessible to advocates and the public. "There's very little data that police have that should not be shared with the public," Kelling said. "As a general rule, the more you share the data, the better off you are especially in developing partners."
After the event, Public Advocate-elect Letitia James said she was alarmed by the NYPD's refusal to open its meetings and data sets. "What was really disturbing to me is that we do not open certain meetings to the public and that data is not available," she said. "I believe that NYPD obviously should provide their data to the public so we can reduce these incidents."
The biggest change that needs to take place, however, is cultural. "Juries have a hard time convicting criminal drivers if they identify with the driver," said Manhattan Institute fellow Nicole Gelinas. "That can change." Gelinas pointed to a recent Democratic mayoral debate where the candidates laughed about texting while driving. "They treated it as a joke. I can't imagine any of them would ever admit to drinking and driving, and if they had, it probably would've disqualified them from the race," she said, noting that drunk driving used to be a socially acceptable behavior.
The consequences of dangerous driving are personal. At the end of the forum, moderator Errol Louis called on Mary Beth Kelly, who lost her husband to a reckless truck driver. "I know there are other people in the room who have lost people on the streets," she said. "You imagine -- if you weren't with them -- what that was like, for the rest of your lives."
In spring 2017, Stephen wrote for Streetsblog USA, covering the livable streets movement and transportation policy developments around the nation. From August 2012 to October 2015, he was a reporter for Streetsblog NYC, covering livable streets and transportation issues in the city and the region. After joining Streetsblog, he covered the tail end of the Bloomberg administration and the launch of Citi Bike. Since then, he covered mayoral elections, the de Blasio administration's ongoing Vision Zero campaign, and New York City's ever-evolving street safety and livable streets movements.
Stay in touch
Sign up for our free newsletter