Brad Lander
Participatory Budgeting Offers Chance to Vote for Livable Streets Projects
3:53 PM EDT on March 18, 2013
Eight city council members have put a portion of their discretionary capital funds up for a vote as part of an exercise in participatory budgeting, which allows residents to decide how the money will be spent in their own neighborhoods. Votes in each district are approaching soon, and there's an opportunity to support livable streets projects.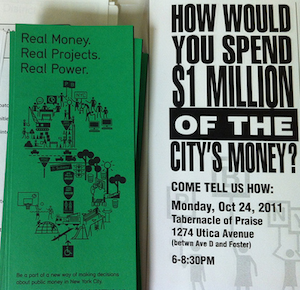 The participating council members are David Greenfield, Brad Lander, Stephen Levin, and Jumaane D. Williams of Brooklyn; Dan Halloran, Eric Ulrich, and Mark Weprin of Queens; and Melissa Mark-Viverito of Manhattan. Each has put up $1 million in discretionary capital funds, with residents submitting ideas that will appear in early April on a final ballot, open to district residents age 16 and older.
In Lander's district, stretching from Cobble Hill to Borough Park, there are five projects related to pedestrian safety and livable streets:
A Safe Routes to School project at Yeshiva Torah Temimah, on Ocean Parkway near 18th Avenue [PDF];
Extending an upcoming DOT capital project on Church Avenue by adding curb extensions at Coney Island and McDonald Avenues [PDF];
Constructing a larger plaza space at the triangle intersection of Church Avenue, 14th Avenue, and 35th Street;
Adding capital funds to an existing DOT project on Hicks Street, to gain concrete curb extensions and improve visibility at the intersection with Congress Street;
Creation of a new concrete pedestrian plaza adjacent to a community garden at Van Brunt Street and Hamilton Avenue.
Lander is hosting a science fair-style expo where residents can learn more about the projects on the ballot, this Thursday from 6:30 to 8:30 p.m. at the Park Slope branch of the Brooklyn Public Library.
Council Member Stephen Levin's office identified two projects that may be of interest in the district, stretching from Park Slope to Greenpoint along the East River waterfront:
Improved lighting, wayfinding, and interactive art for pedestrians on Atlantic Avenue near the Brooklyn-Queens Expressway overpass;
Installation of tree guards on Fourth Avenue between Atlantic Avenue and Union Street; on Kent Avenue between North 3rd and North 9th Streets; and on Nassau Avenue between Manhattan and Morgan Avenues.
Levin hosted an expo in Greenpoint last week for residents to learn about the projects, and is hosting two more this week: tomorrow at the YWCA at 30 3rd Avenue from 6:00-9:00 p.m., and Saturday in the City Tech Atrium at 300 Jay Street from 2:00-5:00 p.m.
Council Member Eric Ulrich's participatory budgeting process was focused on Rockaway and Broad Channel; that effort is delayed in the wake of Hurricane Sandy as the city develops a master rebuilding plan. A final ballot and vote have not been finalized for the district, according to Ulrich's office.
Streetsblog has checked in with other council members to see if there are livable streets projects on their participatory budgeting ballots. We'll let you know if we hear back. For complete information on expos and voting in each district, check with the Participatory Budgeting NYC Project.
This is the second round of participatory budgeting in New York City, with Greenfield, Halloran, Levin, and Weprin joining pioneers Lander, Mark-Viverito, Ulrich, and Williams. Although the process has been well-received by residents hungering for a bigger say in what happens in their neighborhood, it does have limitations, especially for livable streets projects that are often either too small for capital dollars (painted bike lanes, stop signs) or too big for participatory budgeting (for example, street reconstructions), given the limited pot of money available.
Projects must also serve a significant portion of the district's population in order to gain enough votes during balloting, and the limited scope of livable streets projects allowed in participatory budgeting can make it difficult to appeal to people beyond the street corner affected.
"You get so many restrictions," explained Wendy Friedman, who helped put together the project list as a participatory budgeting committee member in Lander's district.
But even if a project does not make it to the ballot, the process can bring neighborhood needs to the attention of community boards, council members, and city agencies. In his push for bus countdown clocks last year, Lander noted that it was a popular request during participatory budgeting.
Last year, Friedman suggested a bike lane project on Union Street that the committee learned was ineligible for capital funds. But there was a bright side. "The DOT really liked the project, and they pursued it on their own," she said.
In spring 2017, Stephen wrote for Streetsblog USA, covering the livable streets movement and transportation policy developments around the nation. From August 2012 to October 2015, he was a reporter for Streetsblog NYC, covering livable streets and transportation issues in the city and the region. After joining Streetsblog, he covered the tail end of the Bloomberg administration and the launch of Citi Bike. Since then, he covered mayoral elections, the de Blasio administration's ongoing Vision Zero campaign, and New York City's ever-evolving street safety and livable streets movements.
Stay in touch
Sign up for our free newsletter