Private Dump Truck Driver Kills Woman at 23rd and Madison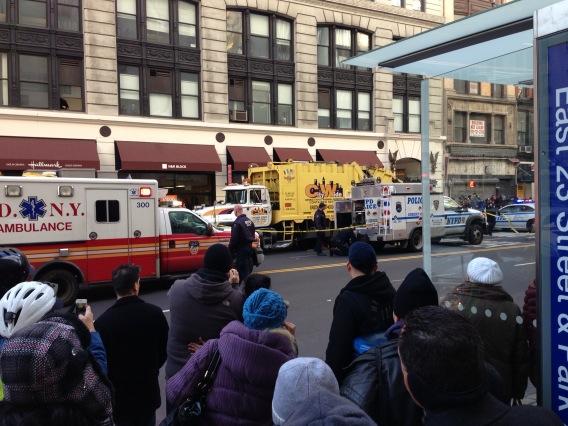 Gothamist reports that a private dump truck driver ran over and killed a woman this afternoon in Manhattan:
A woman was fatally struck by a private sanitation truck in the Flatiron district in Manhattan today. According to police, the incident happened around 12:26 p.m. at East 23rd Street and Madison Avenue. An NYPD spokesperson confirmed the woman was pronounced dead at the scene, but had little other information. Based on photos, it appears she was hit by a CityWide demolition and rubbish removal vehicle.
Update: According to the Post, the victim was biking east on 23rd when she was struck by the dump truck driver, who was "pulling out into traffic."
Two things to keep in mind while we look into this fatal crash:
Private dump trucks have the highest pedestrian kill rate of any type of vehicle on NYC streets, according to the 1999 report "Killed by Automobile" produced by analyst Charles Komanoff [PDF]. Maybe someone with power and authority, like City Council Transportation Committee Chair James Vacca, should look into that and help to prevent more bloodshed.
There's a law on the books requiring large trucks to be equipped with safety mirrors that let drivers see blind spots in front of the cab. However, the law also has some huge loopholes, including an exemption for vehicles registered out-of-state. CityWide Demolition is headquartered in Brooklyn. Among other aspects of the crash, Streetsblog will be looking into whether this truck was equipped with the special mirrors.
This fatal crash occurred in the 13th Precinct. To voice your concerns about neighborhood traffic safety directly to NYPD Deputy Inspector David Ehrenberg, the commanding officer, go to the next precinct community council meeting. The 13th Precinct community council meets on the third Tuesday of each month at 230 East 21st Street, at 6:30 p.m. Call (212) 477-7411 for information.
The City Council district where the victim was killed is represented by Rosie Mendez. To encourage Mendez to take action to improve street safety in her district and citywide, contact her at (212) 677-1077.