Bicycling
Cops in NYC Ticket Only 2% of Blocked Bike Lanes: Analysis
12:01 AM EDT on April 6, 2023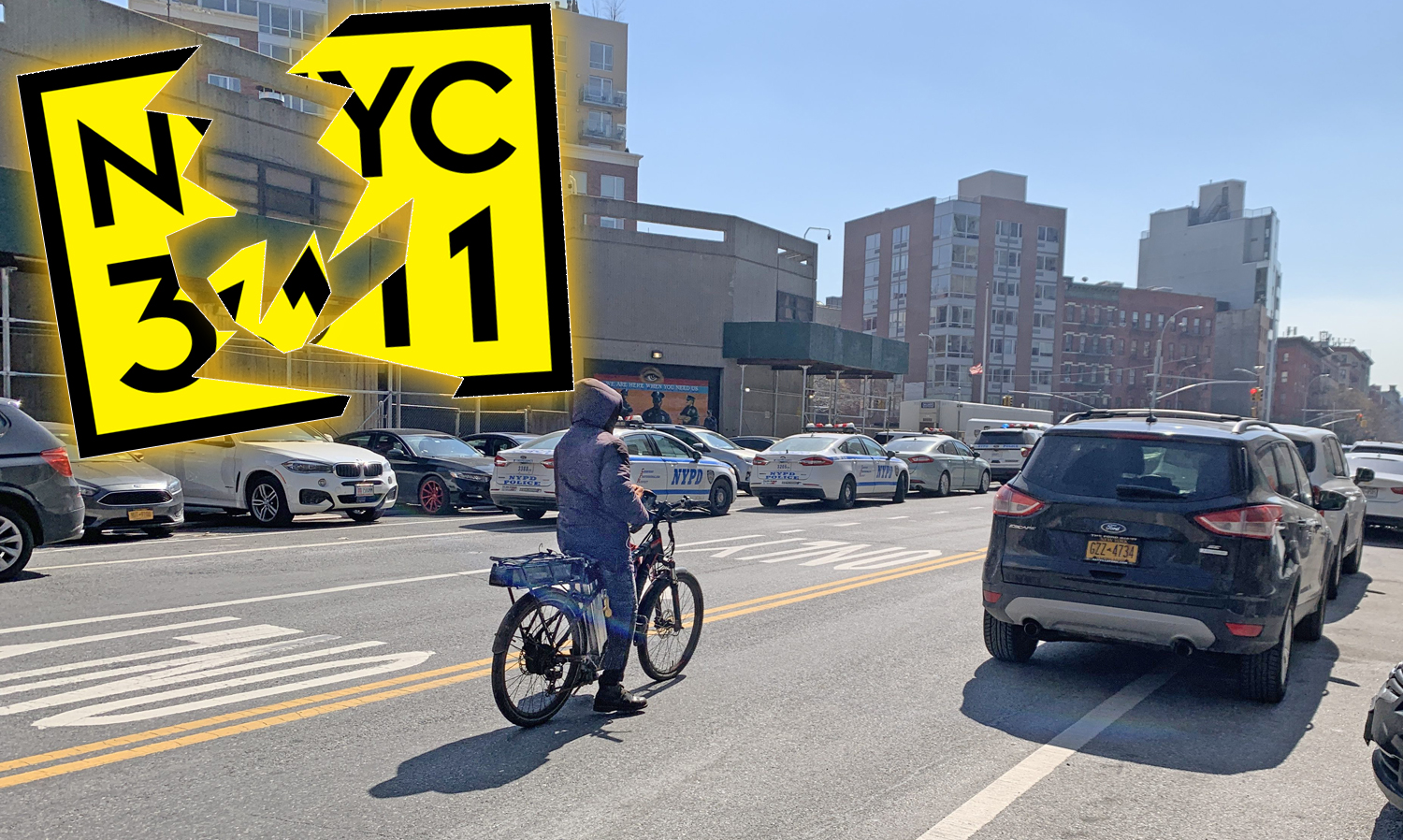 Don't bother complaining to the city about that car parked in the bike lane — the NYPD will probably toss your complaint into the bureaucratic waste-bin, Streetsblog has found.
Police wrote tickets in response to just 1.9 percent of the more than 76,000 service requests to the city's 311 system about illegal parking in bike lanes since October 2016, compared to 16 percent of all other complaints over the same period, according to publicly available data.
Parking in a bike lane — which force cyclists into car traffic and has led to injury and death — carries a $115 fine. It ranks dead last among complaints in terms of enforcement.
There's a huge dysfunction in city government where the Police Department decides what laws it will and won't enforce," said Jon Orcutt, advocacy director at Bike New York. "This kind of behavior deters people from submitting complaints so the city ends up not being able to understand the scale of the problem."
Cars occupying bike lanes have proven deadly in cases such as the death of Madison Lyden, an Australian tourist killed by a driver after she maneuvered into traffic to avoid an Uber driver in the bike lane on Central Park West. Yet NYPD cops routinely close bike lane complaints with excuses such as that a car parked illegally "does not fall under the Police Department's jurisdiction," cited in response to over 1,300 complaints. In over 10,000 instances, officers "determined police action was not necessary," while "officers were unable to gain entry" to a public street to conduct the requested enforcement on dozens of occasions. (Streetsblog investigated the NYPD's failure to address 311 complaints in an award-winning investigation in 2021.)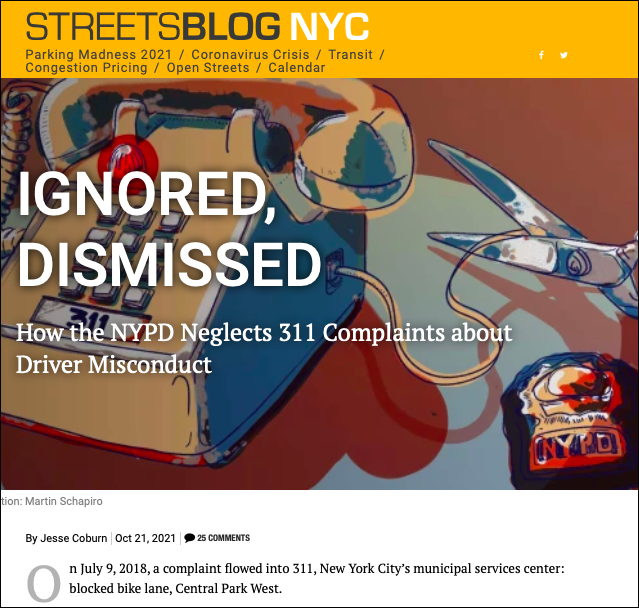 Some transit advocates have pushed for more parking-protected bike lanes, or even metal bollards that physically prevent cars from entering bike lanes, but Orcutt, a former city Department of Transportation official, said a faster solution is to drastically increase enforcement.
The city flooded the subway with officers last year in an effort to calm fears over crime in the system, but has not made similar efforts to ensure other forms of transportation are safe and reliable.
In most instances of 311 blocked bike lanes complaints, responding officers claimed that they did not observe the crime and therefore could not issue a violation. In more than 60 percent of complaints, police claimed that when they arrived there was no evidence of a violation — no surprise when it takes them an average of 3 hours and 35 minutes to respond, according to the data.
At the same time, thousands of cases are closed in mere minutes. The number of bike lane complaints closed in under 10 minutes rose in every year of available data, and last year hit a new high of 1,985. That is faster than the NYPD responds to the most critical and serious crimes such as shootings and assaults, according to city statistics.
The number of bike lane complaints has steadily increased over the past three years — often exceeding 2,000 a month during the summer — yet tickets lag far behind, with no more than 61 issued in a single month, according to police. That number may also be inflated: There is no matching summons in city records for 45 percent of cases where NYPD claimed to write a bike lane blocking ticket in response to a 311 complaint.
Even with lightning fast response times for bike lane complaints, police typically claim when they arrive the car was gone or officers "determined that police action was not necessary." Just 28 complaints resolved in under 10 minutes resulted in a ticket, according to police, though only 18 of those could be matched to a summons.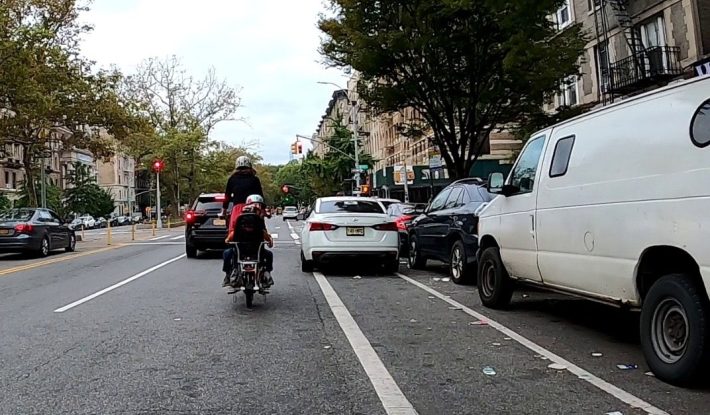 A bill currently winding its way through the City Council would empower citizens to submit evidence of illegal parking, although the revised version of the bill no longer includes a provision to award a portion of the $175 fine to the person who provided the evidence.
People who file 311 complaints should be given a chance to rate their satisfaction with the response to provide an additional layer of accountability, one researcher suggested.
"If the 311 system was introduced to facilitate and trace citizens' requests for government services, and to make city agencies accountable for their responses, at least part of that mission is in a state of entropy," said Noah McClain, a professor at Santa Clara University who focuses on policing and technology.
"When we stand on a street corner waiting for a police response to a problem only to see a message saying, falsely, that the police came by and didn't see the problem, we find that the mechanism to make agencies accountable has become a way for them to avoid accountability," McClain added.
The rarity of enforcement — plus a recent confirmation that officers sometimes harrass citizens who report scofflaws — puts the lie to police claims to prioritize what the public wants.
"We do want the community to kind of just direct us to what's going on, what's really troubling the community, and work with us so we can address these issues," Jeffrey Maddrey, chief of department, told PIX 11 News at a recent meeting focusing on crime data.
The Office of Technology and Innovation, which runs 311, and the NYPD did not respond to multiple requests for comment.
Stay in touch
Sign up for our free newsletter