Eric Adams
Adams To Albany: Someone Fund The MTA; Albany To Adams: Someone Fund The MTA
12:01 AM EST on February 16, 2023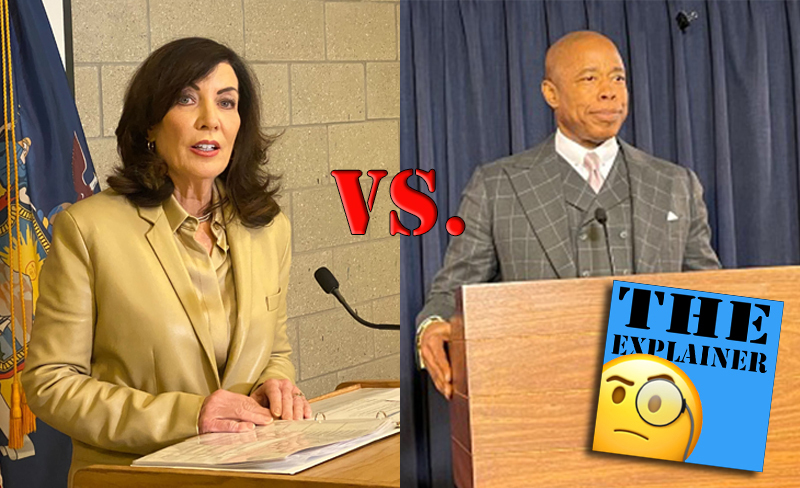 The fight to fill the MTA's fiscal hole is entering the dreaded Punt Zone, where elected officials from the governor and the State Legislature to the mayor all unite to say someone else has got to solve their problem.
Mayor Adams visited Albany on Wednesday to tell state legislators in no uncertain terms that he was completely uninterested in Gov. Hochul's plans for the city to contribute another $500 million per year to cash-strapped MTA — while Hochul, at an event in Manhattan, insisted pols concerned about fare hikes and the city budget have to make "tough choices" to keep trains running.
The dueling comments from Adams and Hochul show how their gap isn't merely words, but money.
Adams says the MTA is the state's problem and city residents pay enough
"This current proposal hits New Yorkers twice," Adams griped. "Once through the higher fares that riders will still face — and once through the diminished service delivery by local government, which will have at least half a billion dollars each year going to subsidize a state run authority."
Hochul's proposed budget adds costs to the city by having it pick up the bill for Access-A-Ride and half-priced student Metrocards, as well as cover the costs of the employer-funded Payroll Mobility Tax for exempt institutions such as schools, small employers and libraries.
The mayor's argument on Wednesday was two-pronged: first, that the city already contributes $2.4 billion directly and indirectly to the MTA each year, and, second, that Hochul unfairly singled out city taxpayers to solve a regional issue.
"Aside from the increased payroll mobility tax, that all localities in the MTA service area must pay, New York City is the only locality that has been asked to increase its contribution by hundreds of millions of dollars," Adams said.
Since taking office, Adams had made the case that as federal COVID aid runs out, the city needs to tighten its belt. This year he has proposed cutting the size of the city budget through cuts to libraries and early childhood education.
City residents' money accounts for 68 percent of MTA revenues, according to city bean counters. In addition to billions in state taxes city resident pay to the MTA, City Hall provides $2.3 billion in annual subsidies to the authority, city Finance Commissioner Jacques Jiha told lawmakers. The city under Mayor Bill de Blasio also contributed $3 billion to the MTA's current capital plan.
"MTA is a statewide obligation," Adams testified. "We're doing our share. We know how important the MTA is, but we don't have an endless flow of cash."
Lawmakers don't buy the mayor's penny-pinching
Lawmakers did not show much sympathy for the mayor's suggestion that the city is too broke to contribute more to the MTA, which has failed to replace ridership revenue lost since the start of the COVID-19 pandemic.
"Given the amount of services that the MTA provides to New York City, don't you think it's fair that the city shares some portion of this burden?" asked Assembly Member Ed Braunstein (D-Queens), the chair of the Assembly Cities Committee.
State Sen. Liz Krueger (D-Manhattan) suggested it wasn't legislators' responsibility to figure out an alternative to Hochul's proposal.
"I understand your point about these new costs for the city, and I've been reading all these articles that are commenting on why you shouldn't do this proposal," she said. "But you agree we have to do something — [that] we are completely dependent on making sure we have a functioning MTA. So what do you suggest we do up here to actually get the MTA the money that I think we both agree it needs?"
Adams responded that legislators should follow his lead at City Hall and institute across-the-board cuts at agencies at the state level.
One Assembly Member, Democrat Chris Eachus of Orange County, disregarded Adams' comments entirely and tried to goad him into criticizing the MTA's spending habits.
"Since it's a state agency, shouldn't you be asking us to kind of restructure the entire MTA, not just worry about [fare] increases and so on like that?" asked Assembly Member Chris Eachus (D-Orange County). "Because we're talking about hundreds and hundreds of millions of millions of dollars."
Adams wasn't alone in his desire for the state to cut the city budget some slack, though — as State Sen. Leroy Comrie (D-Queens) vowed to find a new revenue source to substitute for the governor's city cash grab, without offering specifics.
Senate Majority Leader Andrea Stewart-Cousins has said she's "not interested in fare hikes" — a sign she's thinking about where to find more money.
"We're just trying to get to a place that, again, underscores the mission — making sure the MTA is solvent and viable and trying to impose as little pain as possible." Stewart-Cousins told reporters on Tuesday. "You're trying to increase ridership and to increase fares would be detrimental."
Hochul preaches 'tough choices'
City taxpayers currently fund half of Access-A-Ride and one-quarter of half-price student MetroCard programs, at a cost of $203 million for the para-transit service and $45 million for student fares. But Hochul also wants Adams to pay the 47 percent of Payroll Mobility Tax payments that aren't levied on exempted employers in New York.
State Legislators created the PMT in 2009 as part of a previous era's MTA rescue plan, levying 34 cents on every $100 in payroll that employers in the MTA service area carried. Public schools were originally the only exempt employers in 2009, but in 2011, then-Gov. Cuomo expanded expanded the free-pass to private and religious schools. Officials added libraries to the list in 2015.
Up until now, state coffers have covered the costs of the Cuomo exemptions. Under Hochul's plan, the Adams administration would have to foot the bill — likely weighing additional municipal budget cuts to do so.
The governor has the upper hand in the state budget process because her staff write the blueprint that starts off the whole shebang. Asked by Streetsblog about proposals to pump more state funds into the transit system, Hochul rhapsodized about tough choices.
"The challenge we have now as everyone knows, that three years after the pandemic we're still not up to the ridership levels that we had before the pandemic hit," the governor said during an appearance in Manhattan on Wednesday.
"That has hit the revenues and the funding sources that we had before so we've now had to recognize that the MTA is looking to go off a fiscal cliff if we don't make some tough decisions now."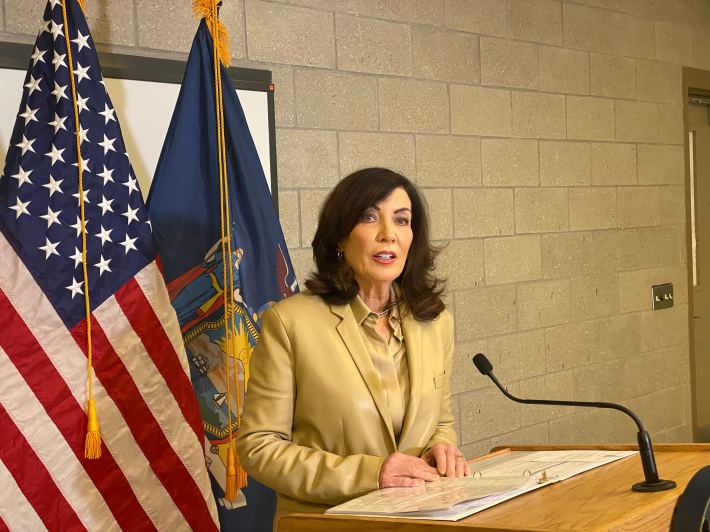 Watchdogs accused Hochul of trying to shirk a long-time state responsibility by offloading it onto city coffers.
As Reinvent Albany showed in a recent report, PMT replacement funds were 25 percent of the total tax receipts in 2013, but the state began reducing that percentage the next year, and now replaces as little as 14 percent of the exempted money leaving a hole of over $200 million in 2022.
"The PMT exemption proposal is a gimmick," Reinvent Albany Researcher Rachael Fauss told Streetsblog.
New York State has also underfunded its own required matching contribution to the MTA operating budget for decades now, to the tune of almost $175 million per year.
The required contribution — established under a 1975 state law known as 18-b — required New York City to contribute to the MTA's bus and subway operating budget from the city's general fund. While the city made its payments every year since, the state has underpaid its share every year since 1995 by reclassifying existing regional taxes already earmarked for the MTA as money that the state is providing on its own.
Where do things go from here?
Hochul declined to comment on the "Fix the MTA" plan proposed by some progressive lawmakers, which would take the wealthy to close the budget gap, freeze fares, make buses free and increase service frequency.
Until the State Legislature releases its own budget proposal later this year, it will be hard to know exactly how much the mayor's public and private lobbying will pay off.
Expressing a willingness to look to the city for some extra scratch, "Fix the MTA" booster Assembly Member Zohran Mamdani (D-Queens) still insisted he and his Albany colleagues have a responsibility to solve the problems they created a decade ago.
"The state should absolutely fill these holes," Mamdani said. "I'm open to the question of whether the city should contribute more to the MTA but, when it comes to 18-B and PMT replacement funds, the state created these holes and it's our responsibility to plug them."
For his part, Adams told reporters that he was confident the city's delegation will find a way to do right by the Big Apple.
"We have an amazing group of New York City lawmakers that really protect the city," the mayor said.
"What our job was today was to say to those lawmakers that this is going to impact the services and delivery services in the city. With that information and knowledge, they are going to go back to their chambers in respective chambers, and they're going to fight on behalf of New York."

Dave Colon is a reporter from Long Beach, a barrier island off of the coast of Long Island that you can bike to from the city. It's a real nice ride. He's previously been the editor of Brokelyn, a reporter at Gothamist, a freelance reporter and delivered freshly baked bread by bike. Dave is on Twitter as @davecolon. Email Dave Colon at dcolon@streetsblog.org
Read More:
Stay in touch
Sign up for our free newsletter