Council Elections 2021
Incoming Bronx Council Members Tell Us Their Top Transportation Priorities
12:01 AM EDT on August 25, 2021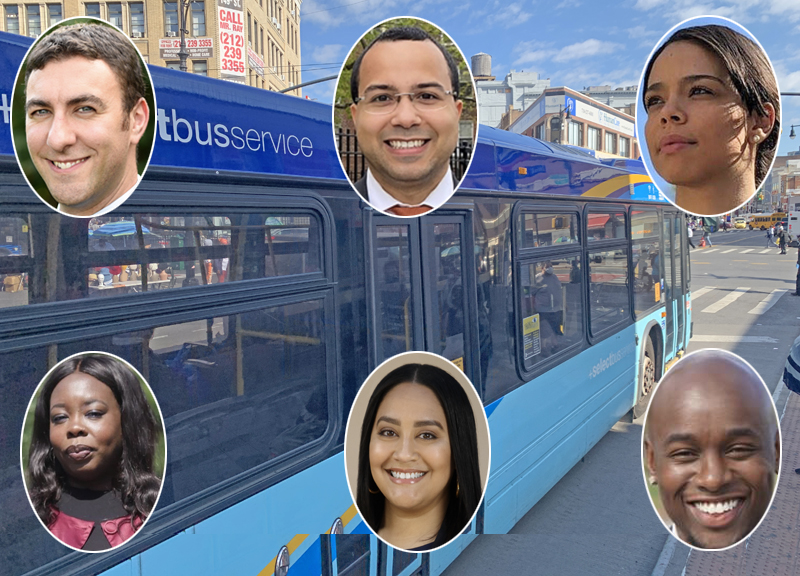 Next year's incoming City Council is all but certain [certified results here], so we began reaching out to the presumptive lawmakers from the districts that will get new leadership on Jan. 1, 2022 to see what transportation priority the incoming lawmaker has at the top of his or her list. Earlier this month, we looked at the new Queens lawmakers, and, before that, those in Brooklyn. Today, we examine The Bronx, where four districts are getting new leadership. It was no surprise that Eric Dinowitz, Oswald Feliz, Pierina Sanchez, Althea Stevens and Amanda Farias spoke to us about buses. But there was one big surprise: Only one incoming lawmaker even mentioned safety in a borough where 7,829 people were injured in crashes last year — that's more than 21 injuries per day! Do better, Bronx.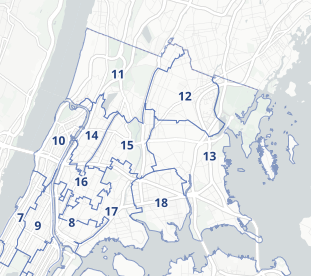 District 8 — East Harlem, Mott Haven, Highbridge, Concourse, Longwood, Port Morris
Incumbent Diana Ayala, who retained her seat after beating East Harlem committeewoman Tamika Mapp, did not respond to requests for comment.
District 11 — Bedford Park, Kingsbridge, Riverdale, Norwood, Van Cortlandt Village, Wakefield, Woodlawn
Eric Dinowitz eliminated Mino Lora, a nonprofit executive, to retain the seat he won in a special election in April. The lifelong Bronxite and former special education teacher (who was not endorsed by StreetsPAC) touted the need to make transportation in his district less challenging. Here is what he told Streetsblog:
My top priorities are improving and expanding bus service, and expanding accessibility in our transit system. Our corner of the Bronx is very different than other parts of the city in terms of transportation options. Just over half of my constituents use our public transportation system, though many residents do not have easy access to a subway line. Traversing the Bronx is also extremely challenging. Intra-Bronx transit and access to subways are just two reasons why expanding our bus service is so important. I want to bring more SBS stops to the district, and have buses run more frequently. I also mentioned that accessibility is a priority for me. Buses are the most accessible form of public transportation, and we must invest in them. Before I was elected to the City Council, I was ... able to secure a commitment from the MTA for a much-needed elevator to the Mosholu Parkway train stop. We need more elevators, ramps, and other technologies at our train stations to achieve more accessibility so everyone has fair and equal access to our transit system and to our city.
District 12 — Wakefield, Olinville, Edenwald, Eastchester, Williamsbridge, Baychester, Co-op City
Kevin Riley, who won the seat in a special election last December to replace ousted Andy King, retained his seat in the northern Bronx. Riley, whom activists have urged to resolve the safety issues on the dangerous Boston Road, emphasized that this district is a transit desert. Here is what he told Streetsblog:
District 12 has long been a transportation desert. The Penn Station Access project plans to bring four additional Metro North stations to the Bronx, will help. However, the community needs action that will produce effects forthwith, allowing more accessible means of transportation.

We started an e-scooter pilot program in the district, which was designed to provide more convenient, safe and reliable options for people to get around. I believe this is a huge milestone for our community in transforming transit issues. That being said, it is highly important to work closely with the community and Department of Transportation to identify how more safety solutions, like protected bike lanes and paths, can be implemented in the district. We want to ensure that, as alternative methods of transportation are being used, the safety of our e-scooter riders and cyclists is a top priority.

In addition to addressing the transit desert issue, e-scooters provide a clean, low-emission method of transportation. The high asthmatic rate in the Bronx should be alarming to us all. As a dad to an asthmatic 6-year-old, I want to help lower the emissions in our district, and it is important to create more environmentally sustainable means of transportation within the district. Proposing ways to increase incentives for those who transition to hybrid/electric vehicles is the direction we need to veer to in order to created deep-rooted change in New York City.
District 13 — Allerton, City Island, Country Club, Edgewater Park, Ferry Point, Morris Park, Pelham Bay, Pelham Gardens, Pelham Parkway, Schuylerville, Throggs Neck, Van Nest, Westchester Square, Zerega
Marjorie Velasquez is lined up to become the first woman of color to represent the 13th Council District. She will succeed Mark Gjonaj, who announced in February that he would not seek re-election. Velasquez, who was not endorsed by StreetsPAC, did not respond to requests for comment.
District 14 — Morris Heights, University Heights, Fordham, Kingsbridge
Pierina Ana Sanchez, a former senior advisor for housing, economic development and labor in the de Blasio Administration, will succeed term-limited Fernando Cabrera. Endorsed by StreetsPAC, Ana Sanchez emphasized the need to create streets centered around pedestrians and cyclists during the campaign. Here is what she told Streetsblog:
We need streets for people! By designing our streets for our neighbors — prioritizing pedestrians, cyclists and accessible transit, especially prioritized, faster and more reliable bus service via dedicated bus lanes, busways, transit signal priority, external fare collection, and other interventions that improve the quality of the experience — our streets can be safer and more pleasant. And with better connectivity, our city can be more equitable.

Fortunately, our neighborhood is ripe with opportunities for improvements. The implementation of the third phase of the reconstruction of the Grand Concourse is a good example of the kind of safety redesigns we need more of: expanded sidewalks, improved lighting, optimized signals and more traffic calming devices like bump outs and well-placed islands. We especially need these in our east-west corridors, like Fordham Road and Tremont Avenue, which are critical Vision Zero priority areas. We also need more protected bike lanes — the Bronx is home to only 3 percent of the city's biking infrastructure. We want to see more outdoor dining and plazas, and I look forward to making outdoor dining permanent and improving upon our open streets pilots. We have a stunning waterfront with almost no public access, and as we expand our trails and cycling network, I look forward to expanding access to the Harlem River as well.
District 15 — Bedford Park, Fordham, Mount Hope, Bathgate, Belmont, East Tremont, West Farms, Van Nest, Allerton, Olinville
Oswald Feliz, who retained the seat he won in a special election earlier this year, told us that he would double down on buses. Here is what he said:
The healthcare industry is the largest employer in the Bronx, making the borough and my district home to essential workers who depended heavily on public buses throughout the pandemic. Compared to subway ridership there was less of a decline on bus ridership throughout the pandemic, which became the preferred method of transportation for essential workers. Essential workers continued to go out keeping the city moving through the worst of the pandemic.

I recently stood with Riders Alliance, NYPIRG Straphangers Campaign, and Transportation Alternatives at Fordham Plaza in my district to call on the mayor to implement his Red Carpet to Recovery plan. The plan addresses many of my top transportation priorities, including giving busses traffic signal priorities, meaning fewer red lights for buses. Now that OMNY contactless payment has been installed system wide we need to push for all-door boarding on all bus routes to increase efficiency and cut down on wait times, similar to how the select bus service bus system operates using the OMNY tool.

Redesigning congested corridors such as Fordham Road, which is also home to one of the city's most vital shopping districts, is a top priority. Currently it can take upwards of 20 minutes to travel in a vehicle along Fordham Road between the Grand Concourse and Webster Avenue, whereas it is about a 10-minute walk. Under the mayor's plan, the Department of Transportation will redesign and improve Fordham Road congestion and bus ridership through an inclusive outreach plan with businesses, community leaders, and families.

In 2010, Fordham Road was the first place Select Bus Service was implemented. Select Bus Service's innovation was a boon for ridership, local small businesses, and increased quality of life for my constituents. It's time again we innovate transportation in the 15th Council District.
District 16 — Claremont, Concourse, Concourse Village, Highbridge, Morris Heights, Mount Eden, Morrisania
Althea Stevens, a community advocate, replaces Vanessa Gibson, who won the primary to become Bronx borough president. Stevens, who was not endorsed by StreetsPAC, stressed her need for better transportation like other pols, but also expressed the need for greener cars. Here is what she said:
Public transportation is not as accessible in the outer boroughs. To give folks more options for how to get around, we need more protected bike lanes, specifically lanes that connect throughout the borough and the city with the goal of establishing the Regional Plan Association's Five Borough Bikeway. We can utilize parking lanes as barriers to ensure we are not taking away additional parking from residents. Additionally, although, I support the promotion of alternative moods of transportation we also should be moving our city towards electric cars. Thus, we need to ensure we have more charging stations and look to incentivize making this switch.
District 17 — Concourse Village, Crotona Park East, East Tremont, Hunts Point, Longwood, Melrose, Morrisania, Port Morris, West Farms
Rafael Salamanca Jr., who retained his seat after beating Andy King's former chief of staff Helen Hines, did not respond to requests for comment. He was not endorsed by StreetsPAC.
District 18 — Soundview, Castle Hill, Parkchester, Clason Point, Harding Park
StreetsPAC-endorsed Amanda Farias will replace retiring Council Member (and noted homophobe) Ruben Diaz Sr.. Farias, a former Riders Alliance board member, highlighted in her campaign that residents living in the 18th Council District face multiple disadvantages that makes transit inaccessible to them. Here is how she plans to make it accessible:
Transportation equity is my passion, and in transit deserts like District 18 in the Bronx, we see how limitations in access create barriers to the working class residents of our communities.
Our public transit system is in need of revitalization in order to provide the bare minimum to residents who live in transportation deserts with minimal options.

In my first 100 days, I plan to address this by increasing the frequency of train, bus, and ferry times in order to quickly provide more transportation opportunities to districts like mine, that already offer minimal transit support.

Our community is growing, with multiple transit options being built around the area, including incoming Metro-North stops. We will need to develop methods to better utilize and connect our public transit; and ensure economically residents can actively participate in using them. Long term, I want to add additional ferry stops and multi-modal transit hubs, that make bikes and scooters available, to ensure that last-mile transportation is accessible and makes commuting easier on communities such as mine.
Stay in touch
Sign up for our free newsletter