Aggressive Driving
LATEST LOBBYING: Advocates Pushing Street-Safety Bills in Albany
12:01 AM EDT on April 9, 2021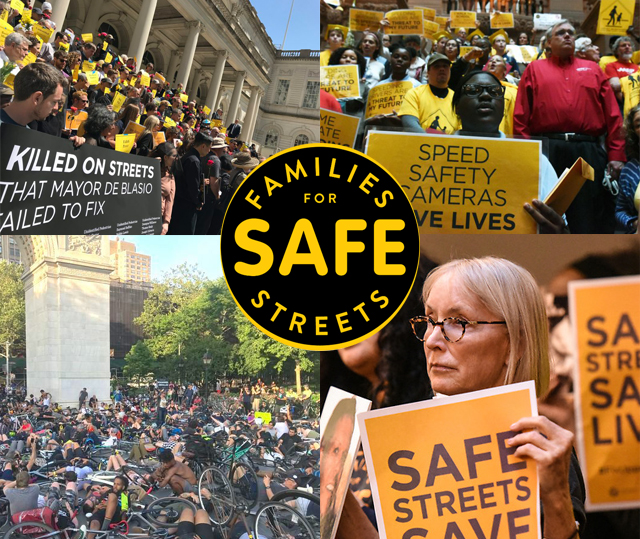 Fresh off several years of legislative wins, livable streets groups are pushing Albany lawmakers to adopt a raft of street-safety measures in order to bring to heel mounting traffic violence in the state.
The coalition, led by Families for Safe Streets, Transportation Alternatives, Mothers Against Drunk Driving, N.Y. Bicycling Coalition and allied legislators, is lobbying online for eight bills, collectively dubbed the Crash Victims Rights & Safety Act, during the week of April 19, which coincides with the national Crime Victims Rights Week. The bills seek to prod consumers to purchase safer vehicles, make it easier to hold reckless drivers accountable, lower speed limits, expand the use of speed cameras, combat alcohol-impaired driving, educate new drivers about vulnerable road users, and improve road safety for cyclists, among other measures.
"We have the tools to cure the epidemic of traffic violence. What we need now is for lawmakers to act," said Amy Cohen, co-founder of Families for Safe Streets and mother of Sammy Cohen Eckstein. "I know this firsthand: In 2013, my 12-year-old son was killed by a reckless driver. After that, I fought to lower New York City's speed limit, and a year later, when a driver crashed into another child on the same street, the lower speed limit meant that child survived. But today, too many are still killed in traffic on unsafe streets. It is time for New York State to enact a comprehensive plan to make our streets safer and ensure that crash victims have greater support."
In the last seven years, this broad coalition has succeeded in enacting legislation to lower speed limits in New York City, launch speed-camera enforcement in school zones around the state (and, later, expand the use of those cameras), legalize and regulate e-bikes and e-scooters, and mandate congestion pricing in the city's central business district.
The new bills are important because New York's traffic-violence statistics remain alarming and are becoming even more so. According to the state Department of Health, an average of three New Yorkers die every day in traffic crashes. In 2019, 931 people were killed in vehicle-related crashes, making such crashes the leading cause of injury related death, the second-leading cause of injury related hospitalizations, and third-leading cause for injury related emergency department visits. Vehicle crashes cost the state at least $15 billion annually in combined costs from hospitalization, emergency response, legal expenses, lost wages, and lost economic activity, according to federal data.
In New York City, crashes claimed the lives of at least 243 in 2020 — making it the deadliest year since Mayor de Blasio adopted his Vision Zero program to eliminate traffic deaths in 2014. The proximate cause of all the carnage was the COVID-19 pandemic, which emptied streets during the early days of the lockdown. The open roads habituated many reckless drivers to speeding, which they continued even as more vulnerable users returned to roadways. From July 1 through Oct. 31, 2020, for example, total road fatalities rose almost 40 percent compared to the previous year, while pedestrian deaths rose 16 percent, and car driver deaths nearly doubled.
"With the COVID-19 pandemic has come an epidemic of fatal crashes and increased speeding on our streets," Marco Conner DiAquoi, deputy director of Transportation Alternatives, said in a statement. "New York needs bold action to save lives. The Crash Victims Rights & Safety Act is a multi-pronged approach that will support survivors and help stop the rising tide of traffic deaths. Our statewide coalition is working tirelessly to secure passage of all eight bills in this package this year. We cannot wait any longer when it comes to saving lives."
The Crash Victims Rights & Safety Act includes:
"Every year, hundreds of precious New Yorkers are killed in traffic crashes, but it doesn't have to be this way," said Assembly Member Emily Gallagher, a sponsor of the DMV-related bill. "With the package of bills in the Crash Victims Rights & Safety Act, we can address reckless driving, end these unacceptable tragedies, and finally create the conditions for everyone's shared safety on our public streets."
Stay in touch
Sign up for our free newsletter