Bicycling
DOT's 5-Year Plan: Faster Buses, Smarter Parking, 5-Boro Citi Bike, Lots More
1:22 PM EDT on September 15, 2016
NYC DOT published a new strategic plan yesterday [PDF], marking the first time the agency has refreshed its guiding document under Mayor de Blasio and Commissioner Polly Trottenberg.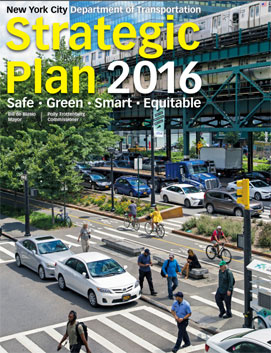 In addition to synthesizing a lot of work that DOT has previously announced (pedestrian safety plans, Select Bus Service routes, a wider Brooklyn Bridge promenade), the update includes several new projects and initiatives. The big headline-grabber is a center-running two-way protected bike lane on Delancey Street connecting the Williamsburg Bridge and Allen Street, slated for next year.
Advocates have been calling to complete that missing link in the bike network for ages. With the L train shutdown coming up in 2019, time is of the essence to get a safe, high-capacity bikeway on Delancey to handle the swarms of people on bikes who'll come over the bridge. The Delancey project is one of four bridge access projects DOT aims to complete in the next two years. Though DOT doesn't name the other bridges in the plan, it says the projects in its Harlem River bridges initiative will be a priority.
There's a mountain of other stuff in the strategic plan. While some of the goals should be more ambitious (10 miles of protected bike lanes per year isn't enough in the Vision Zero era) and the benchmarks for success could be more specific (most timetables call for hitting key milestones either by 2017 or by 2021, the last year of a hypothetical second term for de Blasio), the ideas are solid.
In a way the document underscores the urgency of securing more funds and political backing from City Hall for DOT's initiatives -- given sufficient resources, DOT is going to put them to good use.
Here's my compilation of new ideas and goals from DOT that I think Streetsblog readers will find especially interesting.
Designing and maintaining safer streets
DOT's borough-by-borough pedestrian safety plans will continue to guide its street redesigns. In addition, DOT is working with the Department of Health and NYPD on a review of crashes that caused cyclist fatalities or serious injuries, which will inform efforts to improve bike safety. Also new in the strategic plan:
Bike-share, bike parking, bike counts, and e-bikes
With the current phase of Citi Bike expansion set to wrap up in 2017, DOT is starting to look ahead to a third phase. DOT says its goal is to bring bike-share to all five boroughs, though the strategic plan doesn't offer much detail about the scope or timetable for the next round of expansion.
Other bicycle-related initiatives of note:
Transit
The strategic plan does not name new Select Bus Service projects that aren't already in the pipeline, but it does reflect a promising new emphasis from DOT on expanding bus improvements beyond SBS routes -- which could help reverse a systemwide decline in bus speeds and ridership.
Parking and freight management
DOT's efforts to reduce double-parking and cut traffic by adjusting the price of metered curb space haven't progressed much under Mayor de Blasio, despite the debut of new technology that lets people pay for parking by phone. That should change if DOT follows through on the strategic plan, which calls for "a pricing strategy to increase curb availability for deliveries and customer parking, focusing especially on congested commercial districts."
There's also hope for placard reform in the strategic plan:
Stay in touch
Sign up for our free newsletter