NYC Speed Cameras Are Making Streets Safer — Time to Stop Holding Back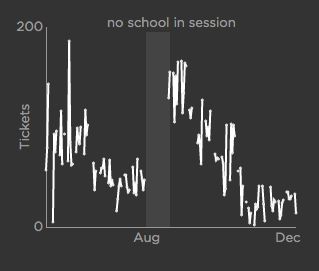 Speed cameras are reducing traffic injuries and lowering the rate of speeding on New York City streets, according to an analysis by WNYC.
WNYC used speeding citation data to identify present and past locations of DOT's 51 active speed cameras, which now issue more citations than NYPD. Pairing that information with crash data, WNYC found that crashes resulting in injury fell 13 percent within 500 feet of fixed camera locations in the last four months of 2014, compared to the same period in 2013 — significantly more than the citywide drop. The number of drivers speeding in the vicinity of cameras declined as well.
Speeding is the leading cause of fatal traffic crashes in New York City, but restrictions imposed by Albany mandate that the city's speed cameras operate only near schools during school hours. Tickets are only issued if a driver exceeds the posted speed by 11 mph or more, and fines are limited to $50 with no license or insurance points. In general, severe crashes tend to happen at night when the cameras are off.
WNYC put together graphs that indicate turning off the cameras when school is out of session for the summer weakens the effectiveness of the speed camera program. Not only do the cameras cease operating for several weeks, but drivers quickly begin speeding again, and the rate of violations returns to previous levels before the cameras reassert a deterrent effect.
Studies of speed cameras elsewhere offer more evidence that New York's program could be more effective without these restrictions. A 2010 review of dozens of speed camera programs found that the typical decrease in crashes causing fatal or severe injury is 30 to 40 percent.
NYC DOT also has yet to make full use of the speed cameras at its disposal. The law enables the city to operate 140 cameras, but only 51 are in use so far. Former DOT policy director Jon Orcutt tweeted that the WNYC analysis is all the more reason for the agency to deploy all of its 140 cameras now, rather than over the course of 2015.