Bicycling Mag Names NYC the Best City for Bicycling in America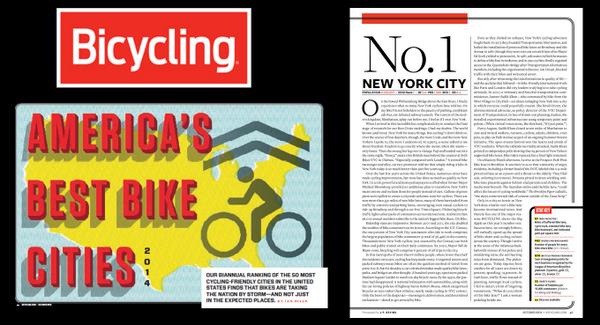 Later this morning, DOT Commissioner Polly Trottenberg will join the editor and publisher of Bicycling to announce that New York now tops the magazine's list of America's best cities for biking. The news leaked in Portland, which owned the top spot for years and where the stagnation of city cycling rates is a major story, as early as last week, so I figured I would share my thoughts on this development ahead of the official decree.
Here they are in old-school blogger bullet point format (didn't have time to turn this into a proper listicle):
Man, this would have made so much more sense as a valedictory moment at the tail end of the Janette Sadik-Khan years at NYC DOT, in recognition of the bike lane designs the agency pioneered in the U.S. and the launch of the nation's biggest bike-share system under her leadership. Instead it's coming at the beginning of the as-yet-unproven Polly Trottenberg era.
Getting named the best city for biking in America is kind of like winning the Little League World Series or the MLS Cup. We're not talking about world-class competition here.
This sentence from the Bicycling Mag write-up rings true: "Success here, we strongly believe, will radically speed up the spread of bike-share and cycling culture across the country." It's already happening. Progress on bike infrastructure in NYC has led to the proliferation of protected bike lanes in other American cities. Maybe a better way to phrase this distinction, then, is that NYC has been "the best city for American bicycling."
America's best city for biking really ought to have a better police force for biking.
Sure, Portland has higher bike mode-share. No doubt biking in Portland is generally less stressful than biking in NYC. But by the same token, bike mode-share in little Davis, California, beats the pants off Portland's, and it's probably even less stressful to bike there. Should Davis get the top spot? NYC is a behemoth with crushing car congestion and deserves a ton of points for turning scary meat grinder traffic sewers into bikeable streets (when cops aren't parked in the bike lane). Compared to other big American cities with at least a million residents, New York can credibly claim to be the best for biking.
Even so, as former NYC DOT policy director Jon Orcutt wrote in a post on Streetsblog last week, "cycling in New York is still relatively underdeveloped, with gigantic opportunities for growth ahead." New York is not yet a city where safe bike infrastructure extends to every neighborhood, where most parents feel safe riding with their kids to school, or where older residents can comfortably bike to get groceries. Tons of work left to do.
Speaking of which, everyone wants to knock out the champ, and Bill de Blasio and Polly Trottenberg have their work cut out for them if they want to hang on to this title. Chicago is building decent bike lanes faster than NYC these days. Pittsburgh Mayor Bill Peduto is backing up his bike-friendly campaign rhetoric with action. Even LA could catch up pretty quickly under new DOT chief Seleta Reynolds, if Mayor Eric Garcetti makes it a priority. In a few years, this could be a major league contest.
We'll have more coverage from the Bicycling press event later today.