A generation ago, every new building in New York City had to include parking. Even in downtown and midtown Manhattan, the law required developers to build parking spaces for 40 percent of all new residences. The most walkable, transit-accessible districts in the country had mandates to set aside space for car storage.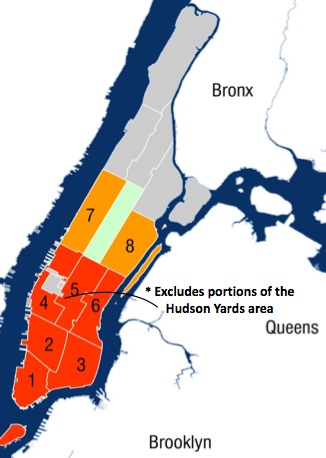 The passage of the Clean Air Act in 1970 changed that. A series of lawsuits brought under the new law forced the city to reckon with the fact that parking mandates were making New York's traffic and air pollution problems worse. The city changed course. In 1982, parking maximums replaced parking minimums in Manhattan below West 110th Street and East 96th Street. Nearly 30 years later, the limits on parking in the Manhattan core -- parking is capped at 20 percent of new residential units below 60th Street, and 35 percent on the Upper West Side and Upper East Side -- still constitute perhaps the most important use of parking policy to limit traffic in any American city.
Their effect is diminished, however, because the rules are riddled with loopholes. Special permits allow developers to skirt parking maximums, and parking minimums still impede the construction of affordable housing. Now, the Department of City Planning is undertaking a major rewrite of the Manhattan core parking regulations that could address these and other shortcomings. A summary of the proposed changes [PDF] prepared by the law firm Kramer Levin at the end of August for clients in the real estate industry and two documents outlining DCP's research obtained by Streetsblog [PDF 1, 2] reveal the department's thinking. (DCP would not comment for this story other than to say it has not yet produced a final proposal.)
According to parking policy experts, DCP's Manhattan core proposal, as it appears in these documents, would be a significant improvement over the status quo, tightening the restrictions on parking and eliminating major loopholes and incentives that lead to parking construction. Parking maximums are also in place in parts of Long Island City, but it is unclear whether the reforms will extend into Queens; none of the documents Streetsblog obtained mention Long Island City.
The enactment of these reforms is far from certain. The real estate industry is lobbying against the changes and pushing for existing parking maximums to be loosened. At the same time, a faction within DCP believes that current limits on parking have failed to reduce driving and that building more parking is necessary to attract high-income residents and families with children. The future of parking reform in the Manhattan core is still very much in question.
While market-rate housing construction in the Manhattan core is governed by parking maximums, affordable housing is not. In fact, the city still requires parking in public and publicly-assisted housing built in the area. John Rhea, the head of the New York City Housing Authority, has stated that parking minimums impede the redevelopment of public housing. In the private sector, minimums have forced developers to cut affordable units from their projects.
DCP would eliminate those parking minimums and replace them with the standard Manhattan core parking maximums, according to the Kramer Levin summary. "That should be citywide," said David King, a planning professor at Columbia University. "The evidence is becoming overwhelming that minimum parking requirements are a hindrance to affordable housing."
Perhaps the most sweeping DCP proposal would eliminate the current distinction between accessory parking and public parking inside the Manhattan core. Why does this matter? First, some definitions. Parking spaces designated for a particular building or tenant are called "accessory" spaces -- these are what parking minimums require. Parking spaces that anyone can use are considered "public" spaces.
Parking experts cheered the prospect of getting rid of the distinction between accessory and public parking. "Single use accessory parking is hugely problematic," said Rachel Weinberger, a planning professor at the University of Pennsylvania. "Making all the parking public use represents the epitome of shared parking, which is one of the holy grails."
The provision of accessory parking is based on the idea that every tenant or development should have its own parking. Under this model, a motorist should be able to pull out of the garage attached to his apartment building, park at his workplace, and park again at the gym on the way home. There has to be a space for him at each destination. Shared parking, in contrast, consolidates those spaces, allowing them to be used more efficiently and encouraging people to park only once per trip. "Requiring parking on premise is the wrong way to approach parking in an urban area," said King.
Without accessory parking, DCP will also have to reconsider how it grants exemptions from parking maximums. Currently, developers can flout parking maximums by getting a special permit from the City Planning Commission. Though there are restrictions on issuing those permits, in practice, almost every request is granted, flooding neighborhoods like Hell's Kitchen with new garages and allowing developments like Riverside Center to build enormous garages against the wishes of the local community board and elected officials.
Under the new proposal, to grant a special permit for a residential project, the City Planning Commission must find that "there is an imbalance between existing parking supply and new housing that generates new parking needs within a 1/3 mile area," reported Kramer Levin.
"To require a demonstration of need based on area-wide availability is also an excellent idea," said Weinberger. "It's absolutely impossible to determine the 'correct' amount of parking required on a per use or building basis." Even so, using an area-wide focus isn't enough to ensure that special permits are not granted too freely, Weinberger said. "The potential downside is in how DCP determines 'need,'" she explained. "That's the $64,000 question." If City Planning assumes that large numbers of people will drive no matter what, the agency will grant a large number of special permits, said Weinberger. If instead they look for ways to add transit capacity instead of parking, they might find far fewer spaces are needed.
The DCP proposal also targets an incentive to build parking caused by an exemption for above-grade parking. The zoning code restricts density using a measure called floor-area density. But parking built up to 23 feet above grade doesn't count toward the allowed density. "The floor area exemption for parking essentially acts as a modest bonus if you build parking," explained Raju Mann, the director of planning for the Municipal Art Society. A building limited to eight stories could potentially grow to ten if the first two floors were used for parking. That "doesn't fit with the city's transportation or land use priorities," said Mann.
Under DCP's August proposal, the floor-area exemption would be limited to underground parking, which the department sees as more pedestrian-friendly than ground-floor parking. It's also much more expensive to build. "Developers are going to be less likely to want to build below-grade parking," said King.
Four other proposals would also augment the existing parking rules in the Manhattan core:
In order to ensure that retail in particular be designed in a pedestrian-oriented manner, DCP suggests dropping the parking maximum for retail from one space allowed as-of-right per 4,000 square feet to zero. King called that "a no-brainer."
Despite the stated goal the reduce the total amount of parking by 40 percent, the 1982 zoning rules prohibit the removal of any parking space that had previously been built to satisfy parking minimums. That provision would be eliminated under DCP's proposal, allowing for the conversion of many lots and garages to different uses.
The creation of any new surface parking lot in the Manhattan core would require a special permit.
Currently, curb cuts are prohibited within 50 feet of an intersection. DCP would extend that to 70 feet.
"On balance," concluded Mann, "the changes proposed are targeted but important improvements to parking rules that have worked pretty well for the Manhattan core."
Those promising improvements, however, are threatened on all sides. Almost all are opposed by the real estate industry. DCP's own studies appear to be deliberately written with the intent to undermine the city's parking maximum policy. We'll have more on the considerable challenges facing the Manhattan core parking proposal in a follow-up post.
Noah joined Streetsblog as a New York City reporter at the start of 2010. When he was a kid, he collected subway paraphernalia in a Vignelli-map shoebox. Before coming to Streetsblog, he blogged at TheCityFix DC and worked as a field organizer for the Obama campaign in Toledo, Ohio. Noah graduated from Yale University, where he wrote his senior thesis on the class politics of transportation reform in New York City. He lives in Morningside Heights.
Stay in touch
Sign up for our free newsletter