Law Barring Unsafe Batteries Has Unintended Consequence: Safe Ones are Now Too Expensive for Workers
Advocates for delivery workers say a city law designed to make roadways safer has made safer batteries too expensive.
9:27 PM EDT on October 23, 2023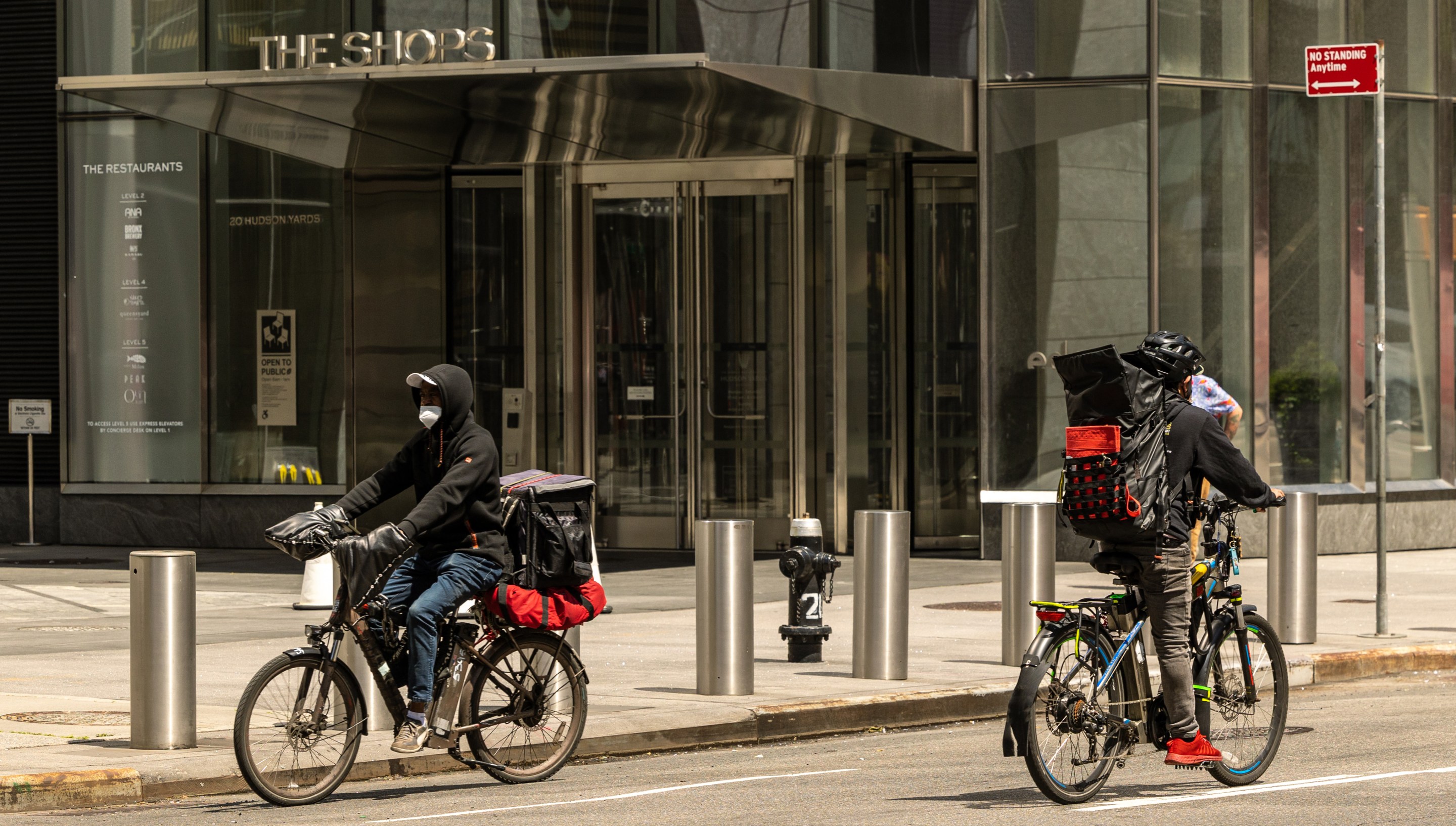 One step forward, one step back.
Advocates for delivery workers came out strong in support of a slate of new electric bike and battery bills — including one that would require app-based delivery companies to provide safe equipment — but they also testified on Monday that existing laws had a headache-producing side effect: certified batteries are soaring in cost.
Local Law 39 — which banned the sale of uncertified lithium-ion batteries — only went into effect last month, but delivery workers and their allies say that so few batteries are certified that that workers are sticking with cheaper uncertified batteries or continuing their stampede to buy gas-powered mopeds, a trend that Streetsblog first reported on over the summer.
"The development of UL-certified batteries and their arrival in the market is not as fast as the legislation" that the Council is passing, said Ligia Guallpa, executive director of the Worker's Justice Project. "There are not enough UL-certified batteries and the few that are available come at a huge expense."
She said delivery workers who want new, legal e-bikes are now looking at costs between $3,000 and $5,000 — for a certified bike and an extra battery to power it for a full, 10- to 12-hour workday across a big city.
Cheaper e-bikes are available — and two-dozen deliveristas have obtained subsidized bikes via the Equitable Commute Project — but they are less powerful than the Arrow and Fly electric bikes that delivery workers prefer, experts said.
"Everyone is looking for a magic pill to make all the unsafe batteries go away, but delivery workers like the bikes they are currently using because they're so powerful," said Martin Rahmani of The Hub Bicycles, where a brand new Aventon e-bike sells for $1,949, and is roughly $1,000 (including a second battery) with the Equitable Commute Project subsidy. "The city and the app companies are going to have to finance this because $1,000 is an enormous amount of money for a delivery worker."
Power to the people
Monday's hearing on multiple Council bills once again revealed the disconnect in the delivery industry among workers, customers, politicians and the app companies.
Guallpa said the estimated 65,000 delivery workers support a transition to safe batteries, but the transition is currently "creating a financial burden on deliveristas," especially since legislative efforts such as a battery swap program and the construction of charging hubs for delivery workers are behind schedule (our October 2022 headline, "...Coming Soon," appeared to be greatly optimistic).
Delivery worker Antonio Solis also pointed out that compliance with the new requirement for UL-certified bikes is especially difficult because the app-based delivery giants have sued to block a city-mandated minimum wage for delivery workers. As evidence, he showed a screenshot of a delivery he recently had to make that paid him $5 to travel almost 13 miles back and forth.
To work across such distances, most delivery workers carry a spare battery, but a UL-certified one — even at lesser power than delivery workers need — can cost $700. And there is currently no UL-certified battery to replace unsafe Arrow or Fly bike batteries, said Melinda Hanson, a co-founder of the Equitable Commute Project.
"It's a multi-faceted challenge," she said. The Arrow batteries, for example, are "twice the size of a Bosch battery," she added, referencing an industry-standard that is featured on some of the most expensive e-bikes on the market. "Some of these guys travel an hour by bike to just start their shift."
Guallpa said the best new option for delivery workers is a Tern Quick Haul D8, but it costs $3,000, plus $700 for a second battery (the Equitable Commute Project offers it for $1,900 with an extra battery).
Plus, there's a reason why delivery workers like the Arrow bike: it can go even faster than the 25-mile-per-hour speed limit, it's been on the market for a long time, it's designed for delivery workers (including a cage to hold the spare battery), it has a long range, and there are many mechanics who know how to fix it or to acquire spare parts. Workers who have abandoned Arrow or Fly have done so to start using mopeds, which are cheaper and easier to fuel up, but have had implications for safety and the environment, Hanson said.
So who pays?
Delivery workers and Guallpa want the app companies to pay for the transition to safe e-bikes for workers. Council Member Oswald Feliz (D-The Bronx) has a bill that would require delivery companies to provide such vehicles to their workers, even though the companies consider them independent contractors and not employees.
As expected, delivery companies objected to the bill.
"Intro 1168 bizarrely excludes restaurants and grocery delivery services from this requirement, even though the city knows that 40 percent of restaurants facilitate their own deliveries," said Josh Gold, a spokesman for Uber
Gold also called unsafe batteries "a serious crisis" and "more must be done" by governments at all levels, including a bike-registration system that would make it easier for app companies to know if their workers are using a proper bike. He claimed that otherwise "there is no clear way" for Uber or any other company to know what bikes its workers are using (which explains the motivation for the part of Feliz's bill that requires the companies to simply provide the bike). Like the delivery workers, Gold agreed that the pace of the transition is too fast because "there are not enough [certified] bikes out there."
He called for additional public funding, a notion echoed by Amy Healy, a vice president at GrubHub, who surprised many onlookers by mentioning in her testimony that "our business continues to operate at a loss in New York City, despite persistent myths about billion dollar profits."
And Toney Anaya of DoorDash restated the bill's purpose ... as a negative thing.
The bill would "prohibit workers from using uncertified e-bikes ... and require or encourage platforms to provide workers with certified e-bikes," he said. "Simply banning delivery workers that own uncertified e-bikes ... without a clear plan to get them a new device is not a real solution."
The bill has a clear plan: It requires the apps to provide the safe bikes.
Healy also criticized Feliz's bill as "impractical, unworkable and unenforcable."
"Because delivery partners are independent contractors, platforms have no right to require them to use certain types of mobility equipment," she said. "Any legislation that forces platforms to impose this on our delivery workers is a direct violation of the contract clause of United States Constitution." She added that any GrubHub worker could falsely say he or she is using a certified bike, but only existing law enforcement agencies have the power to do anything about it.
"If we were forced to purchase equipment for any worker and every worker on our platform, there still would be no way to ensure that equipment was being used in making deliveries or that it wasn't being used to perform other services services, including for personal use, or to work for other companies."
The company also has a small-scale program to help workers get safe bikes. She said 500 workers are using the program at 55 hubs run by Joco, the e-bike company whose hubs are not widely dispersed.
Workers support a greater contribution from the app companies, despite Healy's tale of financial woe.
"We strongly support legislation that mandates the responsibility on the apps," Guallpa said. "The companies must be held responsible because at the end of the day, they're the ones who are profiting and benefiting from the labor of deliveristas."
It wasn't clear from questioning where the Council's Consumer and Worker Protection Committee Chair Marjorie Velazquez stands on Feliz's bill, but in a statement issued after the hearing, she called it a "key" piece of legislation.
"It's essential to pass legislation to protect consumers and residents," she said. "Preventing hazardous products and educating users will save lives. I am proud to join my colleagues and sponsor legislation that prioritizes the safety of our workers and communities."
Other news
In one other piece of news that came from the hearing, the Department of Consumer and Worker Protection gave new numbers for its enforcement of the law against uncertified batteries.
Carlos Ortiz, a spokesman for the agency, told the Council that in the five weeks since Local Law 39 went into effect on Sept. 16, DCWP has conducted roughly 270 inspections and issued summonses to 79 businesses for selling uncertified batteries.
The initial summonses have no fine to serve as a warning.

Gersh Kuntzman is editor in chief of Streetsblog NYC and Streetsblog USA. He also writes the Cycle of Rage column, which is archived here.
Stay in touch
Sign up for our free newsletter